POV Holder:
Frankie
Next POV
Aug 23rd
POV Used
Yes
POV Ceremony
Aug 25th
HOH Winner 1:
FRANKIE
HOH Winner 2:
Derrick
Battle of the Block Winner
Donny & Christine
Next HOH
Aug 21st
Original Nominations:
Derrick's Noms (Donny & Christine) Frankie's Noms (Caleb & Cody)
Final Nominations:
Zach & Cody
Have Nots
Christine & Victoria
POV Players
Cody, Caleb, Frankie, Victoria, Donny, Christine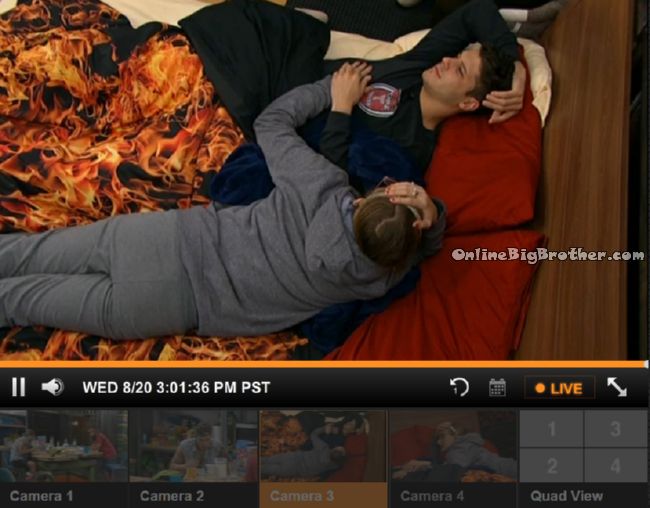 3:02pm FIREROOM Christine and Cody
(Back to cuddling, I'm jumping near the tail end of this conversation.. Dawg covered it more in this post before this one.. BAsically what is happening is Donny is trying to crack the detonators so he's working on the fringe players like Christine, Zach, Caleb. Christine tells Cody everything Donny is doing.. exaggerating a bit. Cody and Christine mock Donny Cody plans to call Donny out)
Cody – F*** you Donny
Cody – He needs one more person to flip no chance in hell
Cody says he can't wait to call Donny you when he sends him home tell him that all the people he would talk to were Cody's closest allies in the house.
Cody – F*** Donny
Cody – Ohh god Donny if you only knew
Christine – If you only knew
Christine says Donny is going to draw the nominees using M&M's just to rub it in their faces..
Cody – He's not beating.. Feeds cut..
Derrick wakes up
Cody says Donny thinks Derrick is a mastermind in the house.. Donny told Christine that Cody and Derrick whisper every night ..
Derrick – If I win HOH he's going up.. period.. there's nothing they can say to convince me either A he gets me out or B I get him out..
Cody – Or I get him out
Cody adds that DOnny is saying Derrick, Frankie and Christine are the brains of the house. We have to split those three up.
Donny told Cody they are not taking Cody over Victoria if he doesn't break up that three Cody will go out they are not bringing him to the end.
Cody – He said your family is going to be wondering why aren't you working with the good old country man.. he's saying a bunch of sh1t to me..
Cody adds that DOnny told him going to break up Christine, Derrick ad Frankie. He';s not going after Frankie specifically because Frankie is everyone elses target.
Derrick – I just want to call him out on it so bad But I won't
Derrick – He wants to keep Zach here. Explains you can tell by the way Zach is talking he acts like he has one vote.
Derrick says they have to tell Donny up front they all want him out this will prevent DOnny from attempting to pry them apart. Derrick points out they have the numbers there's nothing to worry about.
Derrick – Donny I respect you don't come around and talk sh1t..
Derrick says if Donny thinks he's resonating with people he's going to keep doing it
Cody wants to Call DOnny out after he wins the HOH and is about to nominate Donny (Beter wait until you get the POV just be be save 😉 )
Derrick says Donny is spreading rumours saying Derrick has a deal with everyone in the house. Cody mocks donny for saying that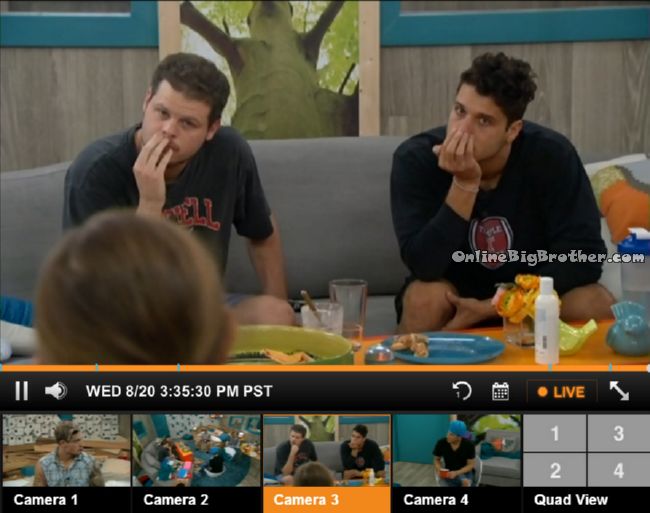 3:32pm HOH Caleb, Cody, Derrick, CHristine and Frankie
Cody – Donny is campaigning to get me out.
They fill Frankie in on everything Donny is trying to do. Cody – He said Derrick has victoria and Derrick/Christine have been playing Cody like crazy.. and Frankie has Caleb on lock"
Cody adds he wants to try and turn Frankie, Derrick Christine against one another. .
Frankie thinks they should go talk to Zach before he goes home and ask him what his deal is with Donny..
Christine brings up Donny telling her she was at the bottom of their alliance.. Donny told Christine that Frankie is Zach's targe.
Frankie – Frankie is Zach's target .. WOW
Christine – Ya and he wants us to start pitting these guys against each other
Frankie His pitch to me was really smart and well thought out.. the only way for donny to be eligible to get America's player is if Frankie goes to the final 2
Cody says he's going to call Donny out .
Donny comes in startles them (of course nobody gets called out)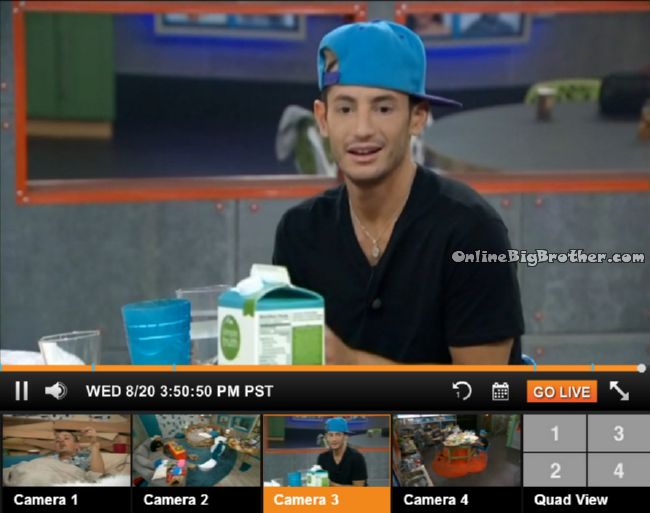 3:51pm Kitchen, Derrick CHristine and Frankie
Talking how unlikely it is for DOnny to win America's FAvorite player.
Frankie – I don't know why he thinks he has a shot at getting America's Favorite Player
Christine – To be honest if cowboys out there and you are not Cowboys winning it
Frankie thinks Derrick and Christine have a better chance
Christine – he's not getting it
Frankie – Donny No, It's not America's favorite F*** up"
Derrick – the guy is f***g nuts..
They agree to try and backdoor him next week.
Derrick says if Donny wins POV it means Victoria's going home if he wins HOH one of them is screwed.
Frankie – Why the f** does he thinks he's going to be America's FAvorite
Frankie is certain Donny and Zach have been working together the whole time. Christine agrees.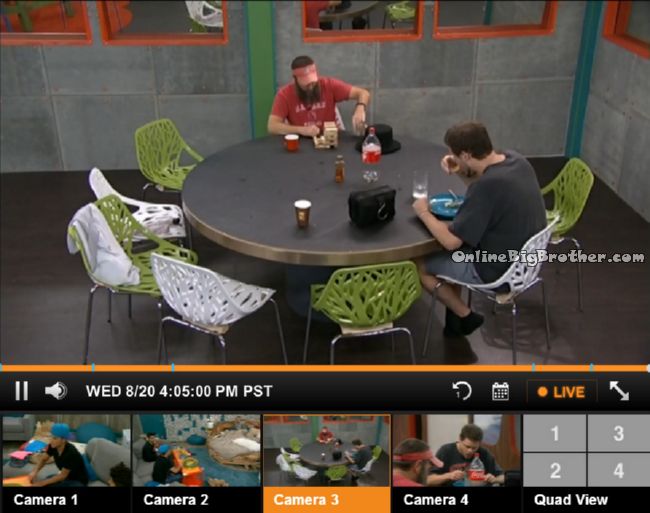 4:05pm
Derrick – sounds like they are building a big set out there
Donny – a lot of noise.. we did get to practice the one time with the knocking the balls.
The Live Feeds are archived. You can go back and watch everything that happens
Try It Free! Subscribe now to the official BB16 Live Feeds
4:16pm HOH COdy, Caleb and Derrick
Derrick says DOnny didn't talk much he's just sitting their building with the "F***g wooden logs". At one point Donny asked him where his head was at. He just couldn't do it anymore. Told Donny he's going to focus on winning on Thursday. Derrick says if they keep trying to get DOnny out and he makes it to the end he deserves to win the game.
Caleb – The guys Vetoes are running out.. He hasn't won the last three..
They agree if it's still BOB DOnny winning HOH is no big deal but if it's single HOH and he wins it they have a problem.
Caleb – from here on out we have to assume the BOB will be one person needed to win..
Derrick thinks there will be a BOB this week, "They'll tell us before the HOH cope it's a BOB because if it's not one of us HAS TO WIN"
Derrick says Donny is the most manipulative person in the house
Caleb – He's playing a game that won't work because he's playing it with people that have been loyal since day one
Derrick thinks DOnny knows what is going on he's just doing the only thing he can. Everyone knows the pipeline to the win is winning the HOH's and POV's .
Derrick tells Caleb that Donny is going to stab him in the back.. he's telling Caleb that he's needs to break up Derrick and Frankie but turning around telling Derrick that Caleb and Frankie are close and should be targeted.
Derrick – It's an insult a f***g insult.
Cody – I'm sick and tired of his manipulative ways i'm sick and tired at him scheming .. iand i've been saying this.. how many f*** weeks have I been saying this..
Cody says if he wins HOH Donny is pulling out the M&M to use to pick the nominations (Something they used with Skittles this week)
Derrick – So insult us .. I'll slap those m&m right out of his hands
Derrick – I Swear to god on my DAughter I will.. he pulls that bag out i'll slap them out of his hand,,
Caleb – He's just making fun of us
Derrick – Ya .. I'll slap them out of his hands.. . I'll slap them right out of his F**** hands rip that bag into a million pieces and pick four of them off the ground … B!tch.."
They think it's the wall endurance, not worried Donny will win it
Christine and Frankie come up
Cody – "I'm just so tired of him man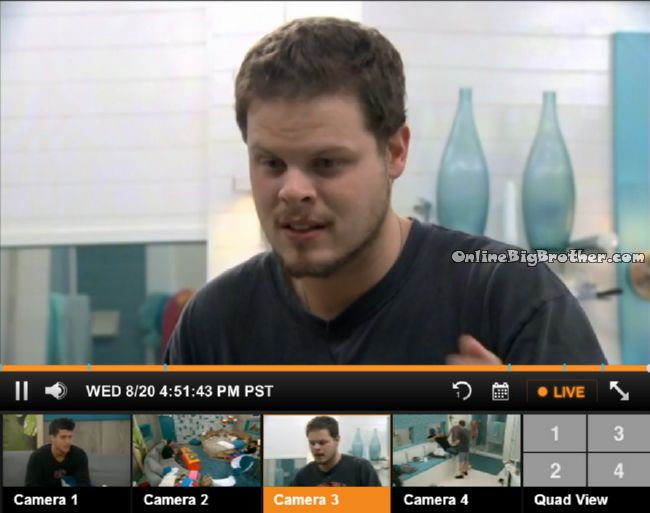 4:50pm Derrick and Frankie bathroom
Derrick tells him that Donny is playing both of them. Derrick says from what he's heard Donny's plan is to put one oif them up and Backdoor the other one. Derrick says Donny is being "So Stupid"
Derrick – I'm hoping this brains (Points at Frankie) thinks of something"
Alliances
"The HITMEN" – Cody & Derrick
Team America = Donny, Derrick, Frankie
More polls here https://www.onlinebigbrother.com/big-brother-compendium/big-brother-16-polls/
[polldaddy poll=8255055]