POV Holder:
Zach
Next POV
Aug 16th
POV Used
Yes
POV Ceremony
Aug 11th
HOH Winner 1:
Nicole
HOH Winner 2:
Christine
Battle of the Block Winner
 Frankie/Caleb
Next HOH
Aug 15th
Original Nominations:
Nicole's Noms (Caleb & Frankie) Christine's Noms (Zach & Donny)
Final Nominations:
Donny & Nicole
Have Nots
Donny and Zach
POV Players
Christine, Zach, Donny, Nicole, Caleb, Derrick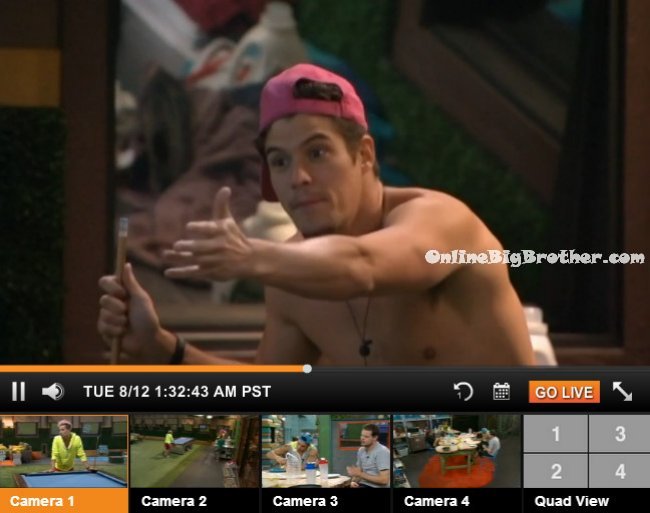 1:15am Frankie and Zach are outside playing pool. Zach says that he is second guessing his goodbye message to Nicole since it was mean and she's in the jury. Zach says I don't see any scenario where we aren't the last 5 people in here. Frankie agrees. Frankie tells Zach that he thinks there's no way he can get the votes in the end. Zach says I would for sure vote for you. Zach offers to go up on the block with Victoria and throw it. Frankie says Caleb and I can go up on the other end to win the Battle of the Block. Zach comments that Derrick and Cody have never been nominated. Zach tells Frankie that if he didn't win Battle of the Block or the veto this week I would for sure be gone over Caleb. Frankie disagrees and saying he could have gotten out of it. Christine says thank you, you guys for this week. Zach says if you had lost you would have been gone. Zach told Frankie that because Frankie threw them under the bus to Nicole that Zach, Caleb, Cody had Caleb's back way more than Frankie. Zach says Frankie would have been evicted. Frankie says it hurts to hear that. Zach says everything is good. It worked out for the best, but if he didn't win Battle of the block things couldn't have been repaired. Zach says that they will be final 6. Christine heads inside. Zach tells Frankie that they will be final 5 (Christine would be gone after Donny/Victoria).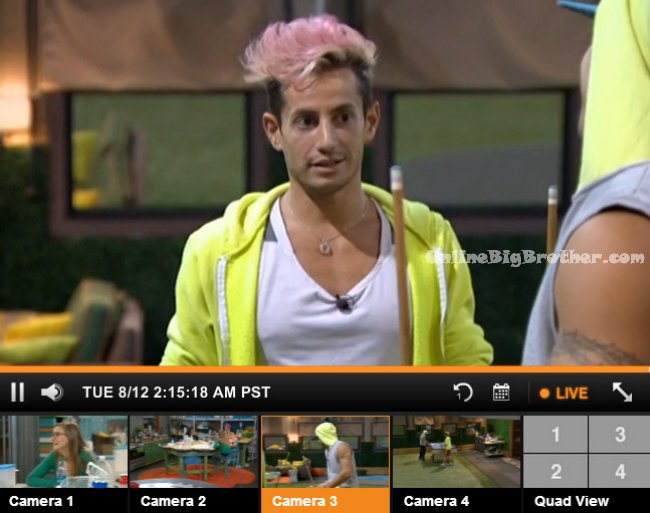 Take Advantage of the FREE 2 day Trial to watch all the drama!
2am Out in the backyard – Zach, Frankie, Cody are in the backyard talking and playing pool. Cody asks you guys are both waning to get big brother tattoos. Frankie and Zach say yes. Cody says well I would get something other than a BB tattoo. Zach says I would get something small like big brother on his thigh. Zach says especially with Justine Beibers tattoo artist. Zach heads inside. Frankie says worst case scenario is that next week Donny wins veto. Frankie suggests Caleb goes up to throw the Battle of the Block again. Cody says he isn't sure he would throw it. Frankie says that Caleb complains that when he wins a competition he thinks he should have thrown it. Cody says I was thinking our season has got to be one of the craziest ever. First off with the Battle of the Block competition. Frankie says and with the HD. Derrick joins them and says another week in the books! Derrick says I don't see Nicole saying anything to change anything. Frankie says well she could say anything but I don't think it would change anything. Derrick tells Frankie I trust you completely, I never would have thrown that competition to you if I didn't. Derrick says if you and me were in the end I would be okay with taking the 50K. We just got to get there, me coming in second place to you .. we just have to get there. Derrick says no matter what the next mission is we really need to try and do it. Its no guarantee we will get to the end so I would like to have an even 20K with my stipend. Frankie says to be honest I've been saying I would use my stipend for (kids in Africa) but I am really using the Team America money.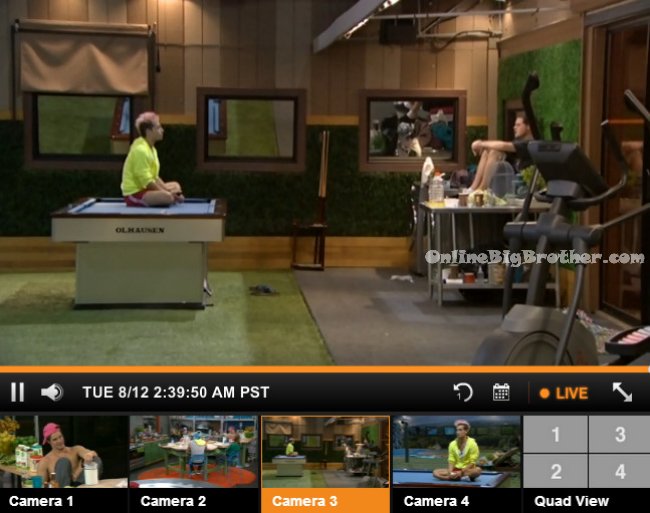 2am – 3am Victoroia says it could be a blessing in disguise. Maybe you and him can wake together. You never know. C+Zach joins them. Zach says that if he was ever really mean to someone like to the point that they self-evict, then I would get in trouble (from production). Christine says that everyone in jury hates me already. Zach says you're already campaigning. I love it. Zach pretends to be Zing-Bot and says Hey Victoria all the make up in the world couldn't get you to the final 3! ZING! Victoria says yeah keep zinging me I want to know what he might zing me about. Victoria tells Zach if I didn't bring that hat you wouldn't have a signature look. You would have been gone week 2. Zach says when we get out I am going to buy 10 of these hates so that when I walk around people will recognize me. Victoria says any money you get I get 25%. Zach says no I'll give you the $3 this hat costs. The conversation turns to talking about Devin. Christine says I will walk away if he tries to hug me.
See what they can't show you on TV! -Try the Big Brother 16 live feeds for FREE!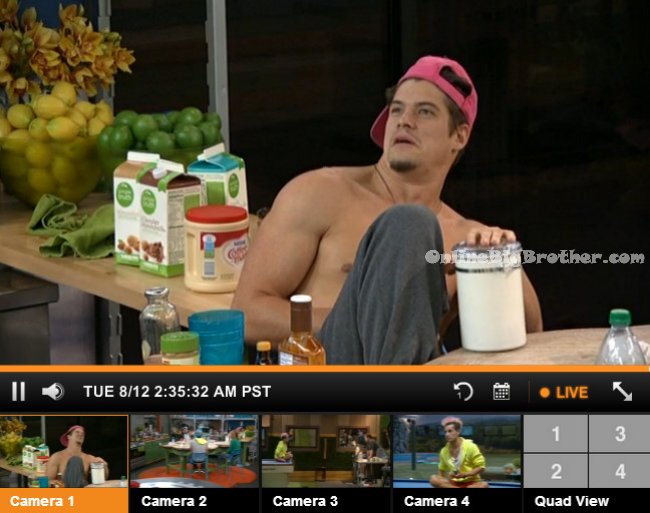 3:30am – 3:50am Derrick, Frankie, Christine and Zach are out in the backyard playing pool and talking about random things. Christine heads to bed. They guys talk about how people love Caleb. Frankie and Zach think Caleb is way more attractive than Cody. Derrick says there was a guy at my thing that looked like Brad Pitt. Zach heads to bed. Frankie talks to Derrick about their twitter followers when they get out. He wonders how many more youtube subscribers he'll have when they get out. Derrick and Frankie head to bed.
9am – 10:40am Big Brother wakes up the house guests. Caleb, Frankie and Donny are in the kitchen making breakfast. Frankie says that was great music this morning. Frankie and Caleb head back to bed. Donny works out on the elliptical and then with the weights. Caleb joins Donny and they lower the awnings. Caleb heads back to bed. All of the house guests are back sleep except for Donny.
12:25pm Donny & Christine are still the only house guest awake.. Donny is sitting on the backyard couch in silence and Christine is doing her HOH blog / tweets in the HOH room.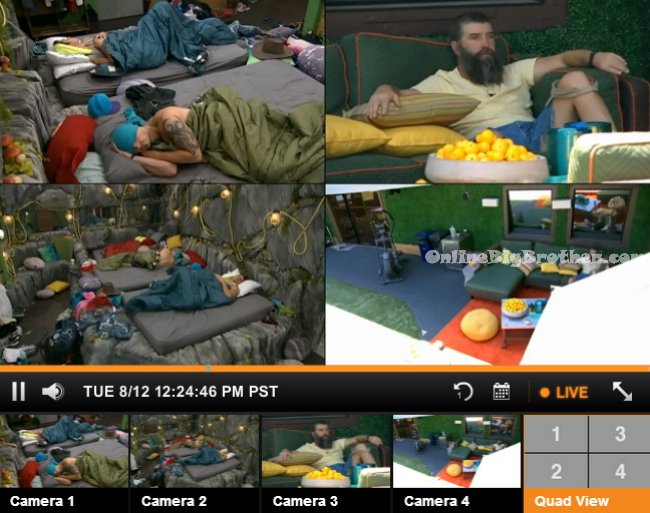 Alliances
The new bomb squad – Caleb, Zach, Derrick, Frankie, Cody, Christine
"The HITMEN" – Cody & Derrick
Team America = Donny, Derrick, Frankie
More polls here https://www.onlinebigbrother.com/big-brother-compendium/big-brother-16-polls/
[polldaddy poll=8233586]