POV Holder:
Zach
Next POV
Aug 16th
POV Used
Yes
POV Ceremony
Aug 11th
HOH Winner 1:
Nicole
HOH Winner 2:
Christine
Battle of the Block Winner
 Frankie/Caleb
Next HOH
Aug 15th
Original Nominations:
Nicole's Noms (Caleb & Frankie) Christine's Noms (Zach & Donny)
Final Nominations:
Donny & Nicole
Have Nots
Donny and Zach
POV Players
Christine, Zach, Donny, Nicole, Caleb, Derrick
WATCH the next 48 hours for FREE – Big Brother 16 Live Feed TRIAL!
12:30pm Christine comes out of the diary room with the HOH camera. She and Donny talk a photo of themselves. Christine then heads inside to take a photo of herself with her memory wall photo. She heads into the earthroom and takes photos of Caleb and Cody sleeping. She then climbs beside Cody and he rubs her arm and then they hug. Cody says lets go take some photos. Christine and Cody head into the fire room to take photos of the sleeping house guests Derrick, Frankie, Victoria. Derrick says take a picture of me – sleepy sloppy. Christine and Cody go out into the backyard and take action shots of him using the fishing rod. They go inside and take photos of them sitting in the nomination chairs.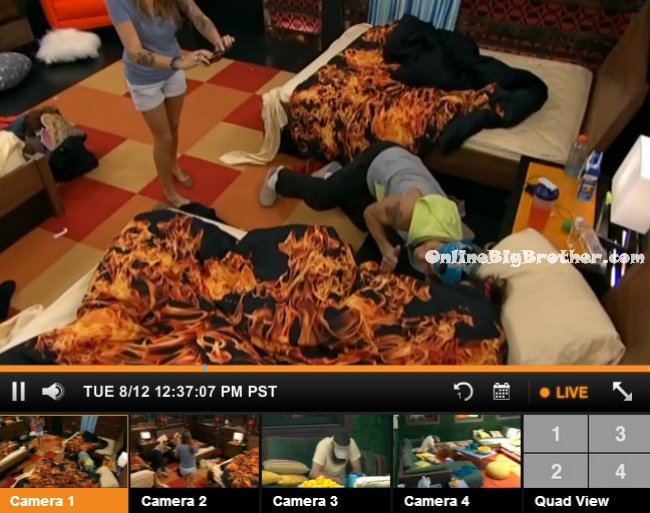 12:55pm – 1pm Cody sets up the camera in front of the living room tv and then he lays on the coffee table. Donny asks are you planking? Cody nods. The then head into the havenot room and take photo on the ice block and one with Zach sleeping. Christine then takes a photo with Frankie in the earth room. Christine can I kiss myself? Cody ask is that how you kiss? It looks like you want to eat yourself!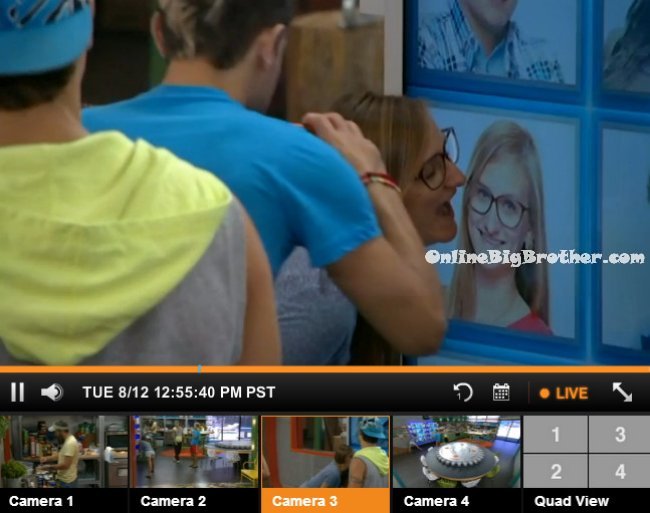 Take Advantage of the FREE 2 day Trial to watch all the drama!
1:10pm – 1:35pm The cameras behind the walls of the kitchen pans over and shows a shot of people watching the house guests through the one way mirrors. Christines HOH camera time ends and big brother calls her to the diary room to do here HOH tweets. Nicole is up and in the bathroom getting ready for the day. Caleb is out by the pool suntanning and Donny has his feet in the hot tub. When Christine comes out of the diary room she tells Cody that one of her tweets she can't say because it gives away her game, kind of.. Christine hugs Cody and says I love you Cody!!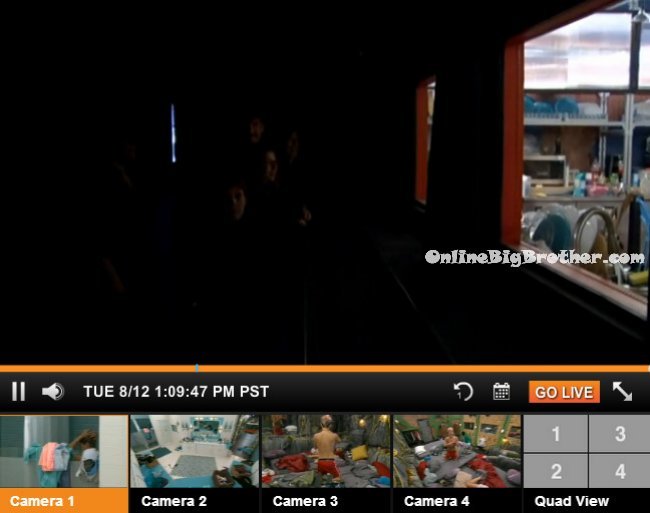 1:38pm – 2:25pm Out in the backyard – Nicole joins Donny on the backyard couch. Donny says I wonder what Jocasta and Hayden are doing right now? Nicole says I can't even imagine what its like in there, I can't imagine its that good. Nicole says I can't believe how there are only 2 girls left. That's insane. I think its because of the BOB. Donny says it was designed to put up the weakest player. Donny asks what are you going to do when you get home? Nicole says I just want to hang out with my family and have everything be the same as before I left. Nicole asks what about you? Donny says about the same as you. Nicole says that she is nervous to talk to Julie. Donny tells her there won't be much time for nerves. She will direct what happens and you can't prepare for questions. I'll probably start talking crazy. Nicole says after this I would consider moving. I thought about moving to Chicago. Nicole asks what Donny will do after? He says if I can't get my old job back I would be a janitor. Nicole says if I go home on Thursday would you try your hardest to get to the final two because I can't vote for anyone else. Donny says it would be virtually impossible for me to get to the end. They're locked in so tight. Nicole says I've never seen such a big group locked in so tight. Nicole says in the end if anyone takes Derrick its game over he would win. Everyone would want to take Christine. Cody would take her. Donny says he doesn't think Cody will win anything. He only won something when he had a partner. Nicole says Christine told me that she was forced to put me up or she was going out next week. I don't believe that for one second. Donny says they just try to take the heat off themselves. It's crazy to know that you're a dead man walking isn't it. Nicole agrees. Donny says its just a matter of this week or next week. Donny says they came out and wanted me to take their pictures. Donny laughs and says okay! Donny says there are some very smart people in here and others that are dumb as dirt.
2:40pm While sleeping in the earth room – Cody punches himself in the face and wakes up stunned.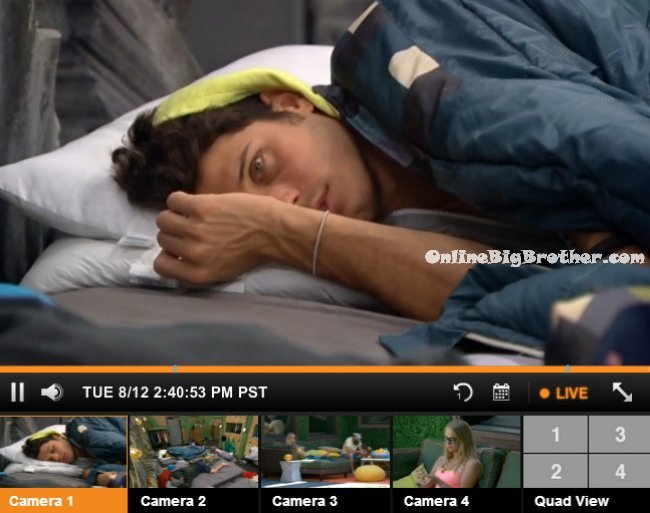 2:30pm – 2:55pm Donny says its crazy to think people are on the internet watching us and how they know more about the game than we do. Nicole says yeah. Donny says I haven't been caught up in too much. except for that thing with Devin. Nicole says I wasn't a part of the bomb squad either and when I realized Christine was a part of it that what really opened my eyes about her. Donny says there was a lot of writing on the walls back then like how Caleb was already talking about being a host before the nominations had even happened. Donny asks have you ever seen a married woman touch so many guys!?! Nicole says nope, that's what Hayden and I questioned. I wondered if she was even married. Christine is on top of so many more people than I am and I'm single! Donny asks you know who I like, I like Zach. Nicole says I do too but he got me on the block. Maybe I should talk to him. Donny says no he'll tell everyone what you say. I said I like him, I don't trust him. Nicole says as nice as Cody is .. he's boring. Nicole says Christine doesn't even have power next week. Donny says you don't need power to control the game, look at Derrick. Nicole says I got blood on my hands and I realize why I'm going home. Nicole talks about being scared and burned. Donny says its just a game..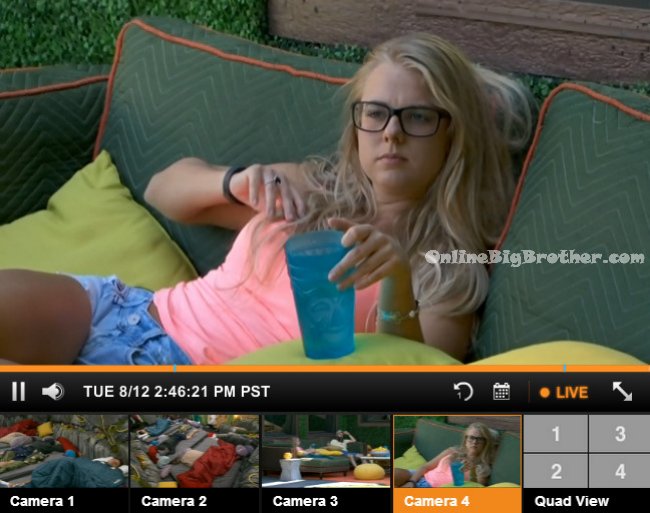 Alliances
The new bomb squad – Caleb, Zach, Derrick, Frankie, Cody, Christine
"The HITMEN" – Cody & Derrick
Team America = Donny, Derrick, Frankie
More polls here https://www.onlinebigbrother.com/big-brother-compendium/big-brother-16-polls/
[polldaddy poll=8233586]