POV Holder:
Godfrey
Next POV
May 1st
POV Used
Yes
POV Ceremony
May 3rd
HOH Winner
Pili
Next HOH
April 29th ?
Nominations:
Sindy and Brittnee Godfrey
Have Nots
Brittnee, Sarah, Kevin, Godfrey
POV Players
Godfrey, Pilar, Sindy, Willow, Bobby, Kevin.
Host is Sarah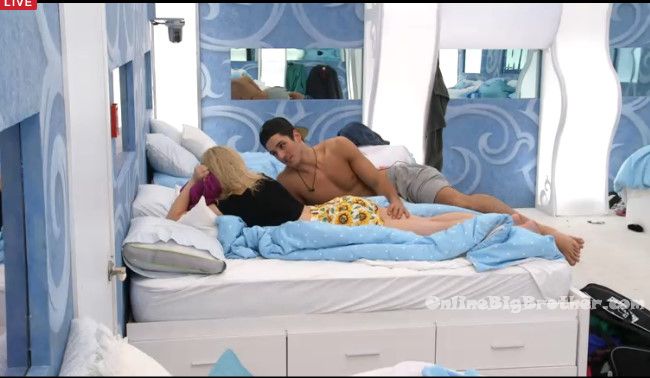 12:40pm In the bedroom – Zach is massaging Ashleigh's legs. They start talking about hamsters. Zach says they're the stupidest things in the world. They're basically rats with fur. Ash says and no tails. Zach "The hamster makers grow them in a lab with rats and chop their tails off" Zach says when he was a kid his parents told him he could have a pet and then they got him a gold fish. He says it was the most boring-est pet.. I just fed it until it got fat, floated to the surface and died. If you're going to get your child a pet it should be a dog or a cat. Zach says the best birthday present would be not going home tomorrow and it being a double eviction. Ash says its crazy how so much could be going on behind our backs and we have no idea. Ash says there are 4 weeks left and there are still so many people here. Zach says if we don't have any doubles we will still have 6 people left on week 10 and we need to get down to 3. Ash says I don't understand why they're cramming it all at the end. Zach starts studying the past events of the house.
Meanwhile in the kitchen – Sindy asks Pili who has 10 siblings "Do you have any sisters?" Pilar "Is that a real question?" Pilar tells Sindy she has sisters. (Its funny how Sindy has seen Pilar's HOH photos of her family and has no idea about her on day 41.)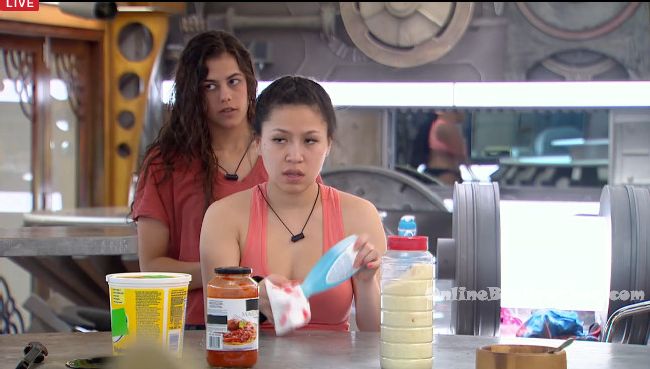 1:20pm – 1:45am In the kitchen – Kevin comments that someone here in the house saw you (Sindy) at casting. Sindy asks who? Sarah puts up her hand. Sindy asks when I was talking to Gary. Sarah says yes but we're not allowed to talk about production. Sindy says she was wearing her sash and crown. In the living room – Sarah gives Bruno a back massage. Willow tells Bruno "Don't even look at me!" (she's jokingly acting jealous) Sarah says the poor guy has a knot in his back! Willow says I have a knot in my heart now! Bruno says it doesn't necessarily have to be a double this week. Sarah agrees and says yeah they could do 3 doubles in a row. Sarah tells Willow this (massaging Bruno) is not fun. Its for medicinal purposes.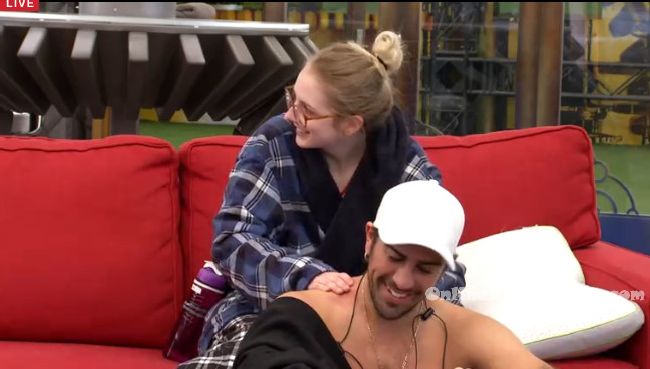 1:55pm Out in the hot tub room – Willow says I am almost ready to bet my life it will be a double. Zach says I've been preparing for a double so I want it to happen. Willow says we need to get rid of people. Zach says yeah. Willow says Sarah said this morning I want to know if Bobby has that veto or not! He's going up. I want to test it. Willow says which is smart but we can't test it. Zach says yeah. They talk about what type of competition the HOH will be. Willow says we can't be going into week 8 with 9 people. That means half of us make it to day 50. What if its Canada's Double? Zach says could be. Willow says I'm worried Sarah could throw me up as a pawn .. I'm trying to reel her back in a bit.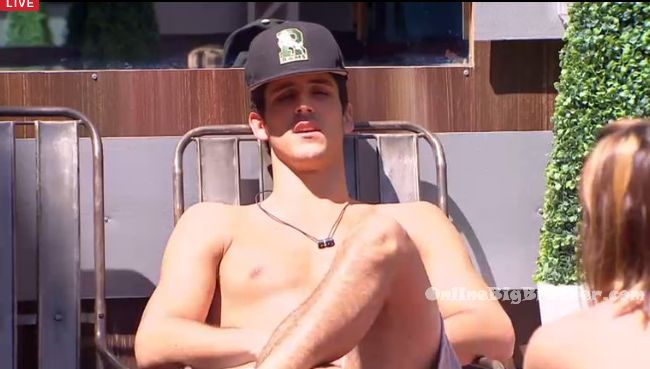 2pm – 2:25pm In the living room – Sarah, Ashleigh, Bruno, Brittnee, Zach and Bobby are sitting on the couches talking about movies and other random things. Bruno talks about how he and his wife were sleeping and hear someone downstairs. I literally prepared myself to go downstairs and do whatever I had to do. If I had to take this person out I was ready to do whatever I had to do. Sarah says ..you almost killed your mother-in-law. Bruno says I was halfway down the stairs to attack whoever was in the house and my wife said she remembered it was her mother. Bruno says if she hadn't said that I would have jumped her … Can you imagine kitchen dinner after that.
Out in the hot tub – Pilar says she's worried about Wednesday being a double. Willow says you're okay. Pilar says I'm more worried about Kevin. Zach joins them. Willow asks Zach if Sindy told him she was going after the couples. Zach says no, but she's told other people that. Pilar tells him you guys need to win the first HOH if its a double. Zach agrees. Pili says if God wins I am scared. Zach says if we don't win the first one we'll win the second one because it will be a physical comp.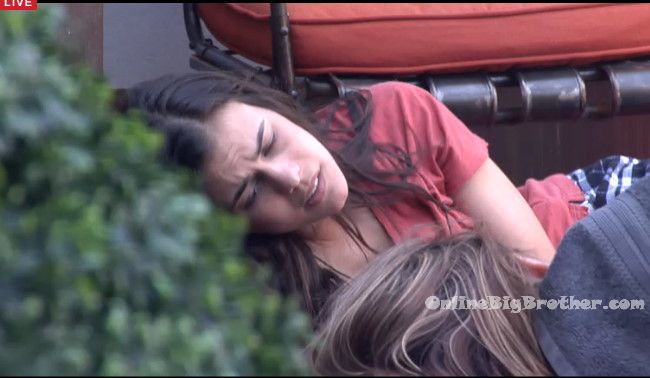 2:45pm Up in the HOH room – Willow joins Pili and Ash who are doing their nails. Willow says if Sindy stays she's putting me up. Ash asks why would Sindy stay. Pilar says as long as I don't have to dominate or win HOH I am content. I just want it to be over.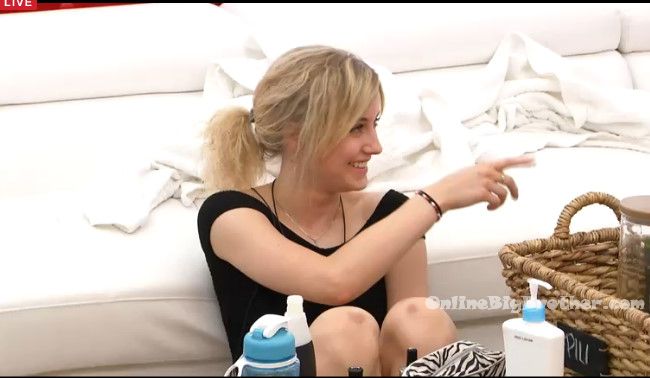 2:50am Brittnee says these people are obviously just kids. They talk about how messy people are in the house. Bruno and Bobby join them and talk about studying. Sarah says we shouldn't be seen studying together. Bruno and Bobby agree and head inside to study. Sarah tells Brittnee that Kevin overheard Bruno whispering to her about study dates. We can't be seen whispering with them. Sarah tells Brittnee I am not telling anyone else about this.. look at stuff in the house. She tells her to pay attention to the details of the house
Out in the hot tub room – Willow steps on the hot tub jets and turns it on blasting Sarah and Brittnee. Sarah notices that Brittnee is irritated. Brittnee says that she is irritated with being put up a pawn. Sarah says I should have offered to go up as the pawn. I'm sorry I will next time. Brittnee says I'm just exhausted, I'm slop and tired of my name coming out of peoples mouths.
3:30pm – 4pm Inside the house Pilar comes out of the diary room with a Twitter Selfie camera. They start taking photos. Ash and Pili take a photo and they tweet it out. Ash says "hashtag goblins"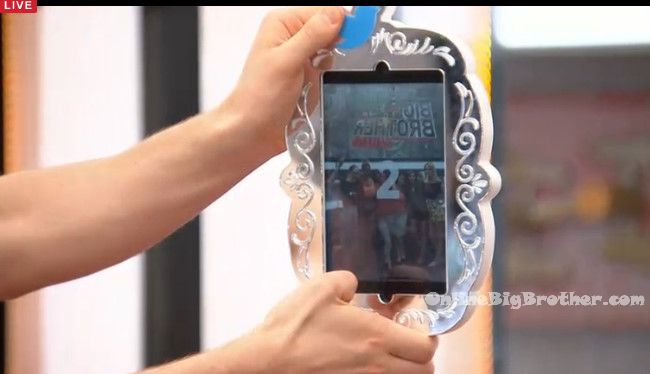 Willow says I think we should all get n@ked and wrestle with honey!
Sindy takes a couple photo of Zach, Ash, Kevin, Pili and says" #showmance #doubledate #PUKE "
Kevin takes a photo with Pili and her HOH letter and says " #dearPilisDADpleaseDONTkillME "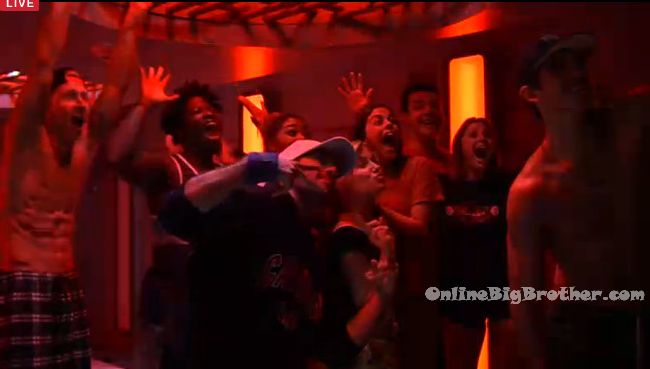 4:20pm Willow suggests they take photos with the BBCAN basics fan pictures. Bobby "You have to take a picture of me looking sad & lonely because I lost Jessica" They continue taking photos. Willow starts massaging Bruno under the stairs and tells Godfrey – "My reward Bruno said he would take me out to lunch and give me an Italian sausage" "Then maybe I'll have some dark chocolate!"
If you are outside Canada and want to watch the FREE Big Brother Canada Live feeds sign up for a VPN service here https://www.hidemyass.com/vpn/r16399/. It's safe to use, easy to set up, and cheap. Need to know morecheck out this post explaining how to set it up.
ALLIANCES IN THE HOUSE
There are always a lot of Alliance but we've tried to make sense of it all.. Read our alliance help guide
[polldaddy poll=8819718]