POV Holder:
Kevin
Next POV
May 1st
POV Used
?
POV Ceremony
May 3rd
HOH Winner
Kevin
Next HOH
May 6th
Nominations:
Bobby and Brittnee
Have Nots
Zach, Bobby, Willow (Season slop pass)
POV Players
Kevin, Bobby, Ashleigh, Brittnee, Sarah, Pili
** The 2 round HOH twist that was leaked last week is once again back up for this week (Week 7). **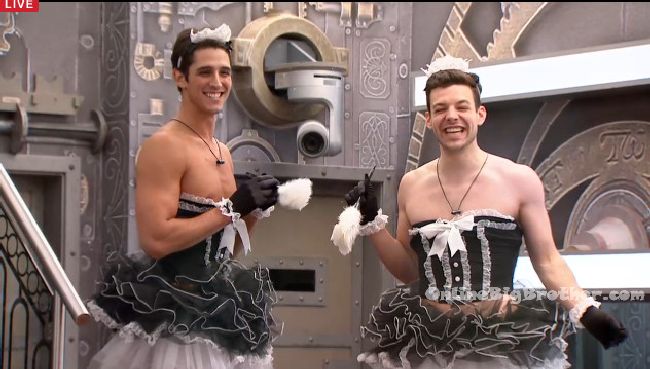 2:25pm – 2:35pmThe feeds return to all the house guests staring at the diary room door. After a few moments Zach and Kevin come out of the diary room wearing maid outfits. All the house guests crack up laughing. Kevin says "may we be of service to you?!" Kevin shows his garter belt and exposes himself. Zach and Kevin head upstairs to start cleaning the bathroom. Kevin and Zach complain about how uncomfortable the heels are to walk in. Kevin asks how do you girls do it?!
In the bedroom – Sarah, Brittnee and Willow celebrate that big brother is punishing Zach and Kevin for not cleaning up after themselves. Brittnee says this is amazing big brother!! We will never complain again! They never clean, they never do anything. Brittnee says I was trying to so hard not to be so happy.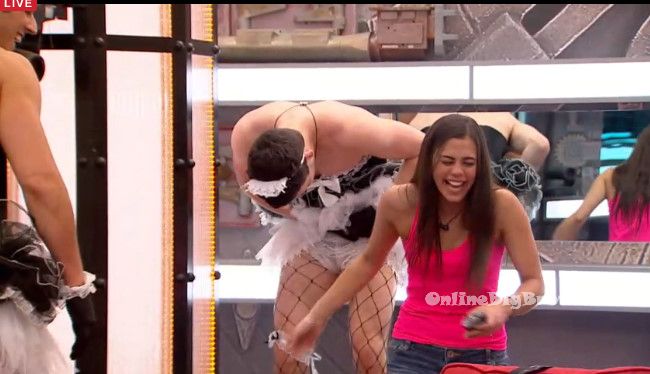 2:30pm – 3pm Out in the backyard – Bruno and Godfrey are talking game. Godfrey tells Bruno he is going to try to make Kevin realize that everyone is down with taking Zach out. Bruno says I'm going to tell Kevin Zach tried to get me to b@ckdoor you when I was HoH. Godfrey says If we sit him (Kevin) down, he will do it. Bruno says everyone wants Zach out. Godfrey says That's what I'm saying. He will do that. Bruno says that nobody wants to work with Zach. They think they can pull Kevin in if he takes Zach out. Bruno says that Pili is obsessed with Zach, man. If she wasnt blowing Kevin she would blow f**king Zach!
Bruno heads out to the hot tub room to talk to Brittnee, Willow and Sarah. Bruno tells Brittnee that he's going to try and save her. He tells them about how they should try to push for Kevin to b@ckdoor Zach. Bruno says I know you guys are sucking up to him and blowing him but that's got to stop!! Bruno says lets make some moves! Lets make things happen! Sarah says we just have to feel him out before we say anything. Bruno says it has to happen before the veto ceremony. Bruno says We have got to play it smart. I know this can backfire on me. Britt says sometimes with great risk comes great reward.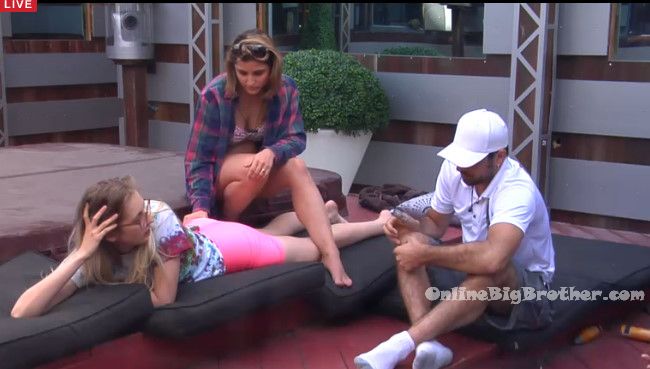 Willow massaging Sarah's butt:

3:10pm Backyard – Bruno talks to Bobby and Godfrey. Bruno fills Bobby in on the plan and says its a risky move. Bruno then says its actually not a risky move because next week you're (Bobby) gone and then I'm next. They're coming for us so let our balls drop and lets play. Godfrey says let me talk to him and get a feel for what he has to say. He said we would have a good talk. Last night he told me if he won it he would take of Bobby and put up Zach but I don't believe it.

Brittnee says that when she saw Kevin's d**k she thought oh he's packin'! Look at that d**k!
3:30pm Up in the HOH room – Bruno talks to Willow. Willow says that Keivn and Zach only have 2 hours to clean the house. Bruno says let the golden boy get punished. Meanwhile Kevin and Zach continue to clean the living room and kitchen.

3:50pm – 4pm Zach's in the kitchen doing the dishes. Bruno comes by and asks how you doing? N!ps are hanging out! Bruno follows Kevin up the stairs and says he's trying to look up his skirt. Kevin says a lot hanging out. Bruno says yeah ..word on the street. They head to the bedroom. Kevin looks at how messy it is. Bruno starts showing him what clothes he needs cleaned. Big Brother tells him to stop that. (The other house guests aren't allowed to help them clean.) Bruno asks you have to clean this room too? Kevin says Oui! Bruno says sorry buddy. Kevin says I'm actually really enjoying this.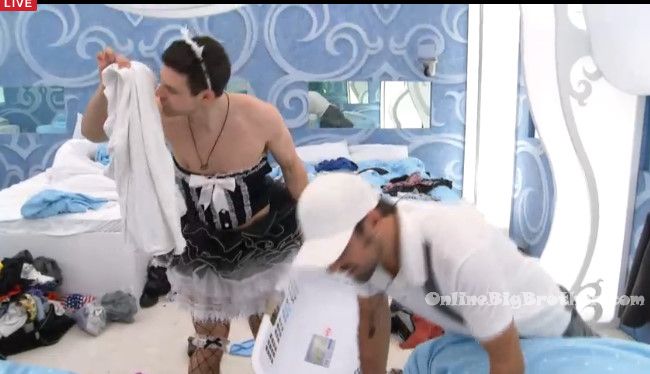 Kevin takes a break to soak his soar feet from the heels. He comments on how the heels are way too small. He apologizes to the female population for having to wear heels.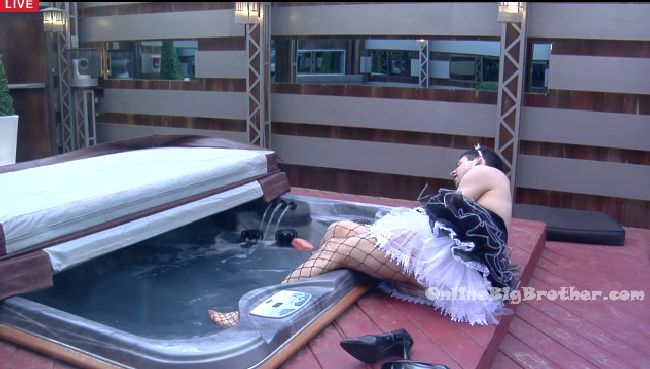 4:25pm In the backyard – Ash, Bobby, Bruno and Sarah talk about how Graig laid in the bed looking at Sindy while they were all in there and jerked off. Bobby says I though he was just joking about that. Ash says no he actually did it. Big Brother blocks the feeds.
ALLIANCES IN THE HOUSE
There are always a lot of Alliance but we've tried to make sense of it all.. Read our alliance help guide
If you are outside Canada and want to watch the FREE Big Brother Canada Live feeds sign up for a VPN service here https://www.hidemyass.com/vpn/r16399/. It's safe to use, easy to set up, and cheap. Need to know more check out this post explaining how to set it up.
[polldaddy poll=8834825]