POV Holder:
Zach
Next POV
April 24
POV Used
?
POV Ceremony
April 19
HOH Winner
Zach
Next HOH
April 22nd
Nominations:
Godfrey and Jordan
Have Nots
Godfrey, Sarah, Jordan, Bruno
POV Players
Zach, Jordan, Godfrey, Sarah, Ashleigh, Sarah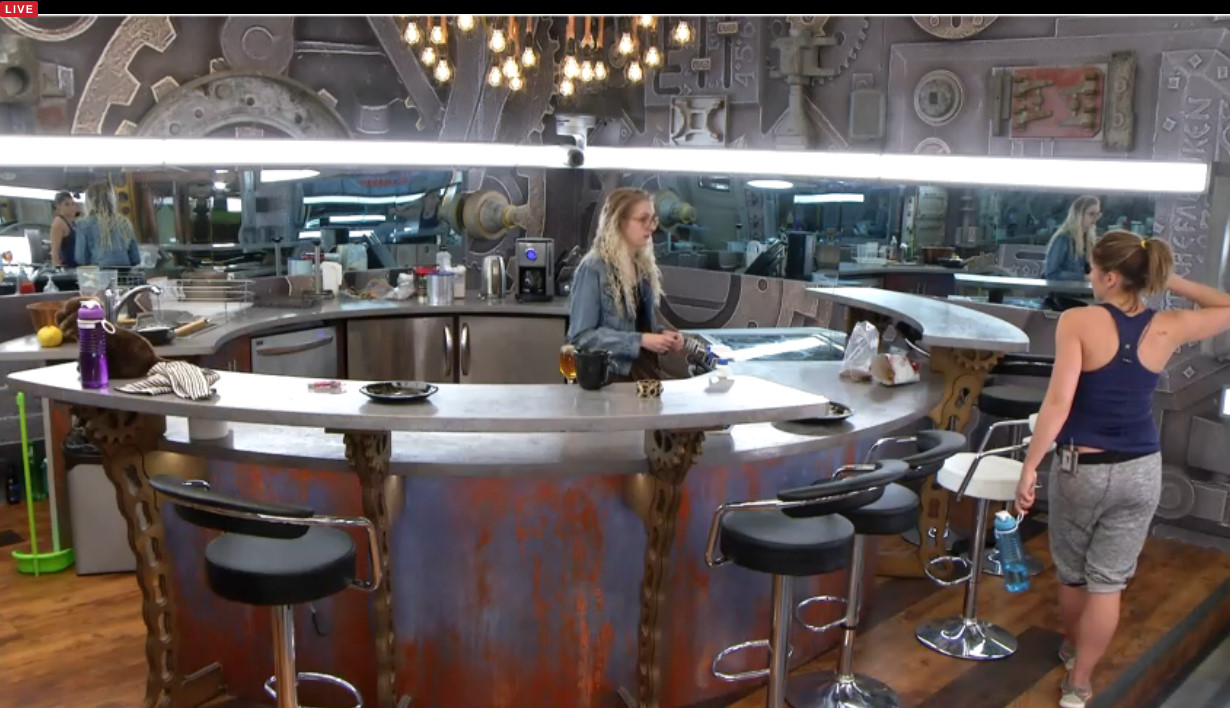 7:00pm Kitchen Sarah and Willow
Willow – you trust me right
Sarah – of course you trust me
Willow – yeah .. I don't have anyone else .. I don't have any friends.. like legit friends
Sarah – well we're legit friends .. you know that
Willow – I trust you I don't think you'll f*** me over..
Sarah – it's not in my best interest.. I gotta get my head in the game and stop being so naive.
Sarah – Honestly I want to float for the next couple week..
Willow asks if she wants Godfrey out
Sarah says yes, "He doesn't trust me who do you want out"
Willow – Cindy.. she's not on my side I don't think I can beat her.
Sarah – JPs told her stuff already
Willow – like who is with who
Sarah – he told her about the pact.. she's going around and telling everybody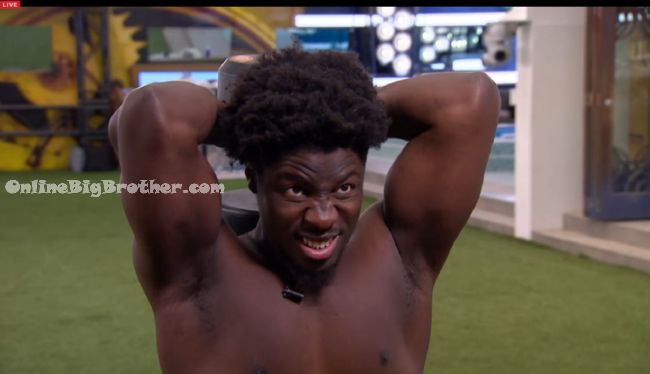 7:10pm Working out..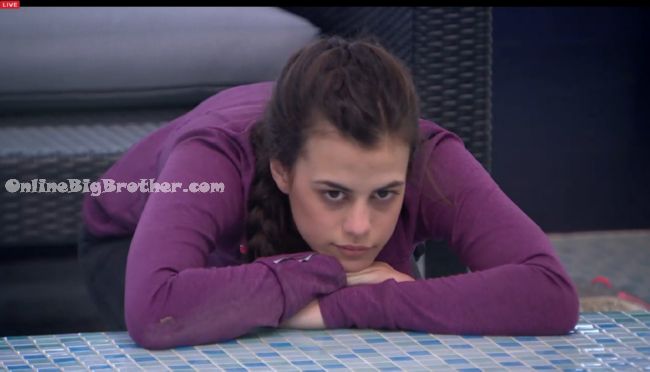 7:29pm Cindy and Willow pool
Willow telling her how things are in the house now. If you are talking to someone for longer than 10 minute people start getting suspicious.
Cindy says she can tell.
Sindy – I don't know who to trust.. I don't want to float around
Sindy mentions 9 people have come to her about the pact to get whoever comes back in out.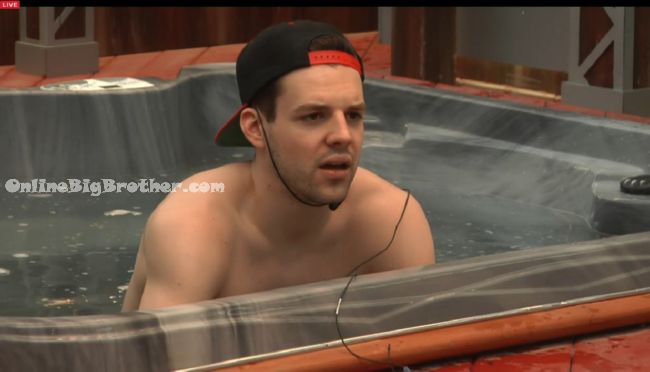 7:23pm Kevin and Brittnee
Kevin tells her plans have changed and it worries him. Mention show JP is closer to Zach than he is.
Brittnee – I'm really surprised that Godfrey is the threat.. really shocked
Kevin – JP and Zach are pretty close.. (says this twice)
Sarah joins them
They tell her how shocked they are with the plans staying the same. 'it doesn't make sense"
Sarah points out that Zach is saying that Bruno and Bobby are not going after Zach so that means they must be working together. Mentions how Bruno has come after them.
Sarah says JP seems upset as well with the plans being changed.
Kevin tells them is was supposed to be Bobby.
Sarah – can we trust JP that he's not going to go tell Zach
Brittnee says getting rid of Bobby is beneficial to all of them getting rid of Godfrey only benefits Zach.
Kevin – JP is upset
Brittnee warns JP and Zach are very close
Sarah – lets wait until after Zach doesn't use POV to have conversations.. then we need to all talk
Kevin – Zach wants God..
Sarah – when you think about it of course it makes sense. (implying Zach has an alliance with Bruno/bobby)
Sarah wonders if JP is really this good.. to act like there is a plan (pretending to be mad at Zach)
kevin – I'm going to be careful what I say to JP
Sarah points out that Zach, JP and AShleigh meet every night and he's not allowed into those conversations, "I wait down in the kitchen and all three of them come down.. they think I'm a idiot"
Sarah – We're being f***d again.. we have to make sure Sindy doesn't go up next .. we need the numbers
Sarah says (Zach) is skirting around not drawing a line but he's drawn a line by not using the veto.
Jets turn on…
7:37pm Godfrey and Bruno Ktichen
Bruno telling him 100% he's got his back "I'm saying that man to man"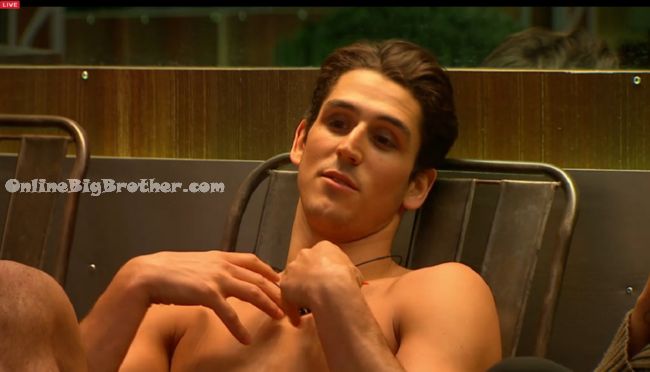 7:45pm Hot Tub Zach, Sarah and Brittnee
Zach saying "they" want Sindy to stay. they suspect this week will be a single and the following week a double. Zach says the next HOh will be physical would have been nice if JP had won this one. Zah thinks Bruno and Bobb will go after Cindy Feeds cut
Feeds come back Zach and Brittne alone
Zach asks if she would consider putting Sindy up
Brittnee says she would "She's strong at comps"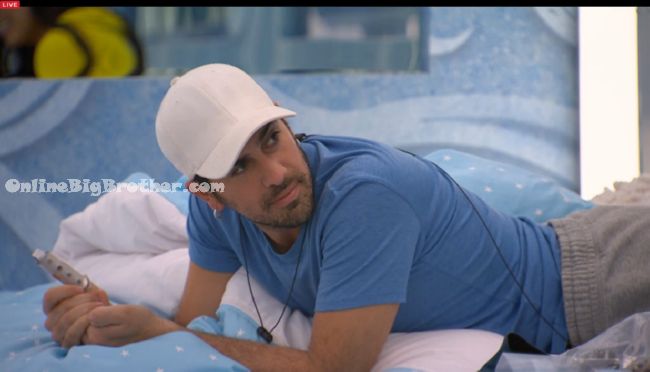 8:13pm Bruno and Cindy
Bruno saying he doesn't know who to trust says he wants to work with Sindy.
Bruno warns her about Sarah says she's poisonous she'll make friends with you only when you're in power.
He tells her to not worry about the pact.
Bruno – I'm so glad you're back I'm genuinely happy.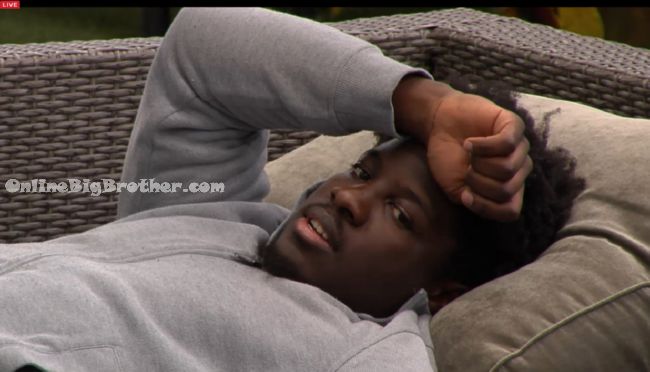 8:20pm Kevin and Godfrey Backyard
Godfrey mentions he's taking JP's lead this week.
Kevin says he trusts and likes JP recommends Bruno does that.
Godfrey thinks if the veto is used the replacement nomination is going home.
Kevin says JP and Zach are very close if he's going to get to Zach he's going to go through JP.
Godfrey says there's people in this house that have plans and they are not part of those plans.
Kevin says the two of them are not in anyone's big plans
Godfrey – Out of the loop yo
Godfrey tries to make up an alliance with Zach, Kevin, and JP. includes Pilar and Asheligh on the side giving them 6 votes moving forward enough to run the game.
Godfrey – we're all evenly matched.. An alliance were the people are not intimidated with each other.
8:25pm Sarah, Jordan and Brittnee
Sarah saying she talked to Pilar, AShleigh and Willow and they hate Godfrey want him out.

8:27pm Bobby and Zach bathroom
Talking about someone telling Sindy the pact to get her out. Zach wants to know who it was.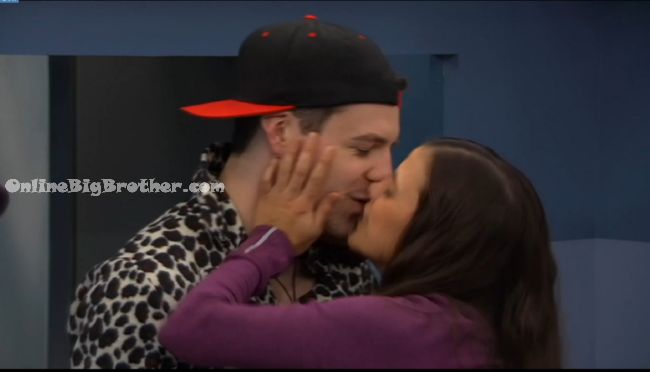 8:37pm Pilar and Kevin
Pilar says 5 people have told Cindy about the pact and 1 of them was Jordan. Pilar is worried about Sindy saying she's super strong. Kevin agrees sindy is strong but doesn't think she has to be scared.
Keivn says he could not lie to her. Pilar says the same.
kevin – everything I say to you is 100% honest.
They kiss
8:58pm Willow and Sarah
trying to figure out who told cindy about the pact. Sarah thinks it was a lot of people who told her, because so many of them have been up her a$$ today.
ALLIANCES IN THE HOUSE
There are always a lot of Alliance but we've tried to make sense of it all.. Read our alliance help guide
[polldaddy poll=8803897]
[polldaddy poll=8797487]