POV Holder:
Zach
Next POV
April 24
POV Used
?
POV Ceremony
April 19
HOH Winner
Zach
Next HOH
April 22nd
Nominations:
Godfrey and Jordan
Have Nots
Godfrey, Sarah, Jordan, Bruno
POV Players
Zach, Jordan, Godfrey, Sarah, ?, ?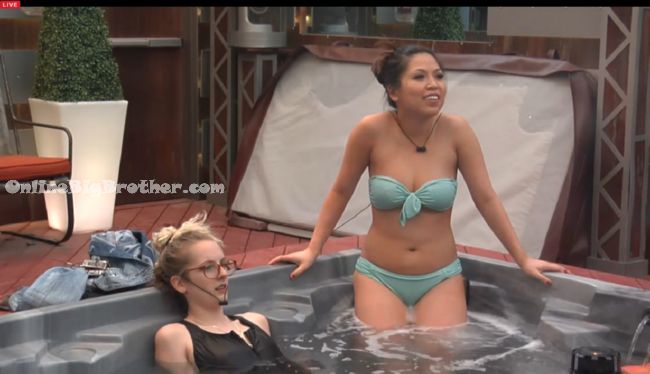 (Just a heads up a lot is changing in the house. Cindy coming back in actually has changed a lot more than I thought.. Enjoy 🙂 )
5:52pm Hot Tub Brittnee, Cindy and Sarah
Cindy saying she wants to target Zach but doesn't want to backdoor him, Thinks she sho9uld put up Bobby and Willow.
Brittnee and Sarah thinks Willow is emotional they might lose her if she goes up.
Willow joins them.. followed by Ashleigh… chit chat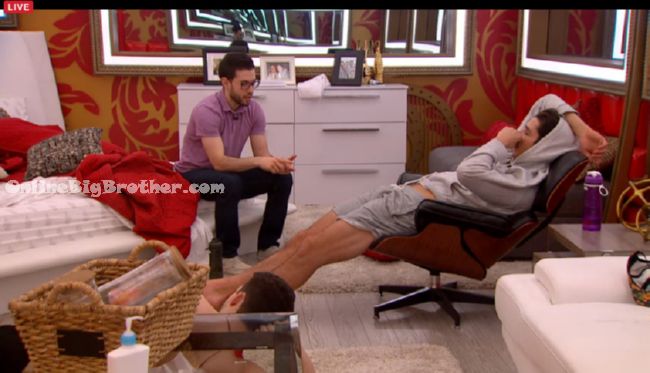 5:52pm HOH Kevin, Jordan and Zach
Jordan goes over his conversation with Godfrey. Zach is shocked how out to lunch with the state of the house Godfrey is. Zach doesn't think Godfrey can beat him in competition Zach doesn't think keeping Godfrey around benefits him. Jordan calls Godfrey a lost dog, a lost puppy.
Jordan brings up Godfrey saying that he can beat Zach physically, "He's not that scared.. he said he's not worried about Zach turning on him"
Jordan points out Cindy is going fo Godfrey so there's two people that are clearer going after each other .
Jordan – also He's a idiot .. He's a f****g idiot.. we'll never get a clean shot with backdooring these two.. Bobby and Bruno"
Zach says there's 12 people ij this house "I don't want to backstab them" points out he's working with Bobby and Bruno
Jordan – If you don't use the veto I could easily go home if you don't use the veto on me.
Jordan says Bobby is going after Kevin
Zach – I just heard Bobby say he's going after Cindy, Brittnee, Kev and Sarah
Zach is worried about Willow and Sarah getting close
Jordan really pushing for Bruno to go in his place. Jordan says once Bruno goes people will scatter they'll gain Sarah, Brittnee.
Zach points out theres 11 people still in the house they are not all going to join up with them they will move to where the power is.
Jordan thins all the girls love them they don't have to worry, "Willow is in love with you she'll do whatever you say"
Zach says if there was 10 people in the house he would take out Bruno 100% .. "there will be lost of times to take a shot"
Zach – I don't want you to fee i'm copping out on you
Jordan – I volunteered to go on the block cause I thought I was coming off
Jordan – You take the shot we got you you don't take the shot we got you
Jordan leaves.
Zach – JP really wants it eh
Kevin – ya
Kevin thinks it's a good play for him to but he understands that it's not the best plan for him.
Zach knows for a fact if Bruno and Bobby win the HOH next week he can get them to target Cindy
Kevin says he supports Zach whatever way he goes 100%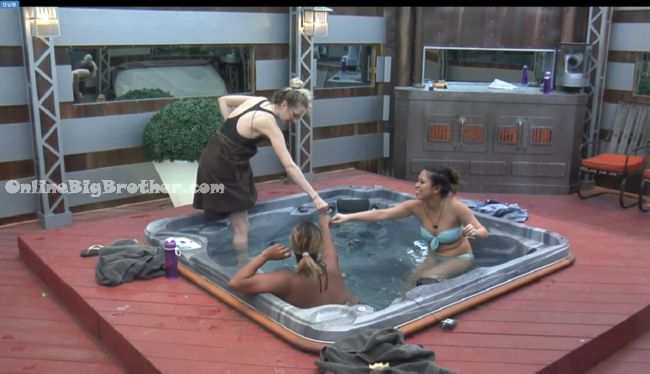 6:10pm Hot Tub Sarah, Cindy and Brittnee pt 2
They know Zach, JP and Ashleigh are together. Sarah says she trust them all 100%
Sounds like They have formed an alliance trying to figure out the name is the SSB "Like a ship"
Cindy – Like a torpedo
Sarah – and there's no captain on this ship
Sarah says they've really been struggling before Cindy came.
Sarah points out that Zach and JP were supposed to have Johnny's back and the very next week her and Johnny were up on the block. Z/JP said nothing. This is why they don't trust them.
Cindy – it's going down
Brittnee leaves. Cindy tells her she was sequestered with the other evicted houseguests. Naehe told her to trust Sarah. Cindy doesn't want Brittnee to know. Brittnee comes back
Cindy and Sarah head to the storage room.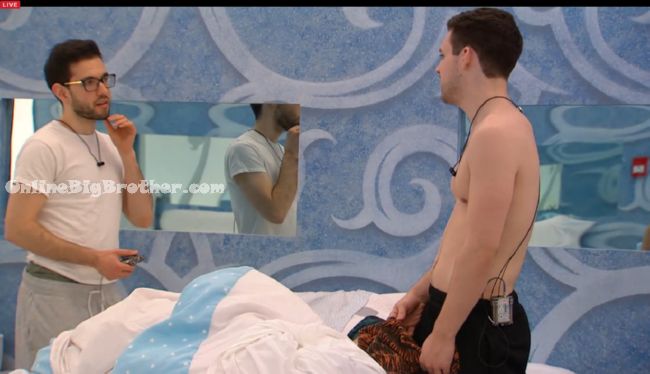 6:15pm Bedroom Jordan and Kevin
Jordan says he threw the veto because he thought Zach would win it and use it.
Jordan tells him they're good is Sarah or Brittnee wins.
They agree Zach is going to leave the nominations the same.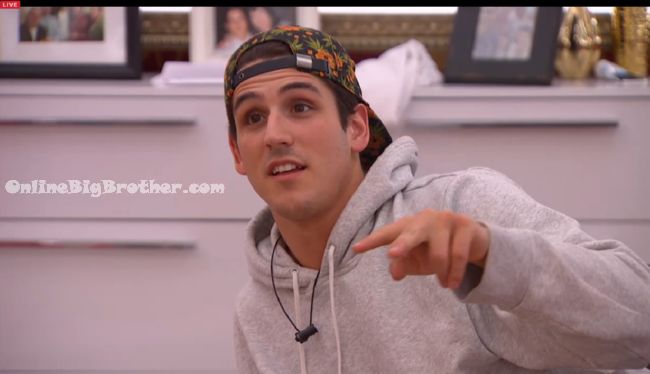 6:25pm HOH Ashleigh and Zach
Zach – I feel I would be jeropdizxing my game for Kevin
AShleigh – Don't do it
AShleigh doesn't want Bobby/Bruno to be backdoored it's too big of a risk for Zach's game.
Zach – it's too early
Ashleigh – don't do it
Sounds like they both want to keep the nominations the same and take out Godfrey.
Ashleigh – Godfrey scares the crap out of me, Godfrey's got to go
Zach – Bobby and Bruno aren't gunning for me
AShleigh says if Jordan wanted Bruno out so bad he should have won the HOH like was the plan.
Zach – I can't make a play this early for them
AShleigh – there's only 4 people gone
Zach – There's 12 people left I can't turn ion a loyal alliance
Zach – Kevin hasn't helped me at all
Zach – I'm not going to use the veto it's not good for my game
Zach tells her he's worried about Sarah she's the male Bruno set up with alliances all over the hose.
Zach says all the girls are talking about getting them out that is why they need Bobby and Bruno.
Ashleigh wants Brittnee out
Zach says if he won the next HOH he would take out Brittnee.
Zach – He's not setup in the house.. bobby
Ashleigh – it's because he put all this time and energy into something that isn't there anymore.. it's kinda sad.
Zach – Sarah, B Sindy they are working together No doubt about it
Zach explains with Bobby or Bruno gone that's one less shield in front of him.
Zach – I should almost take Godfrey off the block and put a girl up
AShleigh is worried about Bruno Godfrey going after kevin next week.
Zach thinks the bru crew will go after Cindy.
Ashleigh – we can't lose Kev right now.. Kev's a fricken beast.
Zach – I'm exhausted mentally..
Z – I'm just going to win every comp I can..
Z- If people want to take me out they'll have to take me out.. They have to hope i'm not in the POV
Z – I'm going to gun sling my way out of this game.. take 2 weeks off then comp out… I'm going to Comp the whole way down
Ash – just go nuts
Z – Just go f***g nuts from like 8 onward
Zach is tired of the social game
Zach says he should have just allied with 4 dudes and powered out the comps
Zach he wonders if he should go heavy on the comps with Bobby and Bruno "Just go heavy on the comps"
(Holy cow bbcan3 is getting good)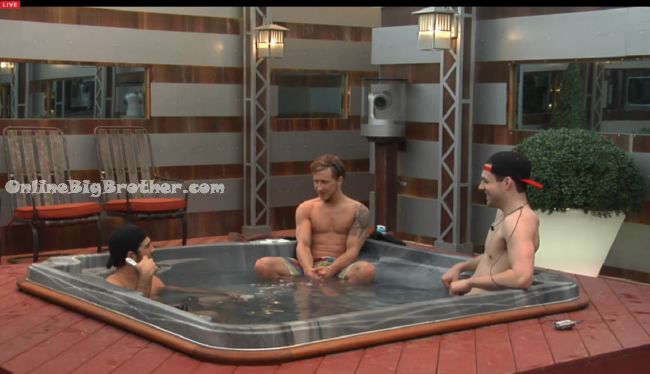 6:54pm Hot Tub
Talking about Johnny falling first in the HOH competition.
Cindy joins them..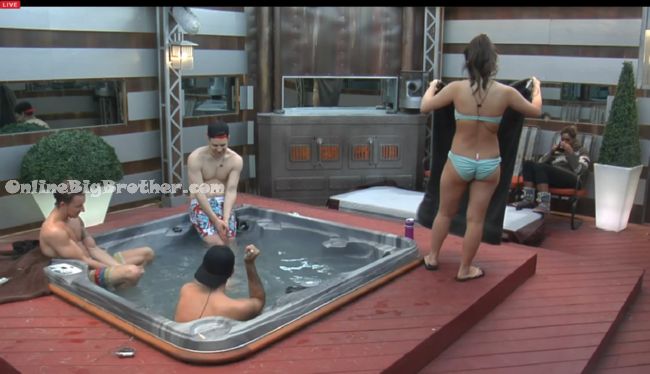 ALLIANCES IN THE HOUSE
There are always a lot of Alliance but we've tried to make sense of it all.. Read our alliance help guide
[polldaddy poll=8803897]
[polldaddy poll=8797487]