POV Holder:
Zach
Next POV
April 24
POV Used
?
POV Ceremony
April 19
HOH Winner
Zach
Next HOH
April 22nd
Nominations:
Godfrey and Jordan
Have Nots
Godfrey, Sarah, Jordan, Bruno
POV Players
Zach, Jordan, Godfrey, Sarah, Ashleigh, ?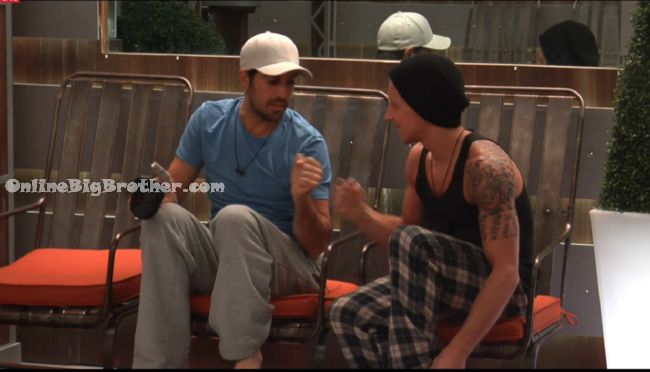 9:10pm Bruno and Bobby Hot Tub
Agreeing Zach is rethinking who he can trust. bruno wonders if they should try and get Zach to put up Sarah. Bruno knows if Sarah wins HOH she's coming after them.
Bruno- this is our chance.
Bobby – Zach is close to Brit and brit is close to Sarah. .
Bruno – if Sarah stays… if a girls wins HOH.. Shitty if a guy wins two guys on the block if a girl wins two guys on the block.
Bruno – they said it they'll do it
Bobby has some secret information about Sindy "Apparently someone told Sindy about the pact"
Bru – Supposedly 9 people has told her.
Bobby – that doesn't leave much.. it wasn't me
Bru – I hadn't .. I bet you it was Sarah
Bobby – Sarah, brit or Jp getting emotionally attached.
Bruno is worried Zach might be closer to Sarah's side than them. Points out that Jordan is really close to Sarah.
Bobby – I didn't know that
Bruno – we need this man.. if Godfrey can stay bud.. OH MY GOD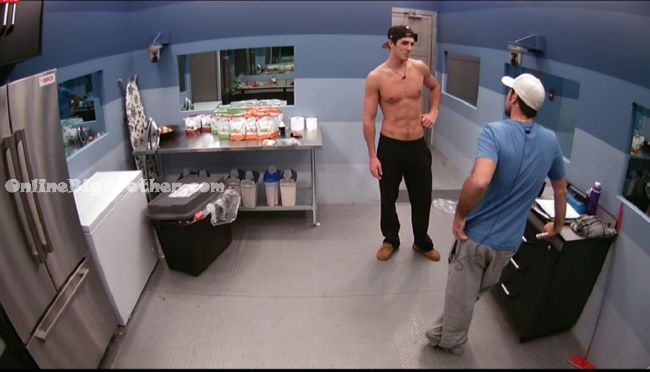 9:18pm Storage room Bruno and Zach
Bruno saying that Sindy is saying 9 people told her about the pact
Zach – thats a bullshit move
Bruno stresses that he, Zach, Bobby and Jp wouldn't have told her. Bruno thinks it was the girls
9:26pm Willow and Sarah bedroom
Sarah says she has no leverage right now. She needs to win something cause right now they think she's useless and when she talks to people they give her bullshit.
Zach comes in. chat about going to bed early.
Sarah says she's been off the weed for 1 month and she feels no different.
Zach – Reconfirms that doing it every day .. it's not additive
Sarah – Alcohol is addictive
Zac – you go through withdrawls..
Talking about getting their 'Green Card" Sarah says Graig had one . (Green card means you can use marijuana medicinally)
They wonder if you had the green card you could medically push for have it on the show. Sarah thinks they would just pick another person to be on the show. Zach laughs Graig would be sitting there smoking a fat doobie
Feeds switch to Jordan in the HOH changing
They switch back to the bedroom.. where Willow and Sarah are cuddling on the bed. Asheligh is eating a Popsicle and Zach is watching.
9:37pm Pilar and Kevin talking about relationships…
(I'll include the video for the showmance fans .. lots of giggling)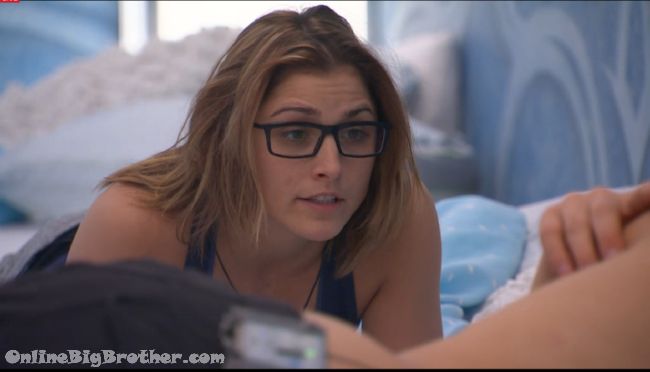 9:42pm Bedroom Willow and Zach
Willow – JP told Sindy about the pack
Zach no way.. really
Willow wants to get Sindy out soon.. says if she gets the hOH she'll backdoor Sindy
ASks him what JP is saying about Sindy. Zach says he hasn't talked to Jordan much about the sindy thing
Jordna – he knows he's safe
Willow – he's playing it up a bit
Jordan – Big time.. he'll be alright
Willow – who do you want out next
Zach – I dunno
They talk about Brittnee, Zach says she's goign to bury herself cause she's not sticking with any relationships.
Zach asks if Sarah is sticking with the pact
Willow – She wants Bobby
Zach says Sarah is good.
Zach says him and Ashleigh are whatever about the Chop Shop but Bobby and Bruno are really gung ho
Willow says she needs to get closer with JP adds he's preoccupied. 'I know what its like to be in love
Willow says if she won HOH Kevin and Brittnee would go up with Sindy as teh b@ckdoor.
Zach says he told Jordan that he was going off the block before he nominated him and now he's not doing that.
Jordan comes in "Big day tomorrow POV Ceremony"
They tell him there's not worries the vote will be unanimous.
Jordan laughs says Godfrey thinks he's staying.
They bring up that Sindy gets to vote this week.