POV Holder:
Zach
Next POV
Aug 9th
POV Used
?
POV Ceremony
Aug 11th
HOH Winner 1:
Nicole
HOH Winner 2:
Christine
Battle of the Block Winner
 Frankie/Ca;eb
Next HOH
Aug 15th
Original Nominations:
Nicole's Noms (Caleb & Frankie) Christine's Noms (Zach & Donny)
Final Nominations:
?
Have Nots
Donny and Zach
POV Players
Christine, Zach, Donny, Nicole, Caleb, Derrick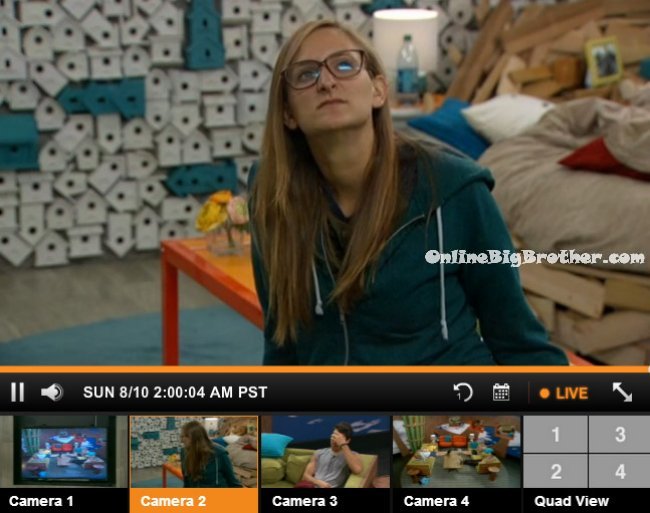 Take Advantage of the FREE 2 day Trial to watch all the drama!
2am Nicole and Christine are in the HOH room. They're watching the spy screen watching the living room where Caleb, Derrick and Cody are sitting on the couches talking. Nicole and Christine know that the guys in the living room just heard them try to open the door to listen. Christine and Nicole want to leave but know they've been busted. They pretend to talk about past season competitions as they leave the HOH room make the guys think they were up in the HOH listening or talking about them.
In the living room. Derrick says if I win HOH I am putting up Zach and Nicole. I don't care about the numbers, Donny will go home this week and Zach next week. He should have gone home last week. Caleb says hopefully the football thing will be tomorrow and Christine will tell me everything. Cody says be careful of what you say because she will probably tell Nicole everything. Christine will probably put up Victoria and want her gone. Cody says I am about to blow Zach up to Nicole! Derrick says do it. Cody goes to the bathroom and tells Nicole that Zach tried d**king you to Derrick. Nicole asks why did Zach do that?! Does he believe me? Cody says Derrick believes me. I let him know. I was glad that Zach told me so that I knew. I am pissed off, really pissed off. Nicole asks why is he blaming it on me. Cody says because he won the veto so he thinks he's safe. Cody tells Nicole how they heard Christine and her open the HOH door to try and listen to them. Nicole says it was Christine. It didn't even open it, it was closing. Cody says they heard it and then the camera turned. Christine joins them. Cody tells her about how they heard them. Christine says the door didn't even open. Derrick and Caleb join them. Christine and Cody hug. Cody says I can't believe you're not sleeping in the HOH room. That has never happened before.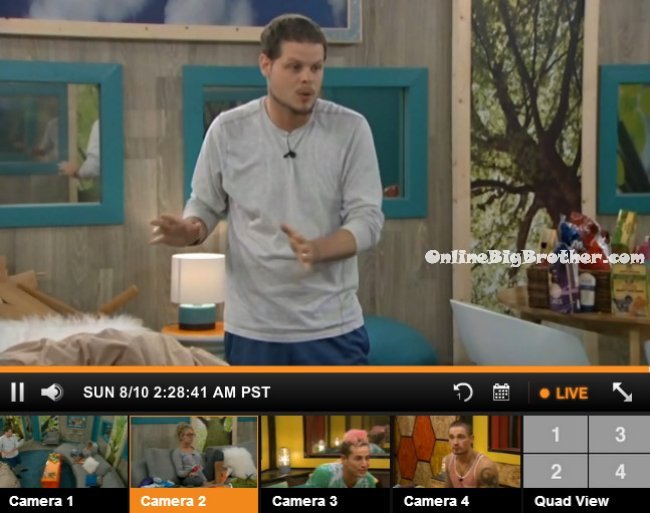 Derrick and Nicole head up to the HOH room. Derrick tells Nicole that Zach came to me and told me that you went to Victoria and told a ton of sh*t about me. Nicole says that never happened. This is what happened. Victoria came out of the bee hive room crying and talked to me in the fire room. She told me that Zach told her everything. She said that she had been lied to this entire game. She said that Frankie laid his cards down and that Derrick has lied to me about everything. Nicole says nothing came from me. I swear to god. Derrick says that is the same alliance she is referring to that isn't real. Derrick asks why didn't you tell me? Nicole says I was going to but hadn't had the chance yet. Derrick says you could have talked to me though. Derrick is annoyed. He says that he is going to talk to Victoria next. Nicole says talk to her with me here. Derrick says then I'm going to talk to Zach and call him out. Nicole says yes please call him out. Derrick says Victoria can't win competitions but I am not trying to manipulate her. I care more about that than about this game. Nicole says everything Zach is going to say is a lie! Derrick says I believe you over him. If his motive is to throw you under the bus. Derrick says the things Victoria is mad about aren't that big of a deal. She doesn't have the capacity to handle certain aspects of the game. Derrick grabs Victoria.
See what they can't show you on TV! -Try the Big Brother 16 live feeds for FREE!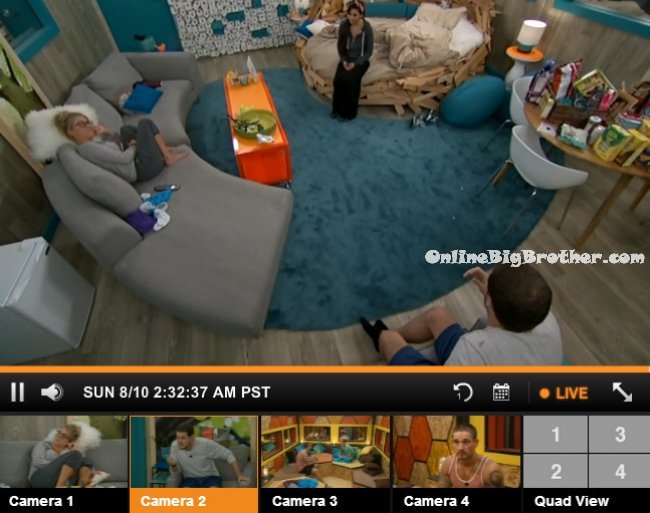 2:30am Victoria comes up to the HOH room. Derrick tells her that so far I have been here 8 week in this game and this is the first time I've heard something negative about me. Zach pulled me into the bee hive room and told me that Nicole pulled you (Victoria) into a room and told you a bunch of damaging information about you. Basically a bunch of lies. Derrick says that he told Zach if Victoria believes that then she can never talk to me again because its not true. What bothers me about you is that you have walked past me 3 times without saying a word and have been talking to other people. You talked to Frankie. Victoria says I didn't talk to Frankie about you. Nicole says I didn't do any of this and am mad that I am getting blamed for it. Derrick asks so who told you all of this? Victoria says Zach. Derrick says well just so you know I am going to call Zach out on it. Derrick says why would I vote him out if I was working with him. You took what Zach said about me and believed it, even for a second. I am hurt that you didn't come to me. Derrick says I am not in an alliance with anyone. If I am in an alliance with anyone it would probably be with you because people think we are working together because we're always together. I am not a fan of Zach and don't trust him as far as I can throw him. They talk about how she was told that Derrick was in an alliance with Christine and how its not true.
Big Brother 16 Live Feed FREE TRIAL – Use the FLASHBACK feature to watch everything you've missed!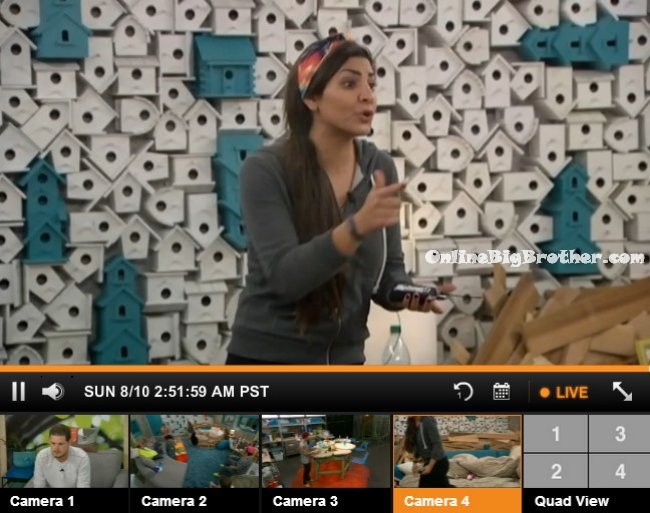 2:45am Derrick calls Zach up to the HOH room. He tells the other guys to come up too. Derrick confronts Zach about blaming Nicole for saying damaging information about me. Zach says straight up I did say that it was Nicole to remove the blame off of me. Derrick says okay I respect that you're being honest with me. Zach and Victoria start getting into it. Zach asks her why she was crying to me and telling me that Derrick betrayed me. Derrick cheated on me! Victoria says I never said anything. I got pulled up here and questioned. Victoria says this all started because you went up to Derrick and told him. Zach starts going off and tells them that he will throw the HOH next week and they can all vote me out! I don't care! Zach says Derrick is the one person that has had your back all summer long and I am the one that talks sh*t about you. I talk sh*t about you all the time. Zach tells Frankie that this all started because you threw me under the bus. Zach continues to go off about how everyone knows his game and he has no chance of winning. This guy is playing for kids in Africa! Zach says just so you to all know that we are here because I lied and said that it was Nicole to go to Victoria when it was really me. Zach tells Frankie you had my entire game in the palm of your hands and dropped me and sh*t on me. Zach says everyone in here is smarter than me. I don't care at this point because my best friend in the house wanted me out. Zach says at this point I don't know what I am going to do .. You all shouldn't trust me. Nicole goes to leave and says thank you for addressing this Derrick and thank you Zach for being honest.
TRY the Big Brother 16 Live Feeds for FREE with the 2 Day Trial!