POV Holder:
Zach
Next POV
Aug 9th
POV Used
?
POV Ceremony
Aug 11th
HOH Winner 1:
Nicole
HOH Winner 2:
Christine
Battle of the Block Winner
 Frankie/Ca;eb
Next HOH
Aug 15th
Original Nominations:
Nicole's Noms (Caleb & Frankie) Christine's Noms (Zach & Donny)
Final Nominations:
?
Have Nots
Donny and Zach
POV Players
Christine, Zach, Donny, Nicole, Caleb, Derrick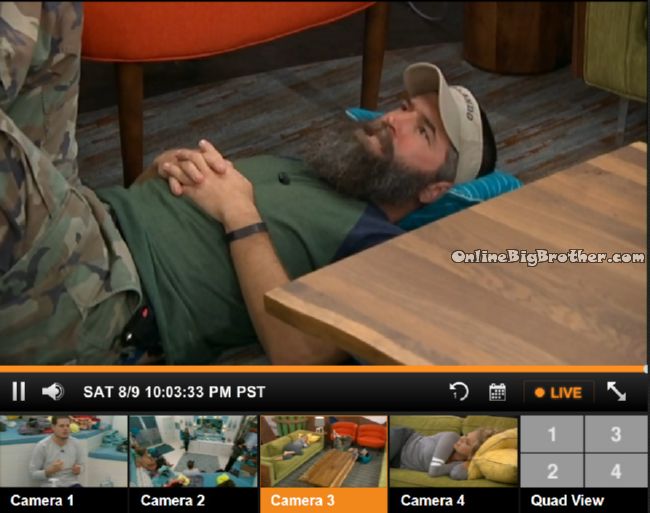 9:59pm Cam 3-4 Nicole and Donny Living room
Donny is hinting she should work on Cody to see where he thinks he sits on the end in a final 4 (Derrick, Frankie, Cody and Zach)
Donny – He's with three smart people he needs to get people while he gots people.. yo know what i'm saying"
Nicole says right now she would never vote for COdy, she says him, Derrick , her and HAyden were in an alliance and they went back on it.
Nicole says Cody is the one that got Hayden out of this house
Donny – he's their weakest link to persuade.. the other three can't if they are final 4 he cannot beat them he needs to use people to best them.
Nicole – Cody, Derrick will vote together"
Donny – And Victoria too.. Derrick has her in his pocket.
Donny – Derrick is going to win.. and i'm going to vote for him..
Donny – Derrick has deals with everyone.. the triple D's.. me, devin and Derrick day 2.
Nicole – oh my god.. I know Derrick throws competition
Donny – I think cody does to
Donny starts to laugh "I don't want to vote for none of them"
Nicole – I don't either
Donny – But Derrick would need the money more
Nicole right now the jury for Christine and Frankie is not good.. And if she backdoored me I would tell everything in the jury..
Donny says if Christine is beside Frankie she needs the money fomore teh frankie
Nicole – I would vote for Zach in a heart beat.. (Vote to win)
Donny doesn't think Zach will make it.
Nicole says Zach has an alliance with Frankie, Cody derrick and Christine
Donny says it will shifts once they are gone .. hey I would vote for Victoria..
Nicole would to.
Nicole – if she puts me up her word means nothing..
Donny – theres no options of people to put up
Nicole – Victoria
Donny – she's in Derrick's pocket he won't let that happen
Nicole says if Christine puts her she is the devil she looked her right in the eyes and said I will not back door you If she does I will be sick to my stomach and I will vote for Frankie over her to win.
Donny – I think they want me out Bad
Nicole – you were the target 2 days ago
Nicole – I'm miserable with Frankie in this house..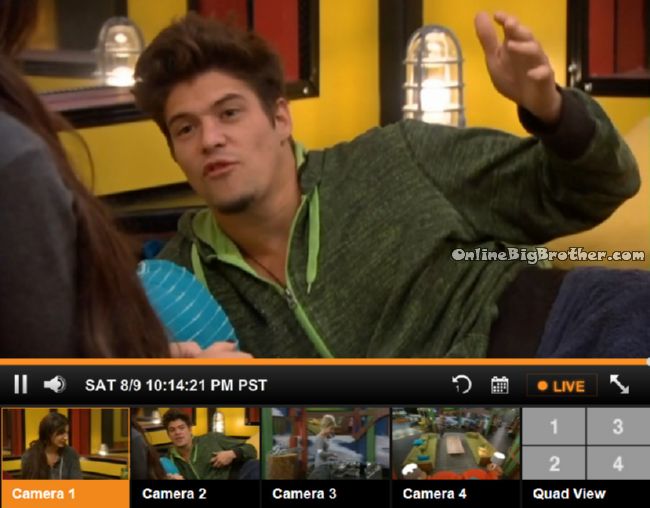 10:12pm BEEHIVE Zach and Victoria
Zach says Frankie and him had a final 2 deal they were in two alliance he got paranoid because he was keeping the truth about his sister a secret.
Victoria – You really think that 's the reason zach that's such bull sh1t
Zach – I know isn't it..
Zach – Four weeks ago we made another alliance.. please don't tell cody and Derick.. me, Derrick, Frankie and Christine.. we were in an alliance and we still are.. Frankie is trying to repair all the damage now because he tried to get me out last week..
He adds that Christine and Frankie told a lot of lies and got caught but right now everyone is saying they are good.
Zach brings up the hayden, COdy, Nicole and Derrick alliance say it had a name and everything.
Zach says Frankie had him in the storage room for 30- minutes said we can fix everything he told Zach America loves us when we're together. Zach thinks he was able to convince Frankie everything is fine between them.
Zach – At this point I'm not going to talk game just win COmpetitions.. I want Christine out.. "
Zach – Christine only has 3 options you, derrick or Cody..
Zach – I had a final 3 with Christine/Frankie and A final 3 with Derrick/Cody I was the common denominator
Zach – and A final 2 with Frankie..
Zach says he's told Nicole everything just like he told her Victoria keeps reminding her he's got nothing to hide.
Zach – Frankie ruined my game
Now Frankie acting towards Zach like they are all good "we have to break up to get stronger that is what he actually said to me."
Zach mentions Christine and Frankie told Caleb that Nicole is going up everyone wants Nicole gone.
Victoria – I hope I don't go up
Zach – If you go up you are not going home… I hate Christine
Zach adds he's going to tell Donny everything again he has nothing left to hid…
Victoria says she never trusted Frankie since week 2
Zach doesn't trust Frankie either but Frankie is such a good talker. First chance Zach gets he's taking out Frankie
Zach says if Nicole is on the block he's voting her out and keeping Donny Nicoeol has said so many lies.
Zach – If Nicole goes this week me, you, cody and Derrick and we flip the script on Frankie and Christine.
Zach – I'm glad we had this talk we know who the f***g snakes are Frankie and Christine..
10:38pm Cody getting some cuddles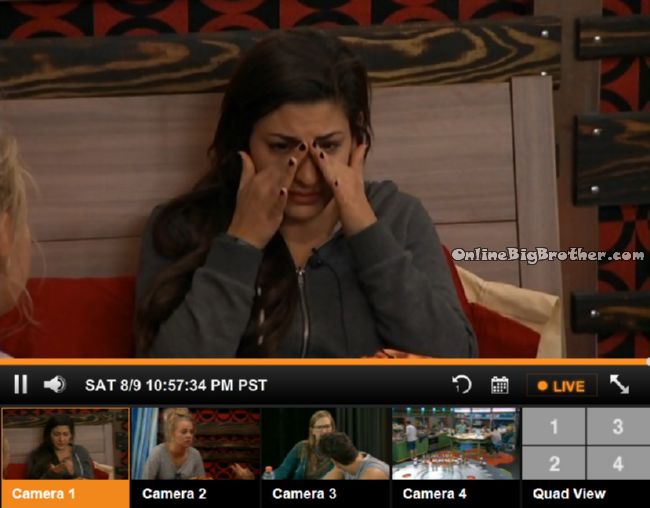 10:56pm FIREROOM Victoria and Nicole
Victoria says she's been lied to this entire game she feels so stupid
Victoria – oh my gosh I don't know what to say or do .. I literally want to punch him in the face
Nicole says she thinks he's lying to protect Victoria he'll keep her as long as he can
Victoria – That is not what our deal was.. He was lying to me I don't want to be in this house I don't stand a choice unless I win HOH
Nicole- it's not fun I don't want to be around these people.. I felt the same way when Hayden left. it's a lot to handle
Victoria – I left so stupid I told Derrick 99% of the things I knew and he told me crap.. I got played
Victoria – I can't look at him to his face he disgusts me.. ..
Victoria – I don't' want to see him in the end I wanted to before but not now.
Victoria – I feel like I just found out someone is cheating on you..
Nicole – I know how it feel when Hayden left when she was blindsided.
Victoria – I feel so stupid.. oh my god the things I said in the DR.. and for Zach to come out with all these things.
Nicole – I trust Zach more than all these people in here and I think he hates me again but I still like him
Nicole tells her to be positive they have to fight and they need each other.
VIctoria – Nicole you can't start building trust after day 52 in this game .
Nicole – he's been playing you 100% ..
Nicole says Derrick and Cody played her they pretended getting Jocasta out was last minute it was so disgusting.. you have to stay in this house and we have to win HOH ..
Nicole – you can't be pouring your guts out
Victoria – i can't even look at him anymore i'm done..
Nicole – I think Donny is going home this week..
Nicole – we have to hope they turn on each other.. they can't go after each other yet..
Nicole – me you Donny we're gone.. I honestly don't know what we can do to stop it..
Nicole warns her she's pretty sure Cody, Derrick, Frankie and Zach are still working together. Nicole thinks Christine wants Frankie out of the house.
Victoria says he will take Frankie out.
Cody comes in
11:17pm FIRE ROOM Cody and Nicole
nicole tells him she knows he's working with Derrick, Frankie, Christine, Zach . She want to work with him though because he's on the bottom of those four they need each other.
Nicole is good with Christine now they wiped the slate clean and
11:03pm Derrick and Christine HOH
Christine tells him she buried the hatchet with Nicole.
Derick says if she puts up Victoria Donny will go home and Victoria won't be mad at her she's going after Zach.
Christine says she only feels like she can talk to Derrick and Cody right now.
Derrick – we're doing good..
They talk about the awesome one liners production gives them to say n the DR. \Derrick says he' starting to accept Caleb's Beastmode Cowboy Status THey agree Caleb is strong at Physical and Mental Competitions. .
Derrick says everything Frankie did last night was for strategy. Christine says Frankie's sister can donate money for homes in Africa. Derrick tells her Frankie could win HOH so she better play nice to him.
Derrick – She' really not bad for any of our games.. she wouldn't go after you, Caleb, cody i think she might go after Zach. Victoria Doesn't talk sh1t about anyone.
Christine – Zach's working her shes easily swayed
Derrick says Hayden really had her in the palm of his hands..
Christine – that was insane..
They start talking about Frankie being in the game and how his sisters zillion twitter followers may skew fan vote elements in his favorite. Since both of them have gone against Frankie in the past they are worried.,
With a live feed subscription you can go back and watch any event that has been shown. Use our site as an index and watch only the parts worth watching.
Try It Free! Subscribe now to the official BB16 Live Feeds
11:36pm FIRE ROOM Nicole and Cody
Nicole tells her she's trustworthy she's got no one in this game.
Cody is saying Donny is the biggest schemer in the game
Cody – I will never open my mouth up to Christine again.
Nicole tells him Frankie has played the direst game in Big Brother history.
Nicole Asks him if Christine thinks he's working with her.
Cody doesn't know he really doesn't want to talk any game with Christine because he can't risk the chance she will spin it.
Nicole she feeds people so much information,,
Nicole- for Christine to turn her back on Hayden is really really bad.. she didn't trust him after a week.. the original plan was to get you in on in us four..
Cody knew that
Ncioel – you see you can't trust her.
Cody says he thought Christine was 100% trustworthy and she's not.