POV Holder:
Zach
Next POV
Aug 9th
POV Used
?
POV Ceremony
Aug 11th
HOH Winner 1:
Nicole
HOH Winner 2:
Christine
Battle of the Block Winner
 Frankie/Ca;eb
Next HOH
Aug 15th
Original Nominations:
Nicole's Noms (Caleb & Frankie) Christine's Noms (Zach & Donny)
Final Nominations:
?
Have Nots
Donny and Zach
POV Players
Christine, Zach, Donny, Nicole, Caleb, Derrick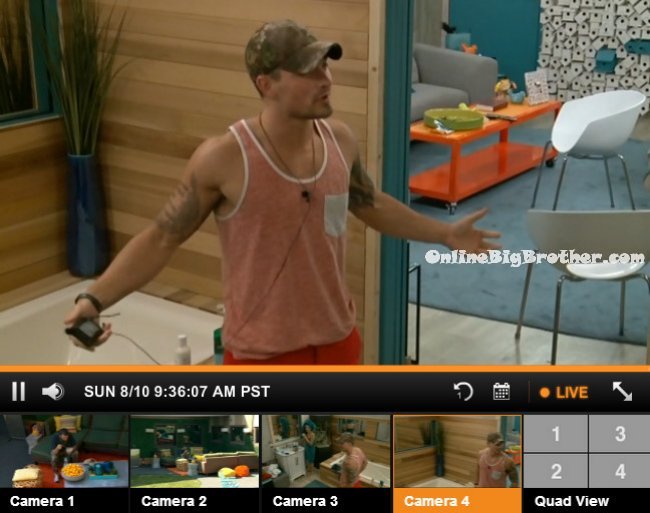 Take Advantage of the FREE 2 day Trial to watch all the drama!
9am – 9:55am Up in the HOH room – Caleb, Frankie and Christine are getting ready for their NFL reward trip outside of the big brother house. Caleb is asking Christine what shirts to wear. Caleb says I asked Donny if I should wear the overalls with one strap down… Christine and Frankie both yell no! Caleb says but I could be like its beast mode cowboy! Caleb says yeah would wear those around the house but I would want to wear something somewhat nice just in case I run into Kim Kardashian. Caleb asks what goes good with red shorts. Frankie suggests a few things but then when Frankie finishes his shower he comes out and tells Caleb he loves what he's wearing right now. Caleb heads down stairs and comments to Donny about how production told them to wear tennis shoes for the NFL trip. In the bathroom – Frankie says I wish we could ask them if we could take game. Caleb says of course we can. Christine comes in and says its going to be awesome!!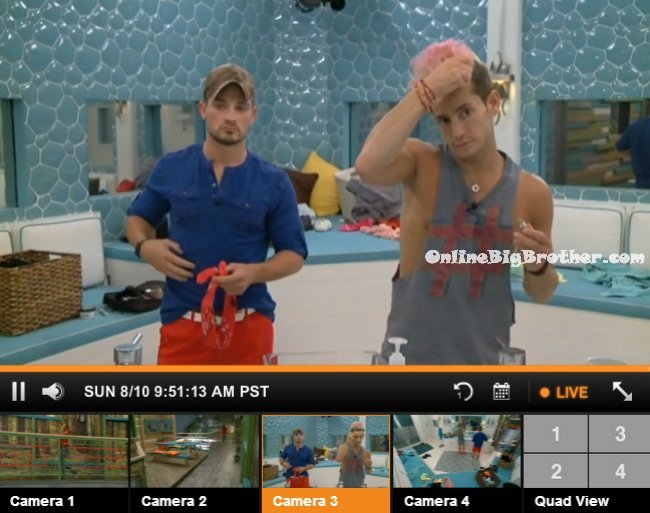 9:56am – 10:05am Frankie says I can't believe you guys were up until 6am! I knew this was going to be today. Frankie asks what happened after he went to bed, any game talk. Caleb says no it was just Frankie says I am glad I talked to Victoria before I went to bed. Frankie tells them they have 4 minutes until they are leaving. Caleb puts the bandanna on his head and tells Christine I was thinking of doing this. Christine says yeah. Caleb looks in the mirror and says wow! What Up!? Big Brother says Frankie, Christine, Caleb please go to the diary room! Caleb shows Frankie his look and asks how do you like it?! Frankie says I love it. Big Brother calls them again to the diary room. Frankkie says the NFL waits for no man! Frankie, Christine and Caleb head into the diary room to leave the house for the day.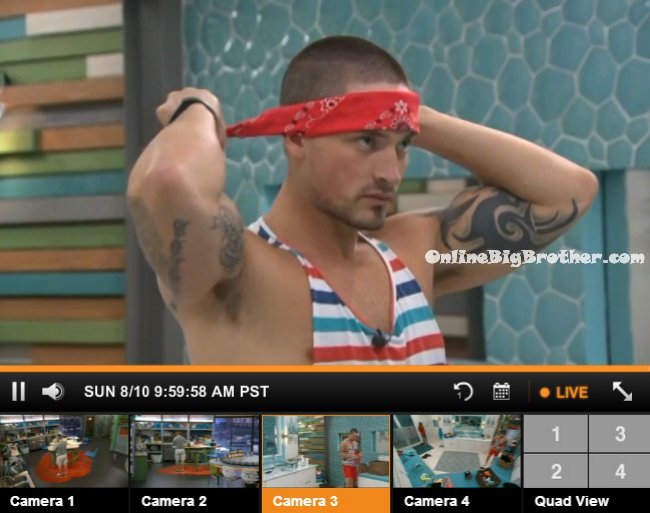 10:40am – 11:30am Donny works out on the elliptical and then sits on the backyard couch in silence. All the other house guests are sleeping. Donny then goes to work out with the weights. Donny looks at the camera and asks if its an internet feed? Maybe? He then tells his family / girlfriend he loves them. Donny does his laundry and sits on the backyard couch.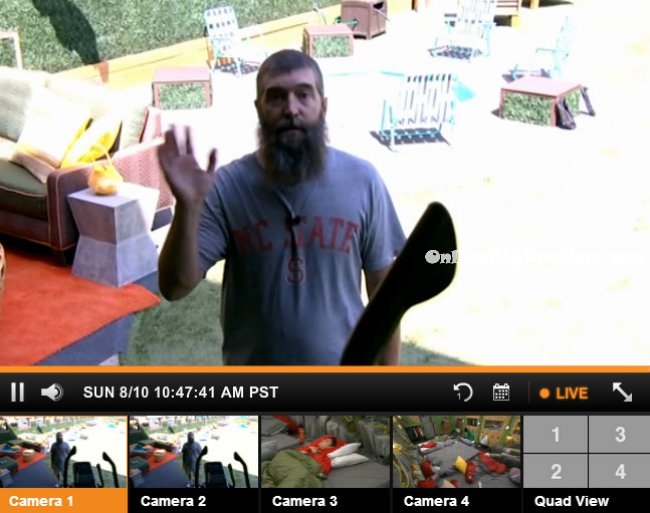 Big Brother 16 Live Feed FREE TRIAL!
– Use the FLASHBACK feature to watch all the drama you missed last night! –
12:15pm – 1:05pm Looks like even Donny was bored went back to sleep.. Donny wakes up and heads outside to put his feet in the hot tub.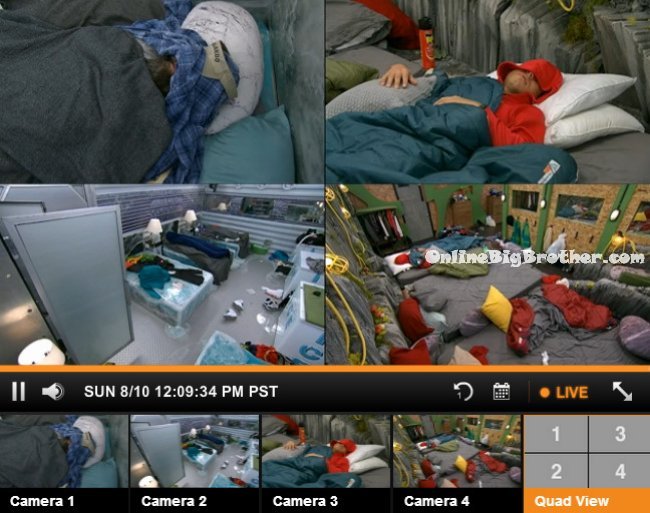 1:40pm Victoria wakes up and Donny says good morning to her. Victoria says good morning.
2pm – 2:20pm In the bathroom – Victoria says to Nicole that last night was intense! Nicole asks how do you feel. Victoria says good I guess. I guess its good that was the only thing in 8 weeks. I don't even know what to do any more. I'll just not talk until after Monday because theres a possibility of going up. Nicole says I hope you understand why I told you right? Victoria says yeah. Nicole says I don't know why he would do something like that. I am just sick of him getting away with things. I'm sick of it! Victoria says I can't even look at him in the face. Nicole says I am actually glad that Caleb told you about that. Victoria says I just shut my mouth about the biggest liar in this house and he is going to question my trust?! That should just put things into perspective. Nicole asks when Caleb, Frankkie, Christine got woken up. Victoria says 9am maybe. Nicole says that's early. Victoria leaves and comes back and says so much stuff happened last night and for no reason… for one lie! Nicole says I'm sick of my name being used. I am glad Derrick confronted them as opposed to just believing the lies and that Zach admitted to it. Victoria says that Derrick doesn't understand where I'm coming from. She says the fact that I hurt Derrick, hurt me so much more.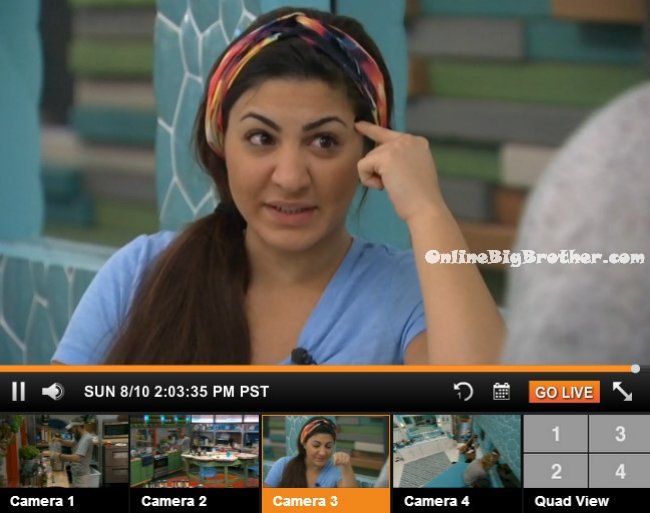 2:35pm – 2:40pm Up in the HOH room – Nicole says to herself that Caleb doesn't deserve Hayden's tank top. Nicole heads down stairs. In the kitchen Victoria comments that we're in a house with scum bags and liars. Today Frankie is going to fill Christines head with a bunch of crap. Victoria says Zach is a piece of sh*t! Nicole says I like Zach more than Frankie. Victoria asks do you understand what Zach just did. He did exactly like what Frankie did. Nicole says yeah but at least Zach admitted to it. Donny joins them and then heads outside. Victoria says Donny talks so much in the morning. Oh my god. Nicole says he's so bored. I think Hayden used to talk to him and now he doesn't have that. Nicole joins Donny outside. Nicole asks but you and I are good aren't we? You're not mad at me are you? Victoria says no!

See what they can't show you on TV! -Try the Big Brother 16 live feeds for FREE!
2:45pm – 2:50pm Out in the backyard couches – Nicole talks to Donny about what happened last night. Zach told Victoria everything that he has done from day 1 – day 52. He told her stuff about her and Derrick which upset her. When he realized he upset her he told her she better not tell Derrick. Then he went to Derrick and told him that it was me that told Victoria a bunch of things. Thank god after Derrick got to the bottom of it and then called Zach out in the HOH in front of everyone. Zach then admitted to it all. At least Zach admitted to the truth. Zach and Frankie then got into a fight with each other about the things they've done to each other. Frankie then told something to Victoria that upset her. Victoria comes out and the conversation ends.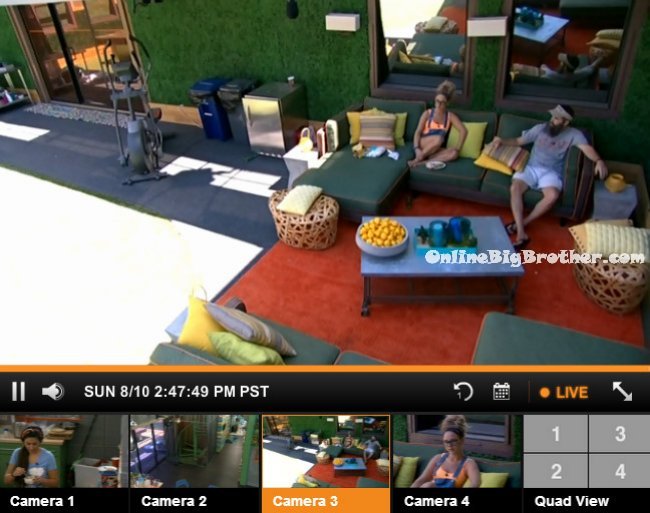 Alliances:
"The HITMEN" – Cody & Derrick
Team America = Donny, Derrick, Frankie
More polls here https://www.onlinebigbrother.com/big-brother-compendium/big-brother-16-polls/
[polldaddy poll=8233586]