POV Holder:
?
Next POV
?
POV Used
?
POV Ceremony
?
HOH Winner
Kevin
Next HOH
April 8th
Nominations:
? and ?
Have Nots
?
POV Players
?
Feeds will be down from the afternoon of April 2nd to the evening of April 5th
Alliances in the house
Week One there's a lot of Alliance but we've tried to make sense of it all.. Read our alliance help guide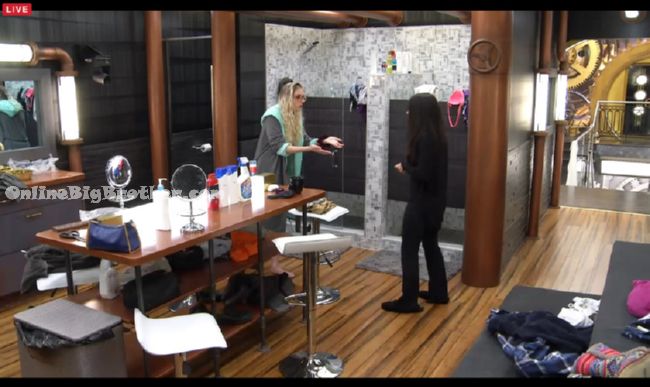 11:12pm Sarah and Naeha
Naeha I told Godfrey it's game on and I told kevin i'm taking each and everyone on of them OUT (Graig and Godfrey)
Naeha adds that she told Kevin if he hadn't won the Veto he was going home. Sarah has noticed that Kevin is pulling away from Johnny.
Sarah stresses they have to stop worrying about Simple people like Pilar and AShleigh.
Naeha says she's called out ever alliance in the DR because she knows
Sarah says there is something up going on with Kevin "He's Canada's player .. he popped that f***g ballon"
Naeha – If he's Canada's player I'm good.. I think I'm good"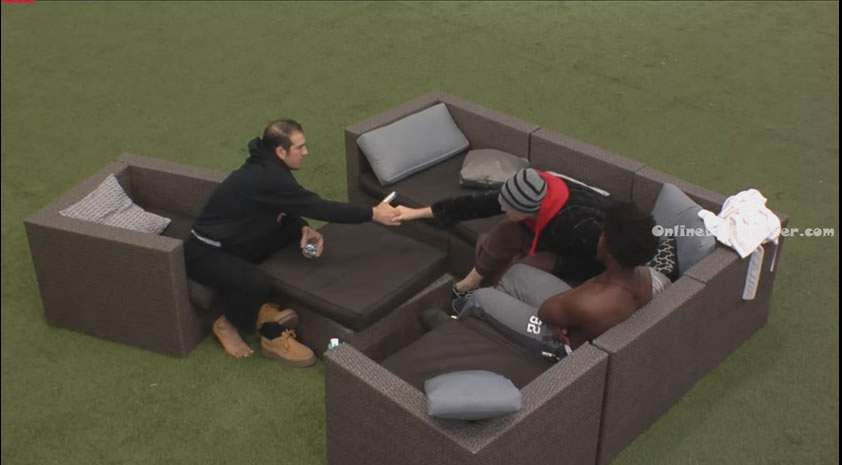 11:26pm Godfrey, Bruno and Graig
Bruno says the best thing is to get Naeha and Sarah up if the POV is used they put Jonny up. If Kevin puts Johnny up Jonny will be pissed next week and he'll come gunning for Kevin.
Grig thinks that is a great plan.
Bruno says if he wins the veto and one of them are on the block he's pulling them off. They all agree they have each others back. A fist bump seals the deal
Graig points out that Brittnee will vote for them because they saved her this week.
Bruno – F***g rights
Graig – F*****g rights
Godfrey – we don't need to stress this week. He points out if Kevin went home this week they would have been screwed right now.
Bruno – Notice how Naeha is buddies with everyone now.. I heard her right after the HOH she said Fresh start.
They agree Kevin and Jonny are drifting apart.
Graig – he wouldn't kiss him he wouldn't slap his ass
Godfrey thinks Kevin's flirting with Jonny was for the camera he warns that the girls will start recruiting now "Girl power"
Graig calls Willow and AShleigh floaters "they're going to go with the flow"
Bruno speculates if they can get Kevin to put Johnny up then Jonny will be pissed at Kevin and takes the target off them.
Godfrey laughs says he'll leave the convincing to Bruno
Graig – Sarah is not going to win the POV.. Johnny will.. that's bad blood and Kevin won't want that and we don't want that for Kevin..
Graig explains if Naeha wins the POV and Johnny goes up there's no bad blood he's going home in two days.
Godfrey wonders who is a better competitor Jonny or Naeha. Bruno thinks in competitions it's Johnny but Naeha is smart
Godfrey – "she's way too dangerous.. she's influential with the girls.. she's the only one that will rally the troops and get us out"
Graig she'll get far in this game if we don't get her out.
Bruno says he called it day one that Naeha had to go she's dangerous and a fighter
They start talking about how some of the players in the game are so worried about shoutouts and live feeders they are worried about the game. Graig mentions how the some of the players complain about being so tired then when midnight comes around they are running around giggling.
Graig leaves..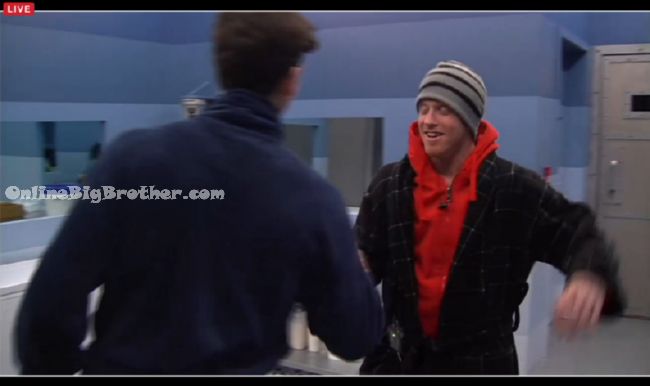 11:57pm Graig and Zach
Graig telling him the plan to convince kevin to put up Sarah and Naeha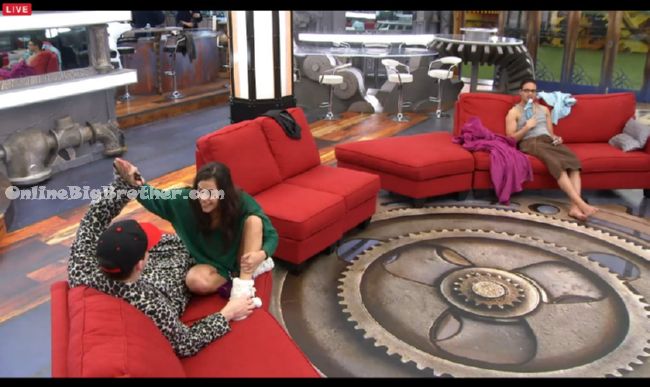 12:03am Pilar and Kevin giggling around while johnny off in the distance watching.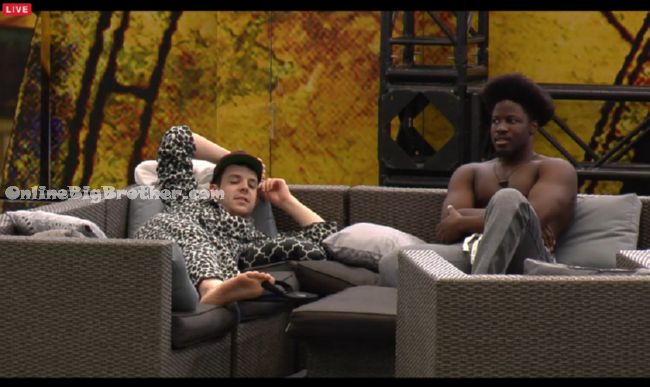 12:14am Kevin and Godfrey
Kevin says he trust him 100%
Godfrey says the two of them are the biggest threats Kevin because he's won two competition now.
Kevin trusts Bruno, Graig and Godfrey says his HOH will be their decision "Its a bro HOH"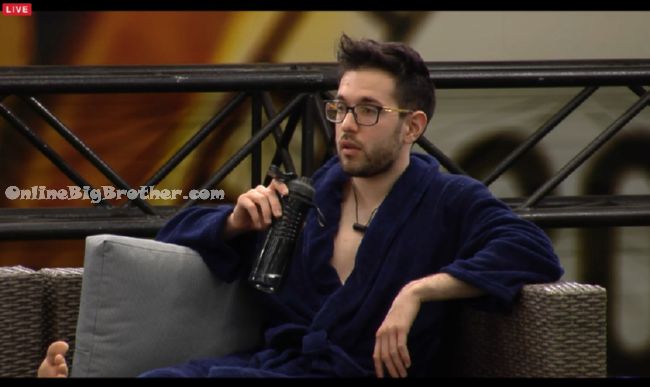 12:30am Backyard Zach and Jordan
Jordan – what should we do
Zach – go with the flow get rid of Naeha.. we could flip it if we wanted to .. at some point we'll want to lock Kevin in with us
They agree to get ashleigh this week as well.
Jordan – based on productions I think there some interest there
Big Brother gets mad at them tells them to stop talking about production.. Jordan says he'll stop
Jordan brings up Ashleigh telling him that Bobby tried to spoon with him and she didn't like it.
Zach – Ashleigh is totally into me.. 100% she's already in.. 100% and she's likes me.. Pilar and her are super tight
Zach warns him as long as the chop shop stays together Jordan is good. the Chop shop is a powerhouse alliance "Lets ride this shield out"
Jordan – eventually they are going to run out of targets..
They agree Kevin will be a major target to the chop shop because he's won so many competitions.
Zach – theres not very many smart player left once Naeha and Johnny go
Jordan says once johnny and Neaha are gone they flip and take Kevin and pilar with them and clean out the house.
Zach – I can pull over ashleigh and Willow
Naeha and Sarah join them
THey tell Naeha Godfrey and Graig want her out.
Naeha says Kevin was the target last week. Zach claims to not know that.
Johnny joins them says Kevin has been pounced already by the bros.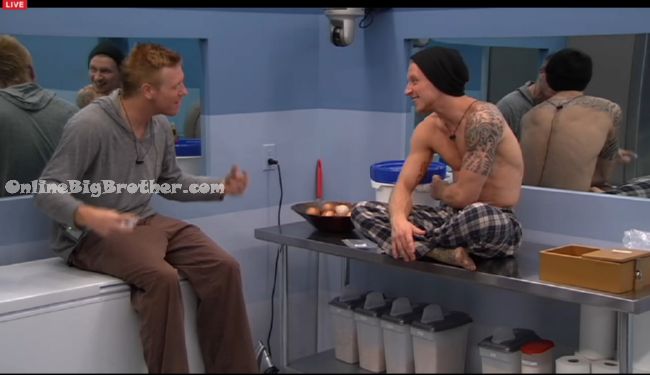 12:43am Bobby and Graig storage room
Bobby is worried Willow is going to get "BUTT HURT" if Zach starts hooking up with Ashleigh. She might stop caring about the chop shop.
Bobby – I want to talk to Zach..
Bobby is worried when they get down to final 8 final 9
Graig doesn't think Zach likes Ashleigh that much
bobby can really see Willow getting upset, "Willow is hard to read"
Graig – She with us
Bobby – I know she's with us but down the line
Graig says they have Godfrey for sure
Bobby says he's getting little tired from teh whole Willow thing, "If they start hooking up it could affect the chop shop"
Bobby – Chop shop first .. I'm game first
Graig – The show is loving the chop shop
1:08am Zach and Bobby Bobby brings up his concerns with Ashleigh/Willow/Zach and the chop shop
1:08am Naeha and Zach
She tells him he was the one that told her who the targets were last week, "Just be straight we me"
Zach explains what he was meaning. She tells him if Kevin puts her up over the guys he's making a big mistake. adds that she's a fan favorite because she heard all the crowds cheers during the HOH.
Zach tells her he doesn't know what Kevin is going to do. Naeha thinks Bobby has to go nows a solid time.
They agree Kevin is very hard to read. Zach wants to go to bed.
Support the site and purchase your Amazon goods through our link below. It doesn't cost you anything and we get a percentage of what you buy.
Amazon Canada
Amazon USA
[polldaddy poll=8772236]