POV Holder:
Zach
Next POV
Aug 16th
POV Used
?
POV Ceremony
Aug 11th
HOH Winner 1:
Nicole
HOH Winner 2:
Christine
Battle of the Block Winner
 Frankie/Ca;eb
Next HOH
Aug 15th
Original Nominations:
Nicole's Noms (Caleb & Frankie) Christine's Noms (Zach & Donny)
Final Nominations:
?
Have Nots
Donny and Zach
POV Players
Christine, Zach, Donny, Nicole, Caleb, Derrick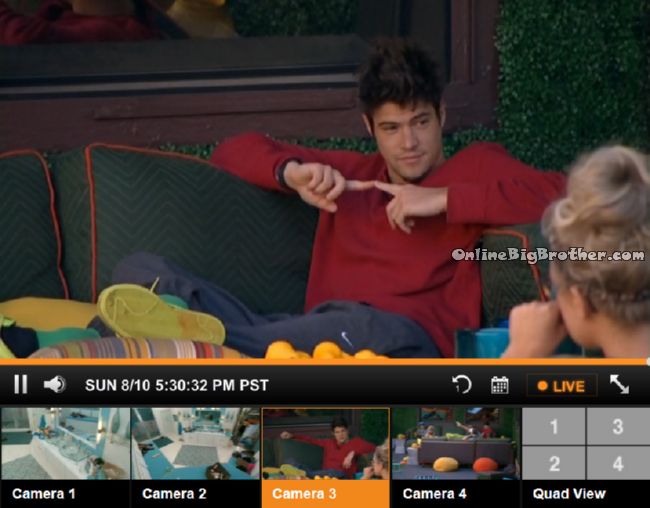 5:23pm Production talks to them over the speakers "you're one day closer to 5 hundred thousand dollars"
Donny says if they vote him out he'll be pulling a pop tart out of his pocket when talking to Julie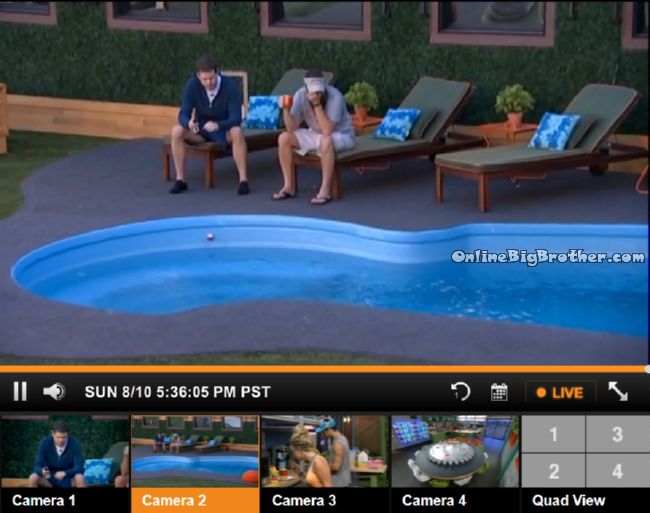 5:31pm Derrick is practicing his cast
Donny comes to him to chat.. They wonder what football game they are going to see. They suspect they went to San Diego because the other cities that have football teams are too far away.
Derrick says Victoria was a bit torn up last night, points out that this is the first time he was involved in anything.
Derrick – Zach pulled me into the beehive room said NIcole went to Victoria and told a bunch of lies about me"
Derrick – I was like really that is the first time I've heard anyone mention lies about me
Derrick pulled Nicole in asked her why she told Victoria these lies, Nicole denied it. .Derrick finds out it was zach all along via Victoria. He calls Zach out in the HOH at 3am last night
Derrick says Zach came clean said he told Victoria a bunch of things about Derrick that wasn't true (Derrick tells Donny these were lies but they were truths)
Donny – I'm glad I missed all that
Derrick – i don't want to do that.. I am one of the few people that defends that girl she was crying.. I have a daughter I'm not going to make that girl look like a fool ..
Donny – do yo think i'm safe this week
Derick – to be honest with you there's final 3 deals going around.. It depends on who you are up against..
Derrick – this whole Christine, Caleb and Frankie football game thing concerns me
Donny is scared about that as well.
Derrick says Cody isn't going up it's between Nicole, Derrick and Victoria. He doesn't think Nicole is going up either.
Derrick – I wanted to win the POV so bad I wouldn't have used it and you would have been safe.. you would have been up against the biggest target in the house.
Derick says the first three TA tasks where easy for them these last 2 have been tougher. HE really wants the TA Money thinks that should still be their focus.
Derrick says if they are on the block together. " I can promise you man to man I won't talk sh1t about you "
Donny – doesn't think it will be Derrick on the block
Derrick says Christine is closer to other people now.. "it's either me or Victoria."
Donny thinks if Victoria is nominated he's a goner for sure. Derrick agrees says he's just trying to be honest but DOnny will have a hard time convincing this house to vote Victoria out over him.
Derrick says the mission this week was damn well be near impossible.
Derrick brings up Frankie telling everyone about his real life outside the house was a smart move.
Donny – it erased a whole week
Derrick says Caleb was pissed at Frankie but now they are cool "Caleb is looking for celebrity status"
Donny thinks if he was sitting beside COdy he might have a chance
Derrick claims he would have a chance with getting his vote, says he's not working with Cody adds that Donny would also get Frankie's vote.
Derrick thinks there is a chance for someone to come back, "If they are going to do it it'll be the first 4 people that are evicted to Jury.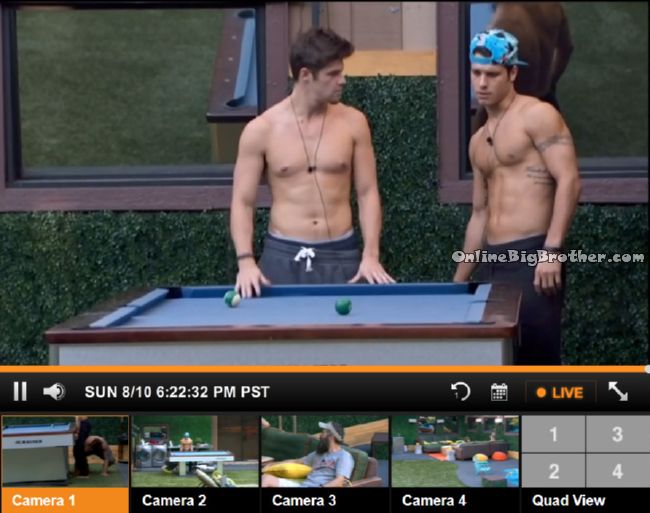 6:18pm Cody and Derrick joking around arguing
Derrick invalidates Cody's argument says "You sit while you pee"
Cody says Derrick pees with his eye close all over the seat
6:22pm Zach and COdy pool table
Zach – Dude I got a crazy cuckoo idea (doesn't say it yet)
Zach – that have not room is no f***g joke bro
Cody – ya it sucks
Zach – I feel like we have played pool in years
Cody – in forever..
Cody says it's really dangerous taking someone out in the game and having them come back in.
Zach "If Christine puts up Victoria we vote Victoria out and we flip on Frankie and Christine"
When Christine puts up VIctoria we vote VIctoria out and go with DOnny and Nicole and get Frankie and CHristine out.
They wonder what Caleb, Frankie and Christine are talking about at the football game.
Zach doesn't want NIcole to be put up..
Zach – I use to break phones like it was my job..
Cody – I NEVER broke my phones
Cody got his first phone in the sixth grade.
THey wonder what Hayden and Jcoasta are doing in jury
Cody – Hayden is w@nking
Zach – nothing better than w@nking it off camera
Cody – Dude I don't know what is going to happen moving forward.. everything that has happened in this game is wide open.
Zach – ya because of me
Zach – You were the worst pool player in the house and now you are DIRTY
Zach – dude do you actually still trust Christine
Cody – no.. then again who the f** knows..
Zach – it's not a bad thing everything is exposed
Cody – It's not a good thing.
Zach – you never know bro..
Zach – Smoke bomb..
COdy – Stop using my words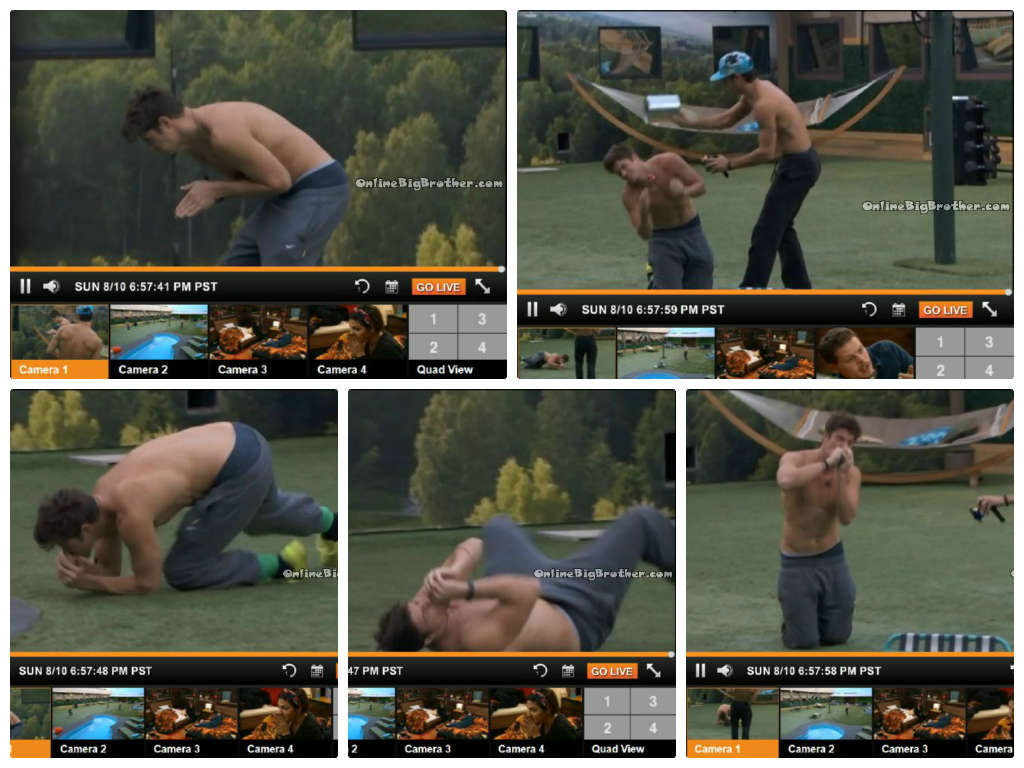 6:51pm Zach is the fish Cody the fisherman
Cody – It's a big one DONNY Get the Club Donny
The Live Feeds are archived. You can go back and watch everything that happens
Try It Free! Subscribe now to the official BB16 Live Feeds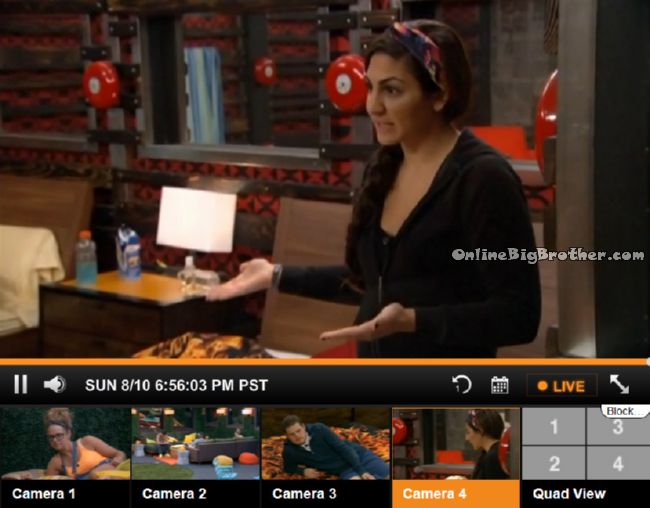 6:54pm FIREROOM Derrick and Victoria
Derrick says Zach didn't completely lie he did come to me and say the wanted to work with me
Victoria- he never said you were working together
Victoria Says it was told to her differently. Victoria says she trusts Derrick. but is worried about the whole things
Vicora cites BB10 when Keasha stood up for Memphis and in the end he was in the end with DAn.
Derrick says he was only upset because she never went to him.
Derrick says what happened last night was not good for their game he had to minimize the damage and that is why he called the HOH meeting and "Flipped the script on him"
Derrick says whichever one of them goes up on the block they have the votes. THey have to push the point they have not won very many competitions and Donny has won 5.
Derrick – If I go on the block try to keep me here.
Victoria – I think it's going to be me
Derrick – If they put you up Donny is going home..
Victoria is going to talk to Christine as soon as she gets back.
Derrick – I think they will be back in a couple hours.. 9 -9:30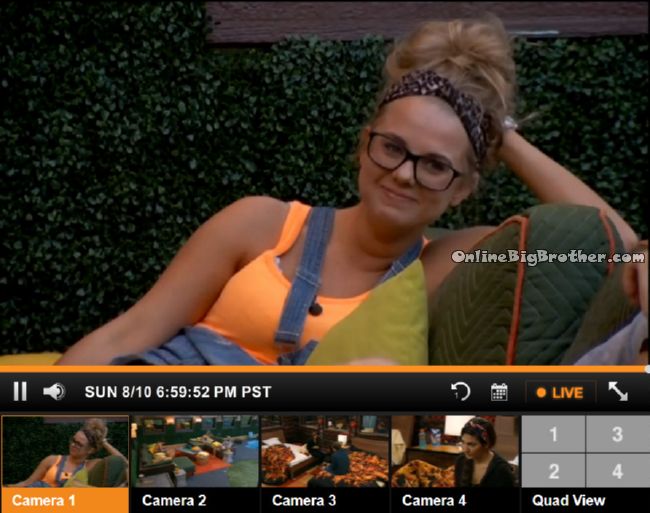 7:00pm Backyard Donny, Zach and Nicole
Nicole asks if Frankie and Zach are cool. Zach says Frankie things they are.. "He literally collaborated a plan to get me out"
Nicole – I tried telling you that
Zach – He was like But I saved you
Nicole – you wouldn't have had to be saved
Zach – Exactly
Donny – now you saved yourself.
Zach says Frankie doesn't admit to screwing Zach over he starts to then blames it on Zach tells him it's because of Zach's actions he was a target.
Zach – F*** Christine.. F***g a snake she's the worst.. "
Zach – I can't stand Christine F** hyena laugh dude.. OH my god that laugh you know Hayden's laugh use to really get me going.. it would piss me off.. now that Hayden's gone and all i hear is Christine.. OH my god I want to strangle myself. Christine is the worst.. IO cannot even mimic it..
Zach says so many people in this game have lied.. "Through their teeth.. you know"
Nicole – YUP
Zach – Frankie and Christine .. threw their TEETH they it's like every time they open their mouths it's a lie.. Frankie and Christine they like Can't tell the truth.. At this point they believe their lies.. they're pathological liars.. they believe everything they are lying about.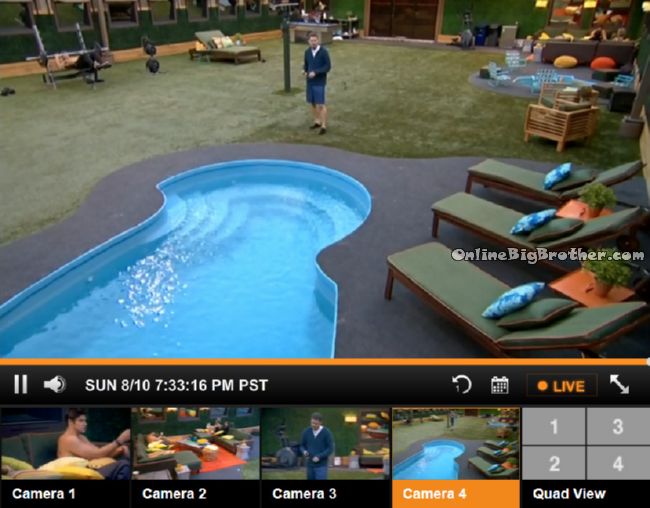 7:34pm Derrick practicing with the rod
Alliances
"The HITMEN" – Cody & Derrick
Team America = Donny, Derrick, Frankie
More polls here https://www.onlinebigbrother.com/big-brother-compendium/big-brother-16-polls/
[polldaddy poll=8233586]