POV Holder:
Zach
Next POV
Aug 16th
POV Used
?
POV Ceremony
Aug 11th
HOH Winner 1:
Nicole
HOH Winner 2:
Christine
Battle of the Block Winner
 Frankie/Ca;eb
Next HOH
Aug 15th
Original Nominations:
Nicole's Noms (Caleb & Frankie) Christine's Noms (Zach & Donny)
Final Nominations:
?
Have Nots
Donny and Zach
POV Players
Christine, Zach, Donny, Nicole, Caleb, Derrick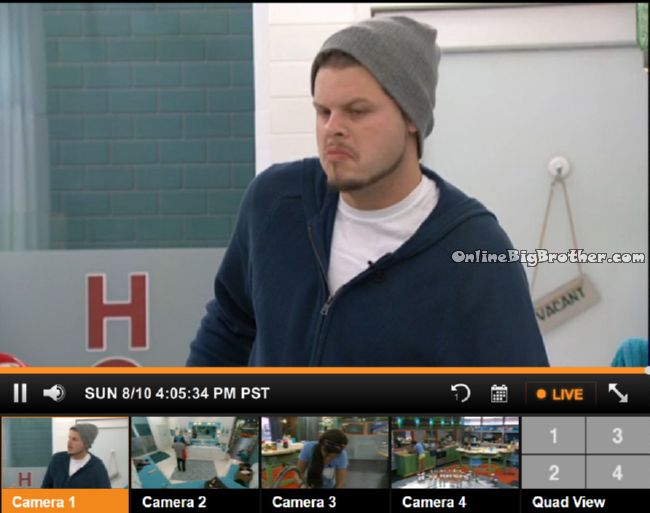 4:03pm Derrick and Cody Bathroom
Cody says the longer Donny is in the house the more idea's he's putting in Nicole's head.
Cody says Donny is always telling Nicole there's a larger group. Derrick – She's aware of it because Zach told her.
Derrick – If Nicole and Donny are on the block I think we should vote Donny out this week "
Derrick goes on about the other side grouping up against them and right now they have the numbers if the "hitmen" go up.
Derrick – Donny's got to go for sure.. the thing that scares me if Nicole wins hOH she won't put up Victoria and Christine
Cody says if Donny is left in the game he might not put up Zach he might put up Derrick and Cody.
Derrick – I'm playing Nicole.. she doesn't want to finish 5th place.. she's has to flip the tables
Derrick says Nicole is taking Christine to the end not Cody same goes for Christine that is why They both have to go.
Cody and Derrick agree Zach has to go
Cody – I have no problem next week
Derick – put him up against Victoria
Cody is going to blindside Zach tell him he has to go up because people are suspicious of the Derrick, Cody, and  Zach alliance.. "The Kids is going home" 1
Derrick – He could win POV easily.
Derrick says Nicole really liked Hayden he's seen her cry over him twice.
Cody – she said she was crying because he played such an innocent game and he played the best game..
Cdoy – Nicole you have no idea.. our game is ripping through people.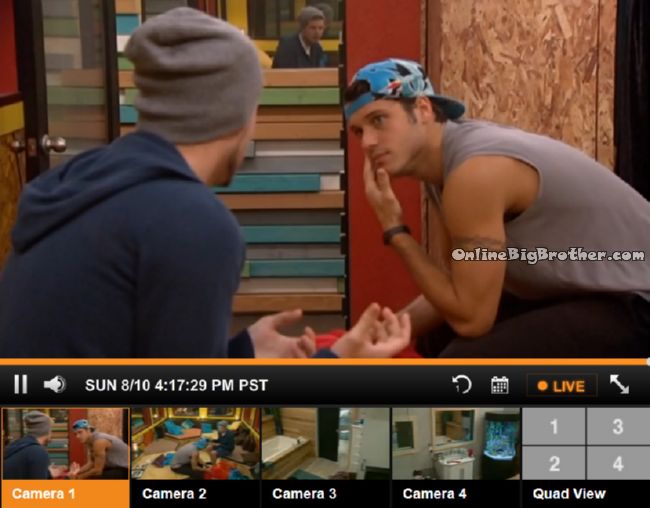 4:19pm BEEHIVE Cody and Derrick
Cody tells him Christine started an alliance with Nicole and HAyden week two but Christine never trusted HAyden right off the bat..Hayden also never trusted Christine.
Cody – Christine and NIcole are super tight but Nicole was tighter with Hayden and that pissed Christine off .
Derrick and Cody start telling each other keeping Zach and voring out Jocasta was the best game move..(they keep repeating around this conversation almost like they not fully convinced)
Cody says once Donny is gone Nicole really doesn't have much anymore she will be crippled.
Derrick – Frankie really wants Nicole out
Derrick says Zach was worried that Nicole will put him up next week. Caleb said in front of Frankie that they can get Nicole put up as the replacement nominee he'll go to Christine and tell her Nicole's' plan was to backdoor her if Frankie game down.
Cody – he's about as dumb as you can get in this game
Derrick – He makes some good points but he doesn't think before he speaks
Derrick warns him about talking to Christine and Nicole because they will swap information.
Derrick – I think Christine is lying and I think nicole is lying and they are just trying to cover their tracks with you in case you win HOH.
Derrick now saying that 'next week' Christine or Nicole have have to go home that way they can pull the remaining one in.
Derick – do we try and make a 3 person alliance with Nicole
Cdoy no she'll tell Christine in a millisecond ..
Derrick – we're already exposed completely…
Derrick says if he wins HOH he will put Zach up with Victoria. Zach is messing up everyone's game he keeps doing it.
Derrick – Victoria is genuinely not a bad person she's not going to win it but deep down she's not a bad person .
Derrick wonders if Victoria is working with Nicole thinks there a chance they talk a lot now.
Cody – Victoria talks to everyone
Derick – if Nicole doesn't go on the block Donny goes home if Nicole goes up we'll have a conversation
Cody – the house will vote Nicole out
Derrick – there's no shot in hell Christine will put Nicole up.
Derrick – lets be honest the cards are exposed it's now down to winning competitions..
Derrick think there's a real danger of them to going up because they are seen as together.
Derrick thinks Frankie and Caleb are going to mend things during the football trip Derrick is legitimately worried they'll lose Caleb and now with this Super star sister things are not looking good.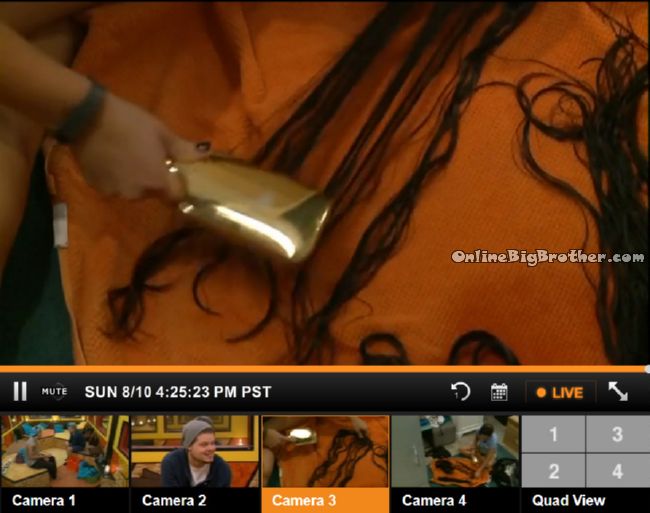 4:25pm Victoria cleans her hair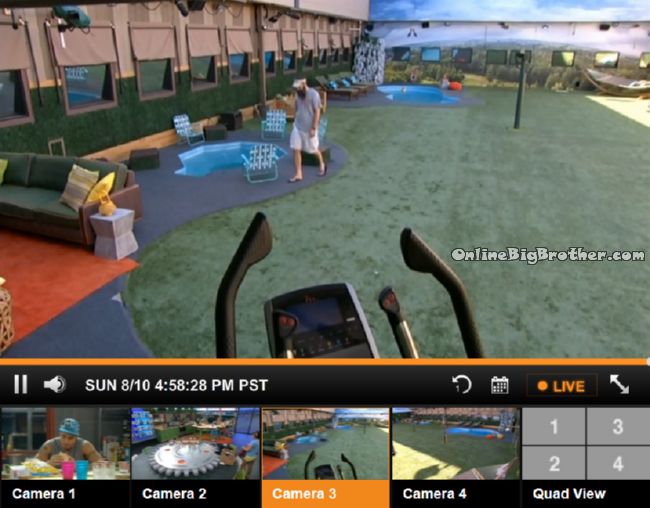 4:58pm Donny is the only one doing muscle train 🙁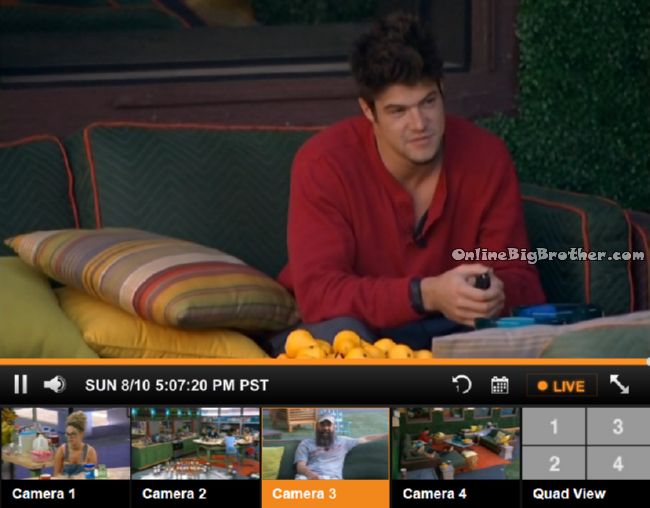 5:04pm Backyard Donny and Cody
Donny says the "fish patties" he's making are pretty good "I'm going to get Fat"
Zach rolls in they tell him Christine, Caleb and Frankie woke up at 9 and left at 10.
Cody says he left the HOH last night doesn't want Zach to think he's pissed or anything.
Zach – everyone hates me. it's ok
they start talking about the hardships of being a Have Nots. Donny brings up his fish patties, "I stuck it in the microwave for 30 seconds and it was good.. sat down with 3 spoons of peanut butter"
Donny says it's Jocasta's birthday today..
Alliances
"The HITMEN" – Cody & Derrick
Team America = Donny, Derrick, Frankie
More polls here https://www.onlinebigbrother.com/big-brother-compendium/big-brother-16-polls/
[polldaddy poll=8233586]