POV Holder:
Zach
Next POV
Aug 16th
POV Used
?
POV Ceremony
Aug 11th
HOH Winner 1:
Nicole
HOH Winner 2:
Christine
Battle of the Block Winner
 Frankie/Ca;eb
Next HOH
Aug 15th
Original Nominations:
Nicole's Noms (Caleb & Frankie) Christine's Noms (Zach & Donny)
Final Nominations:
?
Have Nots
Donny and Zach
POV Players
Christine, Zach, Donny, Nicole, Caleb, Derrick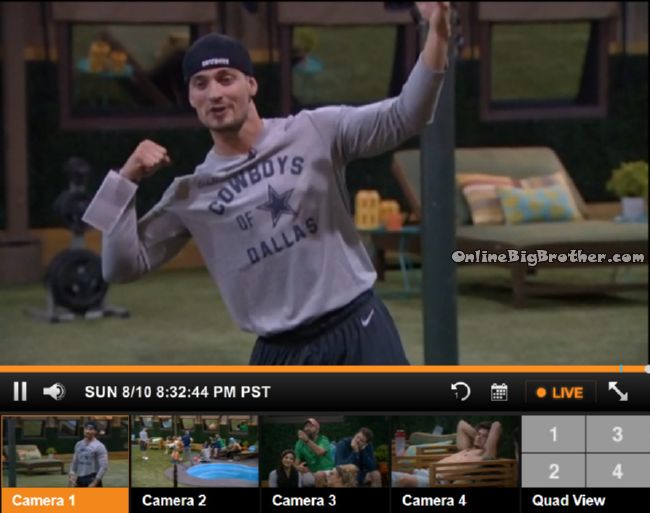 9:32pm Caleb, Frankie and Christine are back.
Caleb – We're in shock for seeing them and they're in shock seeing us
Caleb says the person that showed them around said his twin 16 year old sons are huge Big Brother fans they never miss an episode.
Christine – You know what we said on the way back… We miss our friends.. AWhhh
They say during event they weren't allowed to talk game. Caleb says someone told him he looked like he could play some football said he could be a running back.
Frankie – CAleb saw some hotties.. these football players wifes.. OH my they are HOT
Caleb got a jersey signed by Jason Witten.
Zach says what they got was better than a a exhibition game. They got to see the Cowboys playing drills, Meet Tony Romo,Jason Witten, Dez Bryant and Jerry Jones
Zach – "THe cowboys they're the tightest team."
(Sounds like Jessie from BB10, BB11 was there)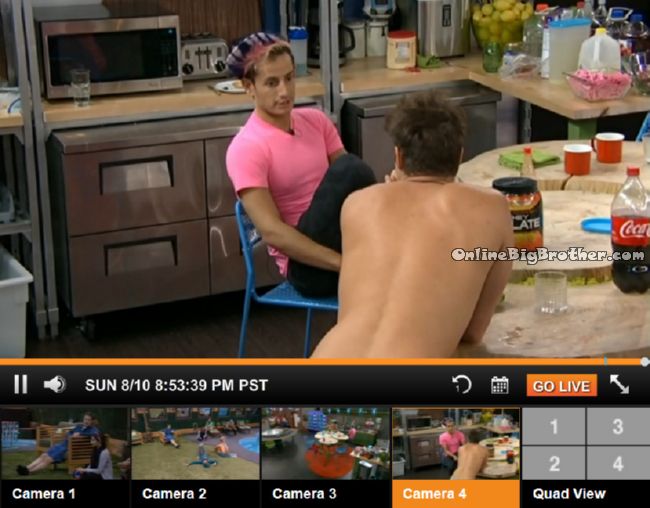 8:53pm Zach and Frankie
Zach – lets just do what the fuc** we're going to do and get to the last five people you know what I mean .. I'm just happy I won Veto.. if i didn't win Veto i would be a mess
Frankie – How are we
Zach – You and I WE good.. right ..
Frankie – It's up to you man.. i already told you how i feel about it.. its up to you
Zach – again i told you i don't have a choice lets get to the last 5 people and from there it'll be a f** dog fight dog fight you know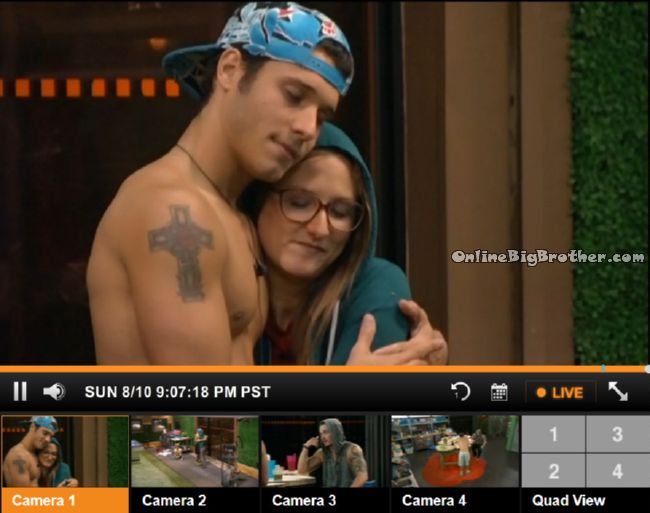 I missed you Cody..
The Live Feeds are archived. You can go back and watch everything that happens
Try It Free! Subscribe now to the official BB16 Live Feeds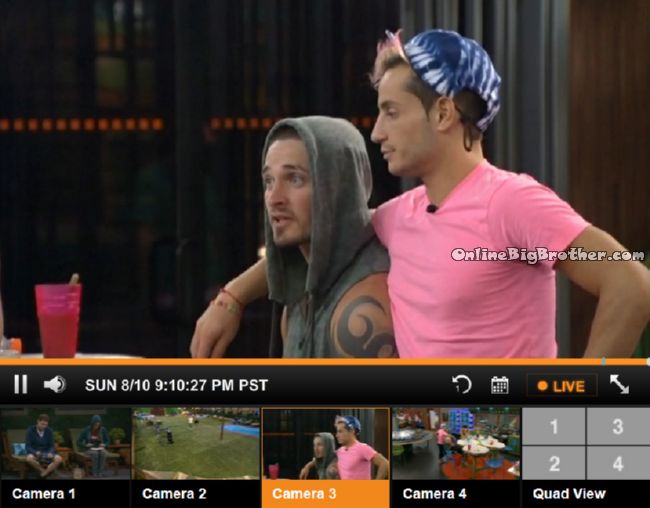 9:10pm Caleb, Frankie and Zach
Caleb and Frankie say they were not allowed to talk game at all. They are going to talk to Christine before bed tell her the entire house wants Niceol on the block.
Caleb – If I can get her alone with Derrick.. I will just flat out say it all and we'll see how she takes it
Zach – we have to get nicole out
Caleb – I have the numbers so I don't care what I say
Frankie says Nicole is saying "Awful sh1t" she has to go.
They are going to tell Christine, Nicole's plan was to put Christine up if Frankie won the POV.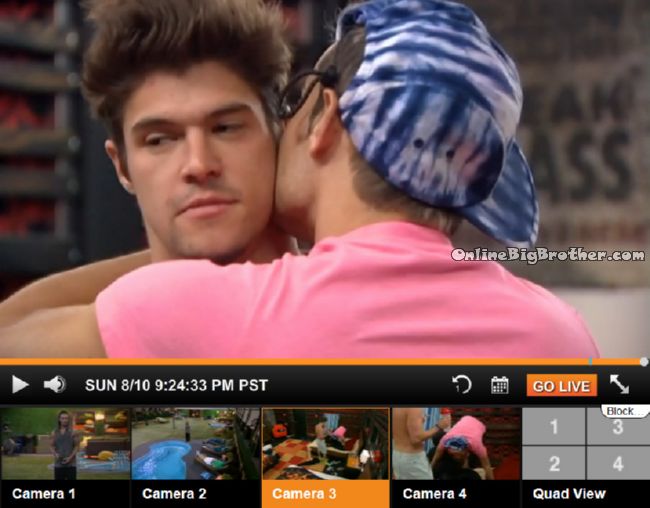 9:17pm Frankie and Zach
Zach saying Nicole has to go out this week.
Frankie – She's a lunatic
Zach – SHe's more of a lunatic than me
Frankie – I don't know if she's conniving or if she's crazy
Zach – again you said this was a blessing..
Frankie says "This is" one of the biggest disasters ever in the game.
Zach says he forgives Frankie wants Frankei to forgive him, they have to move on
It's us five against CHristine, Victoria and Donny.
Frankie – You think if she puts up Victoria we should take out Donny
Zach and Frankie both agree keeping Donny ofr victoria is best for their games.
Frankie thinks they can convince Derrick on it.
Zach says their backup plan is to bring DOnny and Nicole in if Victoria goes home.
Zach – We Keep Donny.. Donny isn't coming after me not coming after you"
Frankie – I'm basically saying Donny should stay
Frankei says Nicole said horrible horrible things about his sister he is never going to speak to her again.
Frankie says he missed Zach today the whole day he talked about him.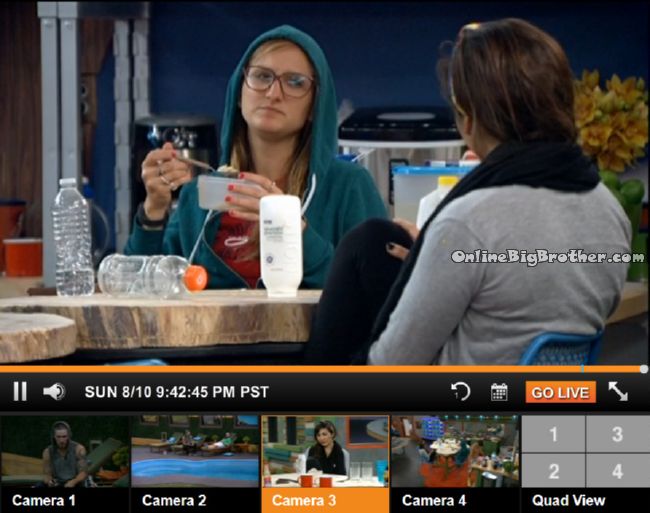 9:40pm Christine and Victoria
You can tell he' sued to the celebrity life biggest diva ever
Christine – Caleb was actually awesome
Victoria – like Caleb now that Amber has left.. he's conceited but he's genuine..
Christine says Frankie told production I need a coffee get me a coffee i don't care if theres suger or not I need a coffee
Victoria – what did sean say
Christine – Margot got him a coffee.
Victorira – really
They say Frankie isn't fighting for his life. Victoria mentions no one other than Frankie and Maybe Zach are very wealthy.
Christine says Frankie thinks he's a celebrity he literally acted like one the whole entire night.. I've never met a diva like that in my life..
Christine adds how Frankie was saying he hated everyone in the house didn't want to go back in there. Frankei was emotionally exhausting
Alliances
"The HITMEN" – Cody & Derrick
Team America = Donny, Derrick, Frankie
More polls here https://www.onlinebigbrother.com/big-brother-compendium/big-brother-16-polls/
[polldaddy poll=8233586]