POV Holder:
Bridgette
POV Competition
July 9th
POV Used
NO
POV Ceremony
July 11th
HOH
Bridgette
Next HOH
July 14th
Roadkill Competition Winner:
Frank
Original Nominations:
Paul, Tiffany, Bronte
After POV Nominations:
Paul, Tiffany, Bronte
Have Nots
Nicole, Corey, TIffany
CBS All Access: Live feeds are only $5.99 per month – Try it FREE for 1 WEEK!
Big Brother 18 Alliances Help Guide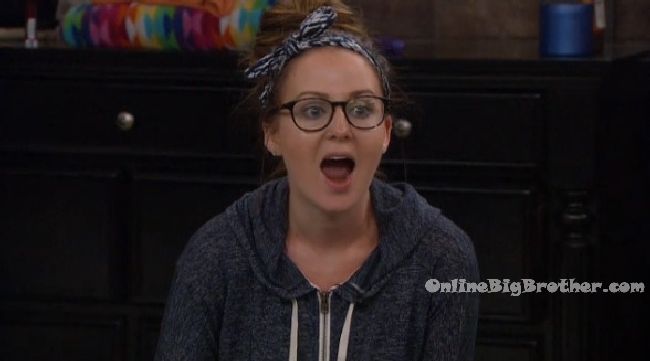 5:20pm Bedroom – Frank asks Tiffany doesn't see it coming, do she? Michelle says no she's been cleaning. Frank says this morning I walked around the corner and smiled at her and she turned around and kept cleaning. I've tried to be nice and get her to open up to me but she just won't. She doesn't sit down and bug me like she bugs ya'll. Gosh if Natalie goes home next week Natalie is going to be sh*tting bricks. They talk about how Natalie flirting with Corey and how someone should tell James. Nicole says if he gave her the time a day .. they would be for sure a thing. She called him (Corey) s*xy. She says it pretty much every day. Michelle says I want Paulie to tell James the stories about her and her friends back in New York. Because she's not this good girl that he thinks. Literally, I think the reason why she doesn't drink here is because she made a promise to her best friend .. her best friend probably knows how wild she is. Being flirty and who knows what else she does. Nicole says she did tell me she will drink in jury and when she drinks she makes out with everyone. Michelle says see you should tell James that. Nicole says no he would like that. Frank says James would be like send me to jury with her. I think we're better off sending her home after Bronte. Let him have fun and get more focused when she goes home.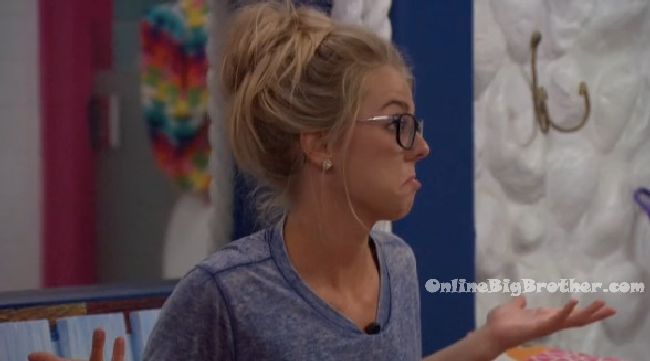 5:45pm Bathroom – DaVonne and Nicole are whispering. DaVonne says me, you, Michelle, James.. Nicole says I can't convince Corey (to keep Tiffany) because he doesn't like her. DaVonne says you can convince James to tell Natalie to vote out Paul. Nicole says but if we don't tell Z.. DaVonne says that's my only concern because she doesn't like her. Nicole asks are we going to vote out Bronte or Paul? Davonne says I'll vote out Paul. Zakiyah will vote Bronte out. James will vote Bronte out. Zakiyah joins them. Davonne asks Zakiyah .. what do you think about flipping and voting out Bronte. Zakiyah says I'll so whatever you guys want. Nicole says Tiffany would never put us up. Frank has been in Bronte's ear all week. That's another Bridgette. She's (Tiffany) gunning for Frank. We've got the same goal. That's us 3 (Davonne, Nicole, Zakiyah), Michelle and James. (Voting to keep Tiffany) Nicole says I'm just trying to keep someone in here that won't put me or my allies up. Zakiyah says I'm on board. Nicole says he's (Frank) going to be pissed but it doesn't matter if he's not HOH. Nicole says Frank is going to beast it in the POV .. I would be scared to be in it. That's why we need a boy to play in the veto and maybe go up as a pawn. DaVonne says Paulie or James. Zakiyah asks how should I put it to Paulie. Nicole says she would never put up Paulie. DaVonne says her target is Frank and Frank's target is her.
6pm Frank suggests getting Paulie out next. We can get Corey out later. Michelle says I think we need to cut someone from our team. I just wonder if anyone is coming back. Frank says probably but I hope not.
In the bathroom – Zakiyah tells Paulie we need to talk about some stuff! Paulie asks what kind of things? Zakiyah says changes.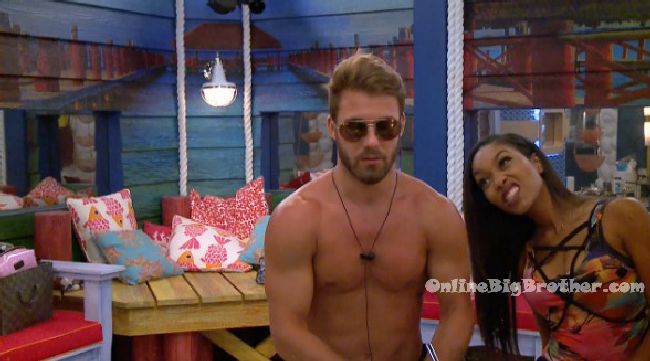 FLASHBACK and watch everything you missed: CBS All Access FREE Trial!

6:20pm Paulie joins Zakiyah on the hammock. She asks him what if we made a change to who we are getting out. Why get out someone that is on the same team and someone that also whats Frank out. Paulie says the reason why I think Tiffany is when you think long term. Zakiyah says I don't think she would be staying long term. She wouldn't be coming for you, me or DaVonne. Paulie says right now she is a long term threat. Once she gets Frank out .. who is she after next? She's a lone wolf .. who is she going to latch on to? Get her out this week and we're down to 12, get Frank out next week and we're down to 11 and then we're in control. Frank and Tiffany are capable to win something. Bronte won't. Zakiyah says yeah, you're right. Paulie says the first two people she (Tiffany) would try and blow up would be Corey and I, You and I or Nicole and Corey. She (Tiff) is the best option to go this week. She's a strategist, you've got to tag those people. Her sister was the same way. It would be foolish to make the same mistake two seasons in a row. Natalie and Bronte will never will a damn thing. You can pop them off whenever you want. She's too good, too good and dangerous. Zakiyah says I just don't need him coming back. Paulie says he can't, its pre-jury.. if he goes, he's gone! Zakiyah says I think that's good. Paulie says I know Corey wants Tiff out this week for a fact.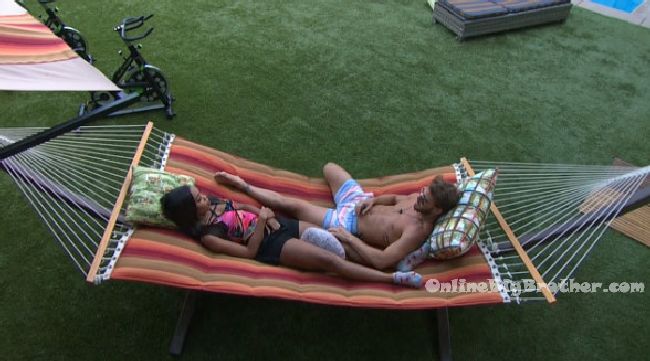 6:30pm – 6:40pm You, DaVonne, Z, Paulie, Corey and I just got added into it. Even though you guys have been in it for awhile. Nicole says its not really an alliance its a group. Nicole tells James Tiff is good to keep because she is targeting Frank and not us. Bronte wanted to put me up week 1. James asks do you trust Frank? Nicole says no! Nicole says Z is good about keeping Tiffany. Nicole tells James that if Corey was into Natalie she would be with him. He doesn't like her though. James says you kinda like him though don't you. Nicole says a little bit.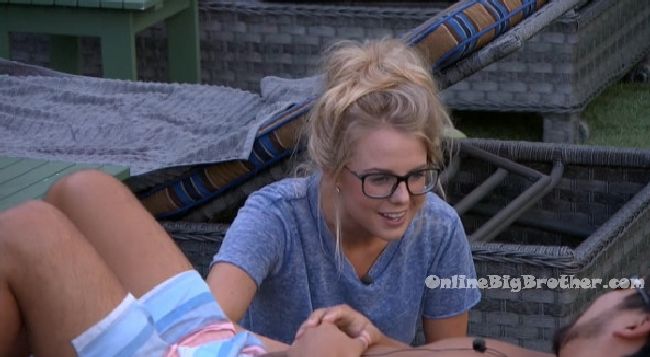 6:40pm – 7:05pm Tiffany asks Paulie do you think I'll be okay this week. Paulie says yeah, you'll be fine. Tiffany says I just think I haven't done anything to deserve a blindside. James stands up and asks our team is out here. Who are we voting out?! Paulie says Tiffany she's the long term threat. Corey says I don't know why we're doing Frank's dirty work for him. Nicole says if Tiffany is still in the house she's Franks target. Paulie says her sister was in the similar position and ended up blowing up everyone's games. Nicole sasy she would never put you up. Paulie says Tiffany is a strategist. Frank is her target next week. Who is her target after that. Especially if she finds out she was this close to going home. You have the opportunity to take someone dangerous now you take it. Corey says Bronte would put someone from our team up, Tiffany wouldn't. Corey asks will Bronte go after Frank next week? James says I talked to her and Natalie and they said the would put him up. Michelle joins them. James asks her who she wants out? Michelle says Bronte. Paulie says you guys are literally forgetting what Vanessa did last season. Corey says she sucks in competitions. Who is Tiffany connected to? No one. Who's Bronte connected to? A lot of people. Nicole says the only part of Tiffany staying that scares me is that Frank will know right away and be pissed. James says yeah he'll be gunning for HOH. Paulie says he'll know something is up and not throw the HOH. Nicole says if you two (Paulie & Michelle) are throwing it .. what does it matter. Paulie says if you guys want to keep Tiffany .. they everyone needs to keep their mouths shut for at least 3 weeks. James says I think maybe right now we don't rock the boat. Paul joins them and the conversation ends.