| | | | |
| --- | --- | --- | --- |
| POV: | Kaycee | Next POV: | Aug 25th |
| POV Used | NO | POV Ceremony | Aug 27th |
| HOH: | ANGELA | Next HOH: | Aug 30th |
| Noms: | Fes & Haleigh | Have Not | Fes, Haleigh, Kaycee |
Big Brother Spoilers Power of Veto Results – KAycee did not use the veto Fes and Haleigh remain on the block. Fes will be evicted on Thursday. There will be a battleback.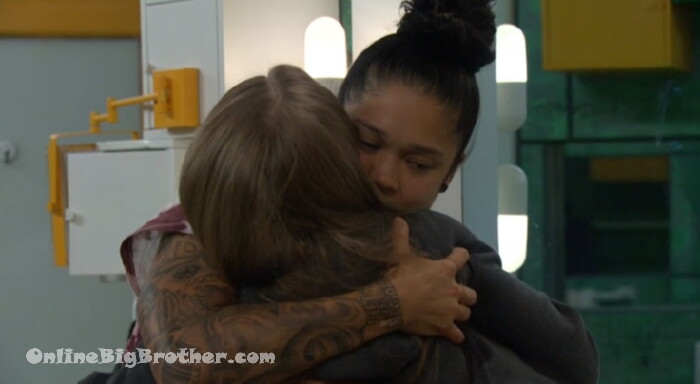 9:26am Kaycee Haleigh
H – you're not planning on using it
K – No
H – I just want to be mentally prepared
K – Yeah I plan on not using it
H – ok, Obviously I want it to be used on me but if it's not (she doesn't what it used on FES)
K – You're pretty much sitting pretty for the week.. and after this week you will be alone.. the numbers are dwindling down.. how do you feel
H – I feel ok.. I.. it's just hard because it's like it's just another person I care about and I'm friends with how do you..
H – when I was upstairs hanging out and stuff he was by himself
K – it's just hard.
H – it's hard to balance
Kaycee says it's getting tougher now that the numbers are going down.
H – I signed up for this expecting this.. it's not something I'm shocked that's happening
K – it's hard when you are in the middle of it and actually playing the game
H – yeah yeah
H – I just wanted to make sure that is where you're head is at so I'm not surprisedThey quickly hug it out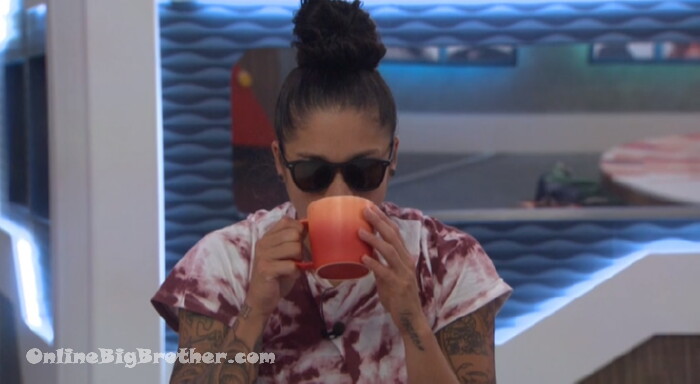 9:30am .
9:50am Bun Construction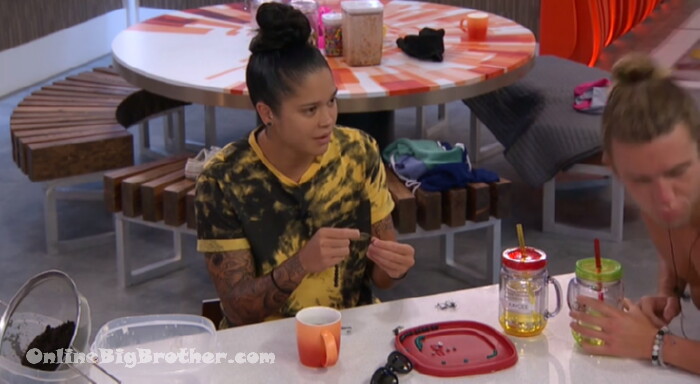 10:12am Tyler and KAycee
Kaycee – so I think I might use it
Tyler spits out his water and laughs
Kaycee – you know me too well
Kaycee – you are both amazing people but game wise It's best to keep the nominations the same
Tyler – perfect..
Kaycee jokes she'll say "I decided to use it on _____ (fes)
Tyler – because i',m in love with you
Kaycee – because I'm in love with you and I don't want you to leave.. I will never let go..
Kaycee – please accept this veto and stay in the house
Tyler- and accept my showmance offer
Kaycee – only if you dump Haleigh and take me
They joke about demanding a proposal from FES right now before the veto is used on him
THey laugh (HAHAH)
Kaycee – propose to me now..At around 10:30am she tried the same thing on Brett but he just laughed. They all know she's joking…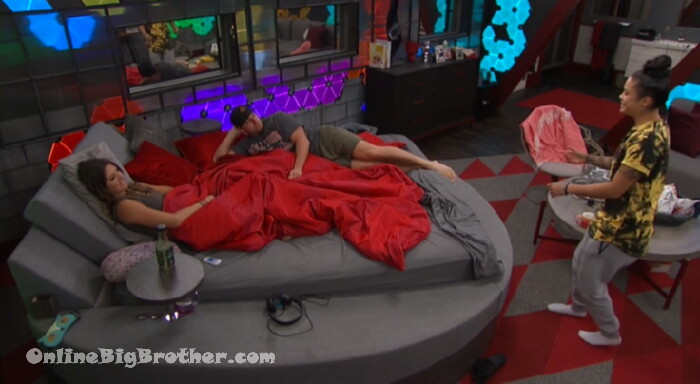 10:50am HOH KAycee, Angela and Brett Laughing about KAycee telling FEs she'll use the veto if he proposes to Kaycee
They talk about Brett's GBM..
Angela – don't worry fes I'll take good care of Haleigh
Brett mentions if they are not in a showmance he'll look like a idiot
Kaycee says Fes is totally in a showmance with Haleigh they mention to Brett how uncomfortable he gets when Brett talks to her.
Brett mentions when he was swinging on the hammock with Haleigh the other week Fes and Rockstar would walk out side like 30 times to see was it going on outside. they were the only ones out there at the time so it looked super awkward.
K – it's the most obvious thing.. I don't know if he's trying to be sneaky about it
Kaycee says the thing that will get under FEs the most is he's leaving Haleigh behind with Brett, "you were one of his targets and he left before you" (wait until Scottie comes back ;0 )
Brett – I don't do anything.. I don't know how he's going to act in the real world
Angela and Kaycee agree Fes is the type of guy that is so overly protective
Angela – shes the one that's on top of you
kaycee – exactly
Brett – neither of them have tried pitching anything to me yet
AKycee – probably after this veto
Brett – fes was saying in the pool, you know how how like this game like is stressful and you want to be here.. like.. like you know it's going to come to an end..
K – the obvious
A – he literally just stats the most obvious facts.. we're in a game right now we're playing with 8 people.. this is a competition, it's stressful ..
Brett- are you saying you want to leave.. he was like NO NO.. I was I know man it's stressful you want to go
K – he said that
Brett – yeah.. he was like NO… I said yeah the game is going to end..
Kaycee – he pitched to me in the bathroom.. he was like you won it fair and square you want to do whats best for you. I know the numbers are dwindling down.. it's either going to be me or haleigh staying in the house..
Brett – no sh1t
Kaycee – one of us is going to stay in the house this week for HOH it's a 1 in 6 changes of winning which is better than 1 in 16..
Kaycee – stating the complete obvious
A – someone will be HOH on Thursday
Kaycee – think about your own game.. do whats best..
Brett felt bad because Haleihg was crying in teh corner so he was trying to comfort her last night.
Anegla and Kaycee say Haleigh knows Fes is going.
Kaycee mentions that HAleihg feels bad because Fes is alone and she will be alone
Brett says Fes does a lot of that self loathing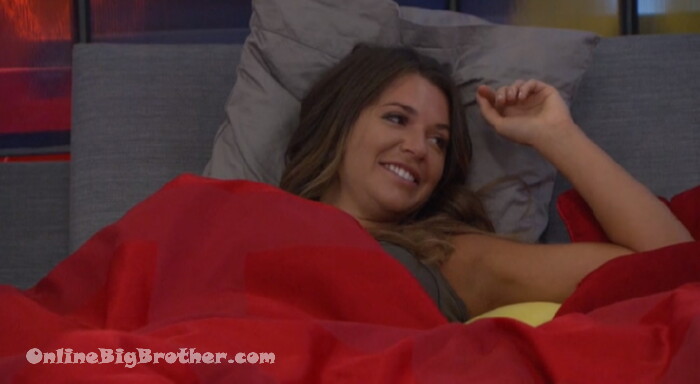 Brett says Fes has not said very much to him. they were in the hot tub sitting in silence..
Brett mentions when he was on the block he pitched to Fes, "the only person I didn't pitch was ROCKS.. no I think I did pitch to ROCKS "
Anegla – I think you did
Brett – you're throwing sh1t something might stick.. throw Sh1t against the wall..
Brett – Haleigh hasn't tried either..
Kaycee – maybe after the Veto ceremony
They agree it's tough for someone to campaign at this point because the chances are remote.Brett – It is tough, It's hard to swallow your pride and pitch.. I know this person is going to tell me to f* off and run to their friends tehy are going to tell them what I said and they are going to laugh at me. that's how I felt when I talked to ROCKSTAR I knew that everything I said would go back to bayleigh and they will laugh
Brett says when Bayleigh nominated him they ran into the storage room and were laughing. He was in the Diary room at the time.
Brett – wow F* you guys
Angela – it's stuff like that I don't feel bad for putting them up
Kaycee – she felt like she was on top of the world when they did all that sh1t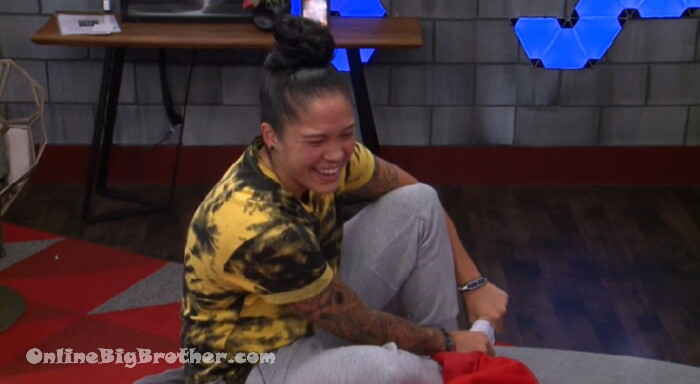 Kaycee – remember when she sneezed and she hit you she was like Say excuse me.. WHAT THE F*
Kaycee – remember that sh1t.. she sneezed .. it was when you guys were picking Veto. you were standing next to her
Brett- I'm like I'm not f*ing saying excuse me f* you
Angela – I was like damn..They bring up Bayleigh liking Fes the first week…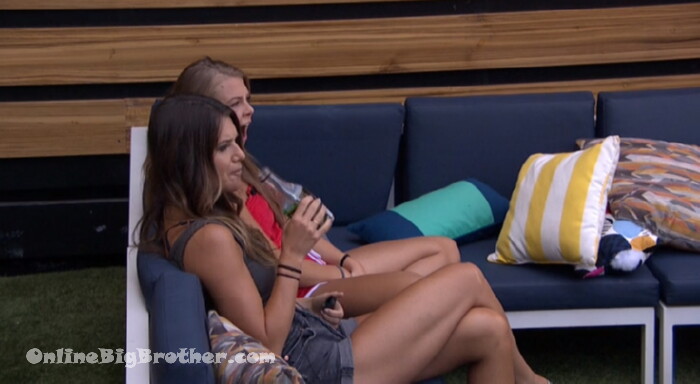 Feeds cut for the Veto Ceremony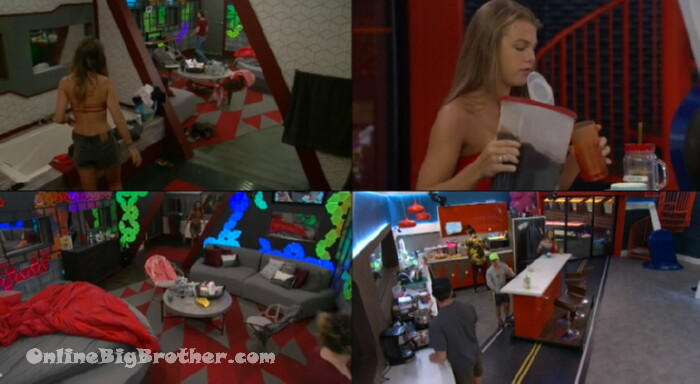 12:05pm Feeds back .. veto not used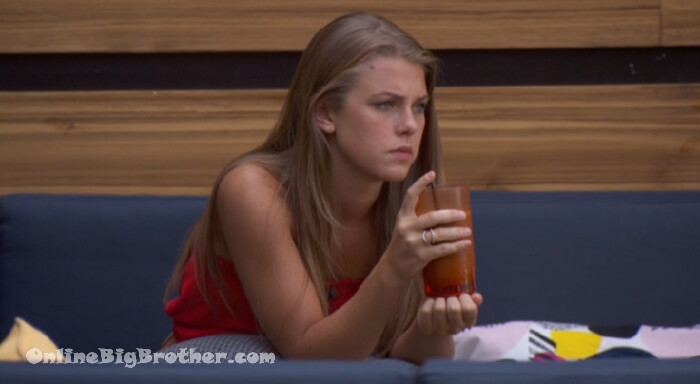 12:14pm Brett and Haleigh
Haleigh saying that Fes is pissed off at her because she's been hanging out with all of them.
She plans on laying out in the sun all day.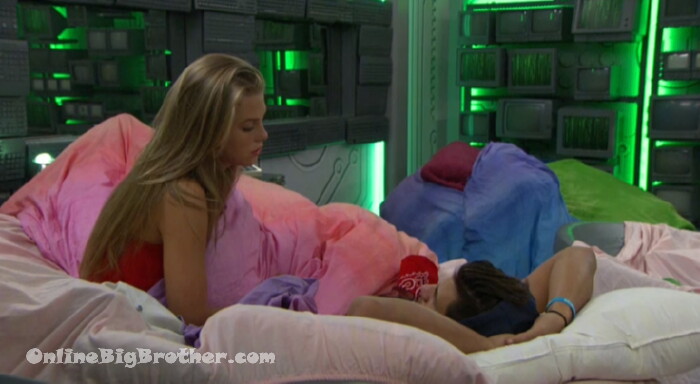 12:21pm Haleigh and Fes.
I'm not hanging out with them becuase I sdon't want to be with you.. One of use has to live with these poeople for another week .
Fes – I'm on the block with you I'm not campogaining
H – I'm not camopgming but I am hagining out with everyone
H – why are you made at me..
F – I'm not mad at you
H – are are you acting like this
Fes – We're on the block together and you're are hanging out upstairs with the person that put us on the block
H – it's part of the game
F – do what you have to do
H – I'm not going to roll over and die FEs.. I don't think you should either
Fes – I'm not campaigning..
H – I'm not either..
H – you want to sit in this havenot the entire week together.. what do you want to do
Fes – nothing
H – this suck but I don't want this to be how we are acting towards each other.
FEs – its all just a game
H – this isn't.. I mean you act like that and treat me like that you make me think it is
Fes says the moment they are on the block together haleigh is upstairs, "Makes me think all you care about is teh game"
H – it's fair for you to think that but it's not true.. and the fact you think the way I act towards you this has not been beneficial for my game me liking you was not beneficial..
Fes – I dunno .. I just feel like.
H – use your words.. I can't read your mind
FEs – the yard is closing for either a double eviction or a battle back
H – why is it closing it so early.. they are closing it Tuesday..
FEeds cut..
When we're back .. Halegih says she's going to lay out side she'll leave him pout here for a bit but then he'll come out and be with her because it's the last day they have the yard, She leaves.
Suntanning..
A real easy way to support the site if you are an amazon shopper is to make your purchases through our link. You pay the exact same thing but we get a small % commission. It doesn't cost you anything and helps us out.
Amazon Canada
Amazon USA