| | | | |
| --- | --- | --- | --- |
| POV: | Kaycee | Next POV: | Aug 25th |
| POV Used | ? | POV Ceremony | Aug 27th |
| HOH: | ANGELA | Next HOH: | Aug 30th |
| Noms: | Fes & Haleigh | Have Not | Fes, Haleigh, Kaycee |
A real easy way to support the site if you are an amazon shopper is to make your purchases through our link. You pay the exact same thing but we get a small % commission. It doesn't cost you anything and helps us out.
Amazon Canada
Amazon USA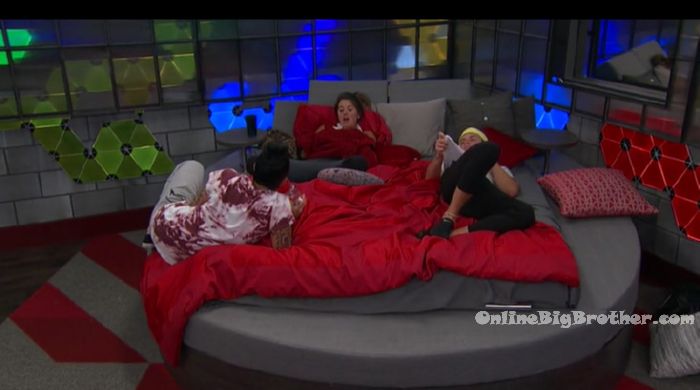 10:55pm HOH room. Kaycee joins Tyler and Angela. She breaks up their snuggle fest. Kaycee talks about how Fes is going to lose it if he leaves on Thursday because Haleigh is going to be here with Brett. Haleigh is in the hammock with Brett right now. Fes is watching him like a hawk. Him being outside the house.. Tyler – oh damn, I didn't even think about that. Angela – Brett should say in his GBM (goodbye message) – Don't worry, I'll take good care of Haleigh.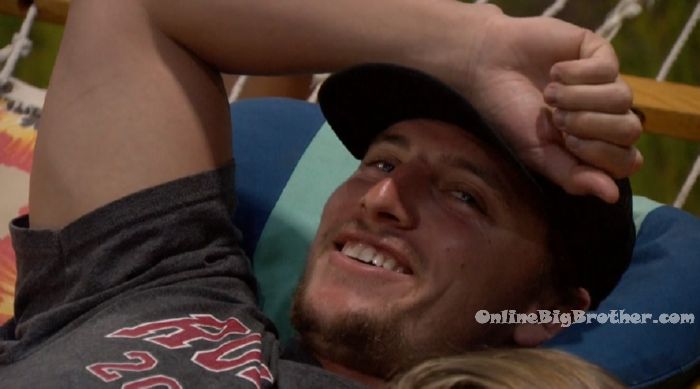 Watch the NEXT WEEK of the Live Feeds for FREE! Click here for your: 1 Week Trial

10:50pm Hammock. Brett and Haleigh. Brett – now that it doesn't matter .. are you and Fes in a showmance? Haleigh – oh my god no! Brett – are you sure? Haleigh – I swear, why? Brett – I was just wondering, because it seems like it. Haleigh – no. Why does it seem like it? Brett – it just seems like it. You guys are close. Haleigh – no showmance for me. Brett – are you sure?! Haleigh – I'm sure. I am very sure. I thought we were in a showmance. Brett – I did too. I just thought you were just playing me. Haleigh – shut up! That's not funny. I don't like that phrase. That's what everyone pitched to Scottie so he pitched that to Fes.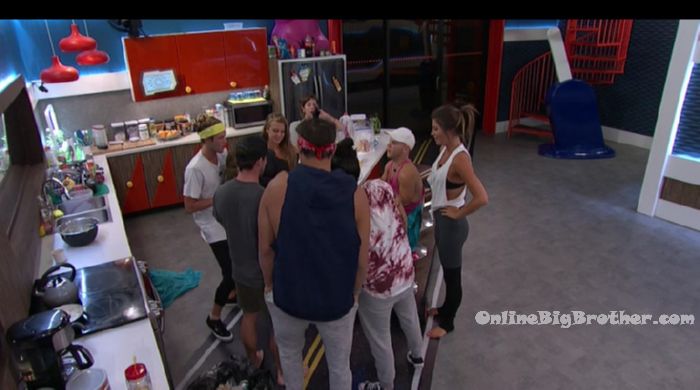 11:03pm – 11:25pm Brett reads the POP TV card – When times get tough you must roll with the punches. Here are some cinnimon rolls for you to enjoy and yes the havenots can eat them. Haleigh screams – lets go!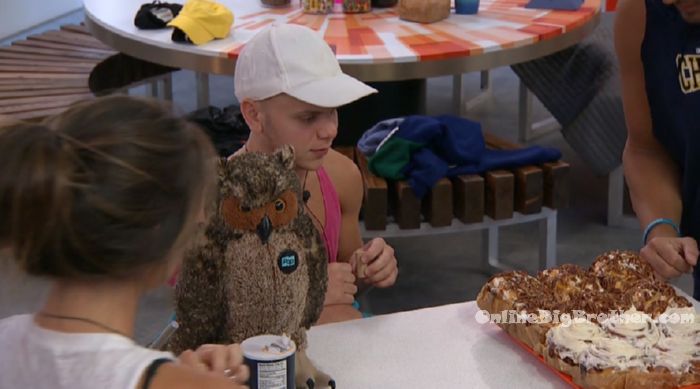 Sam sitting alone by the pool – I am thankful for electricity and clean water.

11:45pm Brett and Haleigh chatting by pool.. Brett – if you were giving any one tip to a guy trying to pick you up at a bar. Haleigh – act totally uninterested. By boldest move that I make in a bar is if I look someone in the eye and smile at someone. Brett – second question – what's the biggest red flag on a first date. Haleigh – talking about meeting your parents.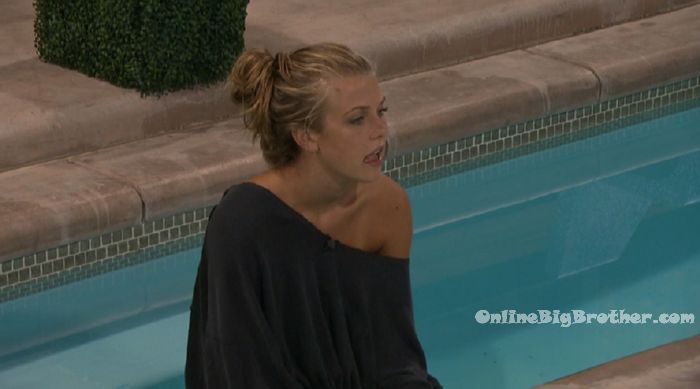 12:20am HOH room. Tyler and Angela curled up together chatting about random things. .
12:50am Hot Tub. Brett – I don't know what the f**k is going to happen with everything. Haleigh – I mean if I am really her (Angela) target. Brett – no I don't even mean on Thursday, I mean after. Haleigh – oh yeah, there's a lot of moving pieces. You have to see who wins and you have to see what is beneficial for them and who wins the veto. Brett – and there's got to be another twist. Haleigh – there is always three. The third and final twist. Brett – Like Scottie could walk back through that door. Bayleigh could, Rockstar could. Haleigh – you really don't know what the f**k is going to happen.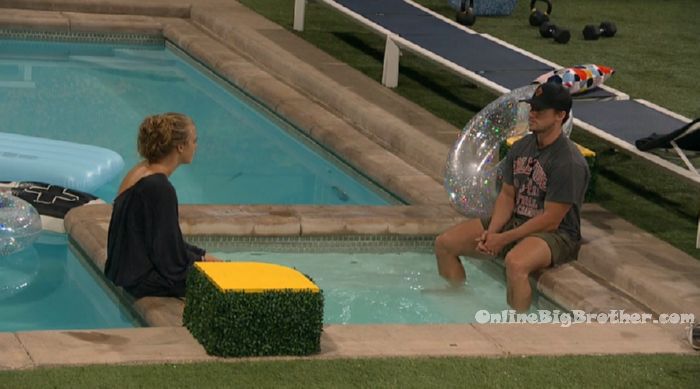 1:45am HOH room. Angela and Tyler. Brett and JC break up Angela and Tyler's snuggle fest. Tyler gets out of the bed and sits on the couch. They talk about Sam. Brett – you (JC) should get her to go mute. Angela – I think she hates Haleigh because she lays on top of you. All Sam's game is personal. Ty;er – I think Sam is just stuck on it. Like I did this to Haleigh so now I have to go after her. Brett – both Haleigh and Sam say the same thing. Like I don't know why Sam doesn't like me. I don't know why Haleigh doesn't like me. I don't think Sam likes me sometimes. Tyler – I feel like she hates me sometimes and then other times I feel like she wants to marry me. Brett – I feel like I am getting played. JC – that's how I felt when she won the HOH. Either this girl is bat sh*t crazy or she is smart as f**k. Angela – well its not smart if the only time you're nice to someone is when they're HOH. That's the dumbest game ever. Its like Haleigh's game, whenever she needs something or wants something she chases you around and s*cks your d*ck for a week. JC – yeah basically. Angela – its like Rockstars game too. Brett – Blockstar.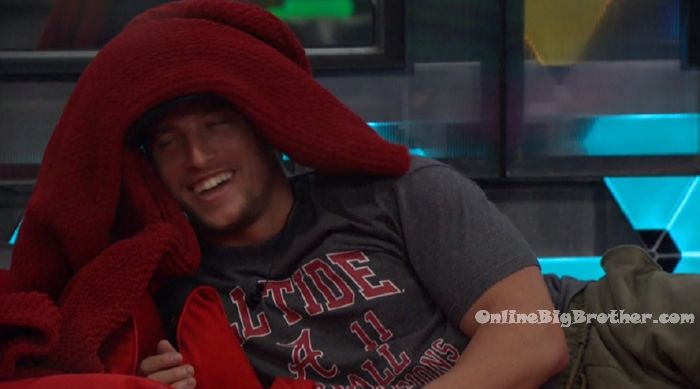 3:10am All the house guests are sleeping.
8:53am ZZZZZZ
Without your support this website wouldn't be possible. Please consider making a donation. Any amount is greatly appreciated. All donations go directly to paying the considerable costs associated with running this site.
Rank the houseguests!
Easiest way to Rank the house guests use link below