Quick Big Brother Spoilers
Head Of HouseHold: Turner
Nominees:
POV Players: 
POV Winner: 
Veto Ceremony:
Havenots: 
Lock your ranks in before midnight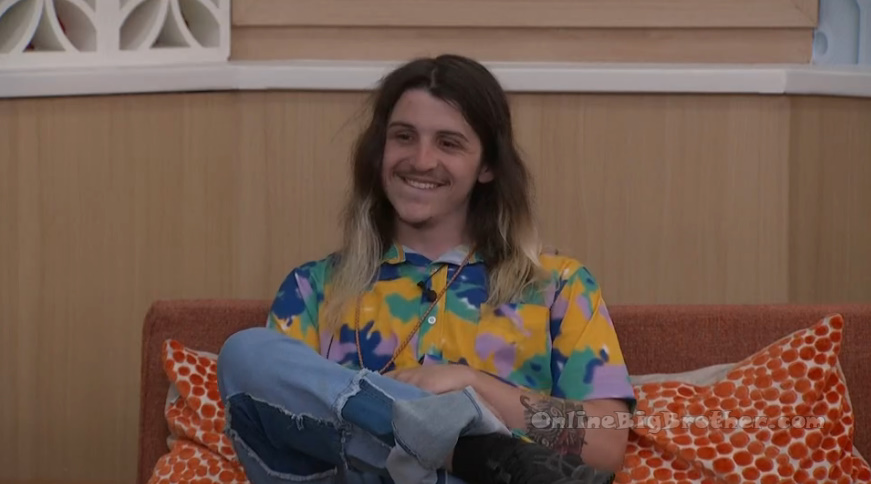 10pm The live feeds return after being blocked for the HOH competition.
TURNER WON the HOH Competition!
Turner – so could you tell when Hayden wrote the second HOH letter, could you tell that it was more recent? Michael – yeah. Turner – oh so you could tell. I did say please Meghan.. if not my mom. Taylor – this man is going to need a designated letter reader. Turner – who? Taylor – you. Turner – oh yeah, it will be bad again. I hope to god its a Meghan letter bro! I think I only submitted like 5 pics though so I hope they got more. There was a pic of me and Meghan doing Van life together. I hope it there.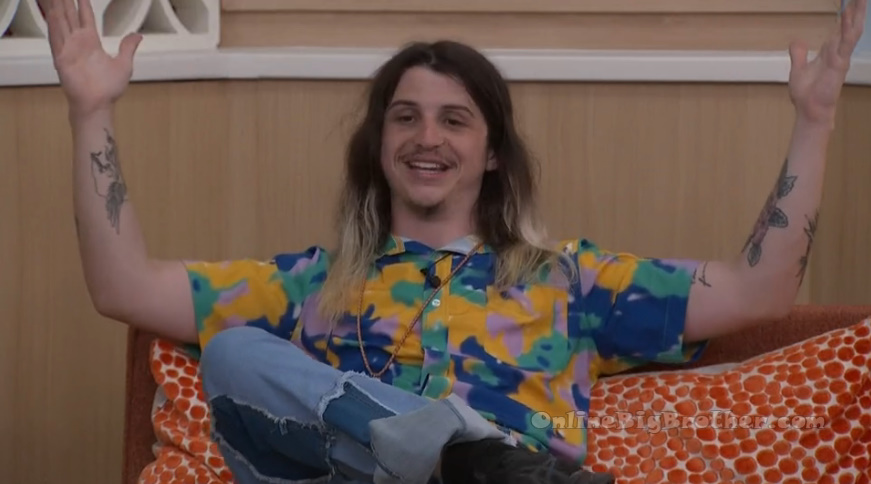 Storage room – Michael and Taylor.
Taylor – do you think he will put up Terrance? Michael – when he (Terrance) did just put him (Turner) up so easy but.. Taylor – I literally want to go out there and be like so are we still the Leftovers?! Michael – I don't know, we'll check in. As long as he puts those two (Terrance & Alyssa) up, we're good! No matter what!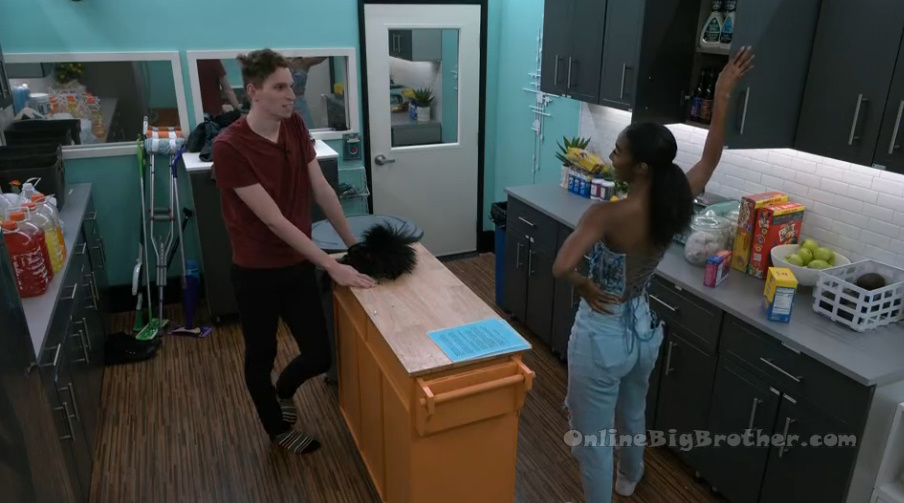 10:12pm Storage room – Terrance and Taylor
Taylor – she had a whole fake alliance called Girls Girls but excluded me on purpose. Terrance – I heard about that G. Your boy wasn't build ford tough to say the least. Taylor – yeah. I know exactly what you're talking about .. I have ford in my blood. I had a feeling you would put up Kyle and Joseph. Terrance – I had to .. neither one of them were really talking and it just seemed sketchy. I may regret that now but I had put up Tuner and Joseph initially… because the conversations with Joseph were just not adding up and Kyle was talking in circles. So when I won the veto I was like let me go ahead and take Turner down.. and put Kyle up just so that I can have a couple days to try and see what was going on. Well we are here to fight another week, I guess?!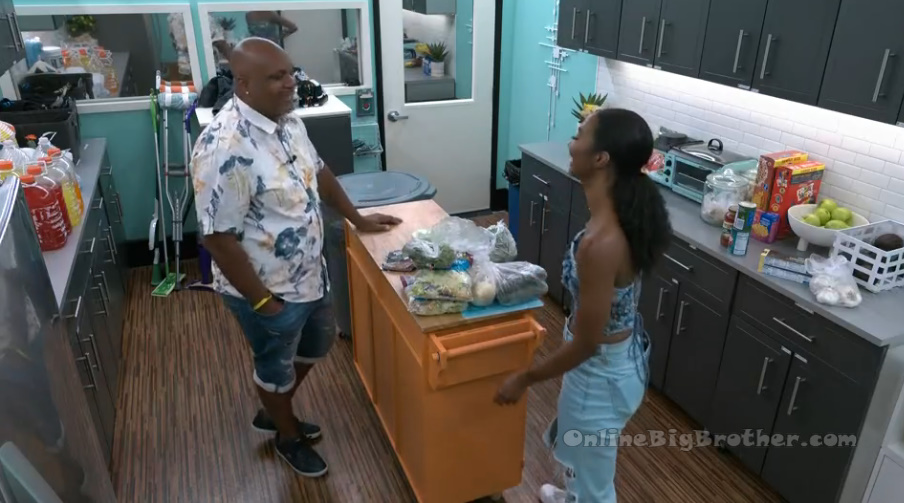 10:26pm Bedroom – Turner and Brittany.
Brittany – so how do you feel about not having to spend your last week with a certain somebody (Jasmine)? Turner – the whole time I was like this is what I wanted! Like its okay, you've wanted this for so long. Brittany – she was talking so much sh*t about you the whole week. Turner – really? Oh my god can you please fill me in on specifics? Brittany – I can't even remember everything … and what is crazy too is thank god you told me that conversation ..like remember when you sat right next to me at Indy's eviction. She tried to tell me on my one on one with her… Turner told me that Monte and you were going to go up. Turner – OH COURSE! Brittany – and I told him don't touch Brittany. Turner – it was the exact opposite! Brittany – I did not believe her. She did not bank on this. Turner – I'm excited for that F**King room. Brittany – oh yeah. Turner – this is obviously going to be pretty simple but like obviously I put you on the block last time but you would never touch the block if it wasn't for that one pawn situation. In this situation you are totally safe. Brittany – thank you Turner. They hug. Turner – you were the first person to come up to me and you have no idea how much that meant. You made me feel sane in that first few weeks. Brittany – same to you. Were you in an article in a somewhat local paper with you and the Rug Shack? Turner – yeah. Brittany – but your hair was completely blond. Turner – yeah how did you know? Brittany – I can't tell you. Just the moment we walked into the house I saw you… Turner – that is so crazy. Big Brother switches the feeds.
10:35pm – 11:05pm Bedroom – Turner and Michael.
Turner – I already told Brittany this but obviously I put you guys up as a pawn last time… and that is not going to happen in a million years. Michael – okay. Turner – You guys were the first people to ever come to me in this house when I didn't know what the f**k was going on ..that meant the world …I hated what I did last time and that is not going to happen again. You guys are totally fine. Nothing to worry about. Michael – okay, thank you. Monte, Brittany and Kyle join them. They talk about how they told Jasmine she was being evicted. Kyle – Joseph and Jasmine.. Monte – with Indy. Oh god! That will be quite the house. Kyle – I think out of everyone they will have great time. The day of the eviction, she (Indy) told me the only mistake I made in this game was trusting you. I am like .. ummm okay. So yeah if I go into that house she is going to meet me with a knife. Brittany – I think Jasmine and Joseph will have a lot of explaining to do. Monte – to Indy yeah.. Brittany – and Joseph to Jasmine.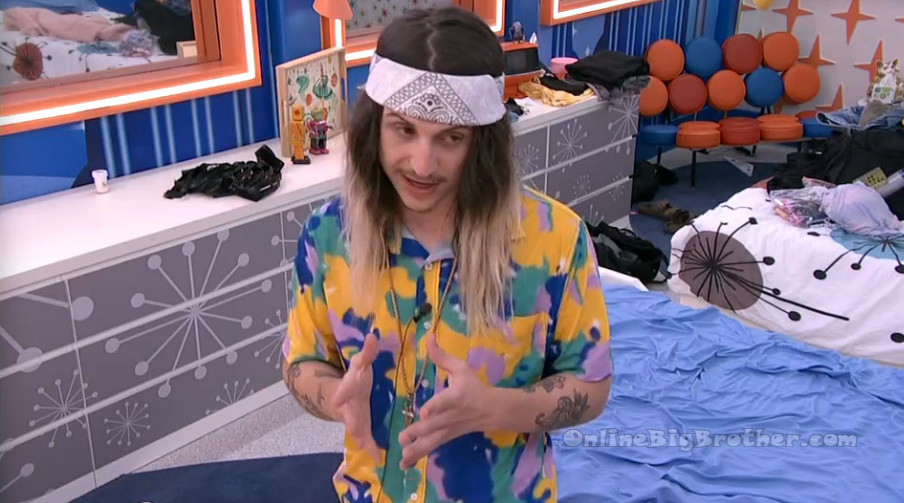 11:35pm – 12:10am Taylor made dinner for everyone. Taylor – no one is saying a word… it must me good. Kyle – you have no idea how good this is! Taylor – I know for you guys this is extra. They finish up eating and continue to chat.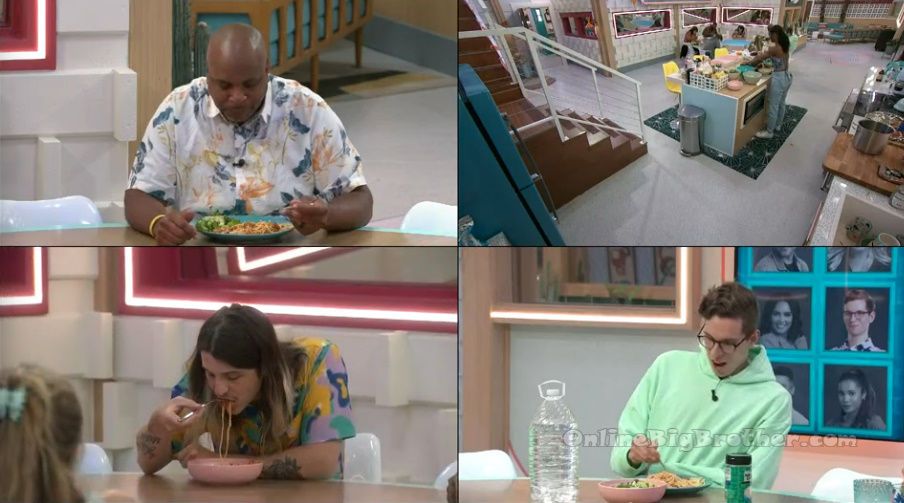 Show your support 🙂 Without your support this site and these spoilers wouldn't be possible.
Please consider a donation to keep the madness going.
Any amount is greatly appreciated!