Quick Big Brother Spoilers
Head of Household:  Turner
Nominees:
POV Players:
POV Winner:
Veto Ceremony:
Havenots: 
Lock your ranks in before midnight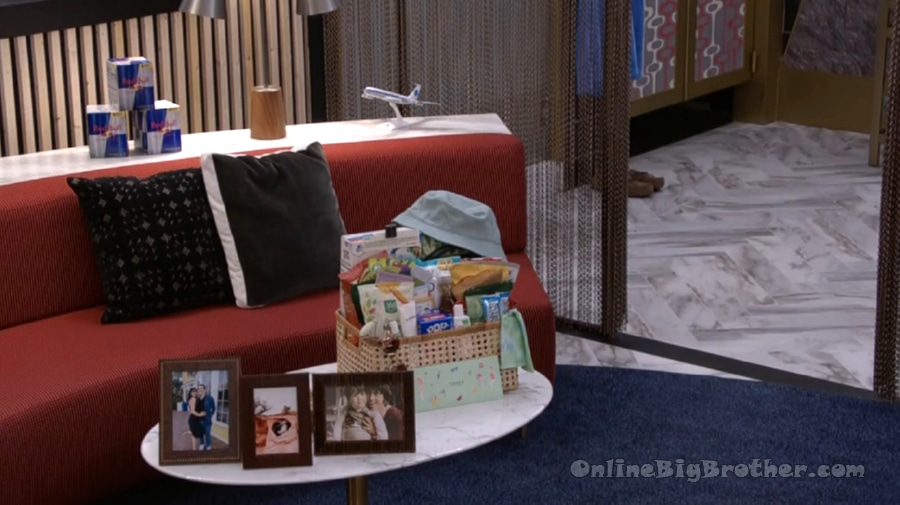 2:34 am
HOH Room. Looks like he got three packs of Red Bull.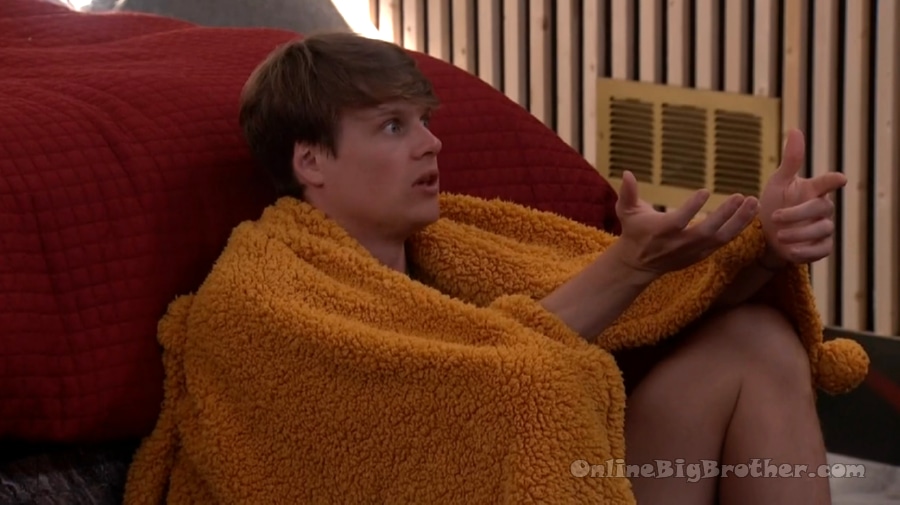 3:54 am Turner and Kyle
Turner – Bro listen here's the thing I need to make a decision that helps us I don't care if you win every competition I am taking you to the final 2 so I need you and me to figure this out. I am f**ing confused.
Kyle – it's 4 to 4 right now if we are sticking true with the AfterParty which I think we should do which means. you can't vote so we have 3 votes.
Turner – right after we came in Monte came to me concerned. he was like listen is the pound still a thing? I was like For sure. she said 'GOOD'
Turner – listen. I'm thinking out loud here tell me if at any point I'm going rogue
Turner thinks there's another group that doesn't include Monte. 'tell me to f** off if I am going crazy here"
Turner – I think it is possible.. I don't know We came in here and I was like I love these people that have kept us safe for so long
Turner says he didn't want to win the HOH but he knew it had to be him or Kyle.
Turner – we started something and people have kept us safe for so long it's been a month and a half of worry-free Big Brother. It's because of a group of people
Turner – it could be 4 Vs 4 now but if we waited a few more weeks it could be 3 Vs 3
Turner proposes the two of them and Monte team up after Britt, Mike, and Taylor
Turner points out that Terrance and Alyssa are weak competition players but the other side is strong. It's not Kyle who is going to lose the jury votes this week.
Turner – Can we stay true to the people that have kept us really safe? those two jury votes are gone for me.
Turner – There are two sides do we do the new thing or the old thing I just can't decide which one.
Turner – do we really trust that Alyssa and Terrance to win an HOH?
Kyle says if they can get rid of Michael this week it will be Monte, Taylor, and Brittany against Kyle in a HOH.
Kyle – my gut just based on the conversation I had with Michael and Brittany in the storage room they are trying to dig and see if anything leaked about the leftovers.
Kyle – they are freaking out with you winning they are uneasy they don't know what's going on. My gut is telling me those four.. Michael, Brittnay, Tayor and Monte.
Turner – is there any way.. is there any questions I can ask that will peel a layer off this onion?
Kyle – they're too smart they didn't share any information about their week they didn't share any information about the noms. They kept everything very strategic. They were hoping we would spill the beans about joe and what happened. Brittany was very curious about what happened last week. They are freaking out dude because they have been strategizing those four for a week. Dude, I feel the same way there are pros and cons we have Terrance and Alyssa both weak players. IF we can get to the final 4 with them we are golden. We will make it to the end.
Turner – it would be up to me and you to win Comps. We have a better chance to work the pound to get us to a 3 vs 3. Monte came to me it was not .. it was not strategic it was. Dude I was in the shower.. he was like Dude is the pound still a thing? I was like yeah sure.
Kyle – Joe before he left was saying Michael and Brittany are working both sides of the house and since Michael and Brittany picked Taylor next and then Monte.. Monte over me? I for sure thought they would pick me for safety he freaking picked Monte over me.
Turner – if he didn't pick Monte, Monte would have gone home. or maybe not..
Kyle – Me over with Terrance as HOH knowing I have zero relationships?
Turner – true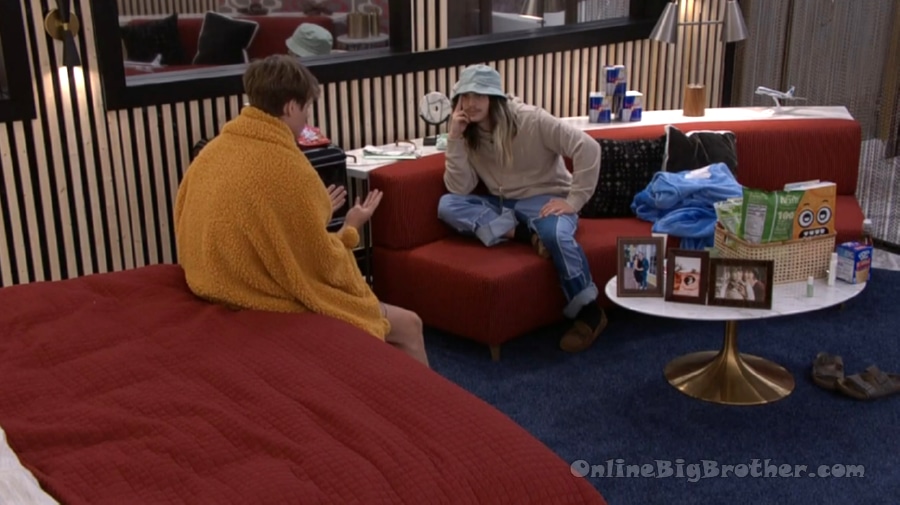 Kyle – I haven't talked game with Monte for weeks bro.. I don't feel close to Monte as we did at the start. With the pound, we were locked in but I don't feel like that.
Turner – Joe clearly told us there's a thing between Michael, Taylor, and Brittany. I need to tell that to Monte in a way to see if he knows.. a visible reaction either he knows or he doesn't
Kyle – If we backstab Alyssa and Terrance this week we're f**ed on that side then we're going up against Michael, Taylor, and Brittany because if they win they are coming after me and you. Alyssa and Terrance are no threat to their game at all. They are taking that shot FIRST if they win HOH I guarantee Taylor is coming after me. She won't even look me in the eye dude. She's like f*** Kyle, After last week . You say her reaction when Joe went home she was bawling
Turner – for sure
Kyle – Bro I don't know
Turner – It's really a tough decision with the same pros and cons on both sides.
Kyle – we have an uphill battle this group we have are not strong players. I looked over at Alyssa she's holding the thongs but he end (During HOH today)
Turner – she's in the last place all the time
Kyle – which is insane because she's a super fan.. I'm like you should know
Turner points out that Terrance has been last in every single comp except for the last two. I swear we can get MOnte back with us we just need him to see the light in some way.
Kyle – maybe we can get Monte back with us and take a shot on that side. If he can see the division between Monte, Brittany, and Taylor
Turner – I can say Joe told us he was asked to join them.
Kyle will tell Monte that during Indy's eviction week Brittany and Michael were playing both sides.
Turner says he saw how badly Alyssa did on today's comps and thought to himself "there's no way I can put my faith in that"
Turne r- I love her but if she goes home this week you would have no part in sending her it would be me. I f***ing love having her in this house but putting my faith into what I was watching to my right would be crazy
Kyle wants to get the remaining pound members in a room.
Kyle – we can say dude we're in trouble. Michael and Brittany are playing us all. They picked you last and I think the only reason they picked Monte is that they had a deal with Terrance to take a shot at Monte. If we can get Monte on our side and me strong with the pound and take out Michael, Taylor, and Brittany..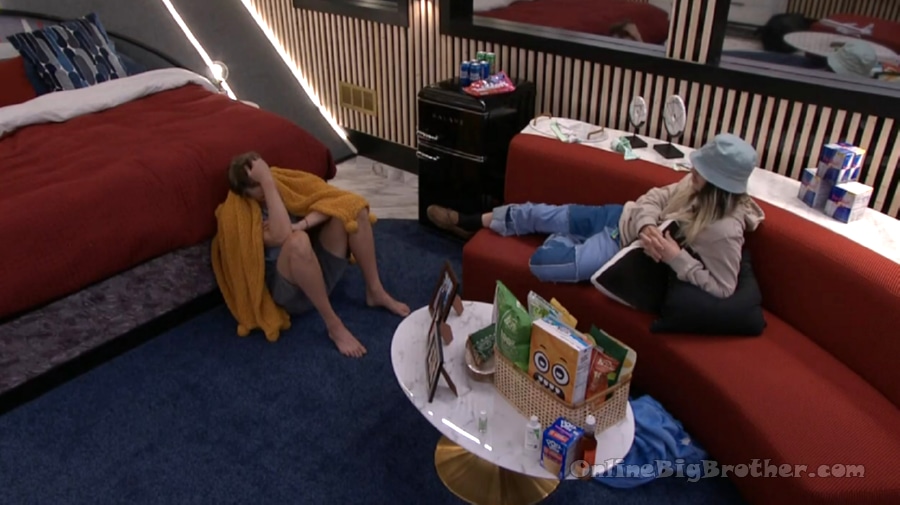 Turner – Terrance and Monte they do not love each other. Then there's Alyssa who doesn't trust MOnte.. this is so hard..
Kyle – I'm just worried about keeping. Monte, Michael, and Taylor. They're the strongest competitors by far if we don't take a shot this week.. It'll be me and you especially since Taylor hates me I think the ideal scenario is we take out Micahel this week and somehow convert monte to get back with the pound and be solid with us. We still have the trust of Terrance and Alyssa and then Monte is on our side.
Turner – that is a great plan in theory
Kyle – Monte I trust the most out of those three. He's never done anything against the Oasis, he's never done anything against the leftovers, he's been a Hommie since day one I have no reason to distrust him. Even Joe I didn't have any reason to distrust him. It was just a shitty situation.
Turner – with Joe he would have picked Monte and Taylor over one of us.
Kyle is certain the insiders spent the week with jasmine sleeping downstairs planning their final 4.
Turner – Ideally we could convert someone but putting my hands in Alyssa and F**INg Terrance is crazy so we need to figure something out that is somewhere in the middle. It can't be those two they are not good. It would be us carrying them every week.
Kyle – I don't know if we can get back in with Taylor, Michael and Brittany they are too far gone and they are smart enough to know as soon as they win HOH Terrance and Alyssa are not a threat it's me and you who are winning comps and are smart enough to know..
Turner – how close do you feel with Micahel and Brittany?
Kyle – Hoesnlty I felt decently close with them until he didn't pick me and during that conversation in the storage room and after what Joe said with Taylor and, me . Dude it showed a lot with them at the pool table when I said where do you stand with this and he completely gave a neutral answer but with me he wa slike dude we got to see Alyssa. what to me shows what joe was saying is true. I didn't play it up in the yard I think what he's saying is true Michael is playing both sides with Brittany.
Turner – for sure.
Kyle – I don't trust Michael and Brittany at all they will pick Taylor WAY before me and you WAY before they will take a shot at me and you next week for sure. Theya re not going to go after Monte and Terrance and Alyssa. If Taylor, Micahel, and Brittnay win it's me and yo ont the block 10000 percent.
Turner says he trusts Brttnay more "on day two she came up to me.. she was the only person that asked to work with me so we've had a really good relationship"
Turner – As far as the group I know her loyalty is. I agree with what you are saying. I'm going to need to talk to every single one and then run back to you so we can compare all the info.
Kyle – Alyssa, and Terrance are no threat to our game
Kyle – Michael is going to win the game he'll win next week's HOH, especially with Taylor and Brittany so close to him.
Kyle – we can't take a shot at Terrance and Alyssa they are zero threat to our game. Our only option is to take a shot at one of those four on that side. Monte is the only one we can bring over.
Turner – yeah
Kyle – unless you feel good about Michael and Brittany I just don't think they will say let's put up Monte and Taylor.
Kyle – I just don't feel comfortable with those four still in this game. Alyssa and Terrance can float with us until Fial 4 we can take those shots easy but then Michael, Taylor even Monte. They knew Jasmine was going home the whole week they were planning the next five weeks we are playing catch up for sure because it was such a sh1t show out there.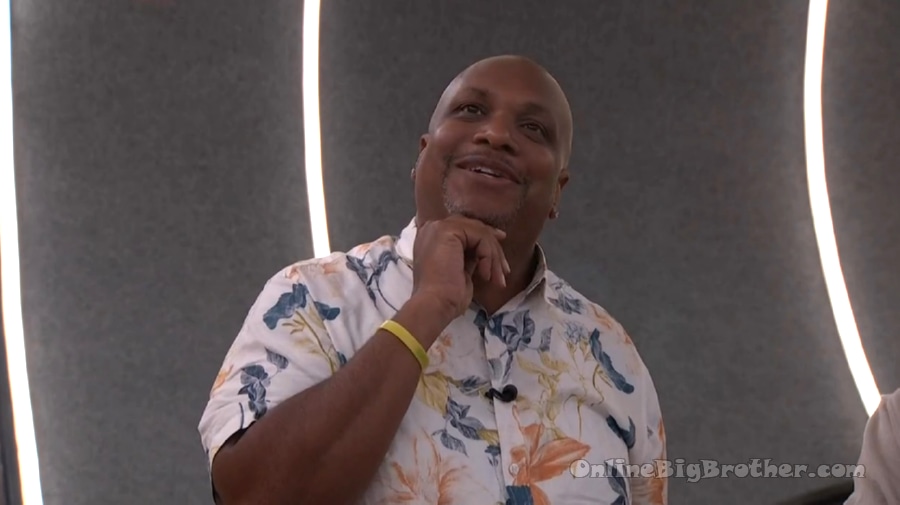 4:14 am Terrance and Turner
Terrance – Bro the whole time me and Michael were watching on a screen like this and Michael was like C'mon Monte you got to win
Turner – WOW ..
Terrance says he told them initially he put up Turner and Joe. Joe's story wasn't adding up. So I pulled Tuenr down and put Kyle up to see if I could get anything. Joe's stories were still not making sense he was talking crazy so I didn't feel comfortable with him being in the game. You guys followed my leave because he was HOH.
4:17 am Turner and Alyssa
Turner says he's trying to figure out who out of the four to put up.
Alyssa – Brittany keeps asking me why did Terrance put Turner up I was like I don't know.. she was like I always thought Terrance and Turner were close why would he do that? I was like I have no idea.
Alyssa says Micheal and Brittnay are scrambling right now.
Turner – tomorrow will be like ripping a bandaid off it is what it is.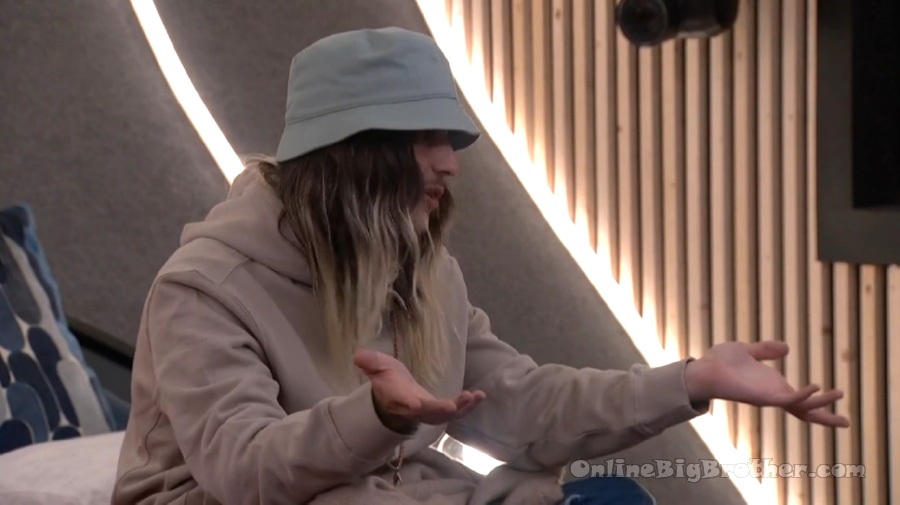 4:22 am Turner and Britt
Turner – for some reason I trust you a lot
Britt – I feel the same way
Turner – there's the leftovers then there is the leftovers that were shoved outside.
Turner wants both sides of the leftovers to join back.
Turner says he's not putting up two leftovers he wants it to be an easy two weeks for them.
Britt – I am all in with the leftovers I want it to be an easy two weeks. Sure we're not fial 7 that was out of our hands.
Turner – we're final 6
Turner says he had to make promises with the people outside to survive he will for sure go back on those promises. "I will not get two jury votes not going my way I can tell how much they do not expect to go up on the block and when they go up on the block it will be mental warfare for them I will lose two jury votes. All I ask when it does go down to the final 6 I hope I'm not the first target"
Turner – you and Michael are fine.
Britt – who Terrance and Alyssa?
Turner – i don't want to put anyone up as a pawn. I want all the leftovers peacefully for two weeks.
4:27 am Showmanceing
4:33 am Turner and Monte
Turner – this last week was very messy we were all fighting for our lives. Joe was near the end was falling apart. I'm only running this by you because I trust THE POUND
Turner – Joe was like.. he was saying when he was chained to Taylor. Taylor asked him to be in an allegiance with himself, Taylor, Michael, and Brittnay.. I was like that is fascinating.
Monte – there sitting out there.. so if you want me to lay everything out for you.
Monte – I want to talk to you about it before the Noms.. I was hoping we would have time to talk about what happened last week. Remember when Taylor was HOH and the whole idea ith Alyssa getting backdoored came up you know I talked to you about it but I think they were getting a sense that Kyle really didn't want to do it. Especially that pool table conversation which was weird to me because I felt like I'm indifferent I don't care I can see both sides. When we had that pool table conversation it was weird we had Michael, Brittnay and Taylor but especially Micahel and Brittany er talking like it was a good idea to get Alyssa out that week. They convinced me but apparently, they were not direct with Kyle that they wanted her out.
Turner says the same with him they weren't direct about it.
Monte – This week those three sat me down and said the same thing joe said to you. I never talked to them about past the seven at all. I swear on everything bro
Monte – this past week they kept on talking like they wanted Kyle and Turner (out). They wanted Alyssa to stay. They said it would have been so much better for everyone's game.. I was like Okay I was just going along with it.
Monte – last week they started having the conversation with me about when we get down to seven Kyle and Turner will be the ones we target first.
Monte – they proposed that if anything shady happened we would have to go after Kyle and Turner.
Monte – I'm leveling with you this is the truth bro I swear on everything this past week I had nothing going on with them at all. When Kyle wouldn't use the HOH I could tell Michael and Brittany were playing both sides.
Turner – that is what Kyle was saying
Monte warns they don't know where Terrance's head is at if he wins he could put any of them up.
Monte is proposing they take out Terrance this week and next week if Michael wins HOH he'll take out Alyssa then they will be 3 vs 3 and Michael can't play
Turner is saying they should have a asy two weeks.
Monte says "They" don't want to put TUrner up it's more Kyle and Alyssa.
Turner says he is burning two jury votes by putting Alyssa and Terrance on the block.
Turner- as long as everyone is fine we get to the 6 then it'll be 3 versus 3
Monte – Terrance should be the priority he can win over Alyssa
Monte – Is Kyle onboard what is he thinking?
Turner – Kyle wanted to get the three of us in a room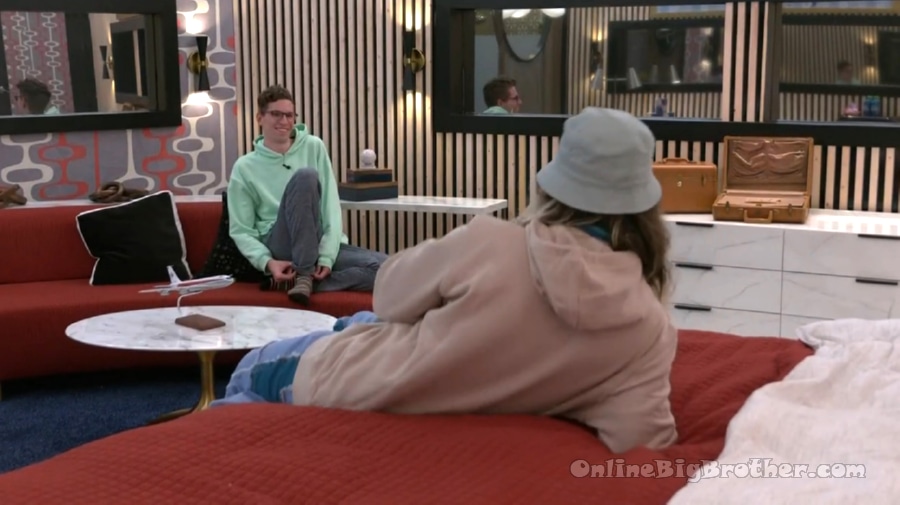 4:52 am Turner and Michael
Turner says last week he was fighting for his life outside. His allegiance is with the leftovers so he's going to put Both Alyssa and Terrance up.
Turner – BOOM easy enough
Turner – I had to promise them safety to get back into this goddam house. If I put them up tomorrow I will have a minus 2 jury vote not even a question. Which is fine. I am leftovers till I Die. It started on my HOH it's not ending on my HOH I want everyone to final 6 as long as everyone is okay with that.
Turner says he had to offer Terrance and Alyssa safety this week because he was on the block but tomorrow he'll show the leftovers where his allegiance is "with the people we started with"
Turner asks him who would he wants the target is.
Michael – I'm fine with whoever
Turner – I feel 100 about the final 6 getting to the final 6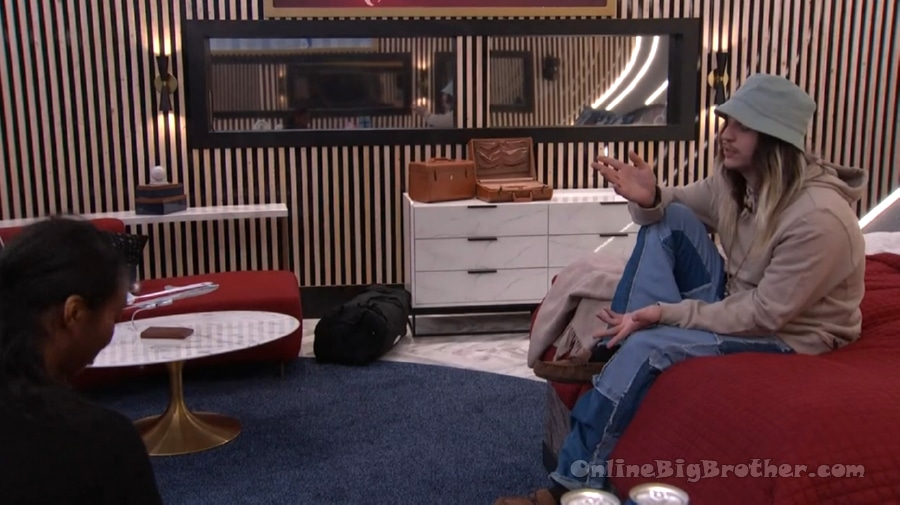 5:02 pm Turner and Taylor
Turner – I'm putting up Alyssa and Terrance Leftovers till I f***ing die bro it'll be an easy week
Taylor asks why did Terrance put him up.
Turner explains that Terrance wanted to get the most information out of them as possible
turner – I am putting them up and I'm losing two jury votes. When I put them up and there is talk about us forming something what else was I supposed to do? it is what it is. I hope the leftovers see that I'm f***ing way my priority is getting to the final 6
Turner- I'm totally happy with sending either out.
Turner brings up that Terrance blindsided him last week he put him up after he promised him safety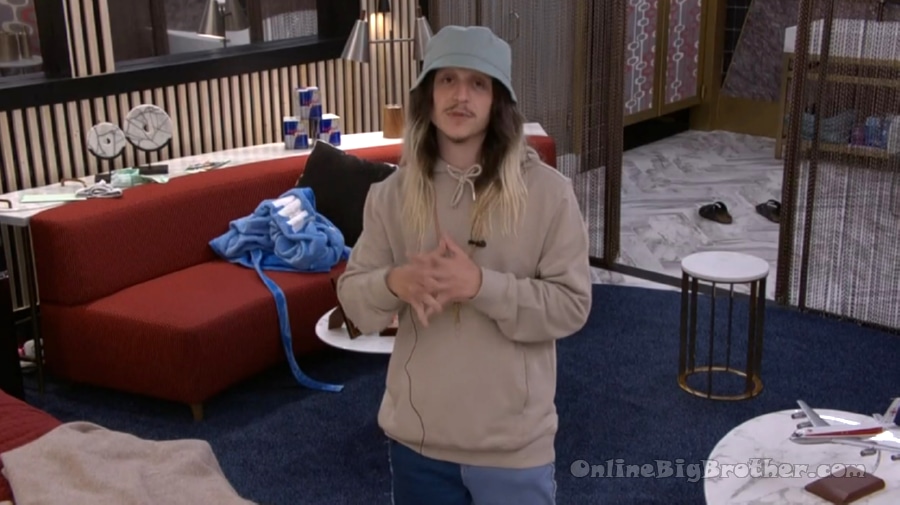 5:25 am Turner alone
Mom if you are seeing this I got the letter from you it meant more than I could ever explain I love you and I miss you. Same with my dad and Meghan.
Meghan, I think about you so much I miss you I can't wait to see you
"I have a big decision tomorrow which is going to suck. I promised everyone in this house safety. What am I doing?"
"It's a messy game it gets like that sometime"
5:38 am all feeds Zzzzzzzzz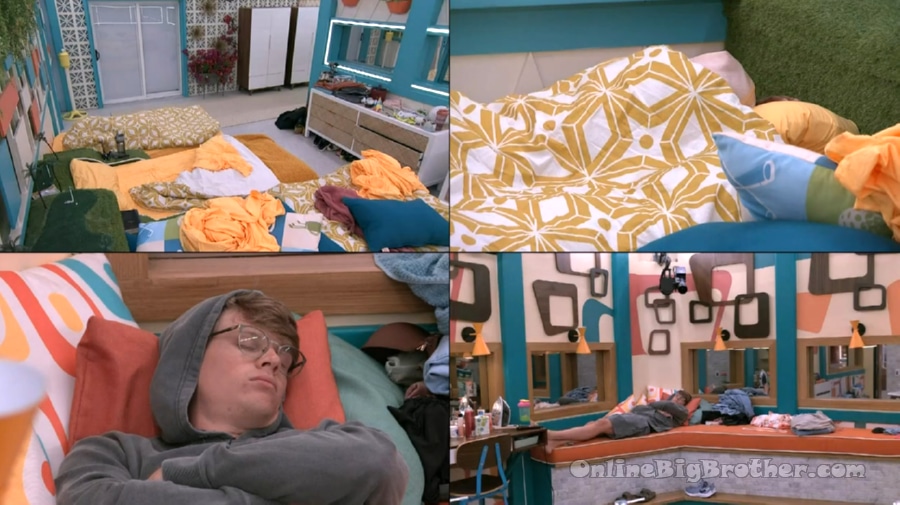 7:00 am Zzzzzz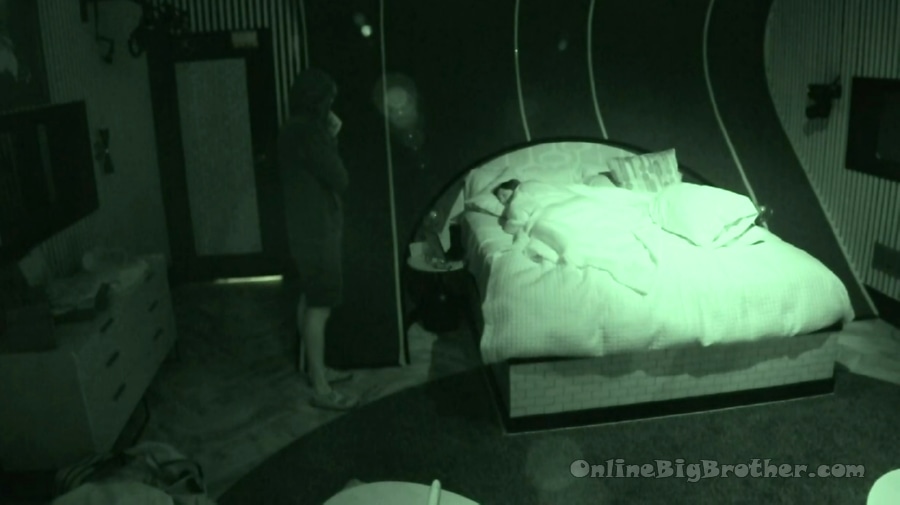 7:24 am Turner and Kyle
Kyle – what are your thoughts?
Turner brings up Monte saying he was approached by Taylor, Michael, and Brittany to form a group.
Kyle – Dude he came and talked to me but Taylor was watching us like a hawk.
Turner – I trust him 1 million percent.. he outed them.
Kyle – me too.. yeah. Dude.. I couldn't sleep last night. I think Michael knows about the pound. he's asked me multiple times dude how were the leftovers found who was in the room that night? he's smart enough to piece it together that it's the Oasis minus POOCH
Kyle – Michael has talked to me about taking big shots before the 7.
Turner – shit
Kyle – up here the bumper pool table right before the HOH comp last week. He was like dude do we take the shot now or wait till nine? He was open to it and he told Terrance he would take the big shot on Monte.
Kyle – my thinking is they take the shot next week why on earth would they go after Terrance and Alyssa?
Turner – for sure
Kyle – If Monte is really onboard with us then he will Have no problem with us doing Taylor/Brittany and backdooring Michael. We Deal with Terrance and Alyssa down the road they're no threat.
Kyle – if we go agaisnt ALyssa and Terrance everything about next week is coming out and then the 6 is done. Taylor, Michael and Brittany will be like f*** Turner and Kyle.. Immediately
Turner – that is facts
Kyle – we will be public enemy number one with everyone in the house
Turner – that is facts
Kyle – I think we keep it Taylor/Brittany's backdoor Micheal. Monte will have no choice but to side with us. He told us they were making a final 4.
Kyle – they might say they're waiting until final 6 but this is BIG BROTHER why wait?
Turner – that is facts
Kyle – we're going to have a shit storm to deal with if they find out about last week. We have to get ahead of it. If we put up Alyssa and Terrance we have to deal with the WHOLE house coming for me.
Kyle again brings up that Michael must have figured out the pound. The remaining Oasis form the leftovers.
Kyle – of course Monte is going to say that they are all in self-preservation mode
Turner – it might not be the best thing to put up Alyssa and Terrance honestly
Kyle says why would Monte want 3 vs 3 when he could have 2 vs 4 and take out two guys.
Turner – I hear you bro I'm leaning the way you are freaking preaching.
8:00 am Feeds on the pound.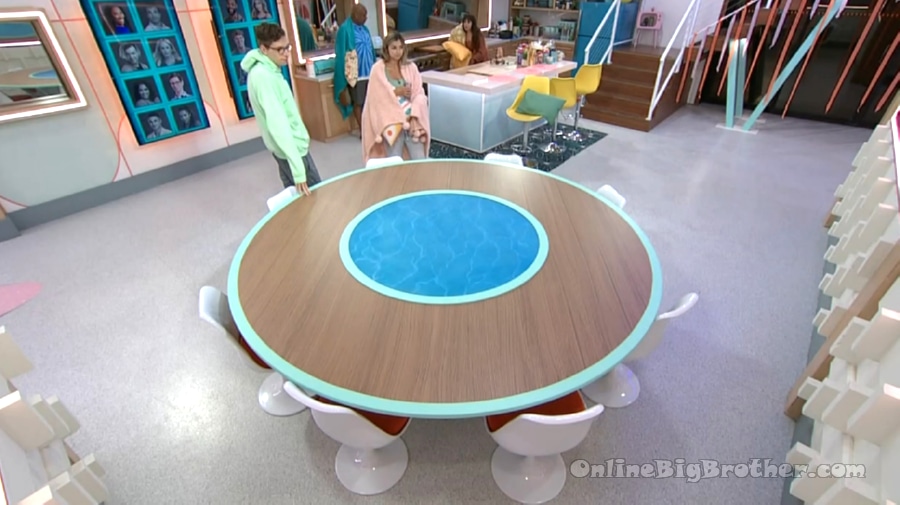 9:53 am Feeds return. Looks like they got the smaller dinner table.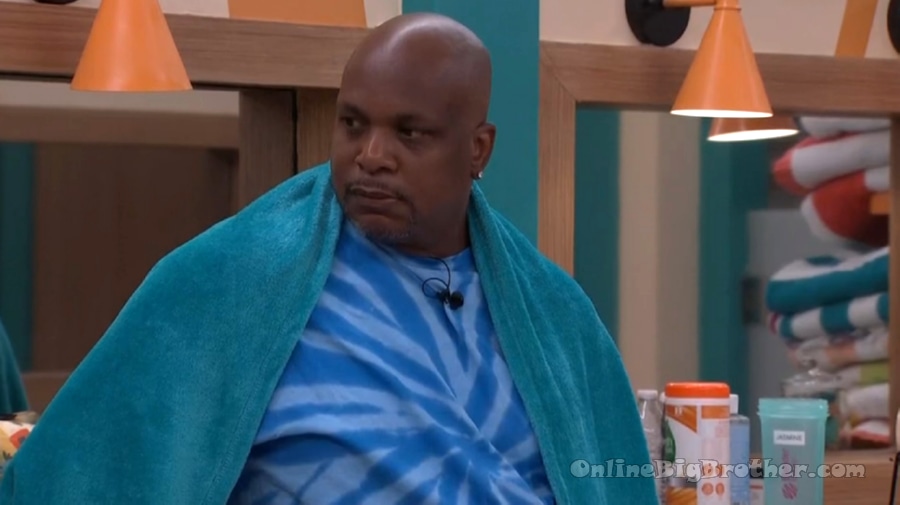 9:54 am Terrance and Kyle
Terrance – you know who he'll put up?
Kyle – Monte and Taylor or Taylor and Brittany. I'm not sure. I haven't really talked to him this morning.
Kyle – doesn't matter to me. Any of the four.
10:05 am Kyle and Terrance
Kyle – who's up tehre right now?
Terrance – Monte I think Taylorr was up there with them to
Kyle – makes sense
Terrance – They were the last ones up there with him last night.
Kyle – really
Terrance – after we came out they were waiting in the bathroom. Taylor, Monte, and Michael then they all went up.
Kyle – they were all in the bathroom. They aren't even trying to hide it.
Terrance – he said he's going to do it he said it'll be a long ass day.. I said Bro I got your back.
Kyle – they're only play is to be like 'YO we're leftovers strong still'
Kyle – that is what they were hoping for that we never told you guys
Terrance – Michael was cheering on Monte.. when we were watching his thing and it was you guys. It slipped out because he was so excited. He said Com'on Monte you have to win
Kyle – nbo way did you tell Turner that
Terrance – Yeah
Kyle – He needs to hear that BRO like BAD..