Big Brother Spoilers Jack wins the Head of Household. A new twist called CAMP COMEBACK allows the first four evicted houseguests stay in the house. They do not play in competitions or take part in ceremonies but one of them will be given the chance to come back in the house.
They got to see a commercial for the Power of Veto it will include a trip to Fiji. Jack intent is to put Jessica and Kemi up. Tell Jessica she's the pawn and send Kemi out.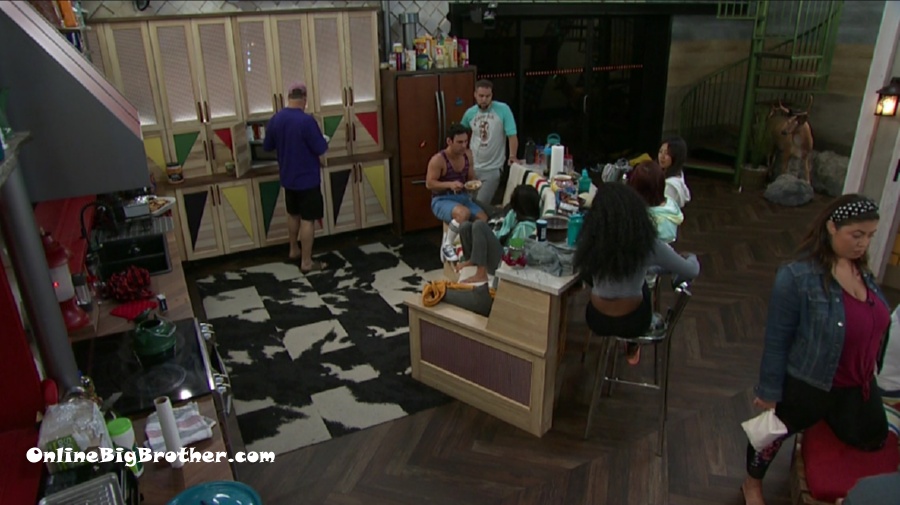 3:04 pm random talk about the whackyourbnoodle comp.It involved Snakes.
Holly was last she says the snake were all agitated she was worried about hurting them. (time to stop using live animals as props)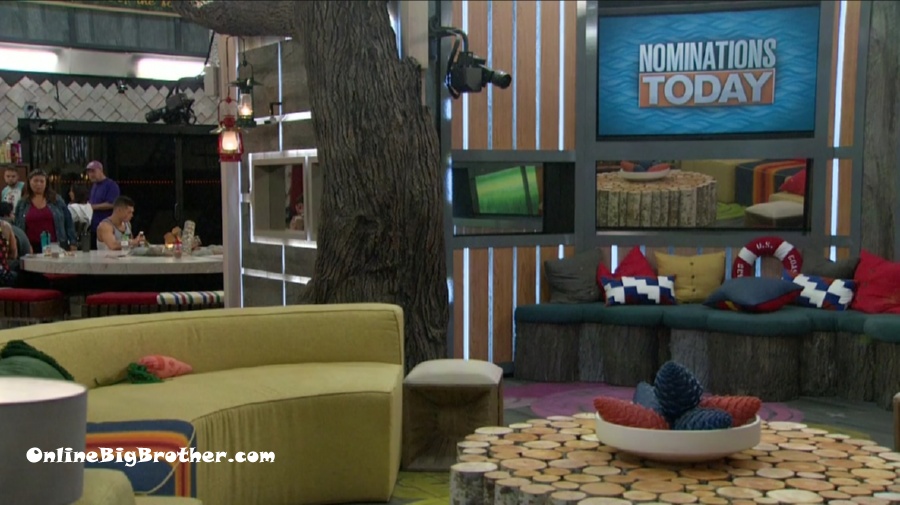 Nominations on the TV screen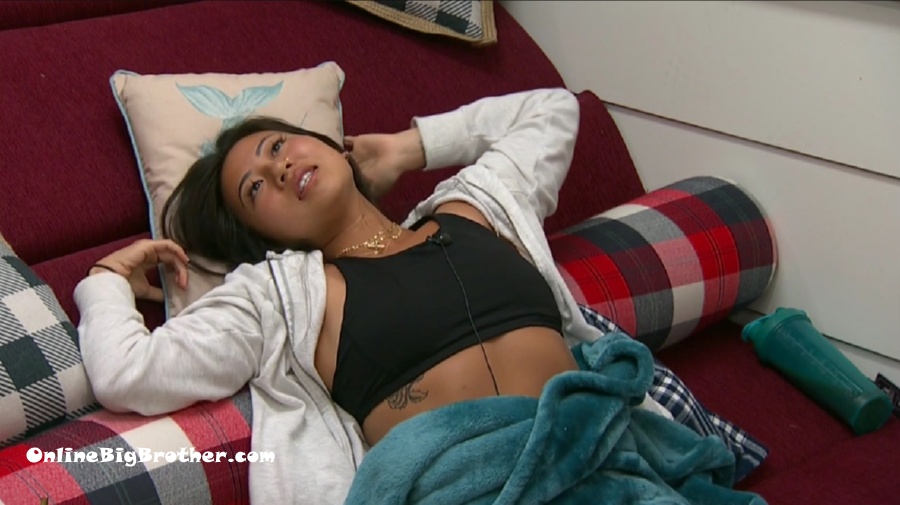 3:10 pm Bella and Nicole
During the Speculation Nicole suggests the power lets you say this to the HOH "this is your worst nightmare i'm changing your noms"
Bella – it's got to be you or Cliff but everyone thinks it's cliff.. (talking about the first whacknoodle power the one Ovi got)
Bella – I swear on my life I don't have it
Nicole – I don't
Bella – that must mean Cliff has it
Nicole – because Kat would have used it too
Bella – my Theory is to go up to him and be like Cliff everyone in the house is saying you have the power… and seeing what he says..
Bella – I think Sam will tell me if he has it. I'll tell you
Bella – If Jack has it F* we should all just self evict
Bella – If TOmmmy has it that would be wild.
David joins them.
Bella – "Hi David"
David – Whats up
Bella – just wondering what the powers are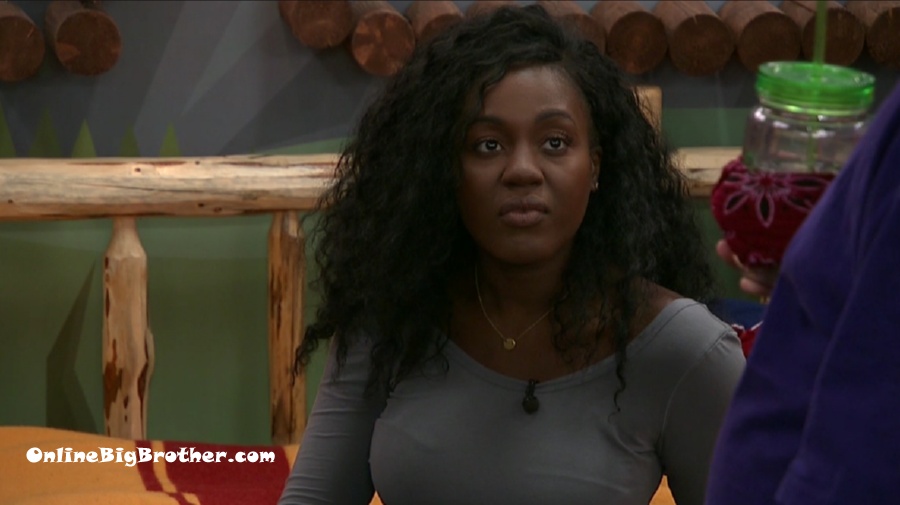 3:13 pm Cliff and Kemi
Cliff says the nominations will be in the next 24 hours
Kemi – you have a feeling whos going up
Cliff – no because I never talk game to Jack.
Cliff suggests it'll be someone that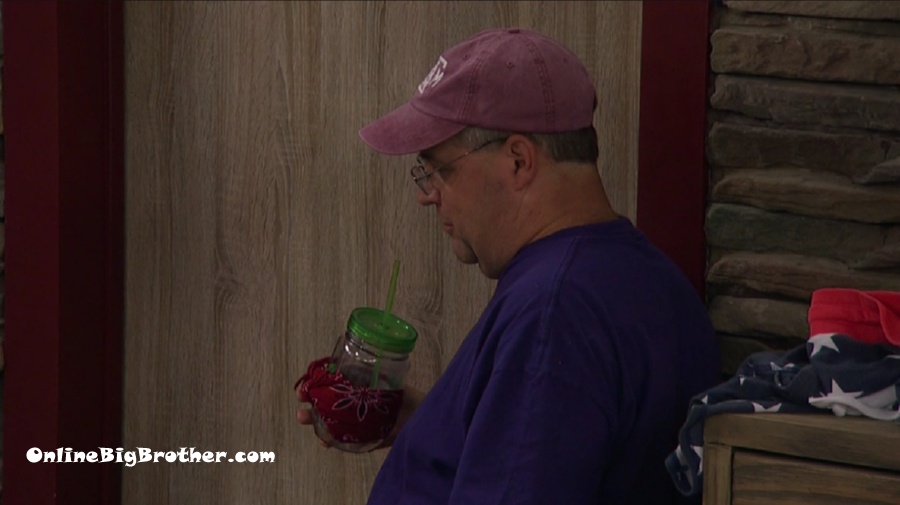 3:24 pm Ovi and Cliff
Talking about the power like most houseguests right now. Cliff says he doesn't think Jack is going to nominate him
Ovi – I think Kemi is going up
The murmer Kemi and Jess
Cliff – I think so he doesn't see Nicole which is good.
Cliff – My big concern if one of those two win Veto who does he replace
Ovi – hopefully Kat
Cliff – I'm not going to ask too much.. I hope he doesn't replace one of them with me
Cliff says he has the votes against Kemi but not Jessica "she'll pull in the women votes'
Cliff says he hopes the people that are evicted are all weak players so Ovi can beat them to come back in. (Assuming it's a battle back)
3:31 pm Jack, Jackson and Holly
Jack mentions that Sam says he can never tell a lie "outright" so maybe when he tells them all he won he's telling the truth. (Sam was the first won called into the diary room post whacknoodleyourdoodle and they were all joking he had the power.)
Christie joins them. They tell her Ovi doesn't know that Tommy, Sis or Holly knows about the power. (the core 6 of the 8 knows)
Ovi joins them.. they go in circles trying to figure out about the power.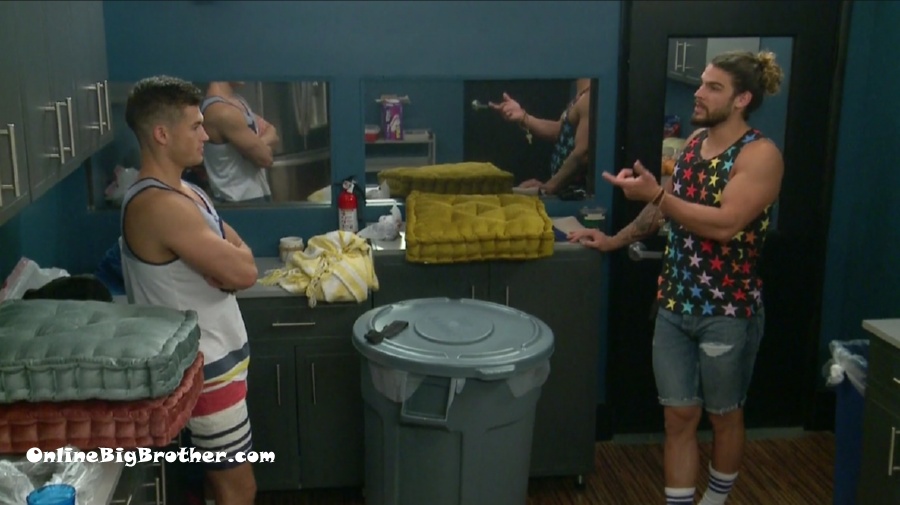 3:56 pm Bro's don't have it
Jackson – I'm going you my word as a man I straight up don't have it I f*ed up on the first snake.
Jackson says he'll try and "finagle" it out of Holly.
Jack says he would have thought Holly and Tommy would be freaked out by Snakes but they weren't. Nobody was bothered by the snakes.
Jackson reminds Jack that Holly works on a "safari" and handles snakes all the time.
Jack goes to leave.
Jackson – have fun with Kemi
Jack – you know
Jackson – you're the one that told me that
they laugh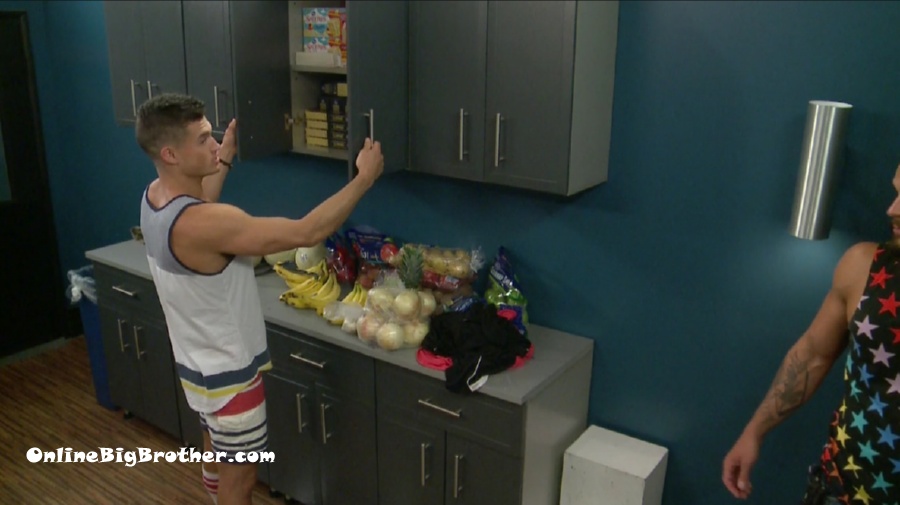 Jackson – look at all this pasta
Jack – we need to prepare some.. cook two boxes tonight just throw it on right now
Jackson – yes sir anything else for you sir
Jack – a thing of Petroleum J**ly on my B******e and I'll need you to put some of it on your face
Jackson finds tuna in the drawer gets excited
Jack – we're good for this week as long as David doesn't eat us out of house and home
Jackson – he can cook for himself.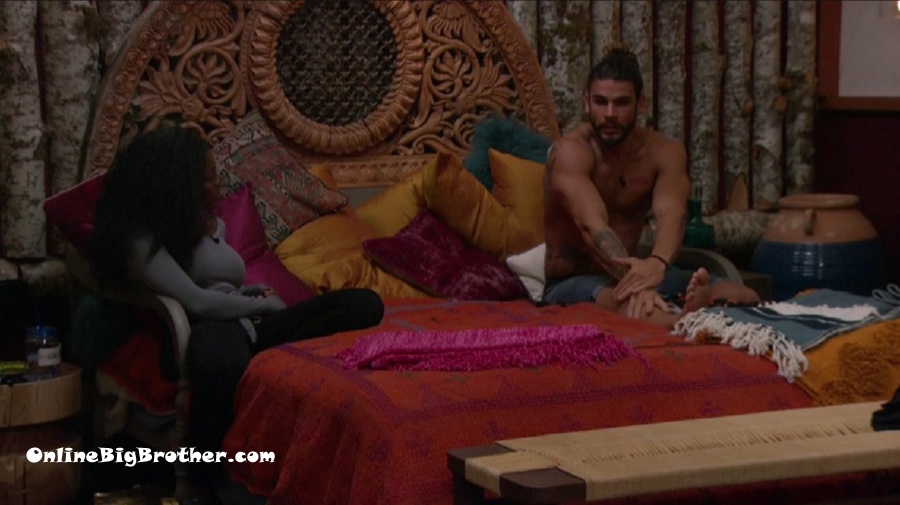 4:06 pm Kemi and Jack
Kemi – I want to see where your heads at.. I feel like last week there was like.. a little weird I get spats of paranoia and I thought I was going up. I wanted to have a one on one with you
Jack – do you think you are going up this week
kemi – I felt like that yeah
JAck – what would be your reasons for me putting you up
Kemi – I've heard you wanted me up last week
Jack – to be brutally honest to you … going into this week I want to protect my game. I was terrified if you won this HOH.
Jack goes on to say he heard she would put Michie and him on the block.
Jack – there's a lot of floats and this game is really fresh.. we are distant. we don't vibe very much very often
Kemi – last week I thought you wanted me on the block I was paranoid about that. I'm not sure where Michie came into that but I was nervous about last week and this week
jack – yeah because I have the choice ..
JAck asks her if there's anyone else he should put up that is more threatening to his game.
Jack – it's best for my game to protect myself because all I've heard from other people is that you want 6to put me up
Kemi says if he doesn't put her up she won't put him up next week
Kemi says if she would have won the HOH instead of him she shouldn't put him on the block.
Kemi says the only reason she had "negatively neutral" feelings about him winning HOH is because she thought he might put her up
Kemi says she wants to get to know Jack on a more personal level.
Jack – everyone one of us brings something to the table that absolutely wonderful and beautiful
Jack – I think you are a beautiful person inside and out. you are very gorgeous. You're a great person everyone speak really highly of you
Jack – it's nothing on your character I don't think you are a bad person
Jack – I don't want to put up anybody. I don't think any less of you for a second don't think of this as an animosity play or anything of that sort.
Jack – this is a play based merely what I heard nothing on your character. I don't think you are a bad person. umm..
Jack – I love you've spoken to me
Ovi stumbles in to use the bathroom but leaves..
Jack – your aspirations and the things you like to do and the bright people you have dated what you plan on doing with you know.. if you were able to do something in your dream line of work to be to work with oceanography or work with ocean pollution or ocean safety and .. all this stuff is beautiful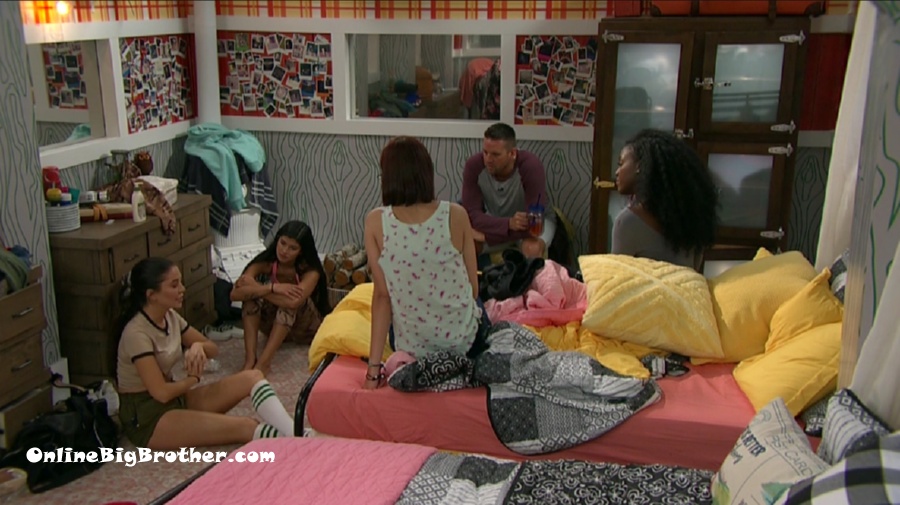 4:30pm Holly telling a story about a time eating a rattlesnake and it wasn't very good. Holly is now worried if that's something she said becuase maybe the PETA people will get mad at her. (I see the petitions on twitter already)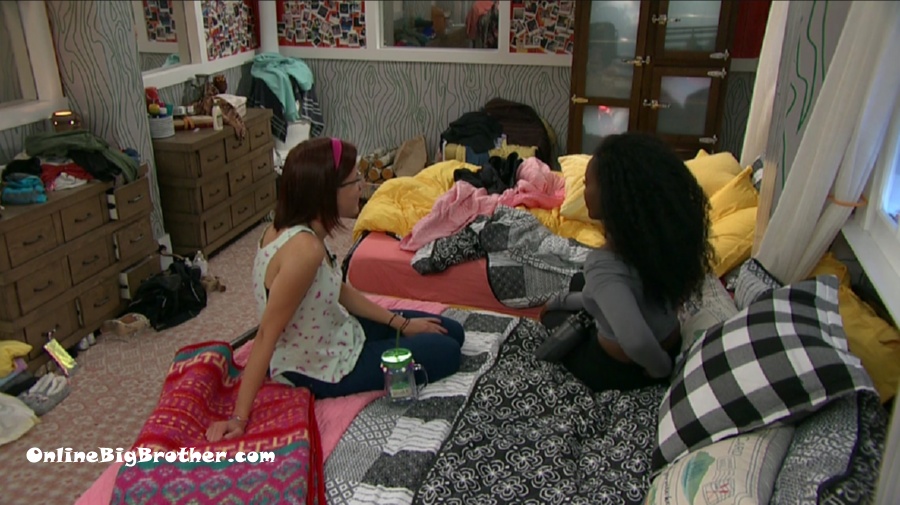 4:37 pm Kemi and Nicole
Kemi gives a long recap of her conversation with jack. Says is she goes up against Kast she'll have the following votes "Nicole, Jess, Bella, Cliff. I'll need two more.. Chrsitie probably I need one more.. I'm pretty confident not Tommy"
Kemi – one of the things Jack mentioned was Michie and I had a final 2
Nicole – who else was in this room kat? did you say it in front of Kat(when she said that)
Kemi – never
Nicole – it's Nick
Kemi – it's 100% Nick (Boom)
Kmei says when she has a conversation with Jack she has a higher appreciation for him
Kemi – right now I am relying on my gut and god my only two alliances in this hose are the black widows and G and G
Kemi – Michie is one of the sweetest guys I have ever met in my life but…
Kemi – We're so lucky to have 16 level headed people.
Nicole – what are your thoughts on David, In general
Kemi – I don't really think much of him I don't .. he's a nice guy but he gives me weird vibes
Nicole agrees with the weird vibes "I feel like he just here to f* with us. Most of us if not all of us are here to play Big Brother"
Kemi – and have fun
Nicole – his plan is I'm going to f* with them so bad
Kemi – he doesn't know the game at all
Nicole – do you think he's blowing smoke
Kemi – he wants to be portrayed as a very intuitive smart guy.. what is the inception thing
Nicole – the only thing I can think is inception the movie it f*s with your brain
Nicole – he's got nothing to lose
Kemi – still it's a social game.
Kemi – game aside why would you want to spend your summer or even a week making people feel uncomfortable
Share it YO!!
Tweet