Big Brother Spoilers Jack wins the Head of Household. A new twist called CAMP COMEBACK allows the first four evicted houseguests stay in the house. They do not play in competitions or take part in ceremonies but one of them will be given the chance to come back in the house.
They got to see a commercial for the Power of Veto it will include a trip to Fiji. Jack intent is to put Jessica and Kemi up. Tell Kemi she's the pawn and send Kemi out.
Wackadoodle competitions started around 11:10am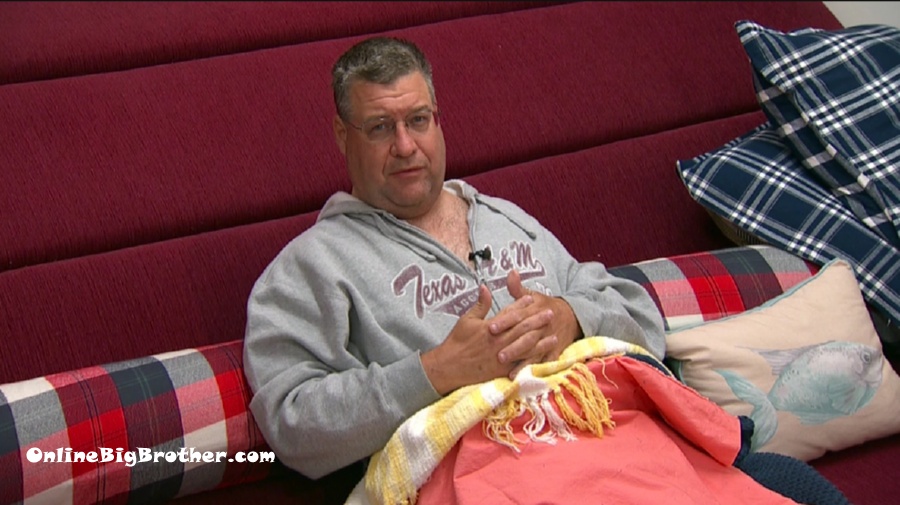 7:55 am Cliff Notes
Cliff – Glad Ovi is back not so glad David is here but we'll deal with it. This house does feel a little crowded at times.
Cliff starts going about David disturbing his morning time yesterday. "He's a very aggressive person in terms of interjecting himself into conversations and to people"
Cliff says if David makes it back into his house he's not good for Cliff's game.
Cliff – he rubs me the wrong way. I'm the kinda person I'm friendly to everyone I enjoy being with everyone yet there's something about the forcefulness of his character that rubs me the wrong way
Cliff – maybe there's a little bit of intimidation there. Maybe it's just uncertainty how truthful he is. His agenda. Call it confidence call it arrogance I'm not sure which it is maybe a little bit of both
Cliff – little things like him in here in the boat room saying once he makes it back into the house he intends to win the first HOH. That's fine.. to say it in front of everybody in the room is kinda ballsy he's certainly a ballsy individual
Cliff – then there's little things like he was worried about sleeping last night so I offered my bandana to him so we could cover his eyes with it. He took it and didn't even say thank you. Tiny little thing, I'm not going to raise a stink over it but just the basic little things that rubs me the wrong way
Cliff – I'm not the biggest fan in the world, (of Davids) that could change in a few weeks. If he makes it back into the house and if things are going different ways I may need to form an alliance with that guy I may need to pull him into an existing alliance.
Cliff – I may not like the guy but doesn't mean I can't still use him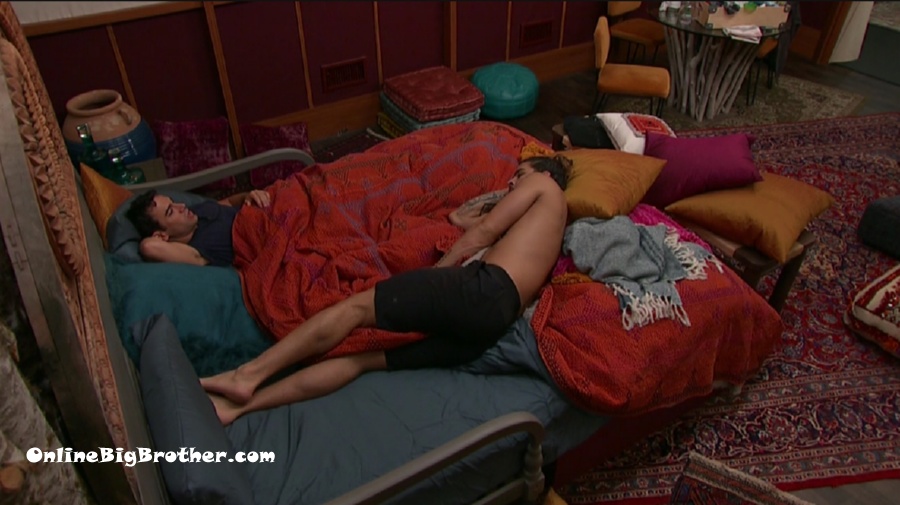 8:35 am Tommy and Jack
Jack says none of the people "in the power play" (Wackadoodle) this week would take off his nominations.
Jack – Sam is the only odd man out
Tommy – nobody wants to rock the boat
Tommy – nobody is going to want to use the veto other than Kemi or Jess
Tommy – yeah.
8:44 am Christie and Sis
talking about Wackadoodle today
Christie – I guess I gotta get ready
9:55 am Tommy and Sis
Talking about Jess and Kemi going on the block
Sis – how do you think Jess will react to it do you think she'll be okay with it
Tommy – I think so
Sis says if Jessica wins the next HOH she'll put Jack up for sure
Tommy – she'll probably do that anyways.. is my guess from the whispers
Sis – Kemi better go
Tommy – I think she will
Sis – unanimously
TOmmy – I think she will
Sis – I don't like her.. I don't
Tommy – I know
Sis – I hate being fake to her, She's so fake to me
Tommy- I know, either way, you are in the house for 2 more weeks with her \
Sis – I don't like Daivd either
Tommy – no, I don't either
Sis – I wanted to call him out on his sh1t yesterday.. Like I know you are here for trouble I can see it
Tommy – I kinda feel like he's insignificant do all you want try all you want to f*ing stir up we all see right through it
we don't care.. like go ahead try it's not going to work you are insignificant
Tommy – I don't dislike him like other people do. I get it he's being a dick he's being weird and sketchy
Sis – he's being sketch I don't like it it's giving me weird vibes
Sis can't see David coming back a second time
Tommy says If David does come back it will unite the house "the house would have a common enemy"
Sis – when do you thin kthe house will split
Tommy- when [david] gone
Tommy – its the best move to put Jess and Kemi up instead of Kat and Jess
Sis – Kat will be really f*ing annoying
Tommy mentions how "they" talked so much game with Kat and now they are not (Jackson, Jack, Christie)
Tommy – Michie broke it off it scares me
Tommy – we need to stick together as gr8tful until the 8 because people like Nicole and Cliff have a chance to win this thing. If we turn on each other too early they will fly under the radar and win.
Sis wants to get Nicole out before Cliff because Cliff is "so onboard with what we do. he told that to Holly and Michie"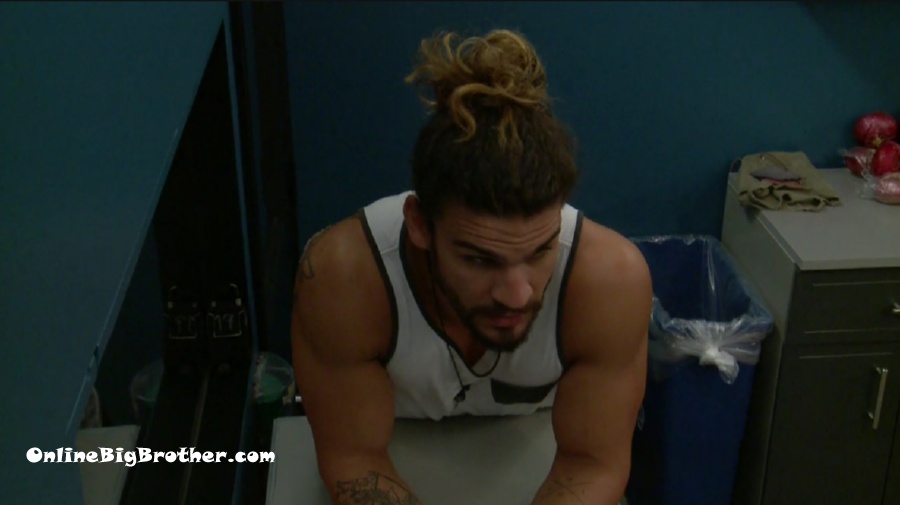 10:47 am Storage room Jack and JAckson
Jack walks in – yo smell like farts
Jackson – I just came in here to fart
Jack – I'm telling Jess she is a PAwn today
Jackson – one on one
JAck – yeah, I probably will and I need to tell Nicole and Cliff still what the plan is so they feel a part of it
Jackson – do you mind I'm with you when you tell Cliff. To help me and him solidify that a little more
Jack is cool with the idea
Jackson – he's working with me in an alliance. He doesn't have to know about us I would like to be there to add another layer to that bond.
Nick joins them. Jack tells them he's telling Jess she's a pawn.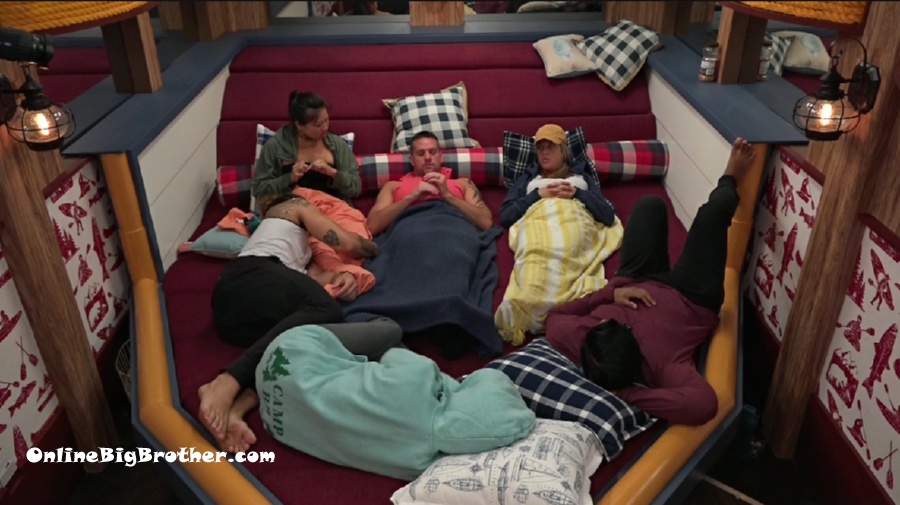 10:53 am Boat room
Agreeing that the Wackdoodle competition is today and the Nominations are tonight. Whackdoodle players for Week 2 are Holly, Tommy, JAckson, Sam and Jack
11:12 am Feeds down for whackadoodle
1:38 pm Feeds still down for whackadoodle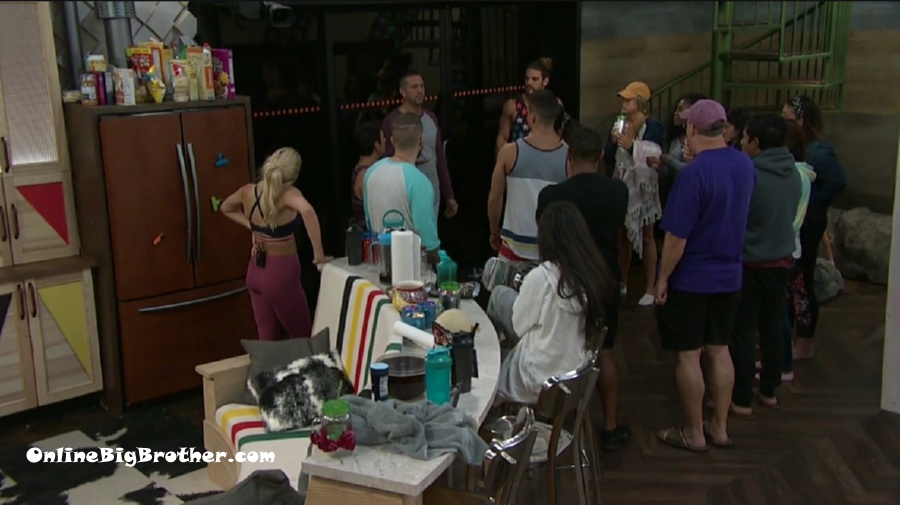 2:53 pm Whackdoodle is over .. "it was a fun comp"