POV Holder:
Steve
POV Competition
Aug 8th
POV Used
?
POV Ceremony
Aug 10th
HOH
Becky
Next HOH
Aug 13th
Original Nominations:
Shelli and Steve
After POV Nominations:
? and ?
Have Nots
Meg, James and Jackie
8:47pm Kitchen Twins and Austin
Austin made the twins some food says he put cashew and walnuts in it because he knew she likes that.
The twins love the food.
8:50pm Vanessa and Steve
Steve – Are you worried
Vanessa believes Becky says she doesn't think Becky would lie flat to her face.
Vanessa brings up keeping Becky safe when she was on the block.
Vanessa says she's been wanting to talk game with Steve all day.
Steve – I do to
8:57pm Austin and Vanessa
Austin saying he hasn't talked to Becky lately
Austin says Liz has been telling him she's having dreams without his beard.
Vanessa tells him she'll give him some pointers with Liz. It's a long conversation let her get ready and she'll tell him.
Austin is excited.
9:00pm HOH Austin and Becky
Austin – haven't talked to you since the veto sorry I didn't win it I tried
Austin – going into Double eviction we don't have to be so stressed.. that night is so scary
Becky – this is an easy week you need 4 votes and I have 3 votes.
Becky – It's easy for me to say OK Johnny
(Becky still plays like Johnnymac is going up)
9:08pm Bedroom Steve, Austin, Liz
Austin thinks JOhnnymac is going to go up
Steve acting shocked – REALLY
Austin mention that's how Becky is talking.
They agree to keep freaks and geeks together.
Steve leaves.
LIz says Vanessa is getting to crazy, "You need to stop listening to her (Vanessa) , If she asks you to do something pretend to do it don't do it say you did"
Austin says he talked to Becky and told her he'll keep JOhnnymac safe.
Austin – Becky told me James, Meg and Jackie all like them
Liz – that's greatttttttt
Austin – The ones that don't like us are out..
Liz – vanessa thinks you owe her.. it was one week whatever
Austin – you were going to f*** me over without getting to the bottom with me..
Austin say James did them a solid by not putting them up. He nominated Clay and SHelli instead.
Austin thinks they owe James just as much as Vanessa.
[envira-gallery id="127276″]
9:26pm Shelli and Jmac
Jmac assures her the plan will not backfire she's safe
Shelli talking about her sorority sister how she still keeps in touch. They are all with babies now.
Johnny Mac – Babies Yuck
Jmac – Most of my friends are pumping them out right now
9:41pm Have nots james, Meg and Jackie
Having a laugh at Vanessa.
Meg says Jmac is targeting Vanessa after their argument. Becky told her Jmac and Steve are targeting the twins .
Jackie – we don't have to get blood on our hands.
Meg – I'm ok if we go with the two of them for a long time ..
Meg says Johnnymac was close to Clay and Shelli. Once Vanesssa leaves they should be able to pull him closer to their side.
9:45pm
Vanessa is telling Austin Liz wants him to come off as less needy. Play a little hard to get.
James walks by opens the toilet door on Jackie
James – I'm sorry
James opens the toilet door on Jackie #BB17 @DawgsBigBrother pic.twitter.com/lbPBXWqLLm

— OnlineBigBrother.com (@bigbspoilers) August 10, 2015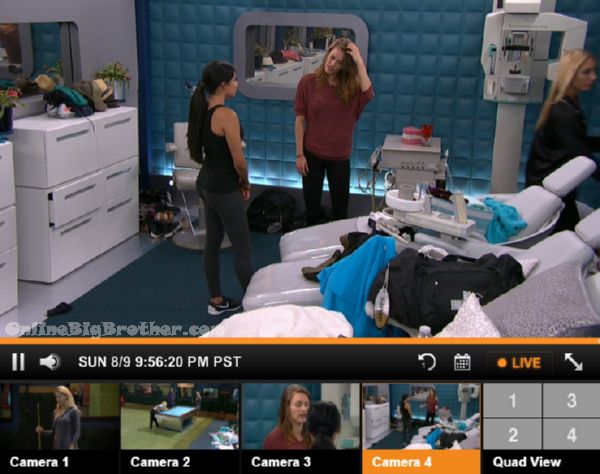 9:55pm Have nots jackie and Becky
Jackie saying it might be a good idea to tell Austin and the twins before the veto ceremony.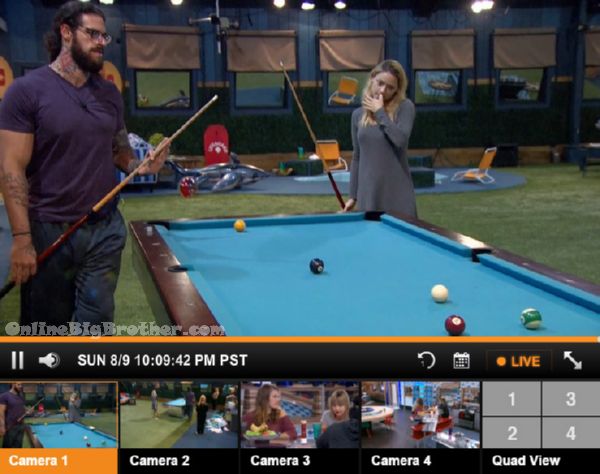 10:09pm Austin and Liz playing pool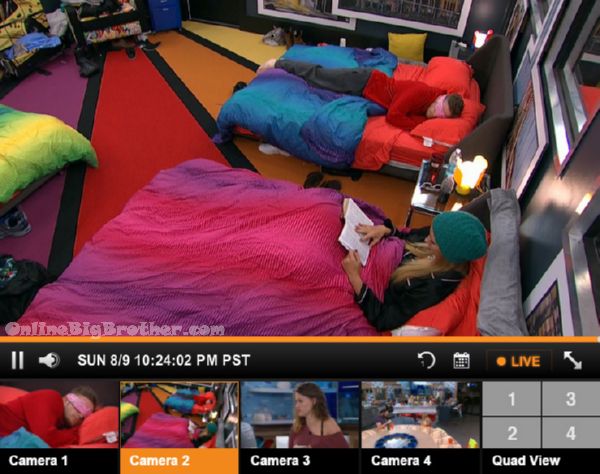 10:23pm Vanessa at the reading bible phase
10:32pm HOH Meg and Becky
Meg – Oh my God tomorrow. you better get your rest for tomorrow.
Meg – Sneaky little Becky
Becky – I'm not sneaky.,.. If you give me a reason to lock and load i'm going to do it
Meg – Shelli is the target for Double Eviction that will be nice
Meg recommends she talks to Austin and the twins before the POV Ceremony.
Becky is going to wait until 11 yesterday
Meg – Who does Steve put up Austin and Liz (ZOMG!)
11:03pm HOH JAmes and Meg
James says he'll throw the HOH to Meg
Meg – I think Steve will win during double eviction
James – he'll put Austin up
Meg – or the twins
Meg – might be Shelli
James and Meg say they are not voting for Austin if he makes it to the end because he was he's not playing the game to win.
Becky comes up Followed by Jackie (See gif below)
Jackie brings up Vanessa already laying the groundwork to get Johnnymac out. She thinks Johnnymac will be the replacement.
Becky's speech to Austin will be telling him there's two main groups in the house her groups, Meg, JAckie, JAmes and Austin's group with the twins.
She's going to list of a couple lies and sneaky things Vanessa has been doing.
Meg says they have to make sure Austin is down with picking Shelli as the next target.
Meg – Make it clear that Double eviction plan is the same
Becky – you guys have to help with that because I can't play
Meg – Don't worry we'll talk to them
(An ironclad plan)
They start bashing Vanessa's attempts to get to know steve.
Becky – You can't make friends 7th week
Jackie says Shelli and Vanessa are a off pair.
Becky – I get along with Shelli
Jackie – Oh I love her too
Jackie goes on about Vanessa only being friends with Steve all of a sudden for his vote because she thinks Johnnymac will go up.
Jackie says Vanessa wanted Steve out this week but now that Steve got Veto she wants Johnnymac.
Becky – I adopre Johnny when I'm sad I can go to him.. he plays a really defensive game and he's my defensive reminder.
Becky tells them it all comes down to the Skittles, If Vanessa stays the other side has 4 they have 4. If Vaneesa stays it's 5 vs 4
Becky – we're a public large group as long as we have the numbers the house will go with us
Becky says the twins are a$$holes to Steve. Saying he's being bullied by austin and the twins.
Meg – that's who he's going after for sure, He's not putting any of us up
Meg says the other people in the house don't let Steve talk and don't talked to him enough to really get to know him like they do.
Becky tells them she's certain Johnnymac is going after the twins.
(The conversation is priceless)
[envira-gallery id="127296″]
James "What are you doing" #BB17 @DawgsBigBrother pic.twitter.com/c4AvwTFLfx

— OnlineBigBrother.com (@bigbspoilers) August 10, 2015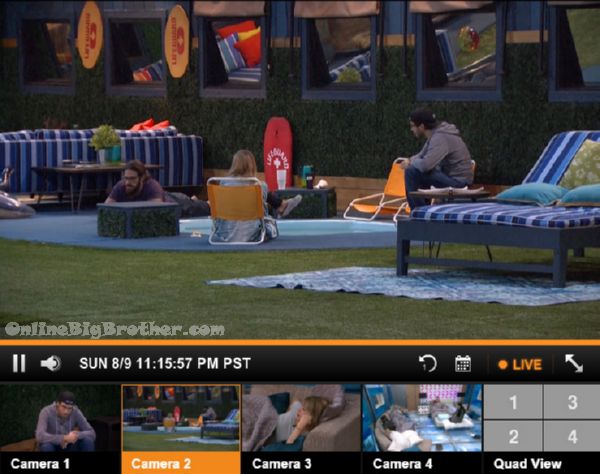 11:15pm – 11:40pm Austin, Shelli and Steve
Chit chatting for the last hour about Academic topics. It's a friendly balanced conversations. Sometimes a twin jumps in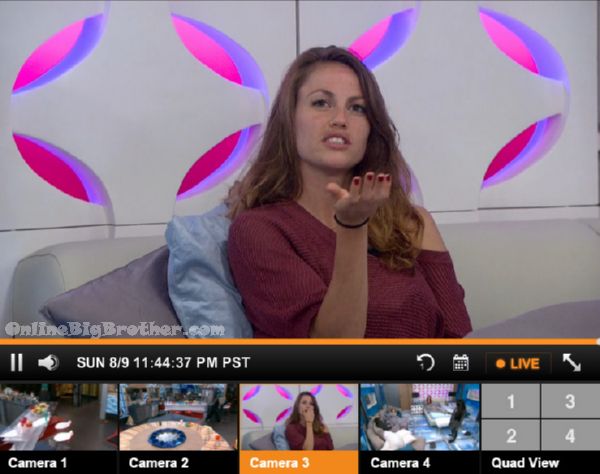 11:45pm – midnight Becky, Meg, Jackie, James
Becky calls their group James angels.
Becky complaining that Vanessa always wants to work out with her but everytime she sees vanessa she's eating a bag of chips.
They start convincing each other that AUstin's side will not target them during the double eviction. JAmes says the only one they have to worry about is Shelli winning.
Jackie – that is why she need to go next after Vanessa.
Becky says the HOH pictures are fun for the "Feeders"
Vanessa – I feel really bad for Shelli
Beckley – she's sad, She's trying to lay low it's the smartest thing to do in this game sometimes, Lay low.
Meg says it's us vs them and then Johnnymac
James mentions that is the group Audrey told them about.
They laugh that the twins think this it Summer camp.
Jackie – you should always want to be played
Jackie about the twins – They're sitting pretty they haven't done sh1t in the house
Becky – they have started playing the game since day 60
Meg – they haven't even played a veto
Jackie – they won HOH once and been on the block once
Becky – that's it.. we are sitting here 3 time HOH winner and nine times being on the block and all of us have pack out bags.
Jackie – every week we're in the mix
They all agree they can destroy Austin and the twins in competitions.
James points out the order of the HOH was Becky, Julia, Johnnymac, Shelli.
[polldaddy poll=9015303]