POV Holder:
Steve
POV Competition
Aug 8th
POV Used
?
POV Ceremony
Aug 10th
HOH
Becky
Next HOH
Aug 13th
Original Nominations:
Shelli and Steve
After POV Nominations:
? and ?
Have Nots
Meg, James and Jackie

Watch the NEXT WEEK of the Live Feeds for FREE! Click here for your: 1 Week Trial
12am – 12:45am Bedroom – Steve talks to Vanessa and tells her that Shelli and Johnny are freaking out about the 8 person alliance. Vanessa ask what alliance? Steve says the one you told me about. Vanessa says that's not an alliance. Steve says the 8 person group whatever you want to call it. Vanessa asks how do they know about it? Steve says I don't know. Vanessa says it was only a 1 week deal. Steve says oh okay I didn't know that. Vanessa says you know I hate liars. Be honest with me.. did you tell Johnny Mac anything that implies I have any opinion about him. Steve says about him no I have not. Steve says that he ranted to me about the fight. He was upset about the finger pointing. Vanessa asks was he upset at me? It was Clay who did the whole thing I didn't make up anything. Clay told me to go ask Johnny about it. I was a puppet that got my string pulled. Steve says he was mad about the whole fight. Vanessa tells Steve about the fight. Steve says I am just worried if Becky is really going to put up Johnny because they're so close. Vanessa says he's going up as a pawn to ensue Shelli goes home. Vanessa says if I had won the veto neither of you would be going home because whoever I took down would promise to keep the other one. Vanessa says that my plan is.. after double eviction because it happens so quickly.. we make Becky a target for everyone. Steve says he's worries about being a target in the double because hes not with anyone. Vanessa says once Becky puts up Johnny Mac we can make Becky a target. I think everyone would be on board with it except Jackie. Steve says we're just the Freaks now .. because freaks & geeks is a tv show. Vanessa renames it freaky 5 .. because there's 5 of us. Steve says okay. Vanessa says I think its smarter to let Shelli go. The only reason we would keep her is if it would extend your life in the game. It would start a war if we kept Shelli. Steve says can we figure this out after the veto meeting tomorrow. Julia joins them. Steve heads up to spy on the HOH room crew.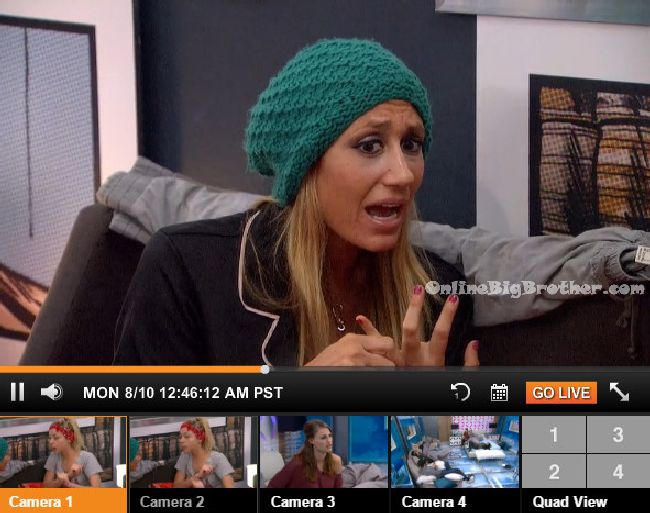 12:45am – 1:10am Vanessa tells Julia that she just leaned that Shelli and Johnny learned about the 8 person group. Julia asks who the f**k told her. Does Shelli really think she has a chance? Vanessa says you would think she would hang out with me but she doesn't. Julia says this is a social game and all she is doing is moping around. Julia asks what do you think is happening tomorrow. Vanessa says Johnny Mac is going up. Becky told me I wasn't going up. She asked me if I would vote to keep Johnny. I told her I would vote with the house. Think about it what is the majority. Julia laughs and says evil! Vanessa says if the house wants Shelli out I will vote her out but if the house wants Johnny out.. Then I can keep my word. It comes down to what Freaks & Geeks want. Julia says I want to keep her. Vanessa says that Johnny Mac is close with Becky and she is the Antichrist. Not the Antichrist that's terrible to say .. I really don't like her. Julia says me neither. Vanessa says I don't like how two faced she was to Shelli. You don't even know the half of it. We went from me and Shelli being the two people she trusted the most in the house. She was feeding Shelli & Clay info about what they were saying in the HOH room during James's HOH. To then once they're in power to putting Shelli up and telling me she is never making deals again. That is the biggest slap in my face. She told me to lie that she didn't know the night before Jason went up. If she won HOH she was going to put up James and now she's working with him. Is that not funny! Julia says holy sh*t! Vanessa says my trust tells me to get rid of Johnny Mac. He has trust with everyone. Vanessa says if Shelli were to be backstabbing me I would never forgive her because I'm trying to keep her. Vanessa tells Julia she needs to stop letting Austin talk for her. You need to establish your own independent game. If anything ever happens to Austin you need to be okay. Julia comments on how James makes her feel uncomfortable. She says would hook up with Steve before James. They talk about Liz and Austin. Julia says she hopes Liz's image doesn't get tarnished. She has to stop leading him on. Her comic book thing was so her "The heart breaker" (Veto Comp). Julia says that every time we mention Jeff.. Austin gets so pissed. I think if he was still her she would have picked him over Austin. Vanessa tells Julia her and Liz have a very good shot to go a long way. They (James, Jackie, Meg, Becky) have to win HOH 3 times to get rid of you guys.
Watch the NEXT WEEK of the Live Feeds for FREE! Click here for your: 1 Week Trial
12am – 12:55am HOH room – Becky, James, Meg and Jackie are talking. Becky says after we get Shelli out I hope that Johnny Mac or Steve win HOH and go after the twins. Meg says no because that would mean it would put it on us. Jackie says for the double eviction I almost what to do Shelli and Liz. With Austin as the replacement if Liz wins and Steve the replacement if Shelli wins. Becky asks so should we not make a deal with them? Jackie says I can't trust them with the votes. Meg says as long as we make it clear we are still going after the same people. We can't say we aren't going to put you up. I would put up Austin and Shelli. Becky says if we're going to play like that I don't think we should be sitting here making deals with them. No matter what we're sending people to jury and we need their votes to win this game and if we're going to play dirty like that and we keep this up none of us are getting votes. Meg says its not playing dirty. Jackie says it guarantees they're (twins) going to keep Austin and we're going to get Shelli out. Becky says maybe we just agree on targets. Not on block or not on the block. James says I would probably put up Liz. Meg comments on how she was surprised in the veto comp .. Shelli wasn't the sweet Georgia peach .. instead she was the PUMA! They talk about Shelli being 33 and Clay being 23. Steve joins them.
1:15am Cabana room –
Jackie talks to Shelli. Shelli says she's had a rough few days. I need to start my game over. Obviously I am on the block and Steve is coming down. I'm nervous about tomorrow. Jackie says I can't say what is going to happen but you're someone I was never gunning for. Jackie says the bullying for votes really upset me. I do not want to be seen that way. Someone said it about James. He asked if I keep you safe please vote how I want. At the end of the day everyone voted the way they wanted. It got really ugly. It makes me sick to my stomach and I would never be like that. I would never want to be perceived that way for money. Shelli says that she's never been after Jackie. I just want to start fresh. Whatever happens tomorrow I would love to talk again. I will fight for myself. I won't do some dirty campaign. Jackie says I think you and Clay have just been with the wrong people.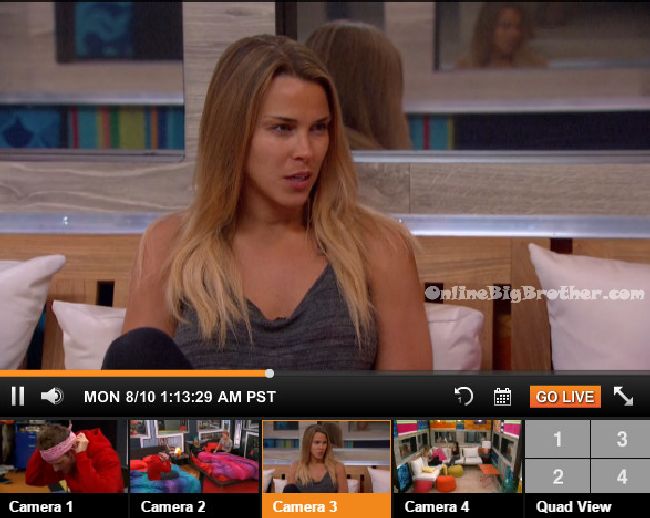 Living room stretching..
See what they can't show you on TV Try the live feeds for FREE!
1:45am Bedroom – Vanessa tells Shelli that she is strong and will get through it. Luckily its not too much longer. Shelli says that things just feel so different. Vanessa says things will change again real soon. Its a game, its what we signed up for. If they put up Johnny Mac your a$$ is staying. The only reason we haven't been so close the last few days is because if I look like your closest ally I will go up. Vanessa tells Shelli that she just had a conversation with Steve and Julia about keeping her. I don't want you to go anywhere. If I end up next to you that would really be unfortunate. If it happens, it happens and one of us will go. If Johnny Mac goes next to you its the best thing that can happen for you. When it happens I will go straight to my plan. I will get James and Meg on board with it. I'm going to flip the whole script and make Becky the target for Double eviction. I've got Steve on board with it too. He has evidence against her too. Shelli says I'm just nervous. Vanessa says worst case we go back to our lives. You've got a blossoming relationship to look forward to. Shelli says she's worried she is going to lose him (Clay). He will have so many other opportunities.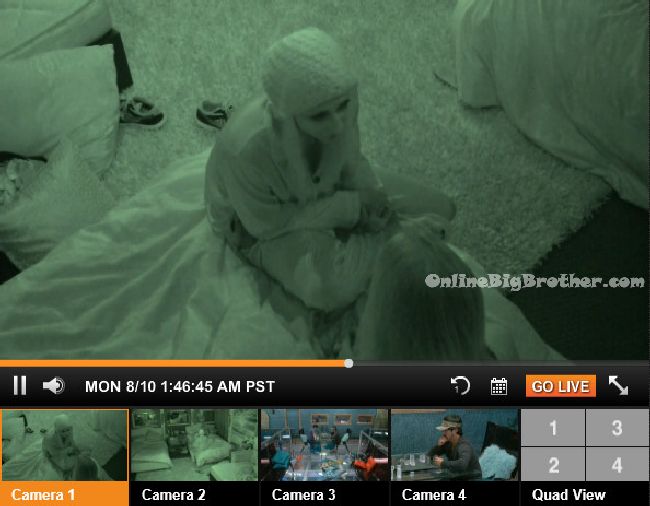 1:55am – 3:10am Jackie and Becky talk in the HOH room. Jackie says I hope that didn't look bad. (Talking to Shelli) Becky says that Vanessa saw and as soon as Shelli left you Vanessa talked to her. Becky says Vanessa is really such an a$$hole! Jackie asks why? Becky says just her getting groups together to go after Shelli and Steve and then running downstairs to tell people that that group we're after them. And then comes to me and wants to make sure I'm putting Shelli up. You're such a bit*h! You're just running around from crowed to crowed to crowed to crowed. She is working everybody. Why, Why would I trust you. Shelli isn't campaigning to anyone. Becky says Shelli gets that Vanessa is the poison. Becky practices her veto meeting speech "Vanessa please take a seat, I am personally making the decision to put you up based off my observations in this game I know you say that you're truthful, honest and loyal but in reality you are extremely emotional, stressed and paranoid and I feel that you are constantly changing who you're with in this game and who you're against. And you're not afraid to tell lies. When I thought you were with Austin and then you wanted to backdoor him. I thought you were with Shelli and Clay but the second they were on the block together you dropped them. Then you came to me to get Shelli on the block. I am just confused who are you with in this game. You always change your targets. A lot of us have sat on the block during your HOH and you've taken a lot of our friends out of this game. Jackie heads downstairs.
3:20am – 4am Steve comes up to talk to Becky. Becky tells Steve he is playing a better social game. Steve asks are you nervous about tomorrow? Becky shakes her head no. Steve asks can I ask what you're doing? Becky says I'm putting up Vanessa. I caught her playing all sides of the house really bad. She tried to backdoor Austin, Shelli, James, etc. Did you ever think it was weird how badly she rejected Clay and Shelli when they got nominated. She thinks .. and really wants me to put Johnny Mac up. She wants Shelli to go. Steve says if Shelli goes that makes me the target. Becky says no, people kind of think you're pawns. Steve says that does make me a target. Becky says Vanessa freaked when you got yourself off. She thinks Johnny Mac has to go up. Steve asks why does she think YOU would put up Johnny Mac? Becky says I know! Becky asks why do you think she spent so much time with you today? Because you're the swing vote. She needs your vote out Johnny Mac. Becky says I've personally seen Vanessa play all sides of the house. She's personally lied to me. I didn't tell you because I didn't want you to be caught in the crossfire. I want your game to be safe. I'm ready for tomorrow and its going to get ugly for sure. I know I'm taking out a messy social, panicked player. She will want to drag my name through the mud. Becky says I am so sick of her! She is playing ALL SIDES! I was like you're f**king crazy!! She is nuts! Steve says game not personal. Becky says oh yeah, yeah, yeah. Steve says I don't think anyone has anything against her as a human being. What we're saying here its all her strategy. Becky says yeah. Steve says good, good. She wanted me to put up Johnny! Why the f**k would I put up Johnny. Your a$$ is going home. Steve says to jury. Becky says yeah. Becky asks do you want Vanessa out or would you prefer Shelli out? Steve says I really notice and appreciate the trust and information you have given me and I would be happy to reciprocate and if this is the way I would be happy to do it. And you putting me up makes everyone think we're not working together. Steve says I really trust Johnny and especially trust you because you've followed through with what you said you would do. Steve says I am looking forward to you, me and Johnny Mac working together. Steve comments that he came in expected to be hated my America. Becky tells Steve that she thinks James, Meg and him will be most popular. Big Brother calls Steve to the diary room. Steve says this conversation never happened. I'm going to be blind sided tomorrow. Steve leaves and Beck does to bed.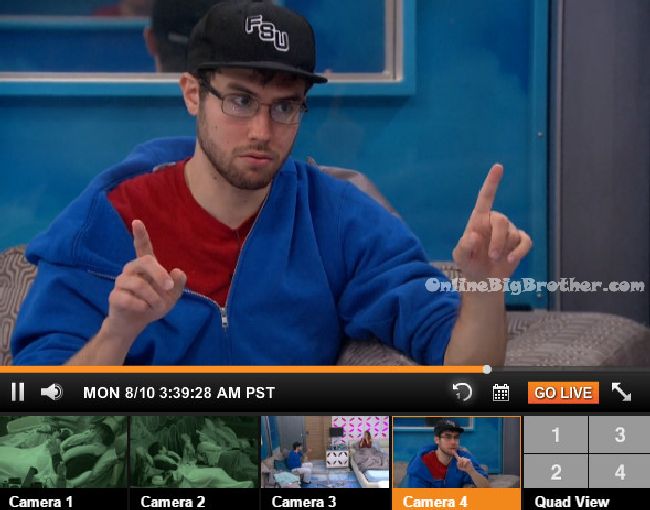 4:20am – 5:30am Steve is in the backyard talking to himself. He says I think being excluded from that group of 8 thing was the best thing that has happened to me in a long time. And I am throwing the next HOH. I'm feeling pretty safe. I've got to be careful. Things could blow up. I just made a great .. Austin and I haven't .. I'm sick of the meat head thing. I'm not going to say no but.. I wonder if Austin knows what I'm up to? Because you know who I haven't game talked with in awhile? Austin and the twins. And I need to do that. Tomorrow my job is to stay in f**king bed. If I can sit back and throw I've got freaks and geeks and am safe with everyone in the house. I need .. I don't think the twins pay attention to who people are talking to in the house. I think Austin pays way more attention to that. Becky's mind is made up. Nothing can be done. SOS is done. In was in the faceoff veto. I was was throwing everything. Tomorrow .. a fine line and I need to keep doing it. I think Austin might know exactly what I'm up to and I'm afraid of that now. Meg can I talk to you during the music tomorrow. I would really like to talk to you. Its a personal thing. Its something I've been hiding in my personal life. On the questionnaire .. should you be trusted and my answer was no. Want Vanessa to be mad at Becky.. OH if I tell everyone that Vanessa and I had a final 2 deal.. If anyone can respect my game and what I'm doing it will be Vanessa. Am I going to lose Austin against Vanessa. Vanessa lied to me more. Who could I nominate if I won HOH. I can't nominate anyone. I can't win HOH for this double eviction. I think everyone thinks I'm so cute and innocent that no one expected it from me. Becky is making a huge mistake. Lets think about this carefully ..is Vanessa going to out the freaks and geeks? I was a victim of Vanessa's… Vanessa lied to me. … You promised Shelli. Vanessa if anyone .. I beat you at your own game and you should respect that. I'm nervous about playing both sides too much. I need to rebuild my relationship with Austin and the twins because freaks and geeks… And I don't even know how I'm going to vote. Or I could just not use it tomorrow. That would actually solve so many problems. But I am not going to not use it. My mom would kill me if I didn't use the veto. Steve heads to bed.
[polldaddy poll=9015303]