Big Brother Canada Spoilers – Tonight is a double Eviction. WhooWEE!
The vote's are pretty much locked to get Chelsea out.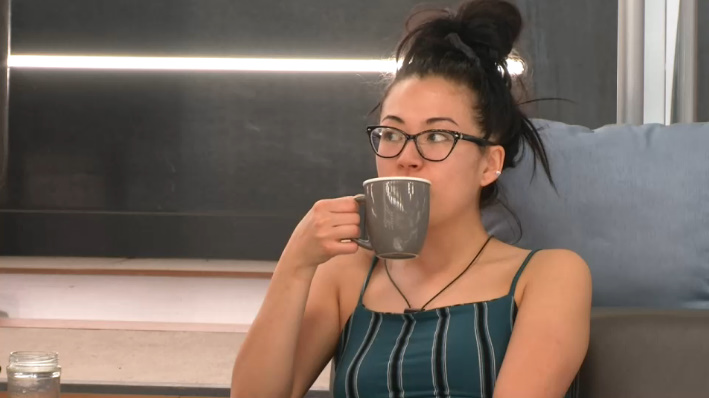 9:57am KIKI alone
Saying she needs to get Kyra out of this house before jury, "You got to go.. You have to be evicted asap"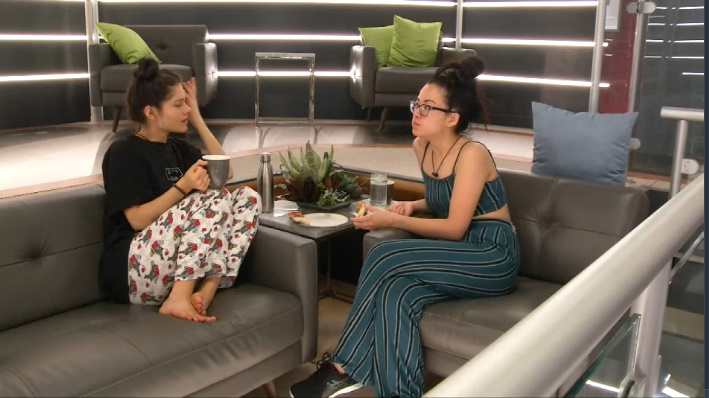 Stef joins her.
Stef asks if CHelsea has talked to her.
KIKI – no not today..
Stef says CHelsea is bringing up the girls alliance again saying they need to get the boys out.
Stef – I don't want to talk about it.. If she brings it up..
KIKI – I can't believe her last night
Stef – yeah it got a little sad..
They talk about how much Kyra annoys them.
KIKI – I think Sam and Mark are a lot closer than we think
Stef – yup.. Part of the reason for him wanting to get Adam out is to get closer to Sam
KIKI -yup
KIKI – I had to listen to Chelsea and Anthony talk for so f*ing long
Stef says her and Dane were talking before they went to bed they should aim for final 8 you me, Dane, Damion, Mark, ANthony and then we tell Anthony than Cory is in on that..
Stef – they are very tight
Stef – when it comes time for it we will tell him Cory is in on it we'll vote out Cory and Keep Adam instead. Adam is the next biggest target.
Stef – Eventually we'll need to get rid of Mark, Anthony and Adam but then it'll be Damien, you me and Dane..
They talk about their final 4 plan with Damien, Dane, Esti and Stef
(LOLOLOLOLO)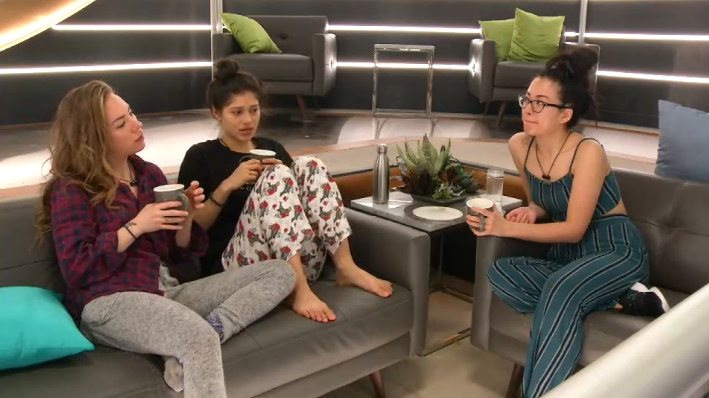 10:10am Sam, Esti and Stef
Sam – we're still thinking about evicting Chelsea
Esti and Stef say yes
Talking about the guys alliance. Esti says that all the guys alliance talk started with Kyra and she's not sure how reliable that is.
Sam says they should still be looking out for each other. They agree to keep an eye out for the guys alliance.
Sam – we're smart and strong we can use what we've used already to keep going.
Stef talking about Kyra talking anything running with it and twisting it up
They want to keep things from Kyra.
Stef – if they're doing that to girls they will hear from me
Sam – I've had a few incidents where I was like NO… then i was like.. Well maybe
Sam – I'm leaning more towards yes more than no and we're just like in
Stef – tha back
Sam – yeah.. I'm telling both of you if I win this today I'm not putting none of you up.. Seriously
Stef and KII agree they won't do the same to her.
Sam – I don't care if we don't take to each other but it can't happen where we're picked off.. It can't happen.
Stef says if one of the stronger gus win they have to suggest easy targets until they can pick things up.
Stef says she never really noticed how people hang around now she's seeing the guys all the time.
Sam – I love Adam to death but I came here to play Big BRother not get played by a bunch of dudes.
Esti – if the dudes are doing something I can see Adam riding with them but..
Sam – don't underestimate him like that his character is coming through
Stef – YIKES
Sam – keep an eye out.. He's obsessed about this game
Stef – yeah you can tell
Double Eviction results
Chelsea is evicted by unanimous vote
Adam wins HOH
Adam nominates KIKI and Eddie
KIKI wins HOH
Adam nomiantes Kyra
Eddie is evicted by unanimous vote
Sam wins head of household.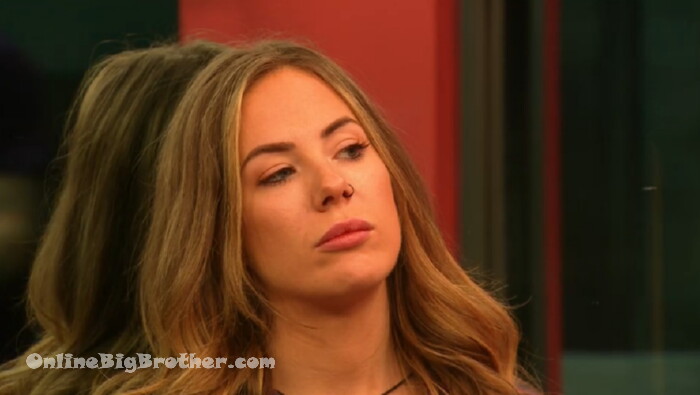 9:50pm Feeds come back. Sam wins head of household.