POV Holder:
?
POV Competition
Aug 8th
POV Used
?
POV Ceremony
Aug 10th
HOH
Becky
Next HOH
Aug 13th
Original Nominations:
? and ?
After POV Nominations:
? and ?
Have Nots
Austin, Liz, Julia
8:45pm Shelli cries.. sad
8:49pm Jmac, James, Meg, Jackie
James is pointing out to everyone Becky won 5 grand, HOH and no have nots.
8:50pm Twins Scheming
Thinking Steve and Shelli will got up. liz says Shelli was really close to her.
Austin joins them. They're all sore.
Julia – I had another 10 minutes that girls beasted it
Liz tells him "No kiss for you you sucked"
Austin – sh1t
Austin tells them as far as he knows the plan is still in effect
They start going over the competition. Julia says she tried to keep up with Becky but they're was no chance. Austin mentions that Steve fell really hard a lot.
LIz and Austin are agreeing they are good with Becky they've been team becky for a long time.
8:55pm Vanessa comes out of the shower looking busted up
9:11pm They got pizza
9:11pm Jmac jumps in the cold shower..
9:23pm Bedroom Steve and jmac
Steve asks him if he knows what Becky and JAckie wants
Jmac doesn't know Jackie but is pretty sure with Becky "I think I can talk to her"
Jamc – I've seen it since week 2 how Vanessa operates
Steve – you're going to campaign to put up Vanessa
Jmac – not hard
Steve – what should I do
Jmac – if I'm being dumb… tell me
Steve – Vanessa is a powerful player
Jamce – you want to take her to the end
Steve – NO
Jmac tells him they need to team up with becky and Jackie somehow.
Steve hopes they have a mental competition soon.
Jmac says he need to start making moves.
Steve – you have to promise me something.. If we are in Jury and Becky is in jury you have to go for it
Steve says he's going to try with Julia
Steve – thank you john by the way
Jmac – why
Steve – I worry .. thanks you
Jamc says Vanessa is in the room policing them. Steve suggest next time Vanessa gets called into the Diary room they have a meeting with Becky.
9:30pm Steve and Vanessa bedroom

Vanessa tells him if they go up Freak and geeks have their back.
Jamc walks in
After some chit chat Vanessa leaves.
Steve whispers to Jmac "She's scared"
Steve- I thought you were kinda exaggerating with the policing thing.. you weren't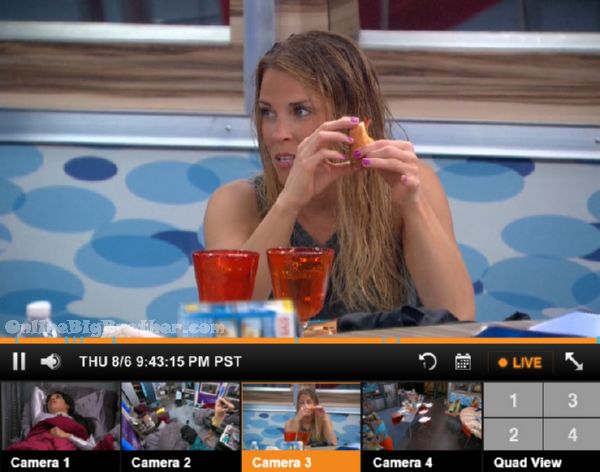 9:43pm
Shelli – I cried and I don't cry for dudes
The twins said they cried after Shelli's speech. "His Speech was so adorableeeeeeeeeeeeeeeeeeeeeeeeeeeeeeeeeeeeeeeeeeeeeeeeeeeeeeeeeeeeeeeeeeeeeeeeeeeeeeeeeeeeeeeeeeeeeeeeeeeeeeeeeeeeeeeeeee"
The twins "The last person before jury that's so sadddddddddddddddddddddddddddddddddddddddddddddddddddddddddddddddddddddddddd"
The twins "He's so CUTEEEEEEEEEEEEEEEEEEEEEEEEEEEEEEEEEEEEEEEEEEEEEEEEEEEEEEEEEEEEEEEEEEEEEEE'
The Twins – "He cookssssssssssssssssssssssssssssssssssssssssssssssssssssssssssssssssssssssss"
The Twins – you're going to be America's sweet heart when you leave
[polldaddy poll=9015303]