| | | | |
| --- | --- | --- | --- |
| POV: | ? | Next POV: | Sept 8 |
| POV Used | No | POV Ceremony | Sept 10 |
| HOH: | Kaycee | Next HOH: | Sept 13 |
| Noms: | ? | Have Nots | JC, Sam, Scottie |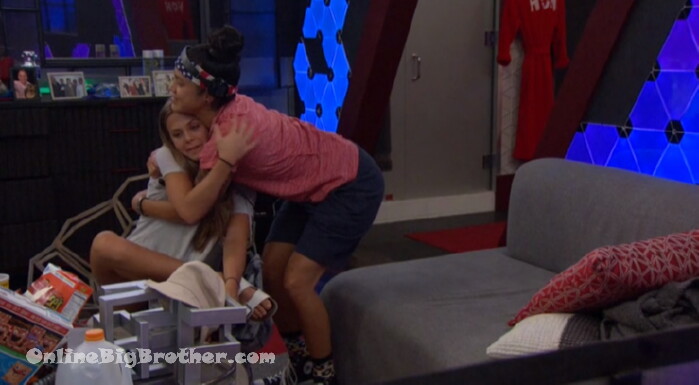 2:15pm Haleigh and Kaycee
Haleigh – do you want to talk before nominations
K – I haven't really been talking to anyone.. It's getting harder and harder..
H – yeah
Kaycee – Obviously like .. there's not a lot of people left in this house and to get the least amount of blood on my hands.. I'm sure you know what I have to do
Kaycee hopes Haleigh understands, "it's hard but how do I not? do you know what I'm saying.. to get the least amount of blood on my hands.. "
Kaycee – it was the same thing with you get the least amount of blood on your hands put me up the second time.. you know what I'm saying
Kaycee – it's so shitty.. you know I care about you it's shitty.. but I mean.. the vetos there.. you know
H – the Veto is always there
K – I don't have any targets I really don't
H – I want you to do what's best for your game..
K – least amount of blood on my hands.. I know that's not what you want to hear.. it's shitty
K – you look like you want to chop my head off..
H – no I'm trying to breath..
K – Stop.. look it's going to be okay
Haleigh cries..
K – at the end of the day it's just a game
H – I knew it was coming I knew it was happening it sucks.. the last three weeks have sucked..
H – I just sucks..
K – it's shitty this whole thing is shitty
H – are you putting me up cause you want me to go
K – I have no targets.. yeah you put me up so I'm putting you up..
K – it comes down tot he house you know what I'm saying.. … .
pause
K – yeah .. I love you and I care about you.. I don't want you to stress..
K – it's going to be OK there's still a lot of game to be played. no rolling over none of that shi1t
H – I'll win that veto… I'm so tired of saying that..
K – it'll happen.. You'll win this veto..
Haleigh says she's just tired.
K – I know love.. we're almost finished it's ok feeling the way you do.. we made it so far we're good
Haleigh – i mean it.. you have me I'm in your corner
K – this is shitty because we started getting close..
Kaycee says they were woken up 2 hours later..
Feeds cut..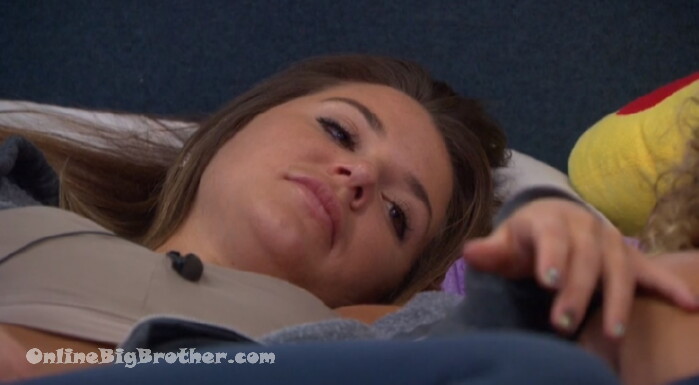 2:29pm Angela and Tyler
Angela is talking about seeing people who watch the show they know so much more about her than the people in the house do.
FEeds cut.
Derrick and Nicole visited them. (Legit happy the feeds were off)
When we're back Tyler is telling her if he doesn't get to hold her hands every day he'll lose his mind
Angela mentions how their under the covers Technic is working well for them, "it's like we're in grade 5.. went from 7 to 5"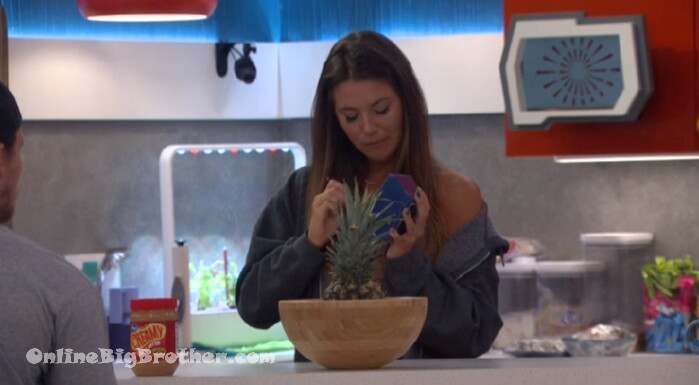 2:26pm Brett and Angela
talking about the conversations they had with Derrick and Nicole. They weren't allowed to mention anything about the outside and anything about the game. Brett enjoyed the time said he's "wired" now from it.
Brett – I hate that we all looked like bums
Angela – at least we all looked like bums together
3:05pm Sam and Tyler
Tyler is in the shower. they are chatting about seeing Victor and Paul.
Tyler says he likes Josh "he won last year.. I always thought he was funny"
Sam – the guy that proposed Victor talked to JC in Spanish.. made his f*ing day.. he was so excited.
Sounds like they also saw Britney from BB12/14 and Danielle from BB8 and BB13.
Tyler says Derrick is a legend (for the worst season ever)
(Victor proposed to Nicole.. that voice though.. )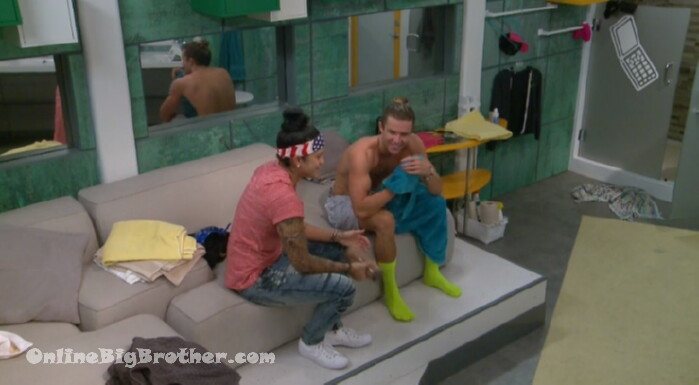 3:21pm Kaycee and Tyler
they talk about being visited by Big Brother alums.. KAycee mentions how Derrick was saying they are now part of a 216 person fraternity.. Kaycee wasn't a big fan of Paul and Josh but meeting them was cool. She was a fan of Derrick.
Kaycee – I talked to Sam.. it's fine we're good.. reassured her everything is going to be OK..
Kaycee – we have to win this veto and keep it the same.. we have to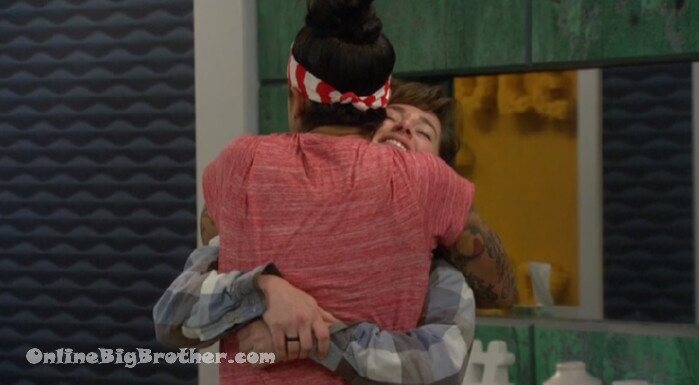 Sam comes in and they hug..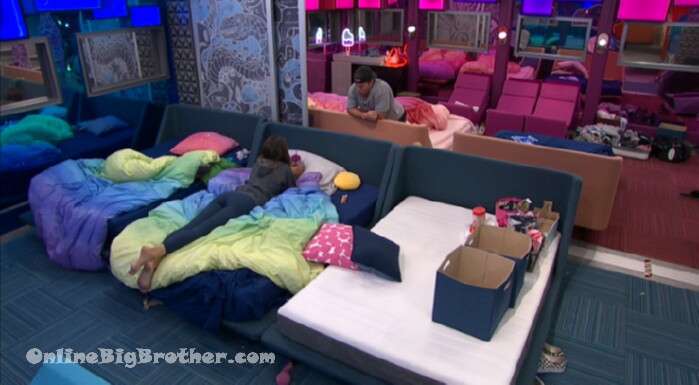 3:45pm Angela and Brett
Talking about how fake Haleigh is.
Brett – we just got to make sure she doesn't win teh veto
Angela – that's it..
Brett – if she doesn't win the veto that jury house..
Angela – it brings me so much joy just thinking of it..
Brett wanted to meet Derrick, Paul and Josh the most.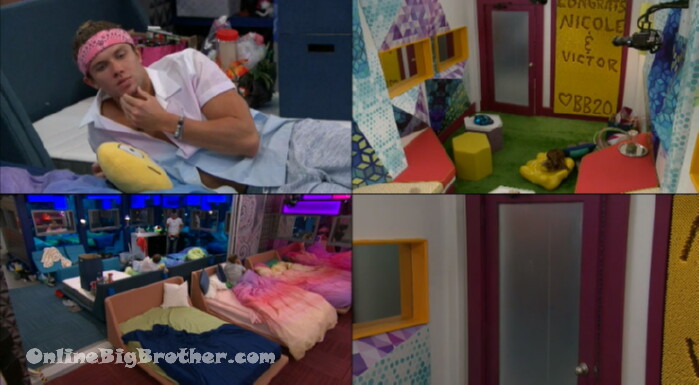 4:12pm Milling around waiting for the nominations ceremony. (Sam and Haleigh going up, Haleigh the target)
4:37pm feeds go down for nominations.
One easy way to support the site if you are an amazon shopper is to make your purchases through our link. You pay the exact same thing but we get a small % commission. It doesn't cost you anything and helps us out.
Amazon Canada
Amazon USA