POV Holder:
Paulie
POV Competition
July 1st?
POV Used
Yes
POV Ceremony
July 3rd?
HOH
Paulie
Next HOH
July 7th
Roadkill Competition Winner:
Victor
Original Nominations:
Paul, Bronte and Tiffany
After POV Nominations:
Tiffany, Bronte, Victor
Have Nots
Da'Vonne, Paul and Zakiyah
Big Brother 18 Alliances Help Guide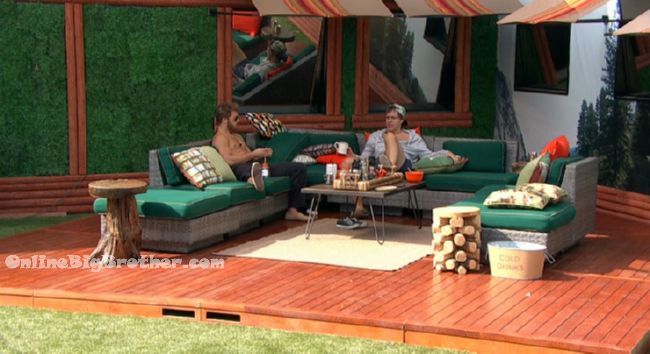 9:30am Frank and Paulie Backyard while Victor works out.
Frank saying he feels good even with his name being called out he's still not worried. Frank says Tiffany has been hanging out with him more it kind of makes sense now after what Bridgette said.
Paulie mentions how Tiffany is already bringing to people's attention that the 4 guys are working together. He thinks Tiffany is going around getting all the girls together. Adds that She's already gotten Bronte and Natalie.
Paulie says they would have heard from Da, Z, and Nicole if Tiffany has approached them with something. He's suspecting Tiffany is being very smart about this she's waiting for the right moment.
Paulie says Tiffany is playing too emotional too soon.
Frank sees the similarities between Vanessa and Tiffany but he doesn't think Tiffany is as good of a influencer.
Frank – she couldn't influence Bridgette enough.. Me and bridgette are pretty close why tell her that sh1t unless you have a really good sell
Frank – she's playing off her emotions
Paulie – it was too early
Frank – strait emotions.. If she just waited she could have taken a good shot.
They agree Bridgette is savvy "She knows what's going down"
Frank – she gave me some good information yesterday.. We use her up then cut her when we need to
Paulie sees James being able to do that with Natalie. When Bronte is gone Paulie thinks Natalie will give Tiffany the boot.
Frank knows it's Zakiyah birthday next week but he would feel better if someone from their squad wins the HOH, "While we still have the safety"
Frank – at the same time I don't mind Z winning.. I trust her 100%.. We got each others back.. I feel confident we will win the roadkill comp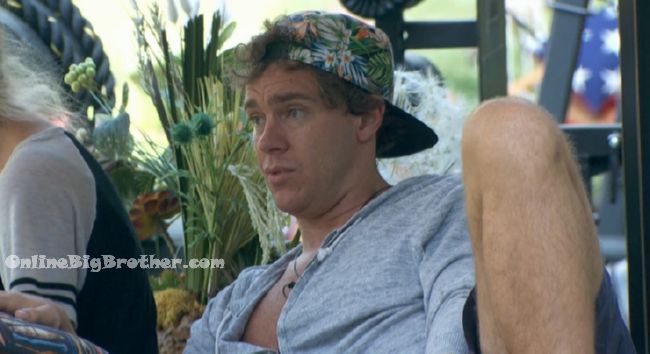 10:10am Frank, Da'Vonne and Nicole
Frank says he talked to Paulie this morning and he used the information Da'Vonne told him came from Bridgette..
Frank – your team (Nicole) and James' team can't win the next 2 HOH's
Frank presses they should nominated Bronte and Natalie with the Roadkill being used on Tiffany.
Frank – My priorities are your priorities we're all in the same boat
Frank is getting worried that Bronte will win competitions.
Nicole doesn't want Paul saying so long.
Frank is more worried about Tiffany and Bronte
Frank – they're so clueless though.. And they look at you (nicole) and Paulie closer than you and Corey and that is what you were worried about.
Frank says the one thing they have going for them is the other side doesn't see the "Big Group, theres one person that could F*** that up"
Frank says if they can get Bronte out next week Frank will put Tiffany straight up.
Nicole – I'm not afraid of anybody
Frank says all the newbies are only concerned with getting to Jury.
Frank – they're all going to Jury except for Victor, Bronte and Tiffany. She should have never said she wanted me out before Jury.. Team Vets.
Da'Vonne now saying she's cool with getting the HOH, "I want to see my kids" Da'Vonne knows it's Zakiyah's birthday but…
Frank "I want Paul as a possible nominee, so our targets are open"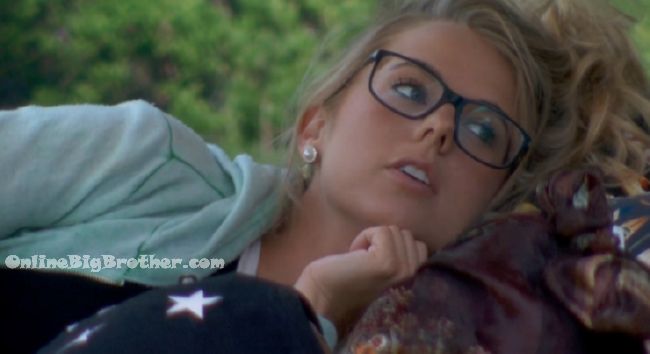 10:55am Da'Vonne and Nicole
Nicole about their conversation "Bullshit"
Da'Vonne – Did you hear him yesterday he was going to bring back chilltown with Corey"
Da'Vonne says Frank wants to find a boogie so bad.
Da'Vonne – He got drunk and Slipped up was like YA i'm going to totally bring that back
Da'Vonne says she'll throw the Comp and let the girls send Paul home.
Nicole says Frank really wants to protect Paul right now.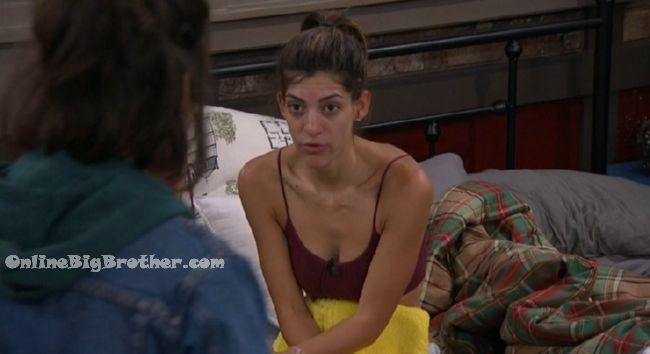 11:32am Bronte and Bridgette
Bronte – Nicole kinda mentioned to me the idea of being a girls girls this season..
Bronte explains how last season Christine and Amber went with the boys
Bronte says if she wins HOH she will put up Nicole and Corey "To feel her out.. They are clearly connected"
Bronte – I would not want her to go home.. She's the last girl other girls would go for… If POV is played I'll put up another boy.
Bridgette doesn't trust some of the girls in the house.
Bronte- I need to put up a girl no other girl will vote for.. I don't care if Corey goes home I want another boy to leave so we outnumber the boys so much
Bridgette – it's a good idea we need to win HOH
Brigette warns her that Nicole and Corey are closer than Nicole is letting on. Bridgette doesn't understand what Nicole sees in Corey.
Bronte doesn't either.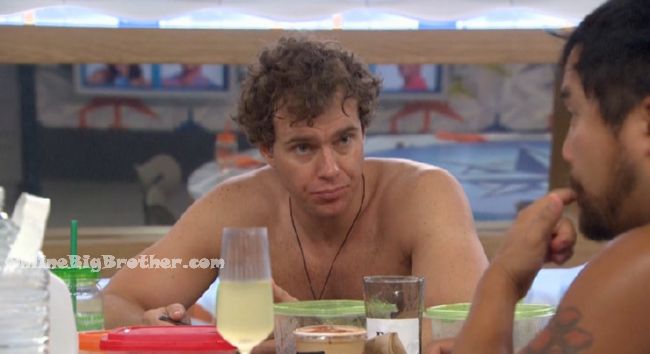 12:03pm Frank and James Kitchen
Frank says it wasn't Bridgette that Tiffany went to it was Da she went to Da'Vonne and said we want to taek Frank out before Jury and Bronte, Natalie, Bridgette are behind them.
Frank – we just need you and Nicole's team to throw HOH, then next week only 1 of the teams need to throw it
James- i'm in a throwing mood this season
Frank can't understands why Tiffany would go to Da'Vonne, "How do they not know that the 4 of us are the tightest 4 in the house"
James – cause we play good
Frank is amazed that Tiffany was that stupid.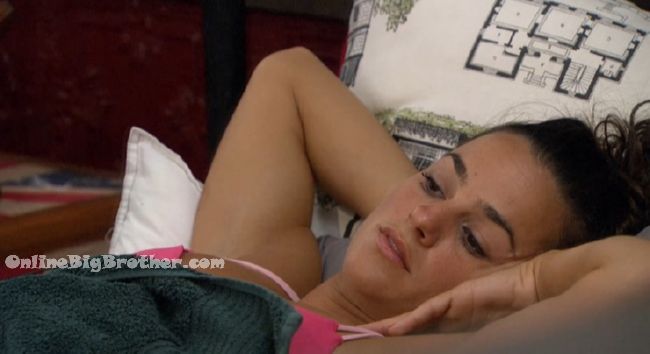 12:27pm Natalie, Zakiyah, Nicole and Tiffany
Zakiyah says Frank slapped her butt and she's a bit upset about it. She's going to talk to him about it. Natalie agrees.
Natalie – he jokes around a lot but it doesn't feel nice
Natalie says she was flirting with Vicotr and he slapped her butt.. "I didn't know how to handle it I wish I hadn't talked to him becuase he did it again.. oh my gosh at home I don't let that happens"
Natalie says she got nervous and laughed..
Zakiyah says Frank
1:24pm HOH pictures
1:33pm Natalie and Paulie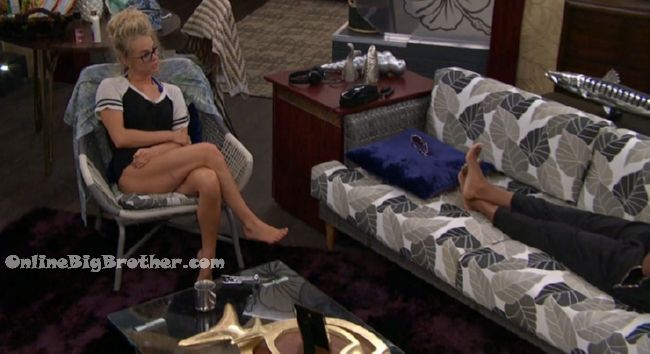 1:55pm Nicole and Da'Vonne HOH
Da'Vonne doesn't want to work with Bronte and Natalie, "Stop this girl sh1t.. It's a setup anyways.. O feel like Tiffany planted that seed so it would get back to the boys"
Da'Vonne brings up Frank telling Zakiyah he want Da'Vonne, Frank, Paulie and Zakiyah.
Da'Vonne doesn't thin that is the truth Da thinks Zakiyah just inciorporated her into the story so she could tell Da'Vonne
Da'Vonne says she would not beat Zkaiyah in the fainl2 so she would rather bring Nciole
Nicole says Frank is causing trouble
Da'Vonne agrees says James doesn't scare her, Frank does though.
Nicole – Frank has a final 4 with everybody.. if hes' going up to them…
Da'Vonne – we gotta get people outta here.. Frank's gotta go. He's gotta go
They both have noticed Frank wants to keep his team solid four and get the other team members down.
Nicole doesn't know where Frank's true loyalties lay
Da'Vonne is worried about Paulie and Zakiyah, says she loves Zakiyah but her love for her does not go into the game.
Nicole is stressed says there's people in the house playing really hard
Da'Vonne – he needs to go soon.. if we can get him and Tiffany out I'm with it.. If we send him home that's a message sent to the rest of teh house
Nicole – the house isn't going to be OK with that.. Corey won't be OK with that.
Nicole has noticed Corey, Frank and Paulie doing the same 'Action" shots on the HOH camera. They suspect those 3 guys have a "Chill city"
They are convinced Frank is making deals with everyone in teh house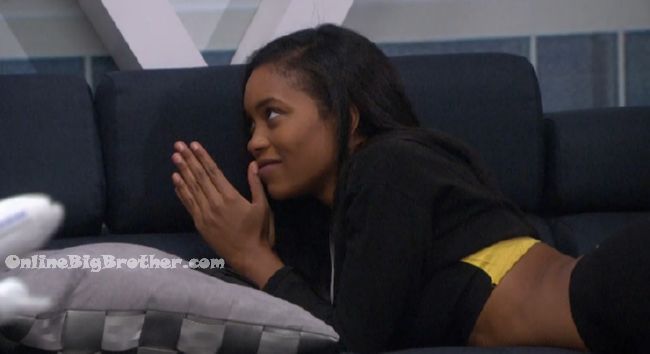 2:05pm Zakiyah and Da'Vonne
Da'Vonne talkin gabout them getting the votes to take out Frank, "Me you Nicole and Michelle that's not enough"
Zakiyah thins they can get James vote.
Da'Vonne wants to get Frank out next week, they have 5 votes (Nicole,Michelle,Da'Vonne, natalie, Tiffany) but they can't win the HOH because they need those votes.
Da'Vonne thinks if Corey has the HOH, they get Bronte, Bridgette and Frank on the block.
Zakiyah says Frank would have to be the roadkill nomination.
Da'Vonne says they have to mend things with Tiffany. If Frank wins the POV they will take Natalie out.
Da'Vonne is worried about Michelle flipping they need to secure one more vote to make sure. She's got to lock in James vote.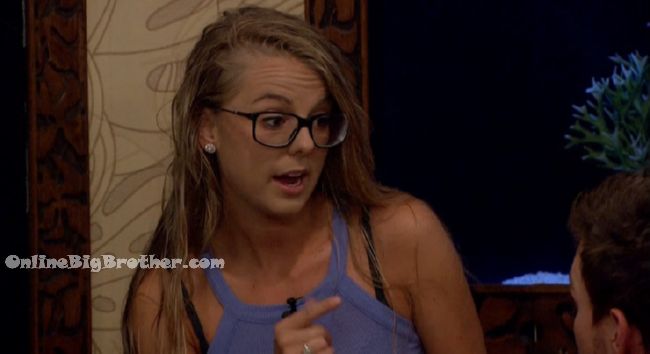 2:38pm Nicole and Corey HOH
Nicole says Frank is making final 2,3,4 deals with everyone in the house.
Nicole says Frank wants us all to throw the HOH and he's talked before to me he wants you out of te house, "Has he talked to yop uabout gettin gme out"
Corey says he's mentioned Zakiyah never has Frank mentioned Nicole.
Nicole warns him that Frank will win all the Vetos
Corey – then we'll back door him
Nicole – Oh my Gosh Da is freaking out.. she is so pissed right now..
Nicole brings up Franks plan to take Corey out he told her once the nest 3 our out Corey is the 4th.
2:45pm Frank joins them says he's not worried about Tiffany winning competitions. Theya re all worried about Bronte.
Frank – we win HOH we put up Bronte and natalie, we win Roadkill we put up Tiffany
Frank – we can't count on Big Sister winning
Frank wants Tiffany out next week but Corey wants Bronte.
Corey says they can calm Tiffany down, 'Bronte.. I just don't want to take her lightly"
Frank – I'm not worried about her.. I know she's going to put up 2 boys.. me and you likely… or you two or a combinations of us three.
FLASHBACK and watch everything you missed: CBS All Access FREE Trial!

[polldaddy poll=9459672]