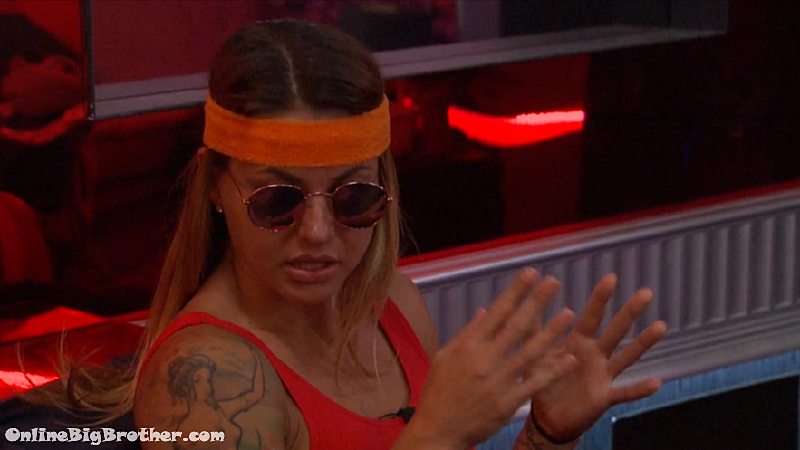 9:41am Xmas and Josh
Xmas – Raven should act shocked, Not Super pissed but pissed like what the f* . Because of Kevin.. That will tie her even more closely to Alex..
Xmas – I'll explain to Alex, Hey Jason is the biggest competitor
Xmas is going to "straight shoot" Jason.
Xmas – I don't want Alex to think I'm coming after her..
Josh says they have to separate in peoples eyes.
Xmas tells him not to Yap, "when you Yap you are too f*ing smart.. You are too good"
Xmas – you were bobbing around like a kid last night I was like mother f*er calm down
Josh suggests she boosts Jason's ego tell him he's too strong to be in the house.
Xmas – at this point it's all game
Josh – it's all game
Xmas – you can't have personal vendettas
Xmas – I'm going to start attaching to Alex.. like white on rice
Xmas – my mom says Kill them with love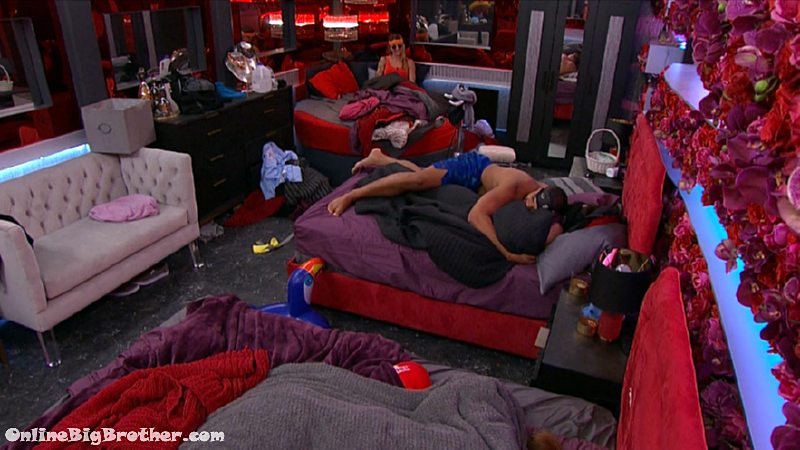 Josh jumps on Paul
Paul – Josh i'm not kidding get off..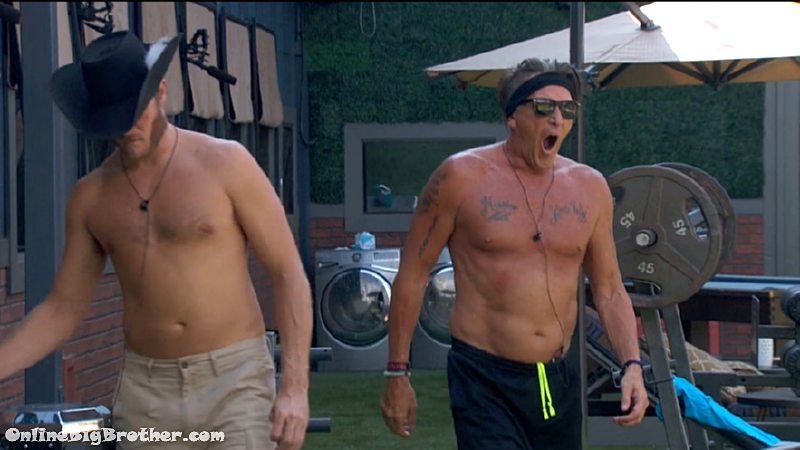 10:05am
Kevin – YOu see how nice Raven is to Paul
Jason – F* raven she'll be s*kining Xmas off like crazy
Kevin – I don't know how JOsh finagled his way so far up the ladder..
Jason – I don't either.. I know how exactly how..
Jason – it's because … he he eh./.. He was the soldier for getting out all the cody's and the Jessica's and exposing Elena..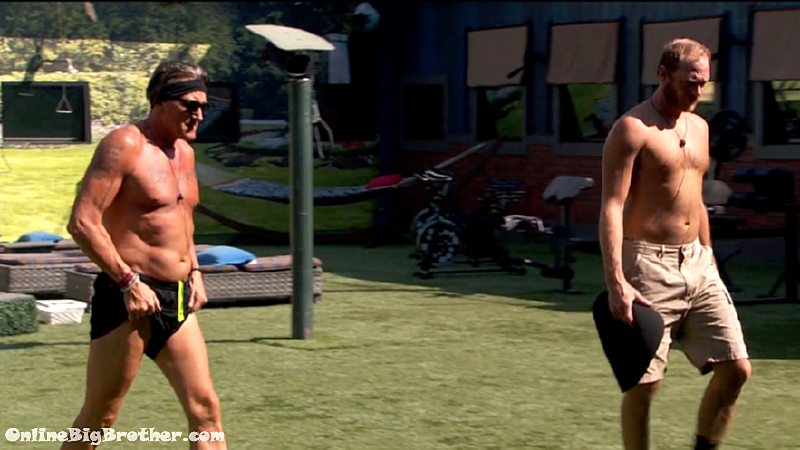 Kevin going for that crotch tan
10:08am Alex and Xmas finger the tree.. how perfect is that.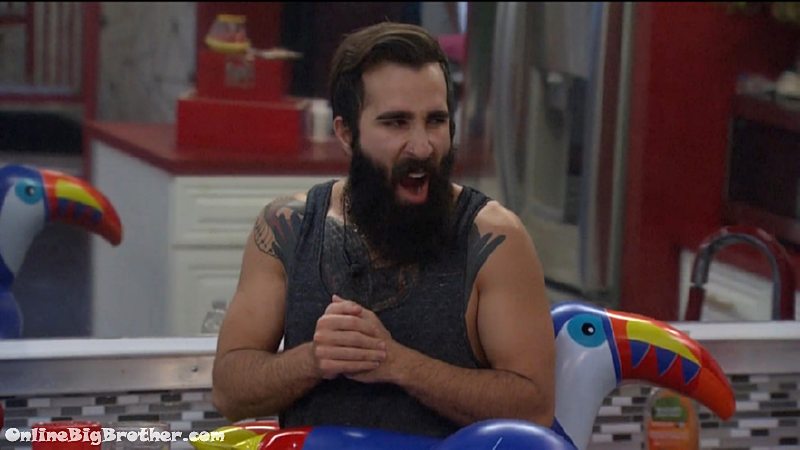 10:21am Paul tells Raven their best bet is to go with Xmas and Josh. Raven agrees 100%. Paul says no one is going for an apple.
10:22am Kitchen
Paul mocking Kevin how he says "you want to walk in the yard.. Ja you want to walk in the yard"
Paul – he's so gumpy
Alex – ahhh that's the understatement of the year
Paul – his skin looks…. You want to waaaaalk the yaaaard
Alex brings up how this morning Production kept telling them that the yard is open and Kevin was all excited bouncing around for Jason to wake up and go out for a walk with him.
Raven – that's supposed to be enticing, the yards open house guests (you're all the worst)
Alex – he's a weirdo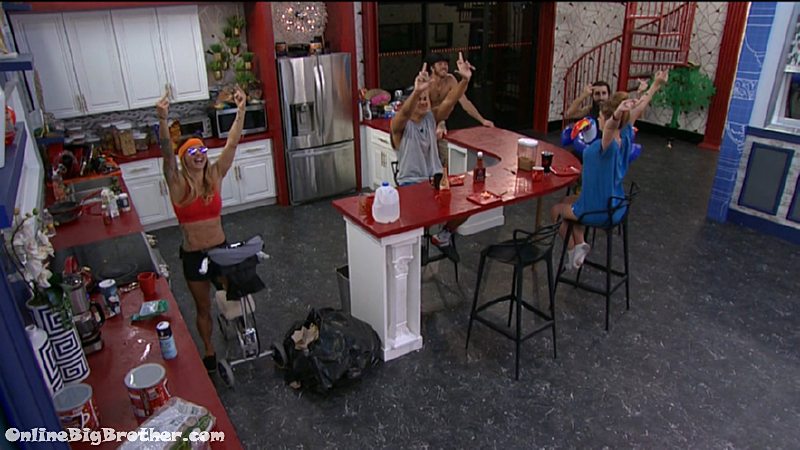 11:00am The TRee wakes up
"The Tree of Temptation has sprung to life"
They all pull out their middle fingers.. Except for kevin.
Paul – has this sprung to life, How about this
Josh – F* the tree
Xmas – How about that.. I sprung my own tree
Paul – f* the tree coming straight from the underground
Raven – F8 the tree gumpy tree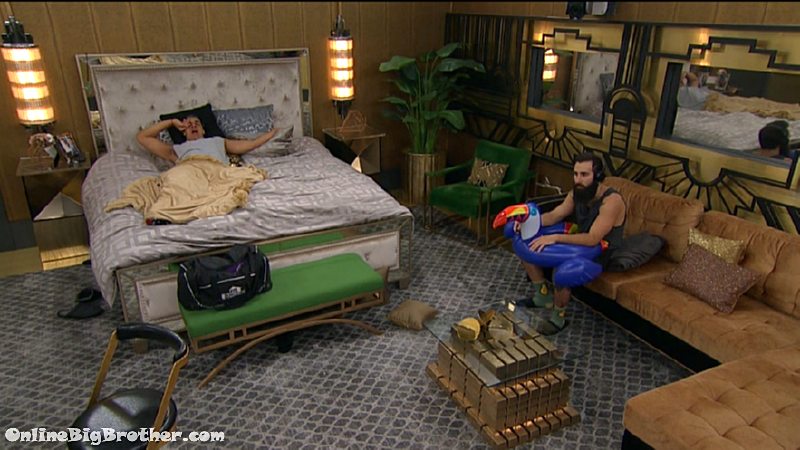 11:08am HOH Paul and Josh
They are laughing at Alex telling them they should put 2 pawns up to backdoor Kevin.
Josh – this is not real
Josh – do you think they will let us DR together..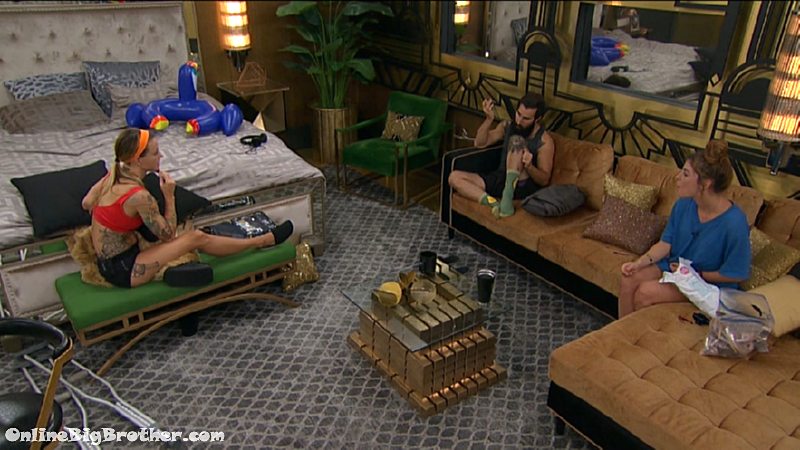 12:50pm HOH Paul, Xmas and Raven
Xmas is going to say she wants to take a strong male competitor out. PAul will play up on his end that he thinks they're trying to backdoor him.
Paul – just leave kit open… I just want to get out a strong male competitor
Paul – I'll be like DUDE one of us is going home this week
Paul – Worst case scenario Alex goes home… which isn't a worst case scenario.. That sets up me and Jason next week
Paul – If Jason goes you guys have Alex
Xmas – me and her both have been working on Alex for a couple weeks now
Paul – awesome, Who's winning next week. We gotta talk about that. (damn this season sucks)
Raven – Josh or myself
PAul – you guys don't mind me not winning next week..
He adds if he does that they have to keep him safe until "5"
Xmas says it would make sense if Raven took the shot at Alex
Raven – I would love to
Paul – it would also make sense with JOsh as well.. He could say you boss me around and think i'm a F*ing idiot
Paul – we lucked out that we could throw it this week, it actually worked, the plan worked
Paul says he was getting pissed at Kevin for be apprehensive about throwing the HOH competition. Paul had to threaten him if Kevin didn't throw it to Xmas then Paul was going to win the HOH and put Kevin up.
Paul says kevin is a "f* a$$" for what he said "I can't lose to a girl that's embarrassing.. Let Xmas go out first"
Xmas – I've beat that mother f*er in every single competition
Paul – He's totally a chauvinist
Xmas – I know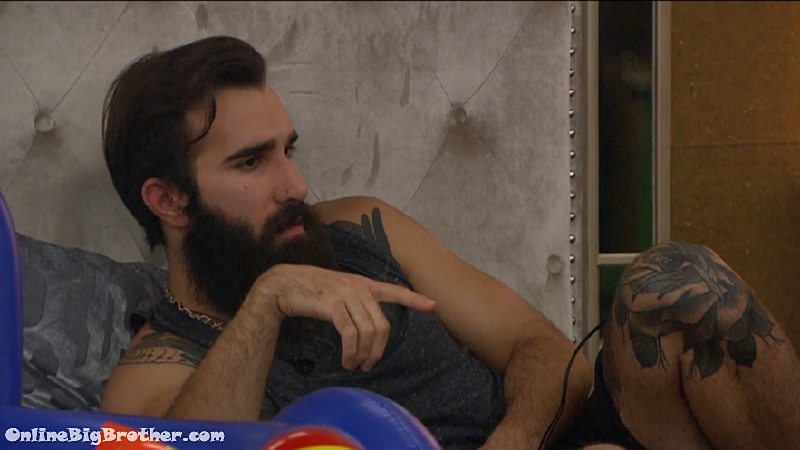 1:04pm Xmas leaves.. Raven and Paul talk about their angles.
Paul Is going to tell Jason one of them is going home
Raven is going to tell Alex and Jason that Kevin must have gotten to Xmas.
They talk about how over confident Alex has gotten.
Paul – she talks about winning and Jury all the time..
Raven – all the time.. there's still 7 people here
Paul – she just thinks she can clean house (LOL remember when potato head was telling jason that Paul will never turn on them because of friendship being the theme of the season)
Paul says Alex "sucks up" to evicted houseguests in her goodbye message.
Raven brings up Alex throwing out Kevin's slop. When Kevin came up to her and said was it her or Raven and Alex told him it was probably Raven.
Paul – what the f*
Paul says the only reason Alex threw the HOH was because she didn't want the blood on her hands to get Raven out.
Paul – Oh My God
Raven thinks they can convince Alex to throw the Next HOH by saying Paul will take the shot at Raven. (fat chance inverted spine)
Paul doesn't think Alex is going to be throwing any competitions after this week.
Raven – I haven't won a HOH.. does that matter if I make it to the end
Paul – I'll make sure you wina least 1 HOH
Raven – you and me have had the best social games.. (ZOMG)
If you plan on buying anything from Amazon. Use this link Amazon home
Doesn't cost you anything and we get a small cut.
Links to the ranking system
Rank your house guests here
For those of you that like Statistics here are some expanded reports.