If you plan on buying anything from Amazon. Use this link
Amazon home
Doesn't cost you anything and we get a small cut.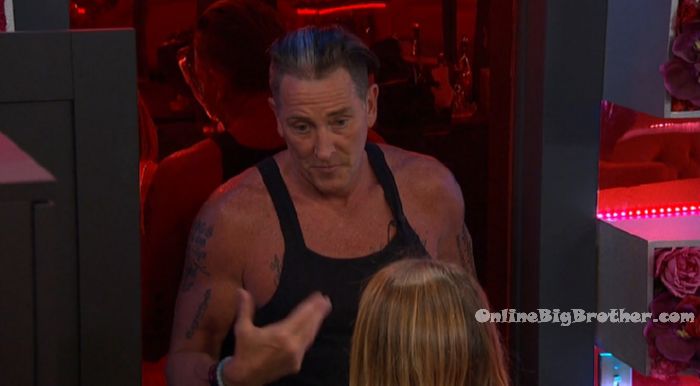 9:14pm Bedroom – Kevin and Christmas.
Kevin – I'm not going to go up am I? Christmas – Kevin, just trust me. Kevin – that's all I need to hear. I won't say another word tonight. Christmas – Keep acting like you are. I need you to keep acting like you're paranoid. Kevin – I'm f**king starving! I got your word. Thank you. Kevin leaves the room.

Paul joins Christmas. Paul grins ear to ear. Paul – boom, boom! You're not afraid to take the shot right? Christmas – no, I'm not afraid. Paul – f**k yeah! Christmas – I told Kevin to sh*t the f**k up. I said keep acting like you are. He (Kevin) wasn't going to throw it. I told him to and you know what he said, I can't lose to a girl. Let Christmas be the first one out. I was like Kevin, if you don't throw it, I am staying in the game, winning it and putting you on the block. I was like listen motherf**ker, if you don't throw it the first round you are forcing me to and you will lose and I will send your a$$ out. Then he was like .. (dropped). I got mad dude! He was like I can't lose to a girl, it would be embarrassing. I was like you piece of sh*t! Christmas – In a mental comp, I'll roast him too. I want to explore the different avenues of who to nominate and the repercussions of each. Paul – you could be simply straight forward with Jason and with Alex tell her you got to win the veto an pull yourself off. Christmas – he wasn't in on everyone throwing it to me, right?! Paul – no, I'm sure if Alex told him. Christmas – I just want to make sure I don't cross my conversations.



Right now Alex thinks I'm putting up Kevin. Paul – you tell Jason, you're my target. Alex, you're not my target. Win the veto. Jason's just won a lot of comps. After the veto I will tell them that I think she's (Christmas) is trying to backdoor me (Paul). To alleviate their stress levels. I really feel better next week if we can toss it to Raven or Josh, preferably Josh. If Josh pulls through, then I'll pull through on the next and get us to the finals. So this is where it counts, one of them (Alex or Jason) have to go so that is why you have to put both of them up. Paul talks about how he will act paranoid that Christmas is going to backdoor him to make sure then don't suspect their working together. You can tell Raven about us. Christmas us three? Paul –
no. The four. Do not ever mention the three.
FLASHBACK and watch everything you missed: Live Feed 7 day FREE Trial!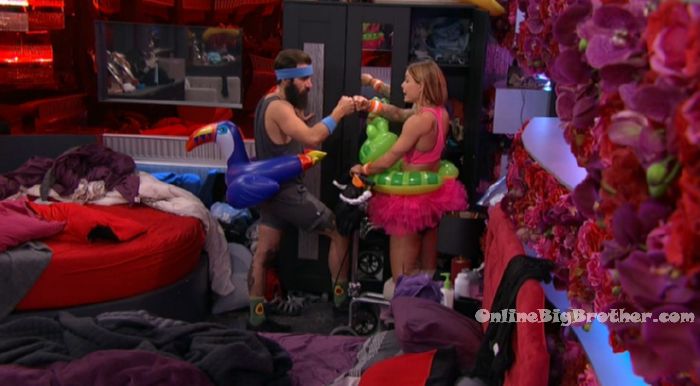 9:25pm Havenot room. Paul – you don't think she would put me up do you? Alex – she'll put me up. Paul – yeah but like a weird agenda? Alex – I don't think she would. I think you guys are closer than me and her. Paul tells Alex about how Kevin wasn't going to throw it. He (Paul) says he told him (Kevin) how he was going to stay in it, win it and boot him (Kevin) out if he didn't throw it.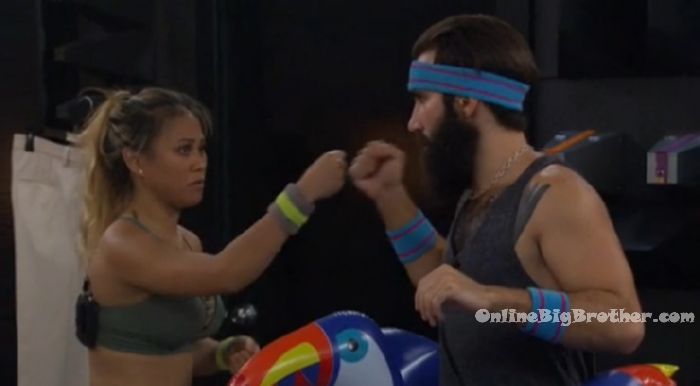 10:10pm Bedroom. Paul and Kevin.
Kevin – you've got the king and queen on the block. The two best players besides you. And if one of them goes.. Paul – just stick with me. Kevin – I'm not saying nothing. Paul – just don't worry. Kevin – okay, I've got you. Paul – you gave me your word in the beginning of this game. Kevin – f**king right, what do you mean? And after this we're getting a restaurant together. What are you talking about? You gave me your word too. You gave me yours too.

10:15pm Raven and Josh.
Paul – this is crazy. I would have liked this week to take a shot at them but I'm going to win a wall competition. Raven – only one person doesn't play in the veto. Josh – yes and if we get drawn we need to gun for the veto and win it. Then we can ensure that we send Jason's a$$ (out the door). Jason and Kevin will (work together). Alex will try and band with you, with whoever. Just chill. Alex is going to lose her top. Jason is going to lose his. Raven – for Mathew. Josh – Just don't lose your sh*t. Josh – we've got you girl. You know you're a bada$$ competitor. Raven leaves the room. Josh looks at the camera – what the f**K. They played themselves. What the f**k. This is f**king awesome. They played themselves, hffh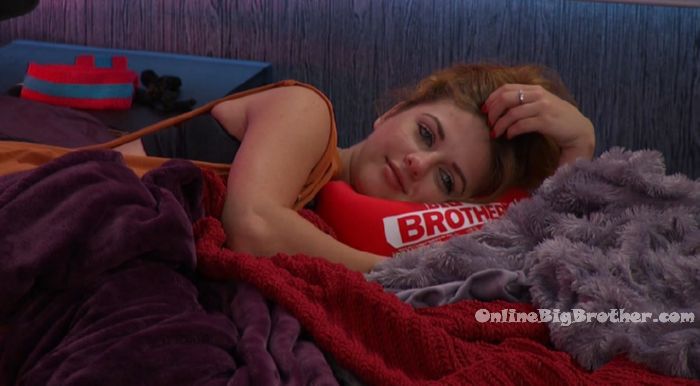 11:58pm Kitchen. Josh and Jason.
Jason – nine people gone, four people in the jury house, who's it going to be next? Josh tells Jason that nobody can stand Kevin anymore. Jason – or Raven. I really can't stand either one of them anymore. Josh – he burned so many bridges. If he gets the opportunity he would take a shot at tiger (Alex). Josh – he's (Kevin) f**ked all of us.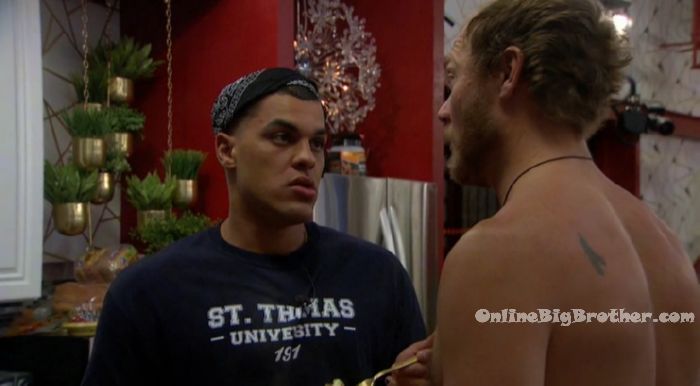 Try the Live Feeds FREE for 7 DAYS! Click here for your: Big Brother 19 FREE Trial
12am – 1:40am
All the house guests are lounging, sleeping or chatting about random things as they wait for Christmas to get her HOH room key. Christmas comes out of the HOH room – Wake up! Who wants to see my HOH room!!!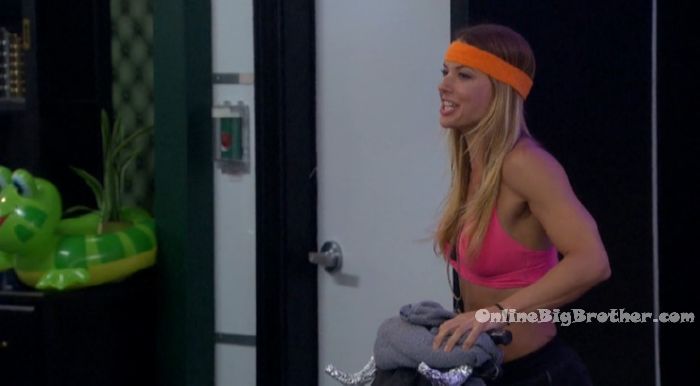 1:46am All the house guests head into the HOH room. Christmas reads her HOH letter from her friend Lindsey.
Hi Friend,
Nugget (Lindsey's son) and I made you a necklace for you for when times get tough. Aquamarine, 10 beads signify 10 years of friendship. Paul yells – FRIENDSHIP! Christmas continues to read her letter – gives you 10 years of harmony. Dream catcher to remind you that no matter what life throws your way, you're able to still create the life of your dreams. Tiger eye gives you passion, courage, strength and good fortune. Christmas – see that is my thing, every day you wake up with the ability to change your life and she has watched me build everything from ground 1. She was actually at my very first boot camp. She continues to read her letter – We are so incredibly proud of you. You're kicking so much booty with a literal boot tied to your foot. There is so much to tell you that I literally don't know where to start. So here is a brief run down. Sweet guy passed away on July 14th from stomach cancer. That's her puppy. That is one of the hardest things I've ever had to do and I was missing you something fierce that day. Nugget is going into the second grade and he started and he has officially started up extreme scootering. He is very proud of his aunty X. Spring cleaning is going full force. We put down a deposit on a venue for August 12th. And I can't wait to tell my best booshie all about it over a bottle of bubbles. There is so much more but I want to save it for when I get to see your sweet face again. We're sending so much love and positive energy from the Rockies. Namaste, your sweet friend. I love you Linds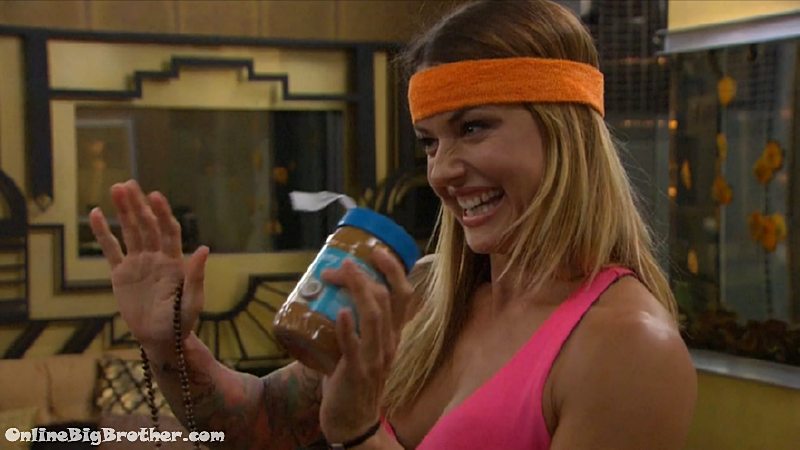 2am All the house guests are sitting around in the HOH room.
2:18pm Paul carries up Xmas' sh1t "i'm carrying the gimps stuff up the stairs"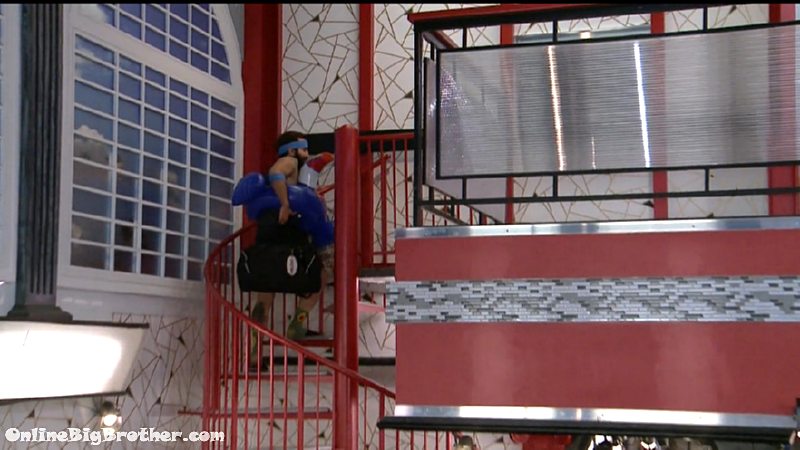 2:20am HOH room. Paul, Christmas and Josh.
Paul – personally I think this .. put Jason and Alex up. Christmas – I know, I'm just trying to figure out my angle for Jason. Paul – I'm sure you have tons of reasons. Christmas – and believe it or not it has nothing to do with my foot. Josh – for jury .. you don't want to make it… he is the strongest male competitor in the house. Paul – what did Kevin say … I can't go out first. I can't lose to a girl. It would be embarrassing. Did you not hear us bickering. Josh – I couldn't hear what was said. Paul – I told him if you don't drop first I am going to stay in this game. He kept saying what if I can win. Its embarrassing to lose to a girl. I was like if you don't drop first, I am going to stay in, win HOH and send you home. He was like what the f**k. Josh – pipe down because if you use that reason he will link up with them. Paul – its fine he dropped. They all head downstairs.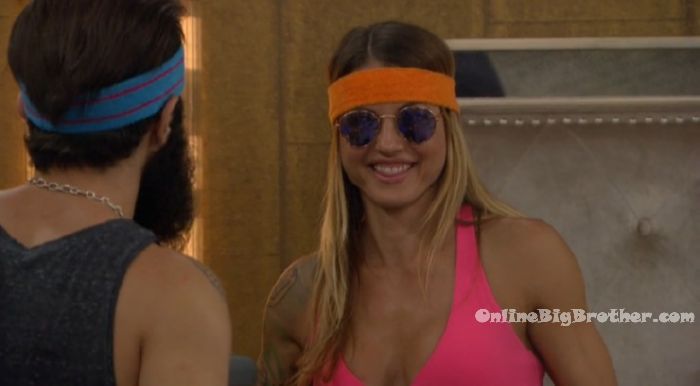 2:27am Kevin and Paul.
Kevin asks Paul do you know what's going on? Paul – Don't ask me again. You don't need to ask me every thirty seconds. I don't flip flop. Don't worry.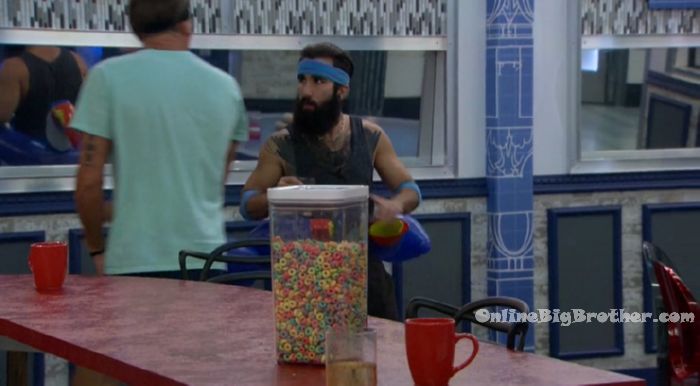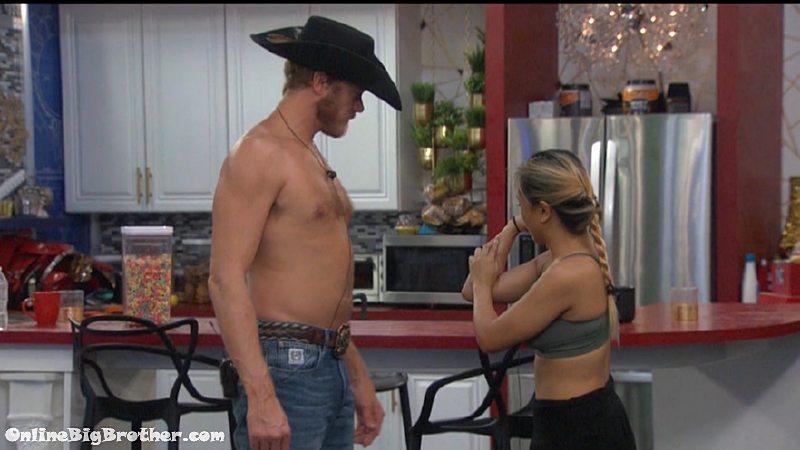 2:19pm Alex and Jason
Alex – i'm pretty sure one of these dumb f*'s drank my water..
They head to bed
Alex – is Raven upstairs
Jason – points to the rose room
Alex – put on your microphone
Alex – I'm surprised Kevin went to sleep
Alex – I told xmas put me up but I dunno if we should put up another pawn
Jason – backdoor him
Alex – you can't really backdoor him know because everyone plays in the veto
Alex – 6 and 1 host
Alex – I just don't wanna hear him b1tch, he better be nice to me
Jason – how about her
Alex – you cannot f* that up again he has to go (kevin)
Alex – Matt kinda threatened JOsh, he threatened me, Paul said you can talk all the sh1 you want but if he doesn't walk in here next Thursday it'll look shady for you
Alex – so if that happens, I think he's referring to me and you. He needs to walk through that door next week or our goose is cooked
Alex – actually I don't think he'll care as long as it's not Raven (Wow Alex has really dropped the ball on what's going on in the game)
Jason says he doesn't "give a f*" if it's Raven or Kevin
Alex – for my Jury votes I don't want to win next week it has to be you or Paul. JOsh preferably… would be best case scenario and the next veto me you and him play all out.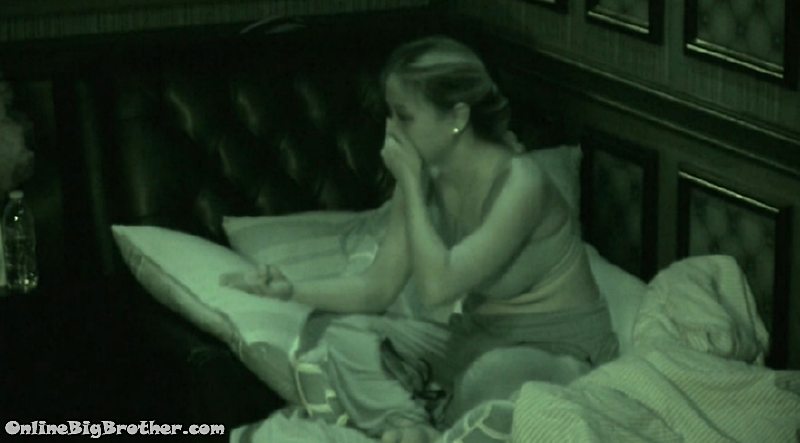 Alex – do think he's a producer?
Alex – what did he say about the movie.. He gets free tickets
Jason – no, he said he goes to the movies so much maybe that he gets free tickets
Alex – she said something about a producers and he said something else about
Alex – maybe he's a producer or something
Alex – he knows all the hit songs
Alex – he knows people there were up on little big town.. He knows about Eric Clapton
Alex – I dunno, these are all ideas, but he knows a lota sh1t and useless trivia (this is fun to listen to with the knowledge that she might go home)
Alex – he dresses pretty sharp for a cop
Jason – he dresses like a tool
Alex – Actor, producer, cop undercover
Jason – he's a school teacher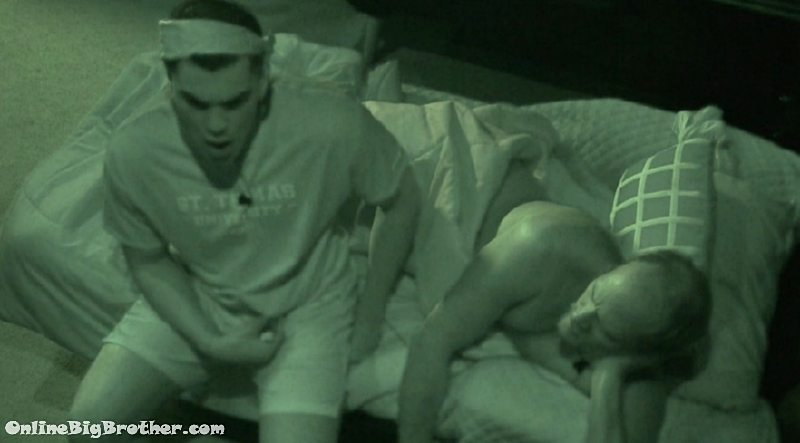 Josh has come down.
Alex – the way he acted with Josh he can't be a cop because he wouldn't have lost his cool like that
Josh – you know what he was just telling xmas, His Stories are really f*ed up, F*ing bizarre, where you hearing them?
Alex – I was a sleep .. he's (kevin) f*ing stupid .. you don't take of fingers nails.. Pulling off nails
They go on about a story from Kevin that was obviously fake.
Josh – don't you think if you were part of the lifestyle you wouldn't talk so much
Josh – he runs his f*ing mouth like crazy
Alex – he's not a cop
Josh – he's on national television talking like that
(I think Kevin was telling them crime/gangster stories)
Alex – he's a actor or producer
Alex – or undercover cop
(or potato farmer?)
Alex – he's a producer that's why he knows all these famous people
Alex – like new kids on the block..
Jason – mmmmm hmmm
Josh – I think he was old school like… back in the day
Alex – they're not putting no gangster on CBS
Alex – what did he say today about being a producer
Josh – I asked him straight up have you been an actor have you been in any movies.. He said I've been in some soap operas
Josh – I was like how many and he just looked at me like that
Josh – he was like I can always just go back to that
Alex – he said something weird today about something (you don't say)
Josh – yeah
Kevin comes by asks Josh to keep the light on when he comes in (dunno what he means)
Alex complains about Kevin doing something every morning that makes noise.
Josh – he does things becuase he knows it puisses you off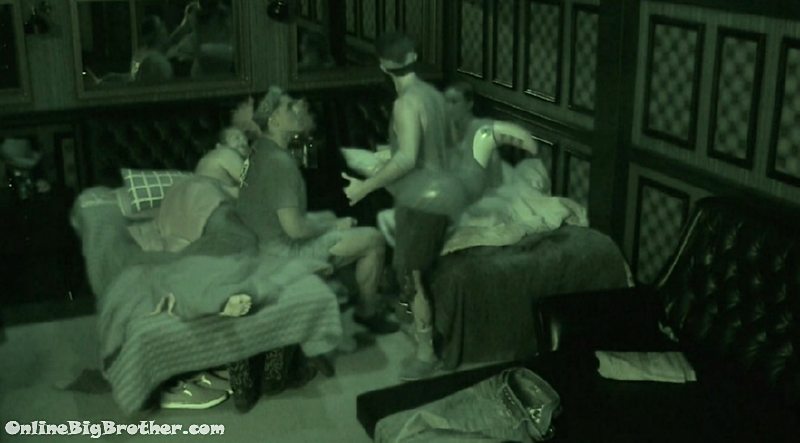 2:28am Paul comes by starts saying that Kevin came up to him and was like "whats going on what's going one'
Paul – I was like Kevin stop asking me f*ing questions
Paul – he goes I just want to f*ing know relax
Paul – I'm like don't f*ing ask me a f*ing question I dunno
Jason laughs (sad)
Xmas comes by..
Alex is complaining about Kevin asking Josh to leave a light on or door open I don't f*ing know
Alex – he was like can you open the door so I can see… can you turn off the light when i get back
Alex – he made a HUGE point .. why are you yelling
Alex is making it sound like Kevin was yelling
Paul – this guy is getting on my nerve.. I literally told him to shut the f* up Kevin shut the f* up
Alex – new theory, producer
Production tells them to turn on the lights. they all scramble
2:37am Josh comes back makes a jokes speaks in spanish to Alex..
Alex – oh my god jesus christ we're never getting to sleep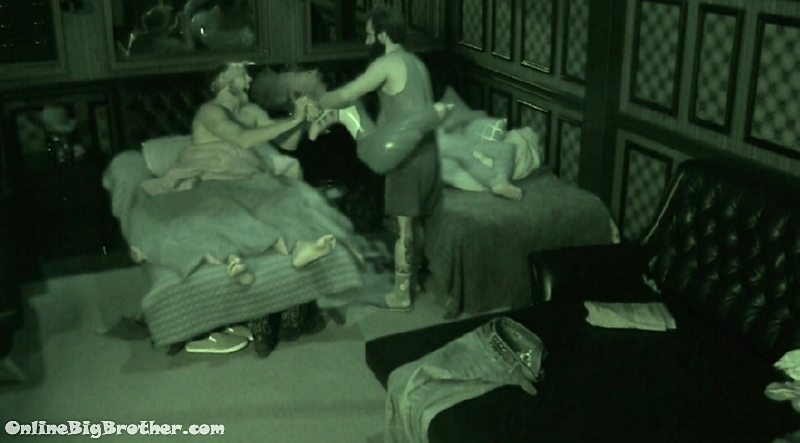 2:30am Paul Jason and Alex
Jason seems ecstatic
Alex- tomorrow we talk more game
Paul – next week, you compete, you compete I compete.. He competes (josh)
Paul – Cut…
(Jason and Potatoe head think Kevin is the target this week and Raven next week)
Paul leaves..
Alex – night f* a$$, pound it… F* a$$
2:51am Xmas' HOH letter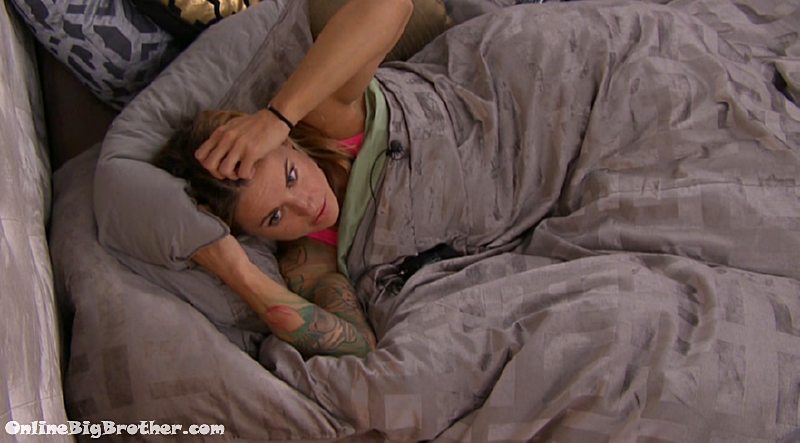 4:07am Paul real quick you good
Xmas – I'm good
Paul – put your mic on
Paul – they DR'd me then they called Raven in
Paul – I was going to ask if you are still awake if you need to bounce shit
Xmas – i'm going to go pretty straight forward.. He's the best competitor
Paul – after I'm going to act shocked go to them be like.. Maybe she's going to clip me (there's that f*ing word again)
Xmas – i'll leave some room for that
Paul – OK perfect
Xmas – I won't make anything super obvious
Paul – get out a strong player or something
Paul – and i'll be like one of us.. Ya ay ya
Paul – Alex volunteered to go up … stupid
Paul – the only thing I'm worried about is Kevin Yapping
Xmas – I know I told him to shut his mouth.. He asked about the plan I was like you don't need to know
Paul – hopefully it's a sunday eviction and we can get rid of Jason.. BOOM
Xmas – I don't think it'll be a Sunday eviction
Paul says next week Raven or Josh should win.
Xmas thinks it should be Raven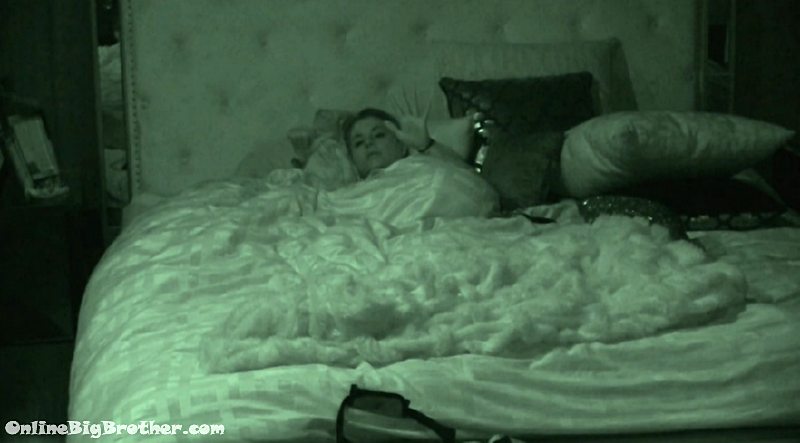 4:19am BBmath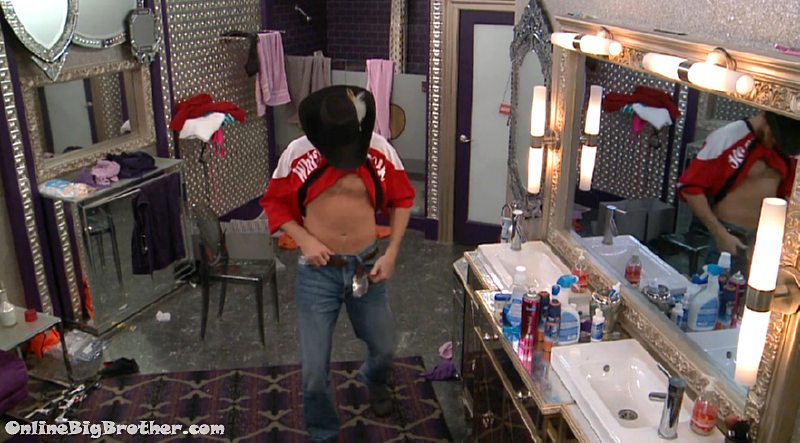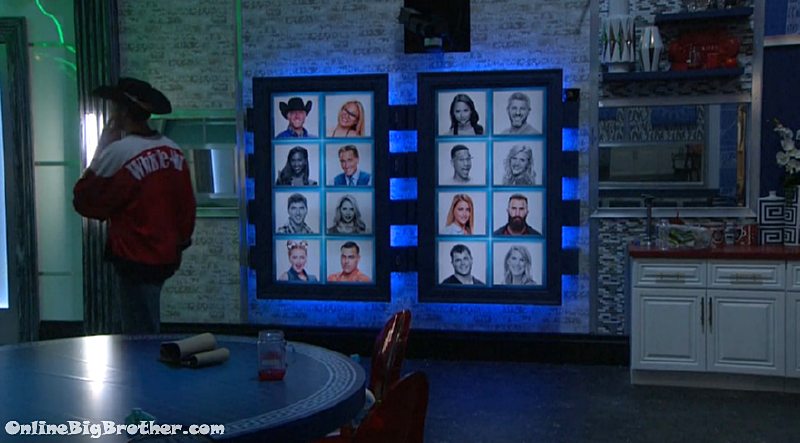 5:16am Jason is up to take a piss
(where did he go wrong this season?)
By the way folks… Next Thursday is a Double eviction and the finale is September the 20th
If you've enjoyed our live feed updates this season, please consider donating.
Simon and I work 24/7 all season long to keep you updated on everything that happens inside the house. Any amount is greatly appreciated! Your donations go directly to paying the fees required to run this site.
Links to the ranking system
Rank your house guests here
For those of you that like Statistics here are some expanded reports.