strong>Head of Household Winner – Dani
Have nots – Da'Vonne, David, Ian
Nominations –
Power of Veto Players are –
POV Host: –
Power of Veto holder –
Power of Veto Ceremony –
Powers – Christmas, Dani, David
Live feeds —-> Grab your Live feeds here. Try it free.
Rank the houseguests —-> Big Brother 22 Ranking
Powers
David – Saves on nominee. HOH picks a replacement. Person he picks can't be renom. Used during Nom ceremony after the HOH picks.
Christmas – blocks someone from being a renom. During Veto ceremony after Veto is played
Dani – can pick a outgoing HOH to be able to play in the next HOH competition.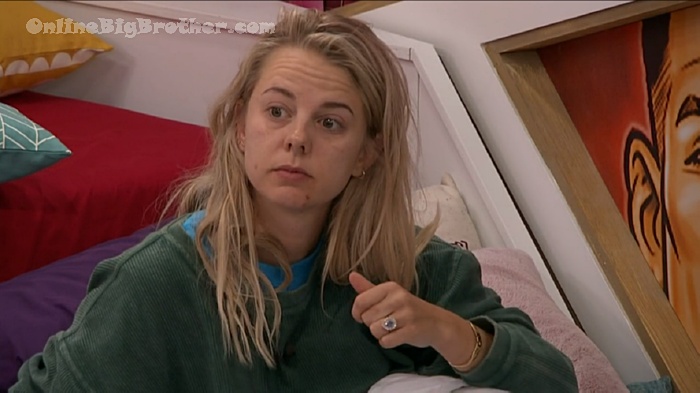 10:40 m Nicole and Dani
Dani – you had your DR last night
Nicole – no, Did you about it?
Dani mouths something
Nicole – you're joking
Dani – no.. I know.. I thought you had it already. I figured that's why you went to bed
Nicole – about what
Dani – same thing. Ian already had his too.. I know ..
Nicole they're not going to give me one?
Dani – I'm sure they will it'll be today
Nicole – can you tell me to prepare me for this because i'm about to leave..
Dani – I'll tell you when there's not a camera directly at my face..
Nicole- it's going on the show.. us being mean
Dani – I don't think that's what it's about
Nicole – what are you going to do
Dani – Kevin and David.. Kevin is going to hate me Nicole.. hate me..
Nicole says she doesn't want to be around Memphis that is why she changed rooms 'i don't want to be put in situations" (forced to laugh)
Dani – I feel like a piece of crap stressed out about that stuff.. and I don't want to put Kevin up and I feel horrible putting David up..
Dani – Kevin and I have an agreement since day one
Nicole – just say there's a bigger plan … tell him about the veto
Dani – I'll tell him i'll throw him the veto even thought I'm not going to do it. just so he doesn't feel bad.. (LOL)
Dani – i'm just worried … I dunno ..
Dani says she's never been in the Dairy room that long it was over 2 hours.
Dani – I'm scared to upset Memphis and Christmas. I feel like in the end if it gets played out Memphis will understand.
Nicole – are you talking about backdoor-ing her
Dani – Tyler.. not her I'm scared of her she'll punch me
Dani – I don't even want to talk to anybody.. I just want to lock my door
Nicole -that is what I will do
Dani – what do I say to David and Kevin
Nicole – if it was you it'll be me if not me it would have been Cody
Dani – Cody really doesn't trust Tyler any more.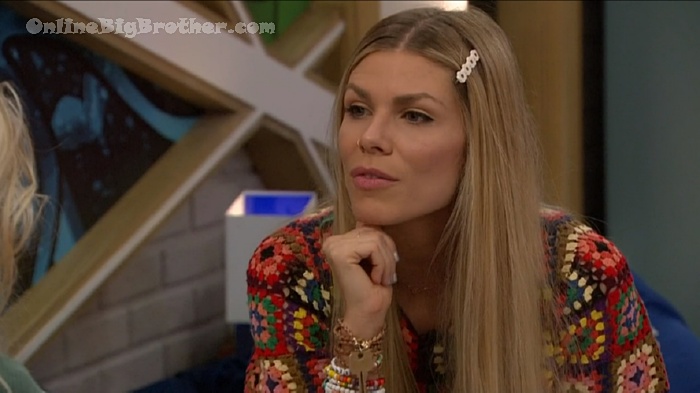 Dani says Cody is closer to Enzo than Nicole.
Nicole – ohh yeah
Nicole – I need a break from this damn game..
Nicole losses her costume at midnight tonight.
Dani – did Ian ever say that Bayleigh was saying I'm running the house
Nicole says not really.. Dani adds that yesterday Ian said he's glad she's out of the house because she was running around saying I ran the house.
Dani is mad that Ian waited until Bayleigh was out to tell her.
Nicole – do you plan on going with me to the end
Dani – yes Nicole
Nicole – I need to get out of this funk
Dani says Tyler told her three times in two minutes "If you come after me or come after me I totally under stand and I deserve it"
DAni – you're telling me that because either you feel guilty you're worried i'm coming after you or you're coming after me
DAni – I don't trust that crap.. there's an issue there.
Nicole – do you think this week is a good week to do this (take out Tyler)
Dani – that's the thing she will be pissed.. Memphis will be cool with it
Nicole – do you think he will campaign
Dani – he'll throw me under the bus so hard..
Nicole – Christmas won't vote him out..
Dani – I already played around with the votes and stuff worst case scenario Memphis and Christmas will be the only ones voting to keep him everyone else will vote to get rid of him. everyone.. Everybody..
Nicole – if Veto is won it's kinda a sign..
Dani agrees she's feeling like that.
Dani – I kinda want to see who Kevin will put up.. I don't want to put him up but I feel he would put up Cody .. it's not good if he stays.
11:26 am Dani and Memphis
Dani – you know I'm never coming after you right..
Memphis – I feel like me and you have an understanding
Dani – I feel the same way
Memphis – I feel the same way
Memphis – when I came into the house and I saw you
Dani – i felt the same way (LOL)
Memphis – we didn't have to talk about it.. he obviously will talk about it.. It's tough for me to talk about what we will do at 6 because we're not there yet.
Memphis – to be honest I didn't think it was going to be this easy
Dani – I know America must hate us.. it keep falling into place every week it's crazy
Dani – we've only had one person not in our group win .. isn't that crazy
Memphis – I know
Dani – Tyler was throwing me under the bus. I'm like really.. really shocked. He went to Da'Vonne and Bayleigh and specifically told them I was coming after them and I've been talking all this crap on Da'Vonne which is not true .
Memphis – why would he say that
Dani – he admitted to me like.. me.. of all people. I've always been so good to Tyler in this house.. he told Da'Vonne I'm talking crap about her I want her gone.. All this stuff. And he was telling me he wants to backdoor Bayleigh and Denying that.. His plan was to go out pre jury
DAni – he said when that wasn't happening he scrambled and took my name and took them and was trying to pin us together so if one of us won HOH we would get together and find out.
Dani – that's all so very fishy.. I think he messed up his game wanted to covers his tracks and go home
Memphis – what you just said is crazy..
Memphis brings up Tyler telling him he had a power on his season and he wanted to use it so he spent the whole season trying to get Backdoored through 6 weeks.
Memphis – maybe he had that same notion.. I have to do something crazy to get backdoored.
Memphis says he's a pit pissed at Tyler because they have this alliance to six and he's already messing with that
Dani says he's double dipping and trying to throw someone in their 6 out.
Memphis – I don't like how sloppy that is.. that's crazy..
Dani – lets me honest he's probably the… (one that pleases GROD the most)
Feeds cut..
When we're back Dani is saying Tyler messed up last week and tried to backtrack and make himself "Look like the martyr"
Dani wonders how it is getting edited because Tyler is crying "they're not putting that on the show"
Dani goes on about making Tyler 1/2 his meals all while Tyler was tossing her under the bus.
Dani – Kevin's like a little ant he's always listening and looking
Memphis thinks Kevin has a power.
Memphis wonders what Tyler will do if he wins HOH next week he's already spinning out and they are in full control.
Dani tells him he's in a good spot with his back. Even it it gets better he should still play it up.
Memphis says he dropped on the HOH because his hand got cut up from the rough hand holds.
They agree to be on the same page about Tyler.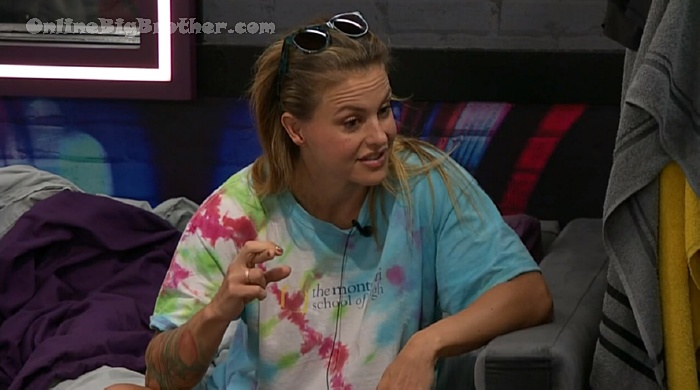 11:43 am Christmas and Tyler (Hard to hear Tyler)
Christmas – for a long time last night.. Dani I don't need to know what she's doing.. it's just those three.. and one
Christmas – I'm watching for a future acknowledgment. Dani, Cody are like this (crosses fingers)
Christmas- Nicole and Dani are like this.. and Ian and Nicole are like this. I just want to keep an eye on that.
Christmas – Yesterday even before the HOH competition her and Cody were talking I came in and they just shut it down and I sat down they didn't even go to another subject they just shut it down.. Her and Nicole had been slipping off to the sides..
Christmas – I don't know if they associate me with Ian or not it be nice if they didn't
Christmas – it's me and you at the bottom on their list.. Memphis won't be able to do much he won't be able to win a veto.
Tyler mouths something about Nicole and getting her out.
Christmas – Nicole or Dani I'm good with either one but we can't do it too soon
Christmas – Da'Vonne won't go after Nicole at all.
Christmas – I don't feel like she will throw us up.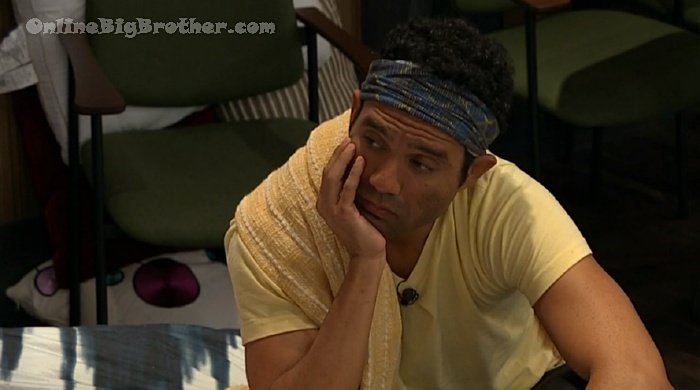 11:56 am Kevin and Dani
(this is a long conversation I only took small chunk)
They're talking about the three powers.
Kevin – we really don't know what powers are out there so it's like hard to play that game. you know how I talked to you about I got spooked about what happens out there with the interference.
Kevin – all the interference that happens.
Dani – yeah
Keivn – Like.. have you talked to Ian?
Dani – he told me he heard power and Final 2. Is that what you're talking about?
Kevin – yeah
Dani – did you hear her name
Kevin – yes
Dani – what did you hear?
Kevin – I heard Final 2 and Tyler has a power or liar has a power. It was something LER has a power.. \
Feeds flip (this was a audio leak from Julie during the show last night)
Dani – if I can talk to people and guarantee you stay how would you feel
Kevin – Better.. how many votes
DAni – 4 to make a tie that's it
Kevin – who would you get
Dani – Da'Vonne.. who else is in this house.. who else are you close to? David..
Kevin – who else would I be up against.
Dani – someone else that is good at comps.
Dani – I will never ever ever do something that puts you in a bad spot..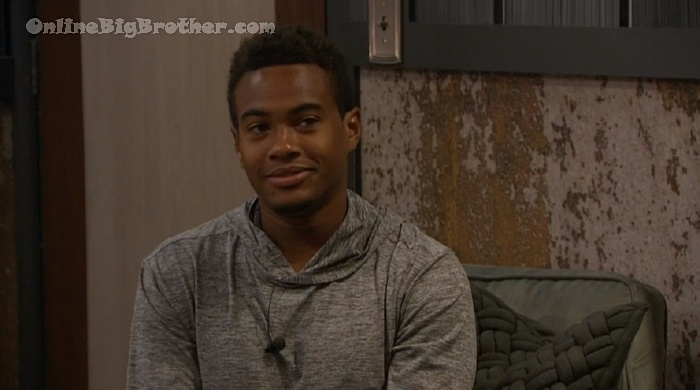 12:27 pm David and Dani
Dani goes on about the powers and how she's scared to death of those
Dani says she likes David so much and Respect him so much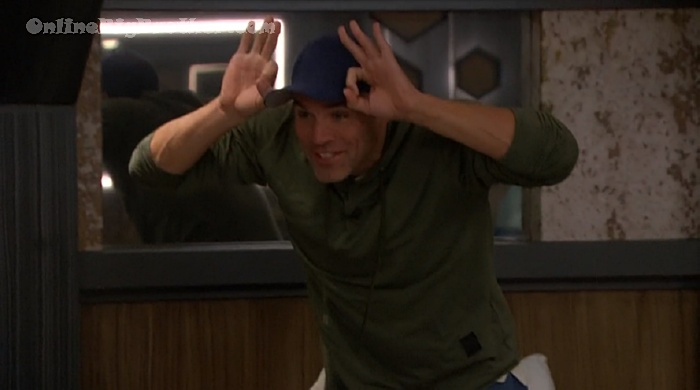 12:28 pm Enzo and Dani
Enzo – should we have a slick6 meeting yo..
Feeds cut..
When we're back.
Enzo and Dani complaining about David and Da'Vonne falling so fast in the HOH.
Enzo – I was like Day you were just on the block you should have a fire ..
Dani says she's making the easy move for her nominations then if the Veto is played she's up for whatever.
Enzo says he wants enemies it's too hard for them all to be friendly.
Dani – this year sucks..
Enzo – I just want to have enemies and go after them..
Enzo jokes that the slick6 was died after Da'CVonne fell on the HOH after two minutes
Enzo – I'll take the first shot I don't give a f** yo.. I know the core four is with me I'm picking them apart that's it.
Enzo says Memphis is ready to go after Ian.
Enzo claims if Kasyar had won the Veto he was going to make a move on his HOH>
Dani says she doesn't care how much blood she gets on her hands she just doesn't want to get unnecessary blood before the veto is played.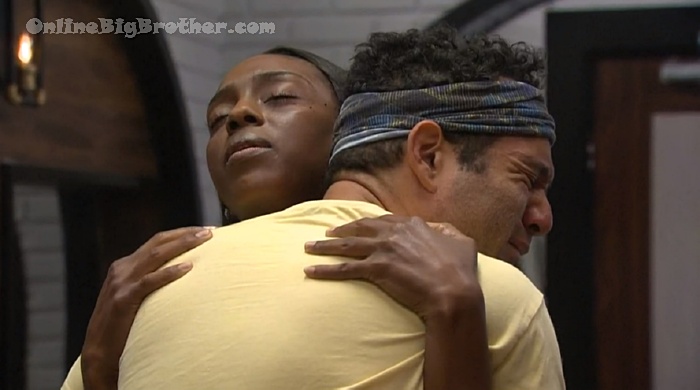 12:38 pm Kevin and DA'Vonne
Keivn – DAy I don't think I can make it anymore..
He cries
Da'Vonne – yes you can ..
Kevin – I keep getting nominated
Da'Vonne – she's putting you up
Kevin – I feel like so expendable to everyone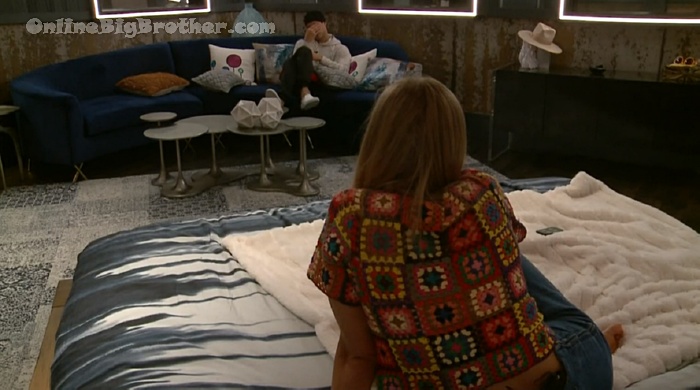 12:44 pm Dani and Cody
Dani says if they can get Kevin to guarantee he wouldn't put Cody up then she wants David gone.
Dani warns him what he says to Christmas. Adds that Christmas is a information taker like Ian. Dani notes that the HOH messed Christmas' game up a bit before that everyone would give her information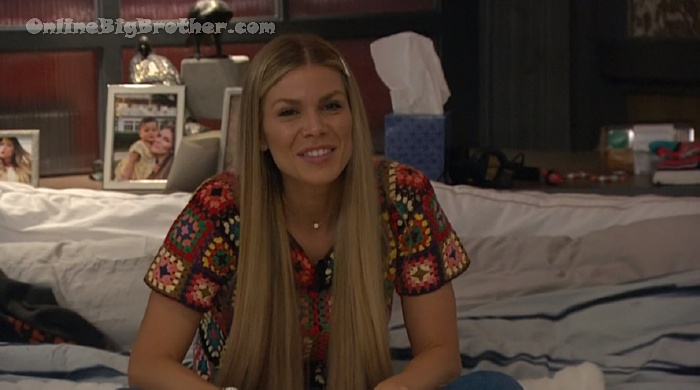 1:27 pm Da'Vonne sans Dani
Da'Vonne – whatever you do I got your back
Dani says she's got a bigger plan in mind "You now what it is"
Dani is worried about making two people very upset. Says that Kevin will be one of the nominations
Da'Vonne – that's why he's crying
Dani – he's crying DAY …
Dani says Kevin is the perfect to stay. He's been put on the block twice already no one is coming after him.
Da'Vonne says they have the votes to Keep Kevin.
Dani asks who would Kevin target
Da'Vonne says the same person she is targeting.
Dani – I feel Christmas will hate me too
Da'Vonne – why
Dani says Christmas is really close to Tyler now.
Dani – If I nominate Kevin can you help me talk him down
Da'Vonne – Yeah won't be hard.
Dani says Kevin told her in a nice way if he goes home outside they won't be friends, "It makes me sad"
Da'Vonne- don't believe it he's in his feelings
Dani says she's putting David and Kevin up but the target is Tyler. Points out that David came up to the HOH and he never spoke game with her
Da'Vonne wants that Tyler is the veto chip master
Dani – not last week
Da'Vonne – we just have to make sure his veto chip doesn't get pulled
Da'Vonne – maybe you can convince him to throw the veto to you.. maybe push that David has been saying he just wants to make it to Jury.
Da'Vonne says Enzo will vote out Tyler, "Enzo felt like.. when all of that sh1t happened he felt there was no need for him to do that we were all together the slick 6 was amazing.. he didn't need to do all of that"
Da'Vonne counts votes, "me, David or Kevin, Enzo, Nicole, IAn"
Dani says making big moves in this game is her thing everyone knows it. "People that make big moves in this game don't win"
Dani asks if David will go after her.
Da'Vonne says David is "Hooked" on getting Memphis out.
Da'Vonne tells her that David and Tyler are close don't tell him he's a pawn.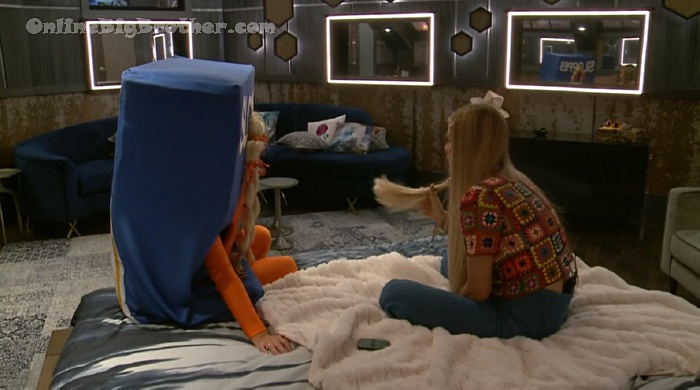 1:44 pm Dani and Nicole
Dani says if Kevin goes out this week she's losing his jury vote. She says if the nominations stay the same she wants David out.
Nicole – one jury vote isn't going to kill you
Dani says she filled Memphis in on Tyler trying to quit and throwing her under the bus, "He's furious"
Dani – the only person I don't know how I will deal with is Christmas..
Nicole says don't tell her until after.
Dani – hell now, She'll tell him. they're like best friends now.
Dani – Kevin told me that.. 'Final 2' and 'power' and 'A name' (the show leak)
Nicole – who
Dani – Tyler
Nicole – ohh really with who>
Dani – I don't know
Nicole – how does Day feel about this
Dani – totally fine.. she thinks it's all about bigger picture. She'll help me talk them off if they are mad at me.
Nicole says she hasn't talked about the Ian thing in the Diary yet.
Dani says that's either bad for her or bad for Nicole
Nicole – what did Ian tell you how he felt about it
Ian – he just said he had a DR about it
Feeds cut