Head of Household Winner – Dani
Have nots – Da'Vonne, David, Ian
Nominations – DAvid and Kevin
Power of Veto Players are –
POV Host: –
Power of Veto holder –
Power of Veto Ceremony –
Powers – Christmas, Dani, David
Live feeds —-> Grab your Live feeds here. Try it free.
Rank the houseguests —-> Big Brother 22 Ranking
Powers
David – Saves on nominee. HOH picks a replacement. Person he picks can't be renom. Used during Nom ceremony after the HOH picks.
Christmas – blocks someone from being a renom. During Veto ceremony after Veto is played
Dani – can pick a outgoing HOH to be able to play in the next HOH competition.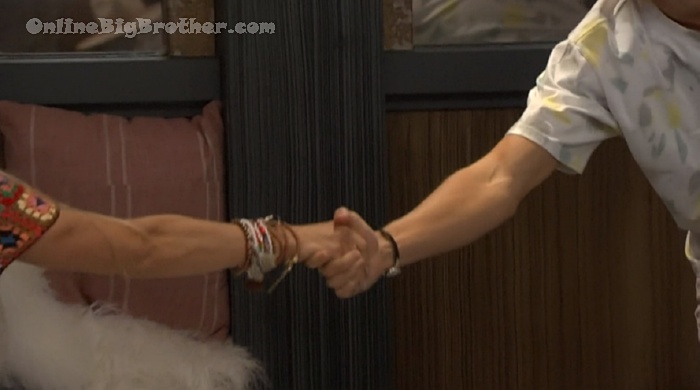 1:57 pm Tyler and Dani
Tyler – hows life
Dani – it's real stressful
Dani – I'm good with you, you know that right? you keep making comments.
Dani – lets make an agreement we won't go after each other until the committee final 6
Tyler – I'll go one step further final 4 you can go after me final 6 and I'll know but I won't go after you until final 4
they shake
Tyler – if I were I would backdoor me.. because I hold grudges..
COdy comes in ..
Tyler – it's freaking one on one time. Ian hasn't gone..
Cody leaves..
Tyler asks if she has a plan
Dani – says theirs not a lot of options
Tyler- did you guys make amends and blame it on me.. I'm sorry SI crewed that up
They talk about this game affects their real lives. Tyler says there was so much trolling on him and Angela for two years that is why he was wanting to leave before Bayleigh was evicted he didn't want to go through that again.
Tyler – you are thinking David and Kevin?
Dani – yeah.. there's nobody else.
Tyler – would Da'Vonne be the third options
Dani – I literally don't know about the third option
Tyler offers to play in the veto for her if he picks him.
They talk about how the fans must hate their alliance because they are doing so well. Tyler says if it's just them in the end America will have to like them.
Tyler – if you backdoor me or put me up I won't be mad because I deserve it but if you don't I'm yours whatever you want.. Do you think Da'vonne will be confused if you don't back door me
Dani doesn't think so says they're not super tight allies.
Dani – Kevin and David on Thursday who would you vote
Tyler says it's up to the group.
Dani mentions that Kevin's birthday is next week imagine being in Jury by yourself on your birthday
Tyler says he 100% doesn't have a power he thinks David and Kevin might.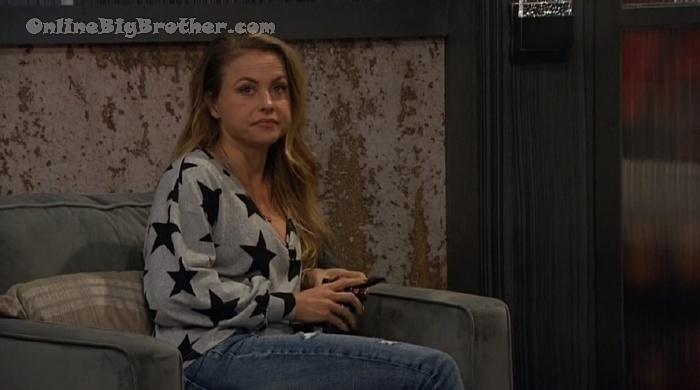 2:18 pm Christmas and Dani
Dani saying it's a tough HOH because theirs no clear cut lines "and you feel bad"
Christmas – how are you feeling
Dan – bad for everyone
Christmas says she had a clear cut reason for her nominations..
Dani – totally
Christmas – I had a reason to mask, protecting my alliance.. she was coming after you, Cody and Tyler, Nicole. She was going to try and finish whatever everyone else was trying to do but couldn't
Dani says she's cool with everyone out of the pool of potential nominees.
Christmas – I literally have no new information. Last week was such a big week nobody was able to figure out how to move forward. Have you and Tyler patched things up pretty good.
Dani – yeah we squashed it right before the veto and we squashed it
Christmas – awesome
Dani – he admitted to everything and came clean. I appreciated that he admitted it and apologized.
Christmas – he told me he didn't want to be known as the savage his season.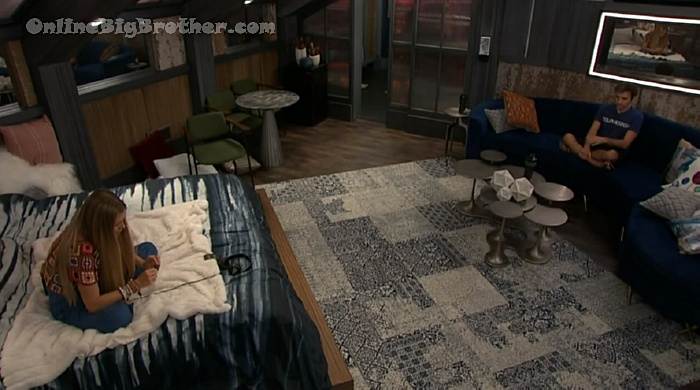 2:31 pm Ian and Dani
Ian says he heard that himself, Dani Cody , NCiole are working together.
Dani says goes on about liking everyone and having a hard time picking who to put up. "I'm so not used to it.. and we're older"
Ian – now we're locked in for the long haul that makes a big difference.
Dani – whats the feel of the house
Christmas comes in to deliverer food Nicole made her.
Ian – my preference would be not me, Nicole and Cody
Dani – shut up
Ian says he feels a little embarrassed by his performance in the competitions "I feel like I could compete last time this time I'm doing really badly so it sucks"
Dani – is anyone coming after any of us particular
Ian says everyone is hold their cards close to their chest because of the powers.
Dani – I like our group
Ian – I do to we're doing a good job of divide and conquer
Ian asks her again what she will do
Dani – I don't know exactly I'm wavering.. I'm worried about hurting people's feelings and the powers.. David has talked zero game to me.. ZERO it's the most bizarre thing I've seen in my life.
Dani asks him who he would put up. Ian says the people he doesn't talk game to. Names Memphis.
Ian says he wants to get picked to play in veto.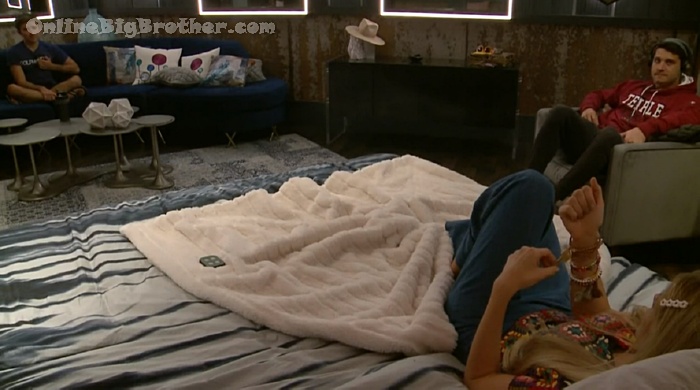 3:12 pm Cody, Ian and Dani
Dani points out the HOH key leather strap is the same one they've been using for years "It's so gross"
Dani asks what he thinks the Veto will be
Ian – BB weather
Cody listening to some HOH music #BB22 pic.twitter.com/JCgboG9VES

— OnlineBigBrother.com (@bigbspoilers) September 11, 2020
3:24 pm Chit chat. Christmas talking about her holidays coming up makes mention that her birthday is in December. Winks at the camera.
3:52 pm Feeds cut to pound puppies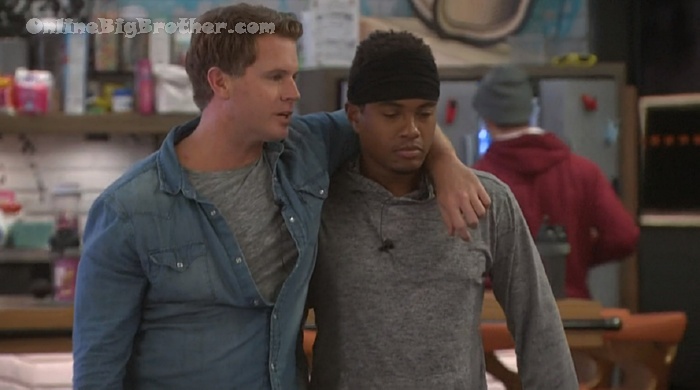 4:57 pm Feeds return..
David didn't use his power Kevin and Him nominated.. (OMFG)