strong>Head of Household Winner – Dani
Have nots – Da'Vonne, David, Ian
Nominations –
Power of Veto Players are –
POV Host: –
Power of Veto holder –
Power of Veto Ceremony –
Powers – Christmas, Dani, David
Live feeds —-> Grab your Live feeds here. Try it free.
Rank the houseguests —-> Big Brother 22 Ranking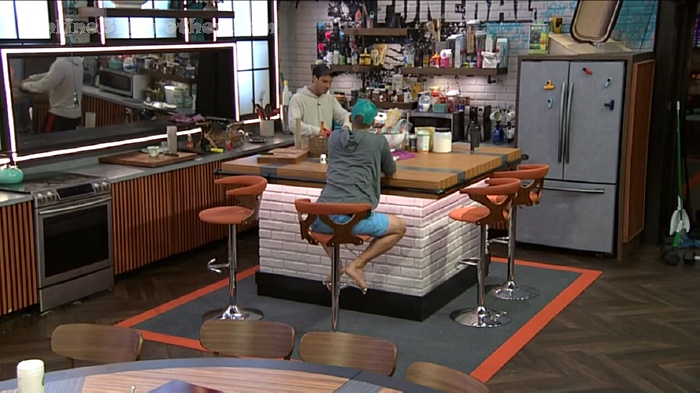 3:05 am Enzo and Cody
Enzo says he's going to bed he likes starring into the darkness ti's his way to relax.
Enzo – I think about Game, I think about Life I think about girls I'm missing at home.. everything.. my kids.. everything YO.. Girls I flirt with
Enzo – I have one favorite girl I flirt with I think about her.
Enzo says it wold be "so money" if he had a girl in here up in the HOH "Dark as f*** big bed let's go"
Enzo – when I get out of here I'm hooking up with somebody .. F***
Cody – right away
Enzo – right away I'm talking about within a week.. yo what are you doing.. want some drinks hang out lets go.. I don't care if we drive around and have drinks
Enzo – you know I'm COVID f***ing negative
Cody – i've been tested 28 times
Enzo – 28 thousand times
Enzo says they're going to be woken up early yo.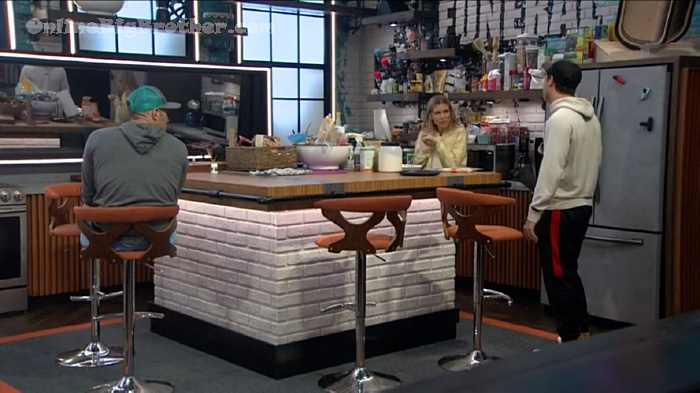 3:13 am Dani joins them to eat chicken fingers.
They chit chat about the crew for the show how there's a 7-7 shift. Enzo comments you can hear them walking around the set when you are in the have nots room late at night.
Enzo says he's not sore or nothing from the HOH. Dani says her shoulders are sore.
Dani – we'll see tomorrow.
Enzo asks what happened to Da'Vonne she dropped in under 5 minutes
Dani – she's just not good at competitions.. yeah that was bad.. bad. .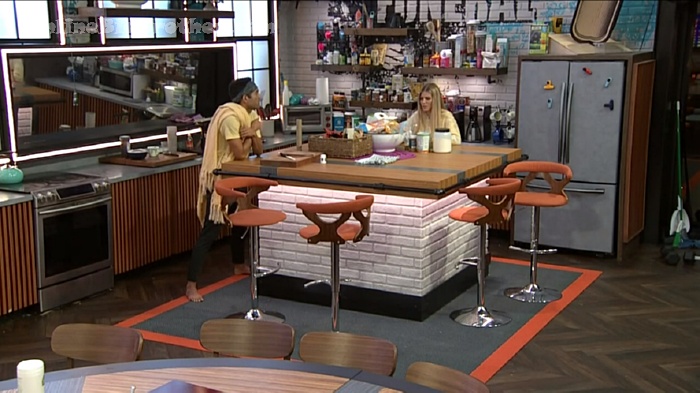 3:18 am Kevin comes out of the DR
Enzo – ohh shit.. that's late..
Cody and Enzo eventually leave.. Dani and Kevin talk about how much stuff they are getting in their HOH baskets.
Dani – I feel like people got more junk in their baskets than I did.. I'm not complaining because I do not need more junk
Keivn – oh like snack foods and stuff..
Dani – I do not need more of that.
3:30 am
Dani up in the HOH going through the screens on the HOH spy cam.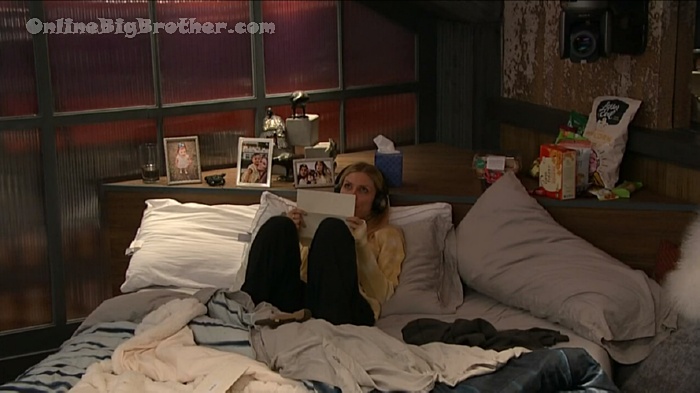 3:48 am Reading her letter..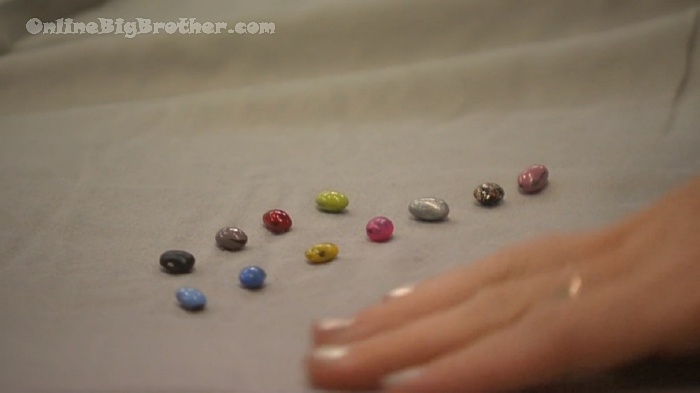 4:06 am 2/3rds of the love triangle strategizing
Dani – you have to yell at me and tell me I have to do it. I really don't want to put Kevin up..
Cody – you gotta put Kevin up
Dani – i know …… I'm going to tell him straight up I'm too scared of the powers and I'm too scared people will use them I want everyone to think.. I don't know Like I really don't want to put him up
Cody – who could possibly be the other person
Dani – there's no one .. that's what sucks.. He's going to be genuinely hurt by it and it will break my heart.
Dani – we've had a understanding from the beginning that we wouldn't come after each other.. like from week 1
Dani – I feel horrible.. there's nobody else.. literally nobody else (Nope nobody else in the house to nominated just Kevin)
Dani – why couldn't you have won
Cody – so I have to do it?
Dani – he wouldn't have been mad at you
Cody says she has a HUGE group of people that are not irritated. explains that personally she's hurting but gamewise it's so goof for her.
Dani – if I don't handle this the right way and he goes to Jury easily I lose his vote.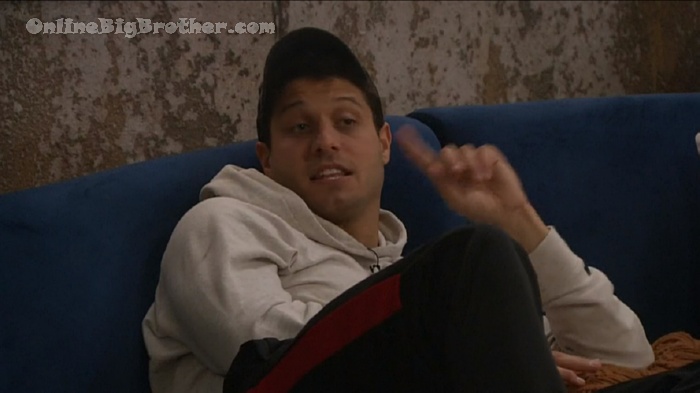 Dani goes on about how it sucks because Kevin is not coming after her.
Cody – so who is coming after you
Dani – right now .. Tyler
Cody – put him on the block .. just kidding don't put him on the block he'll win the veto
Dani – is he coming after me
Cody – he's never said anything to me that he's coming after you (See the image of Cody above)
They talk about Tyler's Panic last week when he wanted to quit
Dani – I feel like he changed it to what he wanted it to be do you feel that way?
Cody – I just want to believe there's no way
Dani – the thing that keeps eating at me is the stuff he told to Day. I'm just like I dunno
Dani – he's very very concerned about his outward appearance.. you know. so that's what keeps pulling at me.
Cody – I just don't know what went on with all this sh1t.. His season..
Cody says he doesn't know what type of game Tyler is playing that worries him
Dani – his game last time was trying to make everyone feel like they're his friend
Cody – I don't think hes trying to make me feel like I'm his best friend
Dani says the outwards appears make her think they are really close friends.
Cody says he's not nervous right now but 3 weeks from now he is.
They talk about the jury battle back. Dani doesn't think there will be. Says there's less than 7 weeks
Cody brings up Memphis theory that there's going to be.
Dani – he's on pain killers what do you want me to say
Dani pulls out the beans. Cody Blue, Nicole red, Da silver, Dani is Yellow, Shitmas is brown, Kevin is pink, Memphis is black, Enzo light blue, Ian is grey, David is red and Tyler is lime green.
Dani – I'm HOH I do Kevin and David.
Dani says votes for David to go, Memphis, Christmas
Dani says Votes for Kevin to go, Ian, Da'Vonne, Enzo, Cody, Nicole, Tyler
Dani lets say Kevin comes off.. Who do you put up?
Cody – it's up to you..
Cody suggests maybe do Kevin and a pawn and talk to Christmas about going up as a pawn.
Dani – that's what you would try
Cody – something like that or throw up another person say look you're a pawn
Cody says he wouldn't look at a backdoor on Ian this week there's so much more time for conversations to happen.
Dani says if she puts Kevin and David up. Someone comes off the block. She moves a bean to the nomination pile
Cody – is that Tyler
Dani – Yeah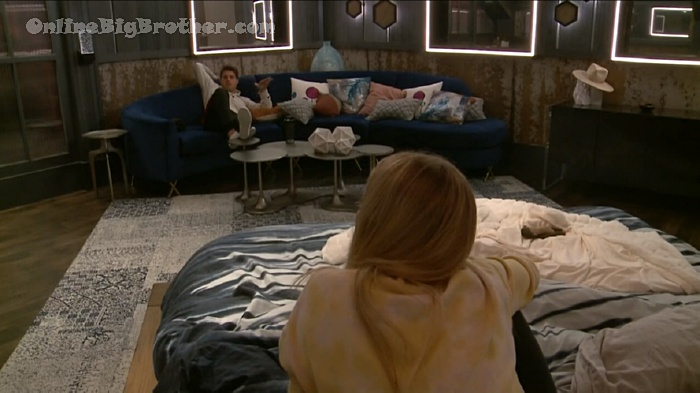 Dani says she's worried about how Christmas and Memphis will react. Adds that Memphis is only caring about numbers why not they pull Enzo in not as a committee member but as a number.
Cody – they already view him as that
Dani – so we have the numbers
Cody – you will have to explain we had another Alliance that Tyler was trying to do something
Dani – no no settle down, I would just say he was throwing me under the bus and making lies about me.
Cody – you think that will be enough for them.
Dani – Christmas knows and doesn't give a crap at all. Bayleigh told her and Tyler told her some stuff . She does not care at all. She looked at Nicole and I after the veto was used and she was like you guys cannot nominate Tyler.
DAni – it's really weird to me I get she's on the committee but have you noticed how close they've gotten this past week?
Cody – Kinda.. I saw how much they are playing backgammon
Dani – they talk all the time and they never use to. It's very strange to me
Cody – the only thing I don't like with Tyler going this week is there no other numbers being clipped
Dani – I know I agree, We're still considering Ian in the other side while he is a number.
Cody says he doesn't see Ian as being on the other side. There's just three people to him.
Dani – As much as DA'Vonne is going to be with those two (Kevin and David) she's not coming against us
Cody goes on about wanting Kevin and David Clipped because they could win a competitions Da'Vonne won't anything they can drag her to the final 5.
Dani – I wold love to have her in the final 5.. you think she's going to win? what has she done in this game so far? no strategy she's done nothing.
Dani – you wold love to be sitting beside her in the final 2 at this point in the game hell yeah. She's great for us .
Cody – I just don't want someone to come down it'll be chaos.. he's not going to sit he'll start saying sh1t
Dani – Tyler? I agree
Cody – what damage control will he have to do
Dani – Ian, Kevin, David ..
Cody – what are we saying
Dani – Nicole wants Kevin out, You want Ian out, Memphis wants David out, DaVonne wants Christmas out
Cody – in those weeks the person they want out will win the veto.
Dani – of course
Dani explains all she's saying is there's a specific person that wants one of those three people out "It's a good thing"
Cody – who do you want out
Dani – I don't know I'm having a really hard time.
Cody – I don't want him out anymore.. ian
Dani – whats your dream final 5
Cody – I dunno.. for me I would rather just think about the four of us going I don't care about the 5th person.. Not Ian I'm talking about Enzo
Dani – I've never been asked about the core four (in DR)
Dani says the DR never asks about it and she says it's her main alliance. She thinks it's because all she talks about is the Cody, Nicole and her (love triangle)
Feeds cut
When we're back Cody is saying he doesn't have a final with Enzo. They tease around about all their final 2's
Cody is nervous people will come to him asking him if he knew her noms, "I don't know what to say"
Dani – say no why would you know
Cody – that's good thank you
Dani – tell me who said that because that's a problem I'll throw them up there


Dani starts teasing him again about Tyler whispering to him in the bathroom. Cody doesn't remember still. (this is the same conversation they had after HOH last night)
Dani – I swear on my own life.. strike me down
Cody – don't say stuff like that I don't like it
Dani – I know 100% for fact I saw him.. you're losing it
5:00 am They continue their flirty nonsense banter..
Dani says he didn't hold on enough on the HOH.. etc etc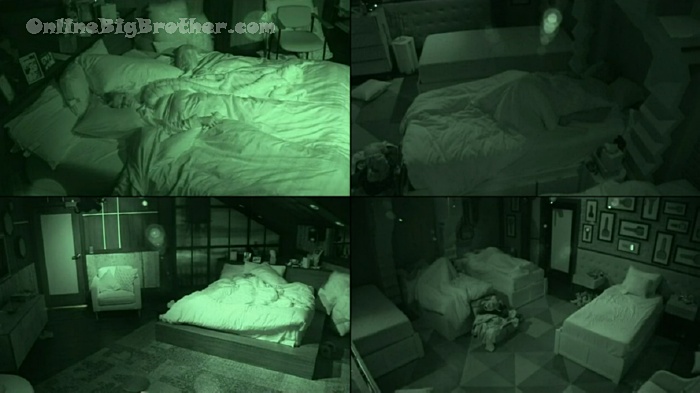 5:20 am Everyone sleeping
Looks like David and Kevin are going up initially. David has the power during the nomination ceremony to disrupt. This will mean Dani has to pick another person as a Nominations. This will most likely be Tyler. Christmas and Ian's names have also been mentioned.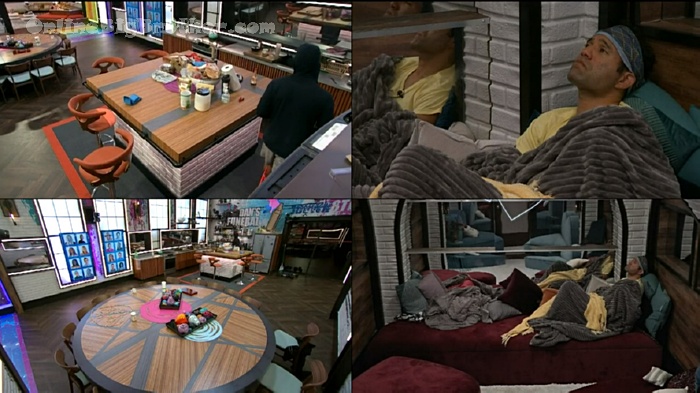 9:29 am Waking up…
10:35 pm nothing much going on. All feeds are on Dani in the HOH getting ready.
Show your support by making a donation.
If you're enjoying our live feed updates this season, please consider donating.
Any amount is greatly appreciated! Your donations go directly to paying the fees required to run this site.