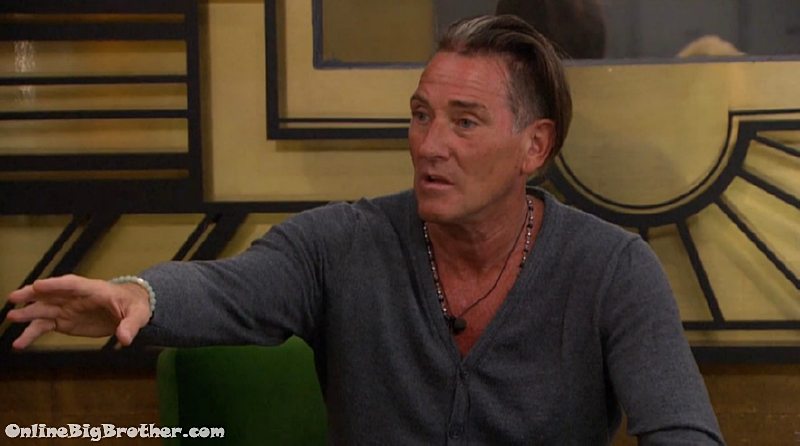 10:43am HOH Kevin and Jason
Kevin – that was a fiasco huh..
Kevin explains he was in the pool with Matt said he was a good guy. Matt asked him if he won the 25K Kevin told him no, None of you business.
Kevin adds that he feels bad for Matt because he's leaving.. "I never started the conversation he did"
Kevin bring sup that he offered to take Matt out for dinner if he's ever visiting his brother. (i guess the school Matt's brother goes to is near where Kevin lives)
Kevin – I told him Jason is a nice guy sometimes when he does things It's because Alex is telling him how to Play the game.
Kevin – Alex is the one that knows how to play the game, but she gets petty about things
Kevin adds that he told Matt he didn't like the way Alex was treating him
Kevin – I'm not going to argue with anyone no more..
Kevin – Ja, they all came running at me.. You were standing there the whole time, did I make any moves to anybody
Jason – no..
Kevin – thank you
Kevin – he came into my face.. That little weasel never done nothing then he comes into my face and I can't do nothing at all
Jason – he knows you can't do nothing and he can't do nothing either
Kevin brings up alex was making fun of Matt the other day but then jumped on Matt's side to attack Kevin.
Kevin – I snapped.. I told her a shoe would beat her ..
Jason – it made it a lot easier on me because I spend all my time with you and I was really f*ing torn because the whole house for like 2 and a half weeks has been running you down.
Kevin – WOW (kevin shakes his head in disbelief)
Jason – I was like NO..
Kevin – it's not true Ja, listen I'll resign to go home I don't care.. I'm going to play hard if I don't win I'm going to go home.. I don't care ..
Kevin – i didn't lie to nobody.. They are making sh1t up
Jason – No one's ever going to know this is the deal.. Just like I told them
Jason – I don't give a f* if he is lying
Kevin – I'm not, what am I lying about, what specific things..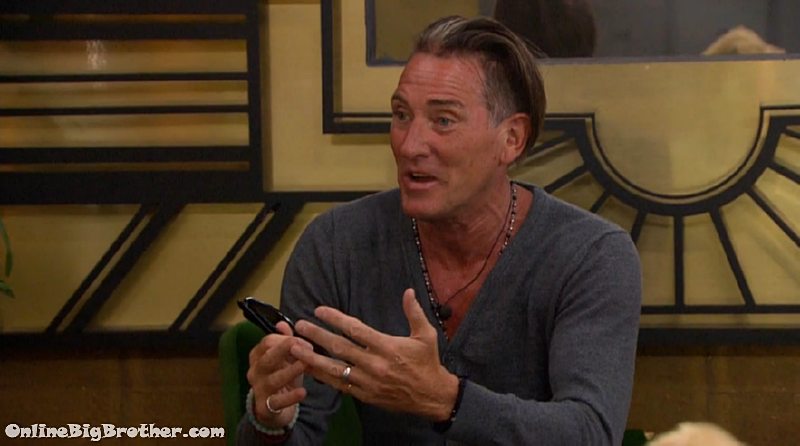 Kevin brings up Raven telling him that Jason threw him under the bus
Kevin – so she's calling you a liar, then the next day you're not the liar I'm the liar
Jason laughs
Kevin – they are all in a circle they one someone out they start making things up about them (BINGO)
Jason – that was my defense..
Kevin – what did I lie about specifically
Jason – I don't know Kevin , I'm telling you I can't go against the house (heaven forbid)
Jason – i'm not going to throw myself out there's not way you and me can win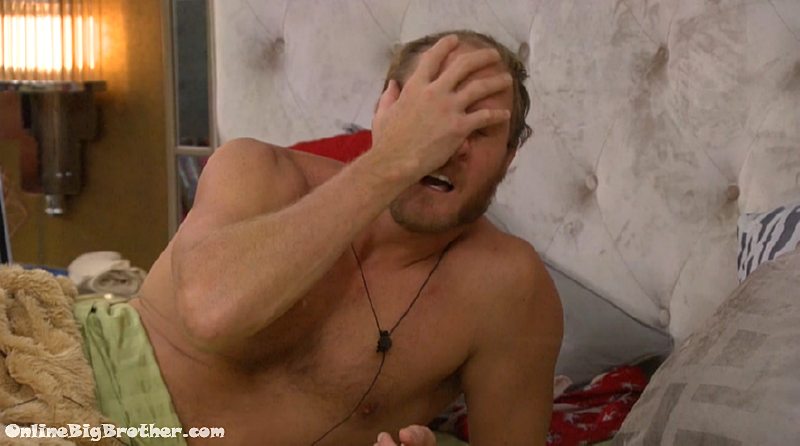 Jason – Alex is my ride or die and I always told ya, if it comes down to between you and Alex I'm going with Alex
Kevin – I agree
Jason – it made it really easy for me yesterday because everybody .. I mean it just blew up
Kevin – Matt and Raven never talked to me all summer (consider yourself lucky)
Jason – me neither
Kevin – then why do they start getting on me
Jason – I feel so much better everything is out in the open
Kevin – it's a game guys, I don't dislike Alex she treated me like a piece of sh1t I don't care what you say or what anyone says my opinion she treated me f*ing mean (LOL you just wait)
Kevin – My shoes bother her, the way I walk bothers her, the way I talk bothers her
Kevin – she's got to write Mission Hill sucks, she's got to hide my f*ing protein or whatever the f* sh1t you call it
Kevin – no one questions her for that just me
Jason – people are questing her
Kevin says Alex is not winning this game, "You think i'm the only one that feels this way"
Kevin – if you get to finales and it's you against her you'll be the winner I can promise you that
Kevin – I know how everyone feels.. I won't say anything (hmm.. )
Kevin – you don't think people in the house came to me and agreed the way she treated me
Kevin tells him he doesn't care about the game that much to be lying, "why do they keep making stuff up about me, tell them to stop now.. I'll go home next week if I lose" (that's BB19 someone pleading for the shit to stop)
Kevin – If I win someone else is going home
Kevin – have I talked about them since being in here
Jason – no
Jason – everyone likes you but they're like he just f*ed his game up… by not paying attention to the details
Kevin – I disagree.. I had a good time.. We'll see what happens when we get out of this (Kevin knows something)
Kevin says they are distorting things to get them to fight
Kevin asks Jason if he's on the block Jason will vote him out
Jason – I'm not going to put a target on my back ..
Jason says him going up doesn't mean he's going home
Kevin says people have been coming to him saying that Jason/Alex have been talking about him for weeks
Jason – no.. the whole time everyone was trying to convince me that you were full of sh1t
Kevin asks him who is he talking sh1t to, "what am I saying, Jason's bald, Jason's f*ing fat, I don't know what I've been saying about you"
Kevin says during the fight he said "stay out of my face, I got called in (DR) and they said just stay away"
Kevin – I said Again..
Feeds cut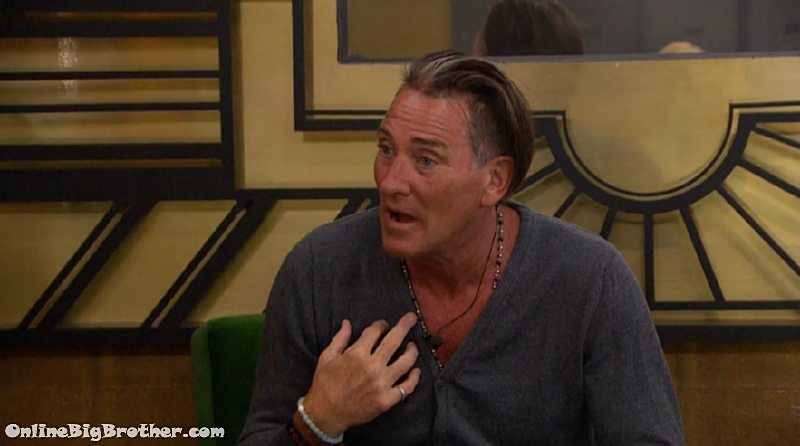 Kevin – they keep poking a sleeping bear, they keep pushing me around until finally they know I'm going to snap and I didn't even snap I left, I went into the thing (DR) and I stopped yelling (again it's BB19 that's how they are playing the game)
Kevin – you think Matt's going to yell at me like that man, are you f*ing crazy, no way
Kevin – Oh you're going to hit me with a glass, you know what I was going to say… You're f*ing girl hits you with Glasses i don't need to hit you with nothing
Jason – that guy couldn't whip his way outta a wet paper bag
Kevin – but he can act bad here
Kevin says he's not going to talk about them in jury he'll say it in his speech on TV
Kevin says the two things that blew up his game is he didn't go on the block and the 25K
Kevin says if he told everyone he had the 25K he would have been gone the first week
Jason explains to him the plan was for Raven and Matt to think Kevin was the target so they would be calm. That is why they wanted Kevin to replace Raven. When the vote came out they would send Matt home.
Kevin goes over that he told Alex he was tired of listening to her sh1t and was tired of her putting him down. That was after she told everyone she trusted Matt more than him.
Kevin – you can only push someone so far man
Jason – when Matt was yelling at me I was almost laughing, I had to keep my hand over my face.. (yeah we all were laughing at Matt he's a dolt)
Kevin – when I went into the DR they said 'I can't understand… feeds cut..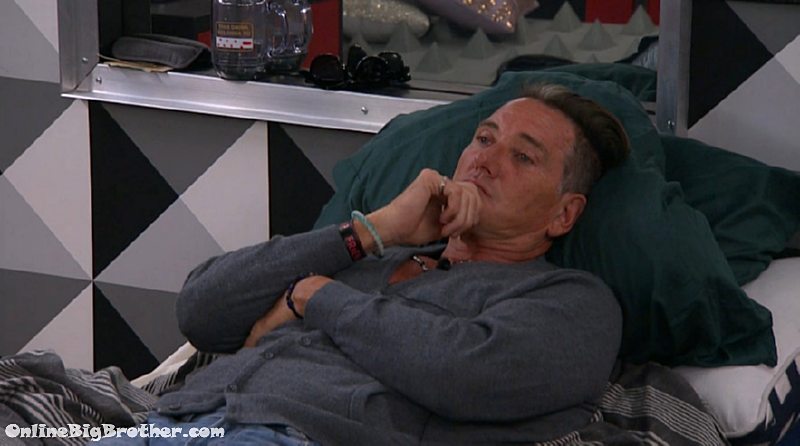 11:38am Kevin gotta win that Veto.. let Xmas win the HOH 😉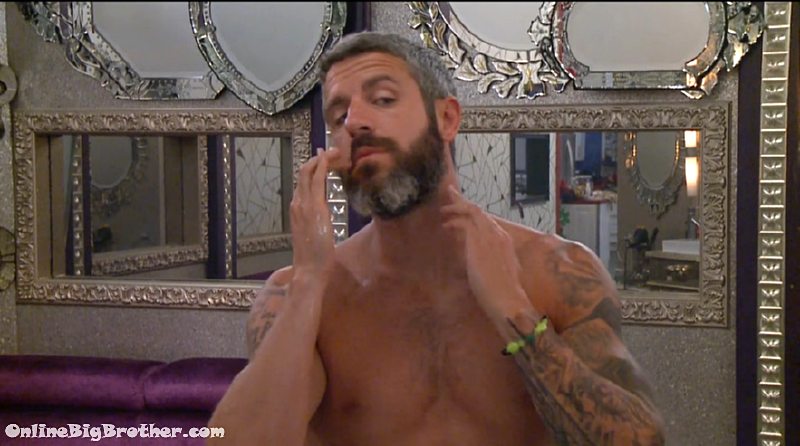 11:38am one of if not the biggest flop I've seen in 15 seasons of watching Big Brother feeds.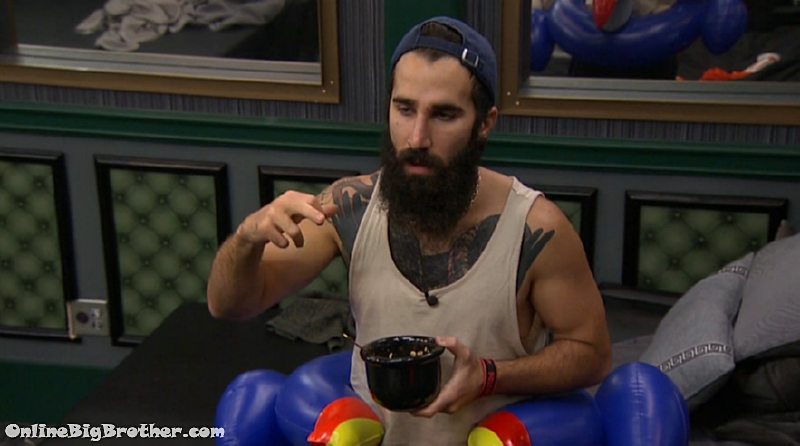 12:30pm Paul and Potatoehead
Paul asks her who should go first Kevin or Raven.
Potatoe – winning wise Raven but Kevin should go first
Paul – I still think we should toss it to…..
Potatoe – yes
Paul – if we are both playing in the next one… it's done bye (the season?)
Potatoe – yeah.. We have to.. OK
Paul – perfect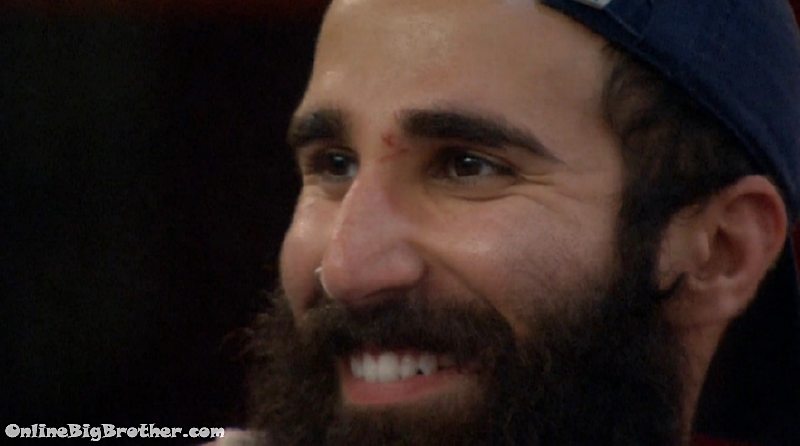 2:00pm. No, nobody slugged him. the weight bar hit him in the face yesterday.
If you plan on buying anything from Amazon. Use this link Amazon home
Doesn't cost you anything and we get a small cut.
Links to the ranking system
Rank your house guests here
For those of you that like Statistics here are some expanded reports.