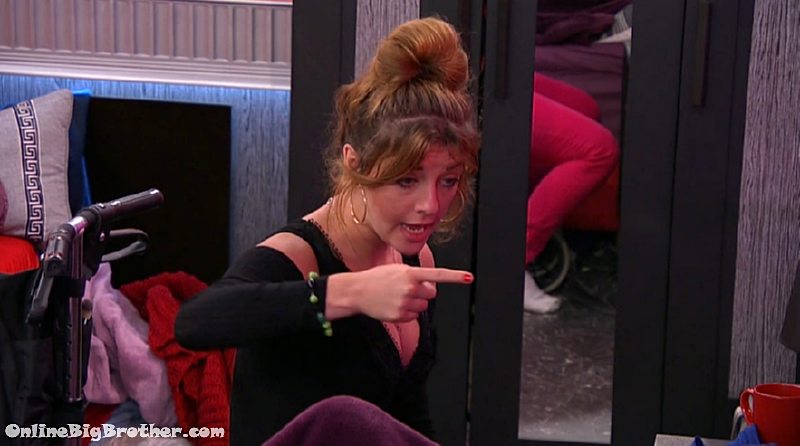 2:50pm Raven and Xmas
Conspiring about putting Alex and Jason up.
Xmas – they are so cocky
Raven brings up Alex saying she'll still be in the game at finale, it's going to be hard being in here for another 4 weeks"
Xmas – she's starting to slip up, I think that's why they are so willing to throw the HOH a week or 2
Raven – they think I want Kevin out.. B1tch I got news for you
Xmas – She's (alex) is suspicious, she keeps jumping in rooms
Raven – I do know they (A/J) don't want blood on their hands
Xmas – yeah they don't want blood on their hands because all they are thinking about is jury votes
Raven – she won't have Elena's she won't have MAtts.. she won't have Kevs..
Xmas says Alex will have Cody's vote, "He for some reason has something for her"
Raven – there's a lot of people that won't have her
Xmas – did you catch when she hid the slop from kevin?
Xmas – Kevin came up and was like saying something and he thought it was you and she let him take that and she played into it and in front of you she was like talking about it
Xmas – how f*ed up is that.. though.. how arrogant is that.. to be like yeah they hid it and like you're sitting right there..
Xmas – what the f*, and in one breath she's like my word is my world and like my whole life
Xmas – she was telling me she just puts implementations into stuff..
Xmas – for real though.. we know if she says anything she's f*ing lying so like if she implies something , we've seen her do it over and over .
Xmas – I told Josh, don't believe a word from that b1tch..
Xmas – she told me She has Josh in her pocket.
Raven says she thinks that Josh is in the game because of Xmas and Raven .
Xmas – she only said that because I was there..
Xmas says they want to get rid of Josh over her because they think she's incapable.
Xmas – yesterday Jason f*ed up and said you don't want to get rid of everybody that's a competitor because at the end it's not even worth trying.
Raven – I feel 100% with Paul, I feel the same way about you ..
Raven – I've been cool with you all season.. of course I trust you
Xmas – Honestly I don't give a f* that Kevin won that money.. but don't f*ing lie about it and don't use it as a jury vote, stupid… stupid
They start rehashing the fights with Kevin.. mostly the most recent one that they blocked on us.
Raven goes over what kevin said to her – get the f* away from me and don't put your f*ing finger in my face..
They talk about Josh during the fight
Xmas – he's so funny..
Raven is pissed because Kevin called mat a liar.
Raven – you're an annoying old man
Xmas – he plays the victim card
Raven – he's a 53 years old man that acts like a baby..
Matt comes in… starts rubbing his mustache
Matt leaves..
Xmas says Kevin threatened JOsh with violence.
they agree that Josh is "So sweet and a big teddy bear"
Xmas – it gets me really upset when people start just attacking him because he really is such a nice guy (i'm in the twilight zone… CBS will probably air this it's right up their alley)
Raven – he's nice he's been loyal this entire game. I do feel bad becuase people attack him
Raven – why does everyone hate on Josh
Xmas – I told him Josh they attack you because you can argue properly (ZOMG.. no they attack him because he's a total douchebag when they argue)
Xmas – they don't know how to handle that so they personally attack and threatening violence.. because you checkmated them.. you called them out and they don't like it.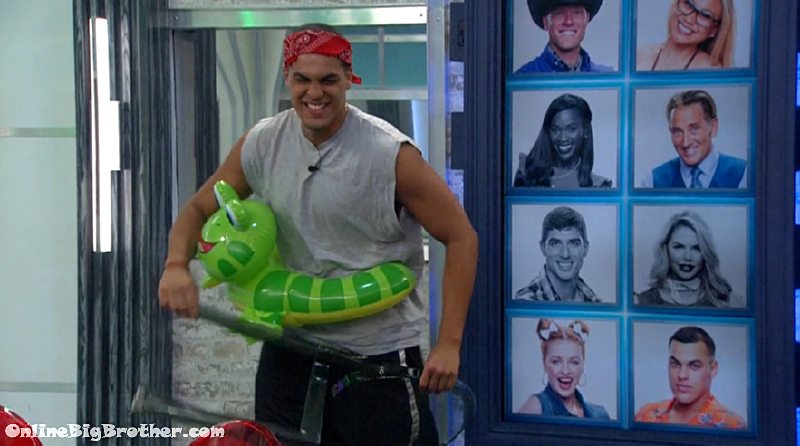 3:00pm BB19 …
It's a slow day everyone goofing around…
Another BIG MOVE from Xmas.. Kevin seems equally engaged. (Also check out Hamsterwatch tweet LOL )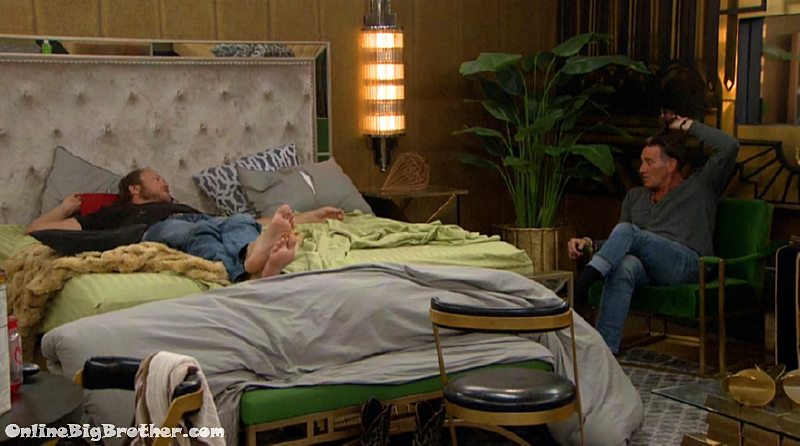 3:40pm HOH Jason and Kevin
Kevin going on about the fight yesterday and Alex not liking him…
Jason thinks Kevin should talk to Alex tonight. Jason claims that Alex loves Kevin.
Kevin says he's not throwing any competition after what happened to him.
Kevin asks Alex if he's nominated with Raven please don't vote him out over her. Jason says he won't vote kevin out unless the house says he'll go next if he doesn't. Kevin tells him nobody in the house can beat Jason and Alex.
Kevin says he'll talk to Alex tonight and smooth things over. (good luck)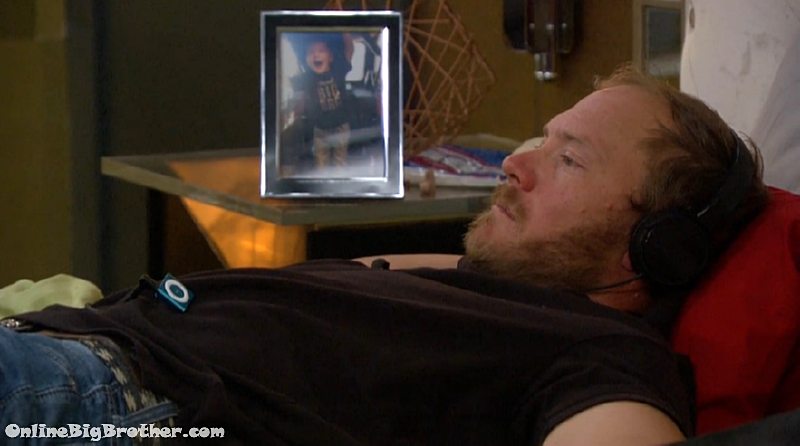 4:36pm Josh and Jason
Josh saying that Kevin has talked sh1t about everybody he needs to start apologizing to Alex. (KRAKEN)
jason agrees and says that's what he's telling Kevin
Josh is saying nobody wants to fight Kevin and nobody wants to isolate him.
Josh – he's literally talked sh1t about everybody.. he needs to apologize to the house so we can move on..
Josh – he's still going.. just needs to apologize so we can move on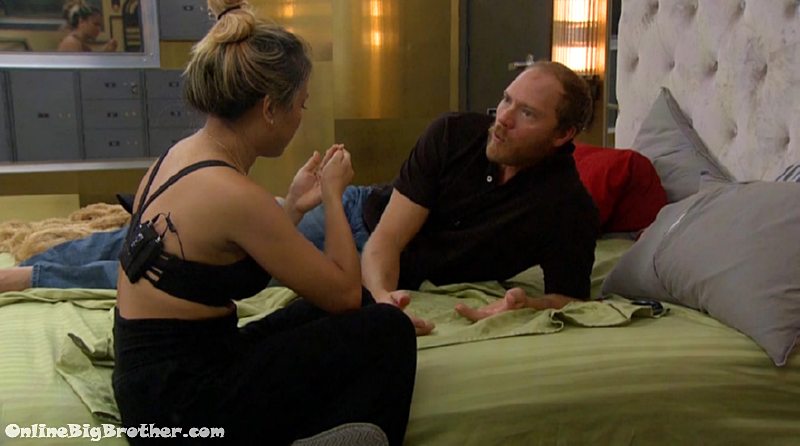 4:40pm Alex and Jason (they are referencing the fight last night that we didn't see)
Alex – you claim to have 6 daughters but you are going to sh1t on me like that
Alex – America is going to hate you for being petty" (Kraken)
Jason – i said those are harsh words that are going to hurt her
Alex – I'm going to tell him straight up dude America is going to hate you so go hide… (just assume everything is Kraken and everything is a ZOMG from here on in)
Alex – I would rather lose to that and everyone goes after and burns your village
Jason – I told him to apologize to you if he was a man
Alex – I still want to make him sh1t the bed.. (she wants to scare him)
Alex – tomorrow we'll have to go all cowboy on him
Alex says if kevin is "a real tool" he would go for the temptation Apple and "totally f* himself because he'll get a bounty on his head"
Jason – the only thing he would admit to is you are a puppet master
Alex – oh my god, I'm going to go tell him that right now
Jason says Kevin told him he's voting for Alex unless Paul or Jason is beside her .
Alex says that's not going to happen it'll be her and Jason in the finals.
Jason – what if I go out on a double
Alex – you (kevin) are a coward excuse for a man that you are so afraid of losing to a girl so you are going to start all this propaganda because you couldn't win
Alex – he's so full of sh1t..
Alex – you are a coward (kevin)
Jason – if he does come to you hear him out.. what if he is sorry..
Alex – he's been playing the game since day one
Jason – I told him you (kevin) have to live with what you did
Alex – you should have asked him why didn't you swear on your kids…
Alex – he's a liar..
Jason says Kevin told him he'll make 5 thousand dollars less than the person that wins second place..
Jason – I told him I don't want to entertain and more questions unless it's about the outside..
Alex – he's going to turn into a psychopathic douchebag when he gets nominated.
Jason says Kevin doesn't want to go out on a zero vote.
Alex – no we're not giving him any votes… he's going to look like an a$$hole..
Alex wonders if CBS will show all the lies but live feeds will know and they'll find out. (LOL)
Alex – find yourself some sun screen because you look like leatherface.. F*
Jason laughs..
Alex – I'm going to do that to him.. you think this looks good.. (does that blue steel)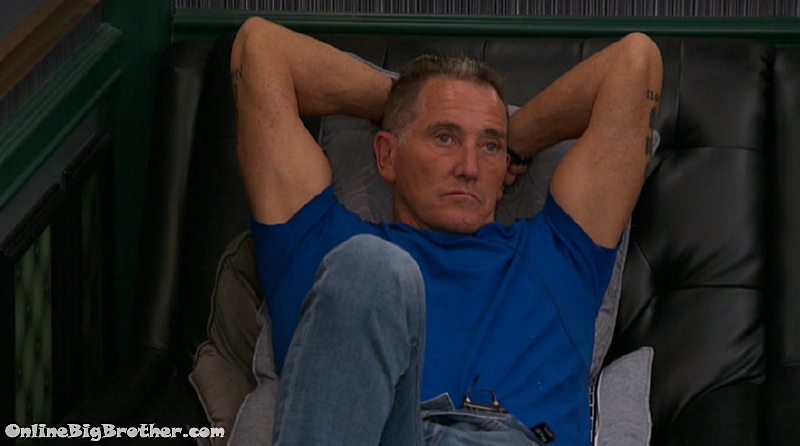 5:20pm …
5:30pm HOH Jason and Paul
Paul – did you tell Kevin I was mad at him..
Jason – no, what a d1ck weed..
Paul – that mother f*er..
Paul – Dude… I don't listen to a word that f*er says.. just know he's still working..
Jason – You got daughters dude the stuff you said to her.. (Alex)
Paul – It was weird dude.. she's trying to win a game..
Jason – I told him nobody has said a bad thing about you
Jason – don't worry Pal I will never throw you under the bus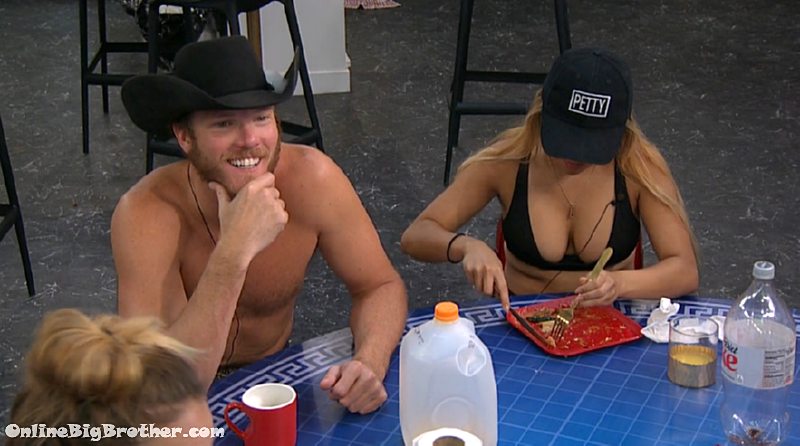 5:52pm everyone sans Kevin eating dinner..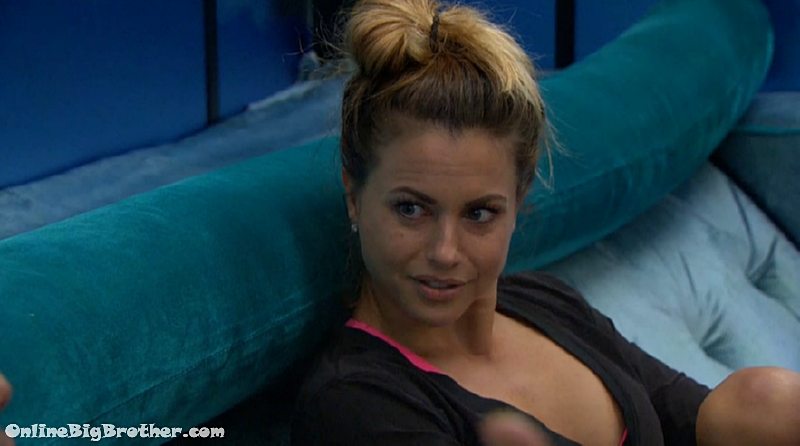 6:26pm Xmas and Josh in the APSR talking about Kevin. Xmas says she needs to reinforce with kevin to throw the HOH.
Xmas says she's going to give kevin a "pep talk" and make him want to throw the HOH. She points out to Josh that Alex and Jason will be suspicious that they are backdooring Kevin when he hasn't won a competition.
JOsh tells her once they take Jason out Alex won't work with Kevin and Raven. JOsh thinks Alex will turn on Jason once they are both nominated.
JOsh – In front of me he (jason) goes as long as it's not me and Tiger up together or me and Paul he doesn't care..
Xmas – he said me and paul (the image above is the look on her face)
JOsh – he said as long as it's not me and Paul or me and tiger next to each other I don't care who goes up
JOsh – I'm like DUde you know I'm in this f*ing house right.. you f*ing dummy, like he doesn't know what he says
Josh – i'm going to use that against him.. i'm goign to use the rogue votes against him..
Xmas – we need Paul to pull in Kevin (hahah Alex and Jason got so played)
Josh – we pull in Raven.. KLevin takes a shot at them.. raven takes a shot at them and they take a shot at kevin (if he's meaning in two weeks… wishful thinking)
Xmas – the information Jason and Alex have on us won't blow our game .. that we've been playing Raven
Josh – I think they are both going to lose their sh1t when they go up there… if they want to go there i'll go there.. who do they think they are.. they're on a ego trip
Xmas – the only thing that will f* us if they win HOH or that veto
Josh – Jason has to go
XMas – if Alex wins that HOH who knows what will happen.. I'll probably go up
Josh – Paul has to gun for it (HOH)
Xmas – you have to gun for it too
Josh – I will
Paul joins them..
7:00pm APSR PAul, Xmas and Josh..
Paul is going to scare Alex into not winning the HOH. he's going to tell her that she doesn't need anymore blood on her hands.
They are also going to work on Jason to not pick an apple.
Paul tells them if he goes up these next 2 weeks he's going home.
JOsh says he'll go up as a pawn .
Raven and MAtt join them..
Paul says they've convinced Alex to throw the HOH. THey are hoping that xmas wins the HOH takes the shot at jason.
The following HOH Paul and Raven will have to beat Alex in the HOH.
Paul – that HOH from 6 to 5 we all need to outbeat Alex.. if JOsh is still in we toss it to Josh if not one of us needs to take it.. that puts us at 5.
Matt – dude Alex is gaining weight.. she eating a lot and getting bigger every day.. she's not going to be able to physically compete like Jason can
Paul brings up the scenario where their "expendable" player Kevin gets taken out next.
Xmas says Raven will win "America's hearts" so Alex and Jason will want Raven out.
Matt says Raven and paul would go up
Matt says Jason and Alex are not good game players.. "you guys are so much smarter"
Paul says he's going to go up stairs and keep working Alex to throw the HOH.
Matt says Alex "in theory" cannot win this game based on who is in the jury now.
Paul leaves..
(I shit you not Raven says to Xmas that Alex has gained 10 lbs so far and was struggling in the HOH. This is a surprise because Raven has clearly gained the most weight in the house)
7:40pm HOH Jason, Alex, Josh and Paul
Paul is working on getting Alex to throw the HOH. Saying the target is Kevin Even if Raven wins the HOH the target is still Kevin.
7:48pm
Matt splashed water on Raven .. "I packed all my clothes.. I'm drying my cooch" #BB19 @DawgsBigBrother pic.twitter.com/RRzPoyYVFG

— OnlineBigBrother.com (@bigbspoilers) August 31, 2017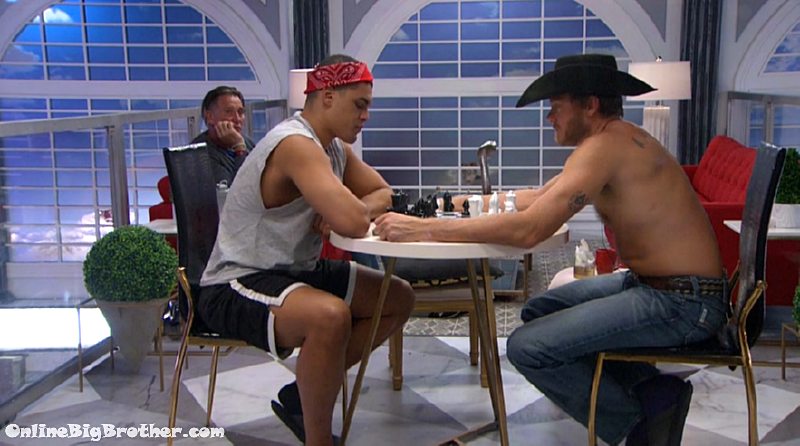 8:40pm
Donations help keep the lights on. If you would like to support the site please consider donating.
Links to the ranking system
Rank your house guests here
For those of you that like Statistics here are some expanded reports.