If you plan on buying anything from Amazon. Use this link Amazon home
Doesn't cost you anything and we get a small cut.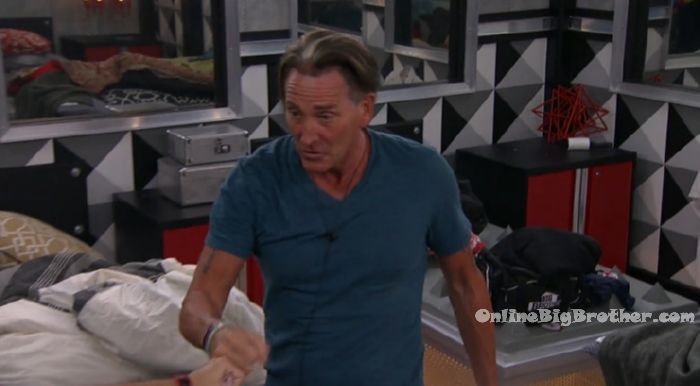 9pm Havenot room. Kevin and Paul.
Kevin – Christmas said it hasn't gone unknown how mean she's been to you. Alex, you know what I mean. Paul – that's what I f**king told you. Kevin – okay, I'll be cool! You got it! I'm going to win the HOH. Paul – don't win this HOH. Kevin – so who wins it, you let Alex win? Paul – she won't win. Kevin – you going to win. Paul nods. Kevin – okay I feel better. I'm going to go to bed. Could you do me a favor? Could you tell them to stop. Josh went and told everyone I won the money (25K). The f**king b***h! I'm a soldier! I'm not afraid of no one! But I ain't kissing Alex's a$$ no more! I'm going to tell her right out though. I'm against you! Do you mind if I do that? Paul – go for it. Kevin – I'm going to tell her right now. Would you tell Josh to be cool? Paul – yes. Kevin – tell him not to take her side. Jason's going to take her side. F**king right, then you win the f**king thing! Alright pal, I got you. I just need a little reassurance. Kevin – he (Josh) was asking me if I won (the 25K). Paul – you've been taking too much. Just be quite. Kevin – then he ran like a little b***h. A little b***H! Tomorrow I'm going to tell her stay away from me! You're a bully! You're the biggest bully in the house. Paul – that's fine. Just don't turn on me. Kevin – I won't. Paul – just go.. Kevin – I'm going to go read the bible like what's her name (Dominique).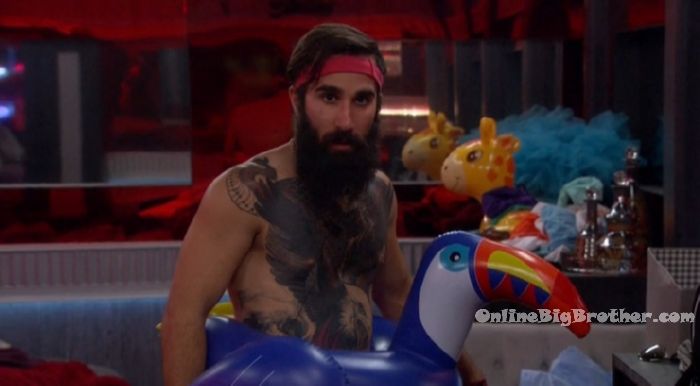 See what they can't show you on TV Try the live feeds for FREE!
9pm Hot Tub. Raven and Christmas.
Christmas – he said something to you? What did he say. Matt – "you wouldn't be talking about me would you Matt! Matt – if I won't to, yeah! Raven – I said to Kevin – I've talked to Matt all day long and you told him you won the 25K. I was like Matt tells me everything! He is my ride or die! He started walking towards me and I was like GET THE F**K AWAY FROM ME AND TAKE 2 STEPS MOTHERF**KING BACK! DO NOT GET CLOSE TO ME! He was like I'm not going to do anything. He said I've got kids your age. Raven – yeah you set a great example. He said all you do is talk! ou haven't done anything in this game. I was like are you kidding me?! What have you done?! He was like that's just fine. Raven – if I was to leave this game I would leave as a social player. Matt said look me in the eye's and tell me. Then Alex said what did you say a Kevin was basically. He was like Matt is buying me anther week. He was like you weren't eve a part of the conversation. I was like Matt tells me everything. He is my ride or die. Raven – I was like you need a time out.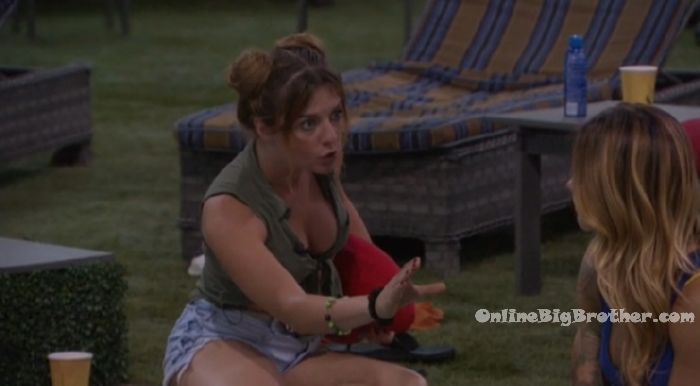 Christmas, Matt, Paul and Raven.
Christmas – all we have to do is get Alex down and Kevin down… if its something that I can do throw it to me because I can take a shot. Raven – I'm going to, 100%! Christmas – Alex, you said you wanted to go on the block this is what you wanted and number 2 is going to be motherf**king Jason. I have more reason than anybody in this f**king game. I'm not talking about my foot I am talking game-wise. Matt – really? Christmas – yes.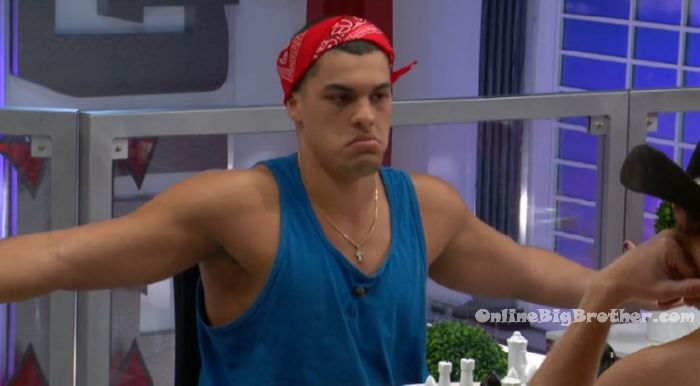 9pm – 9:30pm Josh and Jason are playing chess. Alex watches. Josh – I let my actions speak for themselves so when I call someone out they've got nothing on me. Bring it the f**k on! But I'll point out all the shit that you've done. All the lies, all the people that you've turned your back on. Jason – Matt might have saved me but I still don't have much respect for the dude. Josh – I get it because you haven't had a relationship the whole time. Jason – he might be good son of a b***h but I just don't see it. Josh – but he is more truthful than dumba$$ (Kevin). (Kevin can be heard dragging his feet) Josh – Kevin is f**king petty. Josh – Matt goes this week is good because we haven't had a relationship the whole game. I think Kevin has played a sh!ttier game than Mark if you ask me.
FLASHBACK and watch everything you missed: Live Feed 7 day FREE Trial!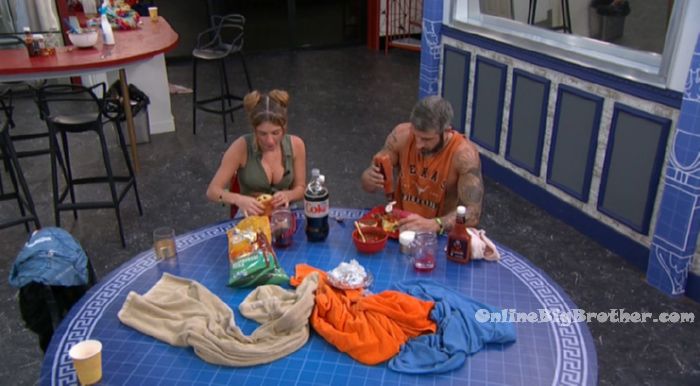 10:15pm Paul to Raven – that Kevin is going after Alex and not her. I am going to tell him that I am going to take a shot and for him to throw it to me and I think he might. Raven – he would, he really does like you.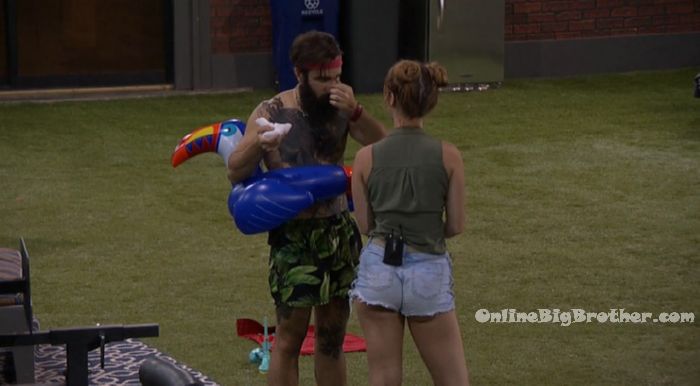 Matt and Raven in the hammock.
Raven and Matt in the hammock. Raven – I'm not going to throw my ride or die under the bus. I'm not like you. That's when you walked out. Matt – I am so glad that people saw that. Raven – at least if I go out next week, I have played a loyal game. Like I will be happy to go to jury knowing I didn't play a game like you did. You (Kevin) have kids the age of Josh, way to set an example. Way to set an example!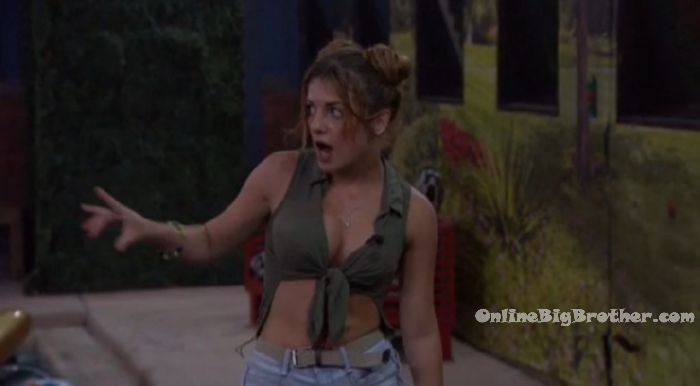 10:33pm Havenot room. Josh and Kevin.
Kevin – don't believe everything you hear. Josh – why don't you talk with her. Kevin – no, not after she made fun of the way I walk. She wrote mission hill sucks. She took my food. She don't talk to me. She said I don't talk to you about game. Every single thing… when does it stop man? Josh – I think have a conversation, not an argument. Kevin – no! Its on her, its on me.. we'll see who goes. Why does she treat me like that?! Josh – just have a conversation. Do you want me to pull Paul in here. Everyone isn't against me. Josh – when you watch it back you will see I've never been against you. Kevin – I've never been against you and I will never vote against you and that's my word. And f**king Matt's a liar. Josh – people have said you wanted me on the block. Kevin – never! I never controlled the block, how an I going to put you up there. Kevin – Matt wants to save his girlfriend. Josh – yesterday really messed me up. I've been threatened 4 times in this house. Kevin – I came and said sorry to you. Josh – it doesn't instantly fix everything. Josh – you whispered to me that you won the 25k. Kevin – I thought you told me. Josh – I never even pushed the button! Kevin – are you just going to let someone win the game and we sit back and do nothing. Josh – I think if you own up to some of the things that you've done I thin it will make things better. Kevin – they're coming at me because I'm the oldest. I don't care if I go out next Thursday.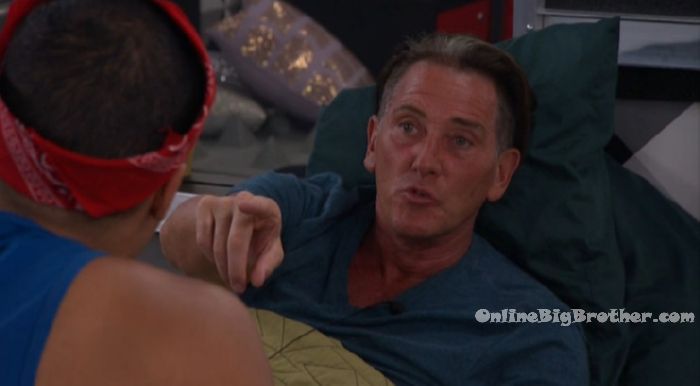 10:35pm HOH room Paul and Jason.
Paul and Jason. Paul – he is kind of a d**k! Jason – and the way be mean mugged me when he came back out. I was like dude you're barking up the wrong f**king tree. You know why I am so much more relaxed!? Paul – because you don't have to worry about it anymore. The cat is out of the bag. Jason – I told him (Kevin) that if you ever sh*t on Alex I am going to have to break the tie. I've been torn. Paul – I was f**king telling you. Jason – I can just hang out beside him tomorrow and say now I know you're a counterfeit bastard … we can just lift weights, work out and play pool and I don't have to worry about what people are saying. You're going home ASAP!
FLASHBACK and watch everything you missed: Live Feed 7 day FREE Trial!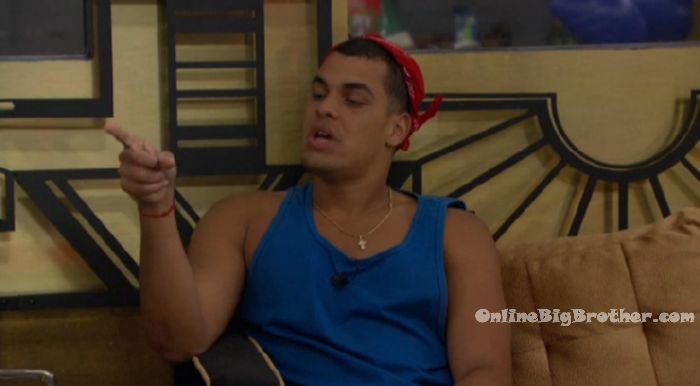 Paul – I don't know why he would sh*t the bed like that. Like if you have a good thing going on, why would you do that. We're all expendable in his eyes. And saying that Alex is a puppet master and that you're just f**king listening to sh*t she says. That doesn't help you because if you were to go to the end he is pretty much arguing against you. Its horse sh*t honestly. Jason – I do my own stuff. But its just like at your job you have to have someone that knows what is going on and then you have to have people that execute. You can't do this on your own. Paul – Kevin really did sh*t the bed here. Josh joins them. He tells them about his conversation with Kevin. Alex and Josh join them. Alex – if he (Kevin) wins America's Favorite I am going to kick him in the balls. Paul – I honestly think that this motherf**ker (Josh) is going to get it. Josh – I think Jason is going to get it. You're entertaining and you're having a baby. Jason – if that motherf**ker wins on Thursday I will sh*t the bed. If Raven wins on Thursday I will sh*t the bed.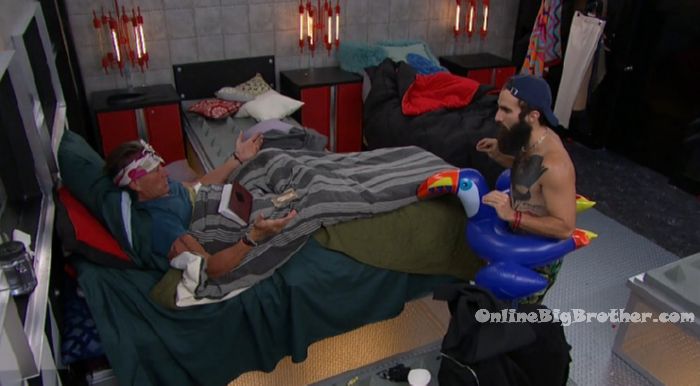 11:05pm Havenot room. Paul and Kevin.
Paul – no one knows about this. I just need to do what I need to do. Don't blow up my spot. Just lay low. If I don't talk to you, just know I am doing what I need to do. There are certain things that you need to SHHHHhh. Paul leaves.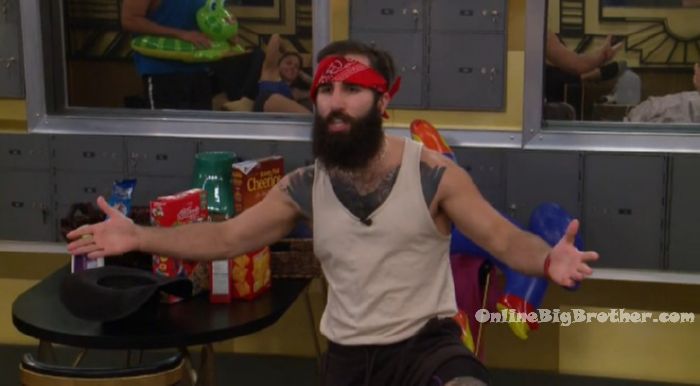 11:40pm Paul impersonates Josh and all the fights he's been in.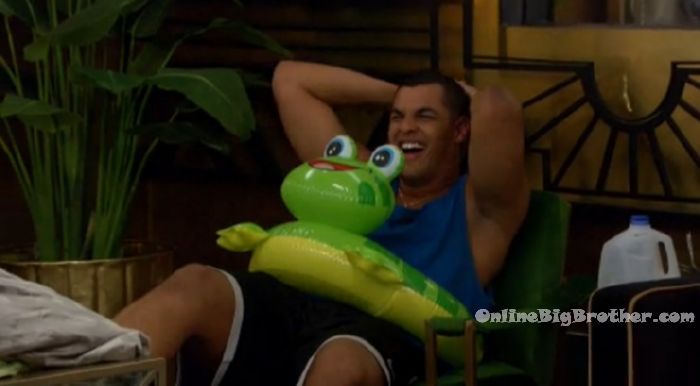 12:05pm Hammock. Paul, Raven and Matt.
Kevin basically said we can all just band together against Jason and Alex. But Josh went and told that to Jason and Alex immediately. Like Kevin just said this so f**k him. So now they're like.. Kevin needs to go right now whether you win or we win it doesn't matter. Kevin's go to f**king go! They're heated. They're sh*tting. I want to go do there and dot his f**king eyes! Matt – this is perfect. Paul – f**king boys! They are under the impression that we are all fine and we're just going to go after Kevin. Even if Kevin wins by luck or whatever he would put them up. Raven –
would he really? Paul – probably not but he isn't going to win. Matt – even that he's putting that out in the universe is amazing. Matt – I can't believe I am going to miss Christmas putting up Jason and Alex.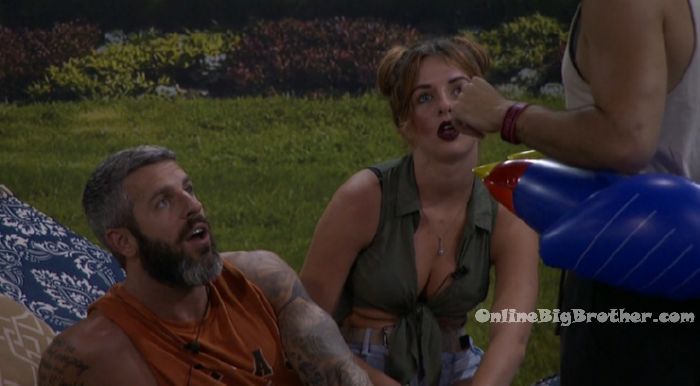 1:10am HOH room chatting about random things. Matt and Raven in the hot tub.

2am – 2:30am HOH room. Paul, Josh and Christmas.
Paul – we keep damage controlling Kevin and keep him in our pockets. I'm like don't f**king talk to me. Sleep Kevin. Sleep for two weeks. Go the f**k away. Christmas – he won't. He will start running his f**king mouth. I told Josh to try, try for HOH. Paul – not for this week though. Tell him not to because he'll put up Raven. Tell him – Throw it to me or Paul. I am going to tell him the same thing too. I'll spend some time with Alex. Game talking. I will ask her how she feels about Josh and Christmas. Josh – ALex and Jason think that they can beat us. Christmas – we need to win HOH otherwise it shifts things. Paul – you guys have to win or I'll have to and then I'll get clipped at 6 or 5. You need to pull your weight. We need to convince Kevin to drop out right way. So have that conversation with him. They head downstairs to get ready for bed.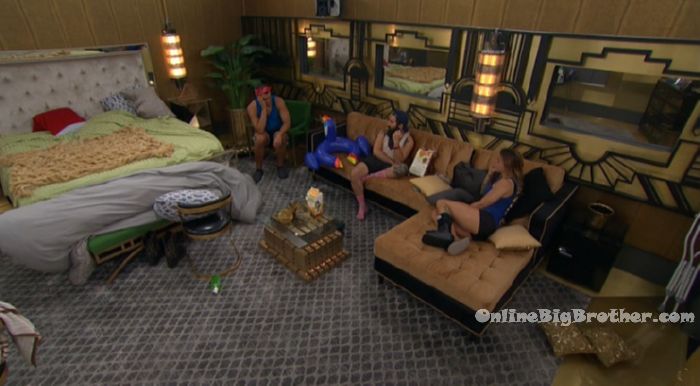 2:20am Matt and Raven heavy breathing and moaning. Matt – give it to me. Give it to me! Raven – oh sh*t! Oh god! oh f**k!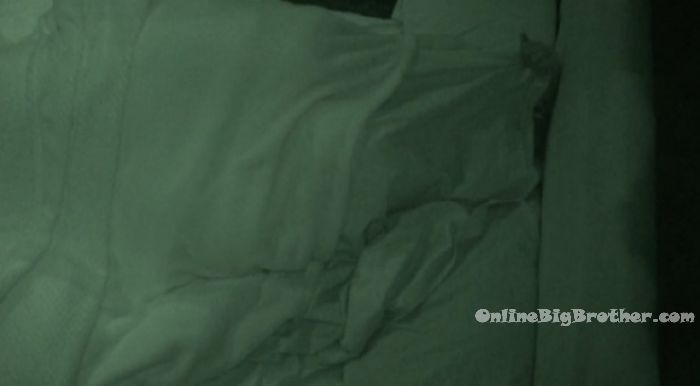 3:10am All the house guests are sleeping..
Donations help keep the lights on. If you would like to support the site please consider donating.
Links to the ranking system
Rank your house guests here
For those of you that like Statistics here are some expanded reports.