Head of Household Winner – Christmas
Have nots – No havenots this week
Nominations – Bay & DaVonne
Power of Veto Players are – Christmas, Bayleigh, Da'Vonne, Nicole, Ian and Dani.
POV Host: – David
Power of Veto holder – Christmas
Power of Veto Ceremony – Veto not used.
Powers – Christmas, Dani, David
Live feeds —-> Grab your Live feeds here. Try it free.
Rank the houseguests —-> Big Brother 22 Ranking
Veto Results:
– Christmas Won the Veto
– Dani won the Home Gym
– Day won the 5K
– Nicole got the Slop-tard punishment
– Bay has to do 500 laps riding a tricycle on a track
– Ian didn't feel well so he didn't play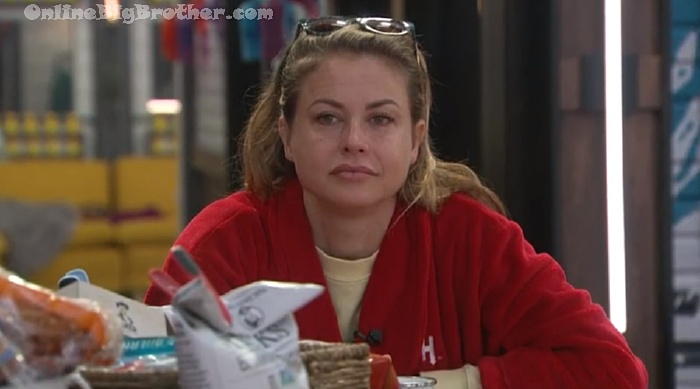 10:21 am Christmas and Memphis talking about Patrick Swayze.
(a favorite topic for Memphis)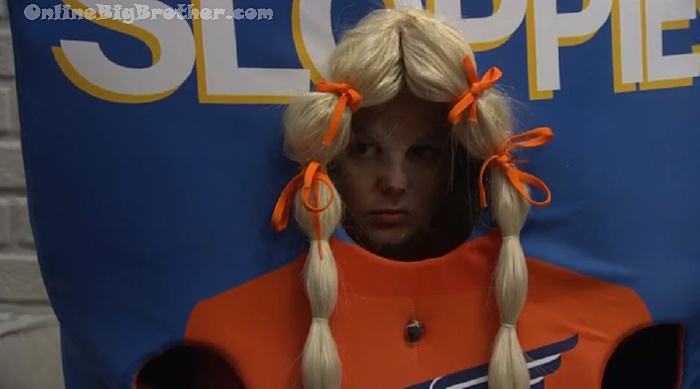 10:23 am Dani and Nicole
Nicole going on about not being part of any drama.
Dani – David's getting really close to the guys. He stayed up all night. We have to really watch the guys. I'm not about to get taken out by a freaking frat.
Dani – there's only 4 of us left.. I don't even know who my target is now that I've squashed it with Tyler
Dani – Kevin, David or Ian
Nicole – I would put up two guys.. I want Kevin out But if he won Veto I wouldn't know who to put up
Dani – David.. would try to backdoor Tyler to get a good player out
Nicole – probably not. that would be really bad. I feel like Cody would be pissed
Dani – who else.. you're not doing Christmas, Cody, Enzo so the only one are Memphis and Tyler
Nicole – is that it? I don't know what I'll do
Dani – Kevin would put up you and Cody. Is David still going after Memphis
Nicole – Maybe not he might put up Christmas and someone else.
Dani – maybe Christmas and Memphis. I would be fine with that
Nicole hopes she can whine enough to Da'Vonne to get Kevin to not put her up.
Dani says Kevin is just looking for someone to tell him what to do
11:01 am Christmas waiting around to give her stupid untouchable excuse to whoever walks by.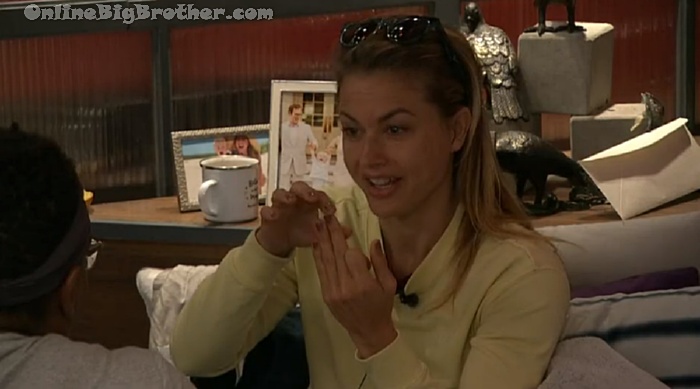 11:25 am Christmas and David
David was that your move or the best move that others needed at the time.
Christmas says Day/Bay never talked to her to work with her or came to her with an alliance.
Christmas says he never came to them to talk game Day/BAy only came to her "she asked me who mu untouchable is.. that's pretty bold.. that's like asking who is your final 2. It caught me of guard. I was taken a back. I don't have a untouchable in this house. "
Christmas – personally I f**Ing love Bayleigh
Christmas going on about "untouchable" and how she was never a part of what Bayleigh/Da'Vonne have. Adds that they only came to talk to her to work together after she won the HOH.
Christmas – Bayleigh came and volunteered information about who her untouchable was.. Da'Vonne is up there because she is Bayleigh's untouchable
Christmas – Da'Vonne is Bayleigh's casualty.
Christmas – If bayleigh wanted to save Da'Vonne she shouldn't have taken the veto from her it's cut and dry
Christmas – I heard a comment last night that I don't even want to repeat because for that to even be a thought completely…
David – I don't know the comment.
Christmas – I don't want to say it you went from not understanding a game move to making it personal to making it viciously personally attack against me.
feeds switch ..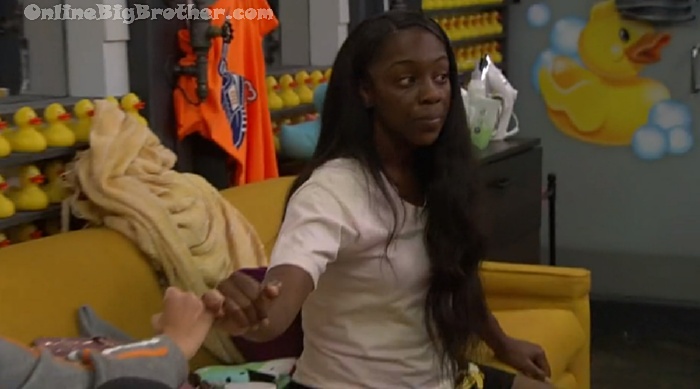 11:47 am Dani and Da'Vonne
Da'Vonne says she thought Tyler was lying about quitting until she heard "for a higher purpose I am your ally for the Black lives Matter movement"
Da'Vonne – so when he said that piece that made me believe it who would use that for game play
Dani – you would be disgusting
Da'Vonne – I'm on the block right now Dani so this cannot get back
they pinky swear.
Da'Vonne says Tyler told them he tried to get them against Dani and Dani against them. Da'Vonne adds that Tyler told them the truth is when Dani said she wanted to get them out that wasn't a lie
Dani – oh my god.. Da'Vonne, I swear on everything and you will see I never ever ..
Da'Vonne – I didn't bit into it.
Dani says Tyler has to go.
feed goes to stars all the time.. when we're back
Dani says she's just wants to clear her name because Tyler has been going around spreading lies.
Dani suggests that maybe Christmas is scared of the guys that is why she didn't put Tyler up
Da'Vonne – she had a gift handed to her and she threw it to the side for no reason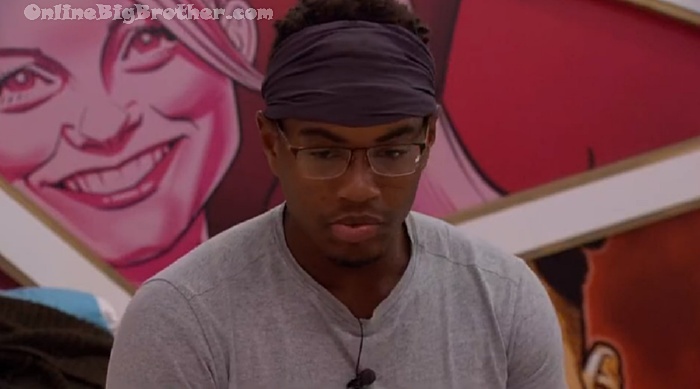 12:55 pm David and Kevin
Kevin – how do you think the votes are going to go
David – I dunno, I feel like people want bayleigh out. They are going to use that on Da'Vonne so Da'Vonne is angry at me when she stays
Kevin – what
David says he wants Bayleigh to stay because she can win a competition he wants to say that but. "stating that or trying to flip it gets back to Day so Day can be angry at me coming back.. Creates tension"
Kevin – let Day know that.. .. Let them think there's tension that's good.
David – did you see the meeting they had this morning in the love room, Nicole, Dani and Cody. Early.
David says Nicole told him they were sleeping he knew they were strategising.
Daivd says he talked to Christmas and told her the house is laughing at the 3 of them fighting (Xmas, Da, Bay)
David – you got played.. I don't know if she will take it that way I don't know if she's working with them. I was like YO theres people in other rooms laughing while you are crying after what you did
David – you did what other people wanted and they are laughing at you.. So I planted that seed
Kevin – that as a good move
David says they have to break that four up "If Memphis wins I know he will put me and you up"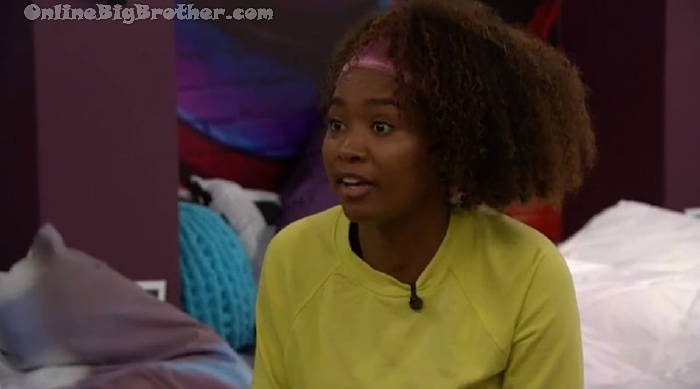 1:16 pm Bayleigh and David
Bayleigh – what I told the group last night because you went to sleep it was me, Enzo, Kevin and Day
Bayleigh – before this takes place we need to chat we need to make a decision (on the vote) everyone needs to vote that way so they don't have it all split teh way they want.
Bayleigh – we need to figure this sh1t out then we need to GO, Enzo said he's down he's sick of this sh1t. Kevin still thinks.. it's a work in progress with Kevin he still thinks we should be really nice. I'm like no kevin
David – stop
Bayleigh – we need to go
David – yeah they are having open meetings in the rooms openly
Bayleigh – or else nothing is going to change
Bayleigh – it's going to be a war
Bayleigh – I do feel bad for Christmas thought I'm sorry she feels that way
David – she got set up. As much as they want you, Day and Christmas to be like this (At odds) the harder its going to be.
David says Christmas is 6th "at best" in the pecking order of the other side
Bayleigh – they used her as a distraction
David says he was trying to explain to Christmas. "I planted the seed, I don't know if she is going to take it that way I said YO. Who's crying right now? you are who's chillin?
DAvid – "who's crying right now the three of you who's chillin and laughing having a good time in the house look at it. "
David says every week once HOH is won "they" meet and figure out their strategy then they go off plant seeds and make moves (the other side)
David – I told Enzo and he was like OHH sh1t it's those four making moves
Bayleigh – he wasn't invited in
David – Tyler wasn't invited in I don't know where he stands
Bayleigh says Tyler is with Dani he doesn't have to be invited in.
(David's four is Memphis or Ian?, Dani, Nicole and Cody)
Bayleigh – Enzo doesn't have to be invited in because it's him and Cody
Bayleigh says on Wednesday her and Day are going to talk and upload all the information they have from the game to each other.
David says she needs to go to Tyler shed some tears "tell him you love him.. tell him you love him.. tell him you love him"
Bayleigh – stop repeating that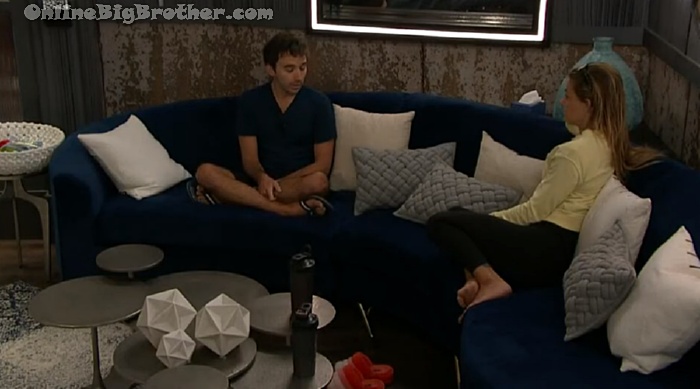 2:00 pm Christmas and Ian
Christmas going on about "untouchable"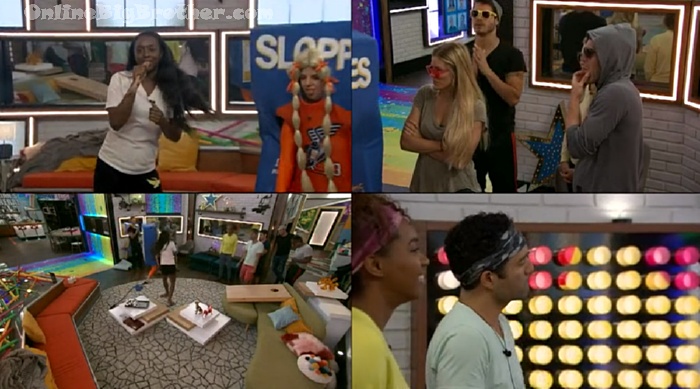 2:35 pm feeds are fun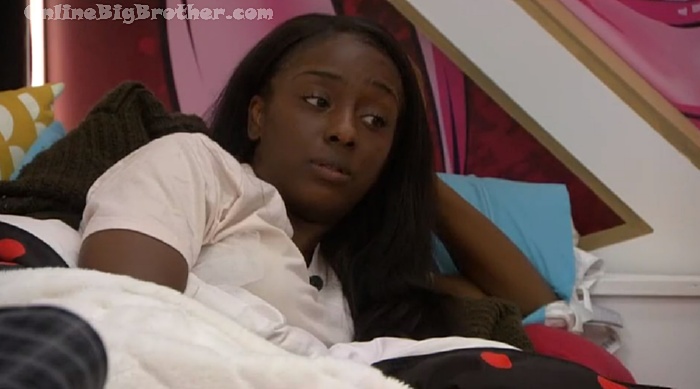 3:22 pm Da'Vonne and David
Da'Vonne – how do you feel about Enzo
David – good
Da'Vonne says whoever survives this week they need to link up with Enzo.
Da'Vonne asks what the odds are of them pulling in Ian
David – I've been poking and testing and what I see is him circling back
David saying this morning the four of them had a meeting, Dani, Ian, Cody and Nicole.
David fills Day in on his "Planting seeds" from earlier today with Christmas.
(David is trying to save Bayleigh because they need someone that can win Competitions)
David says they want them to go after Christmas it's a distraction.
4:00 pm have nots Day and Bay
They're talking about the two of them "can't even be friends in public" or they're targeted but the other people in the house "can have entire meetings in public"
Day – I hate this game sometimes.. I hate it so much.. Enzo is opening his eyes a lot more he's still very sensitive to Cody
Bay – of course he is
Day – how much more does he need unless he's 5th wheeling and we don't know
Bay – he's sixth wheeling it wouldn't be 5th
Day – I told Enzo last night I'm scared you'll get your feelings hurt.
Bay – it's going to be a house full of boys
Day – people are going to be mad at me. If I win HOH I'm going to be shooting I don't care I have nothing left to lose.
Day – I have to shot
Bay – you should
Day – I'm saying it because I thought you were going to talk me out of it
they laugh
Bay – shoot, It's not too soon
Day – it's time to shoot..
Bay – blow that sh1t up all of it..
Day says it'll be endurance "that dumb a$$ wall"
Comparing notes about what David has been saying.
Day – why does he want you to tell Tyler you love him
Bayleigh says David repeating himself 3 times about the I love you was "very very weird crossing creepy"
Bay – he said it aggressive
Day – he's got a power he came to me all slick earlier I was like Hey were have you been and he was like Minding my business..
Bay – I asked him what are you eating he said food..
Bay says Cody and David were up in the HOH for awhile talking.
Day brings up David saying to her "I want you to know i had a conversation with Tyler and I'm campaigning to him to vote for Bayleigh. I'm planting the seed so if Tyler goes back to them and they come back to you. I'm telling you now I'm planting the seed"
Bay – he told me his campaigning to keep me was, 'I'm mentally unstable I am bound to snap and I've already been having psychological breakdowns"
Day – Bayeligh shut up
Bay – I promise you ..
Day – that's what he's been telling people? Does he not know that's the reason some people want you to go?
Bay – Day, this is what I mean
Day – that's literally verbatim to what Christmas was saying
Day – I'm so confused.. who picked him?
Bay – umm rosemary
Feeds cut .. Rosemary is someone in casting.. When we're back they're going on baffled about what David said.
Day – that's weird as f*** you have to tell him to stop saying that to people
Day – Tyler really ain't sh1t
Day brings up her conversation with Dani earlier today.
Day – she said I swear Da'Vonne I promise you he's (Tyler) a liar.
Day – I fee like he's trying to do Dan like tricks.
Bay – it's Dan's funeral.
Day -he's doing it wrong
Bay – at the end of the game when everyone was asking my opinion weather Tyler should win.. Tyler maneuvered through so much he blah blah blah but he set himself.
Bay explains that he got himself out of a lot of sh1t but also was responsible for getting into the sh1t in the first place. "He wouldn't have to get out of all that mess if he didn't get himself in it in the first place"
Day – he was working overtime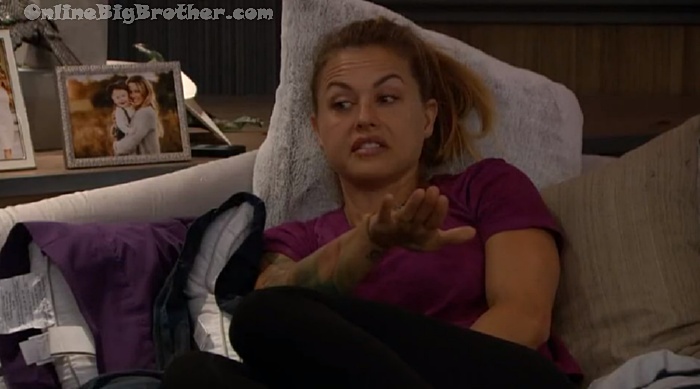 4:43 pm Enzo and Shitzmas
Christmas says the fact she "got to that level" last night was surprising to her (WTF )
Christmas – if this week is a double eviction our approach should be whoever .. first person you nominate is the one you really want the second on is the second option .. We can't be putting up f**ing pawn.
Christmas – if first option wins veto whoever goes up next is gone.. the replacement isn't going home
Enzo – that's a good rule..
Christmas – I want to win the next one and be right up here and let everyone know I don't give a f** I had a hard a$$ week I did a lot of shit that people didn't have the balls to do and I'll do it again
Christmas – I ripped that bandage off I've done the worst that I have to do this was the hardest one that I'll have to come into contact with
Enzo says he's happy he won the HOH it was a good learning experience.
Enzo – you want me to vote Bayleigh out?
Christmas – for sure
Christmas goes on about Bay/Day saying Christmas was being personal. Denise it says it was just game.
Christmas says bay and Day are both Forwardly emotional players
Enzo – you just better hope she doesn't win HOH
Christmas – she won't are you kidding me?
Enzo – yeah
Christmas – Bayleigh took the f***ing veto from Da'Vonne..
Christmas says that DA'Vonne was telling her how Bay wasn't her girl anymore than last night "She attacks me on Bayleigh's behalf.. they say things like ohh girl you're my duo, you're my queen, you're my final 2.. "
Christmas impersonating Bay/Day ends feeds flip to David talking to Ian. when we're back
Christmas is saying that Da'Vonne won't nominate her she'll try to backdoor her because Christmas is "too much of a comp threat"
~5:42 pm (feeds are cutting to stars way a lot)
Later Enzo asks her again who will Da'Vonne go after. Christmas says she'll go after her and Tyler will be the second choice.
Christmas – she thinks Ian is my plus one.. my untouchable so he'll be up there
Christmas – she would backdoor me
Enzo – that's what you said before
Christmas – she's not good at the vetos..
Christmas says Da'Vonne will put up Tyler or another strong player because they would have a good chance to win the Veto and use it.
Christmas – she will pick a very popular person and a very strong player. that's what I would do.. then I would backdoor me.
Christmas – the girls kept trying to get me to say they're safe.. It's not my fault you didn't put up safety barriers for your game and now you're mad at me when you're on the block for playing loose.
Christmas – they didn't even come in here and negotiated anything
Enzo says he's telling the girls "I'll vote with the house"
Christmas – they kept asking for stuff.. I said thats against the rules.. they asked three different times to bend rules.. I was like NO .. Da'Vonne you know this. (Shitzmas is a special kinda worst)
Enzo – they thought you were going to use it
Christmas – I never told them I was going to
Christmas says Ian is Chill right now wonders if he's on medicine.
Christmas complaining about Da'Vonne being the type of person that walks by you doesn't look you in the eye but gives out a "mmmmmhmmmm" she calls it passive aggro
Christmas says she won't engage anyone like she did last night.
(All feeds have been on these two)
Sh1tmas – the way I want to play is I want help people do better in their game. I want to do better than them. I want the best of the best of the best ..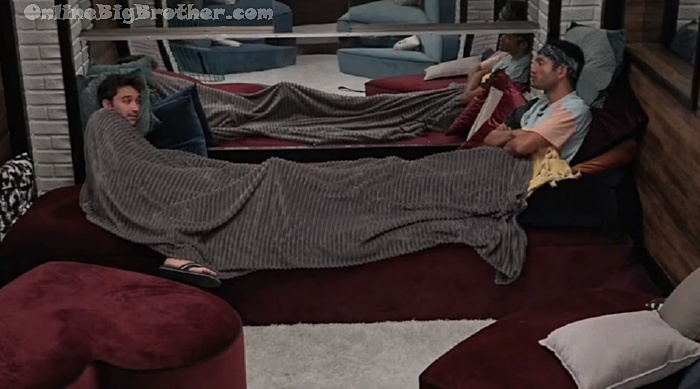 6:00 pm Ian and Kevin
Ian – I'm gunning for HOH I'm gunning hard .. If it's endurance I'm pissing myself out there..
Kevin – me and you
Ian – this is a must at this point I need to win
Feeds come back 6:14 pm.
Ian – look on the brights side.. I'm not nominated not packing stuff up.. Thursday we got a game.
Ian – it's going to be endurance. wouldn't have lost the yard that early. If we're spinning on something there's a 100% chance I move into that room (HOH)
Ian – if we're leaning on a wall there's a very good chance i'm moving upstairs into that room
Kevin – who do you think the house will nominate next week
Ian – the house.. meaning? it totally depends on who gets it
Kevin – the house who has power
Ian – seems like someone has made a lot of noise lately.. that's a bit of a guess. If my name has been floated around I have to imagine my name is in the mix..
Ian – to win this game I'm going to have to be nominated at some point.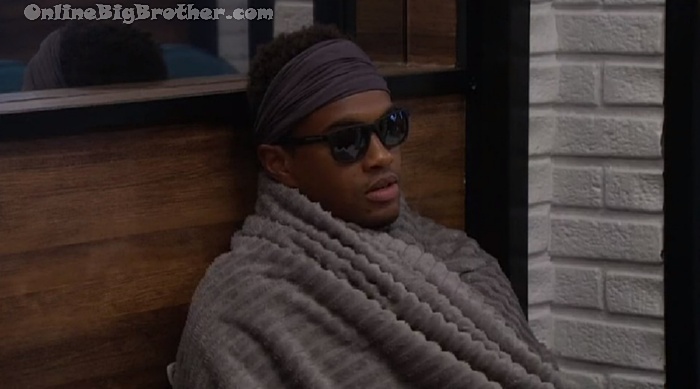 David joins them.. Chit chat..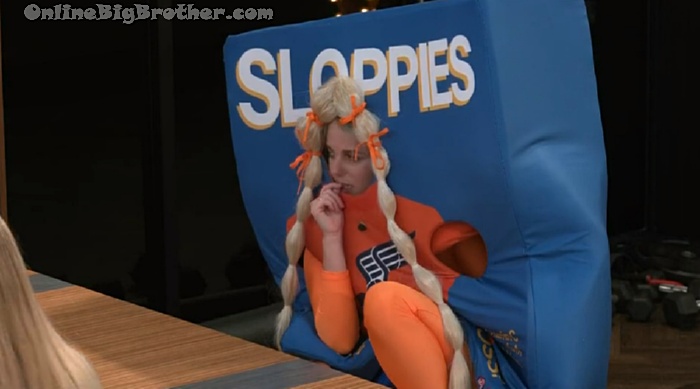 6:34 pm Chit chat in the kitchen.
6:43 pm David explaining a person eating a tarantula on YouTube
David reenacts a YouTube video of a man eating a tarantula "For Views" #BB22 pic.twitter.com/NVklTGsTLy

— OnlineBigBrother.com (@bigbspoilers) September 9, 2020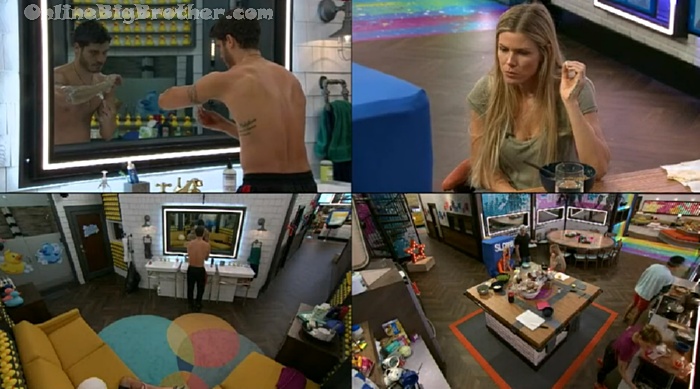 feeds on fire.. Cody shaving his forearms..