Head of Household Winner – Christmas
Have nots – No havenots this week
Nominations – Bay & DaVonne
Power of Veto Players are – Christmas, Bayleigh, Da'Vonne, Nicole, Ian and Dani.
POV Host: – David
Power of Veto holder – Christmas
Power of Veto Ceremony – Veto not used.
Powers – Christmas, Dani, David
Live feeds —-> Grab your Live feeds here. Try it free.
Rank the houseguests —-> Big Brother 22 Ranking
Veto Results:
– Christmas Won the Veto
– Dani won the Home Gym
– Day won the 5K
– Nicole got the Slop-tard punishment
– Bay has to do 500 laps riding a tricycle on a track
– Ian didn't feel well so he didn't play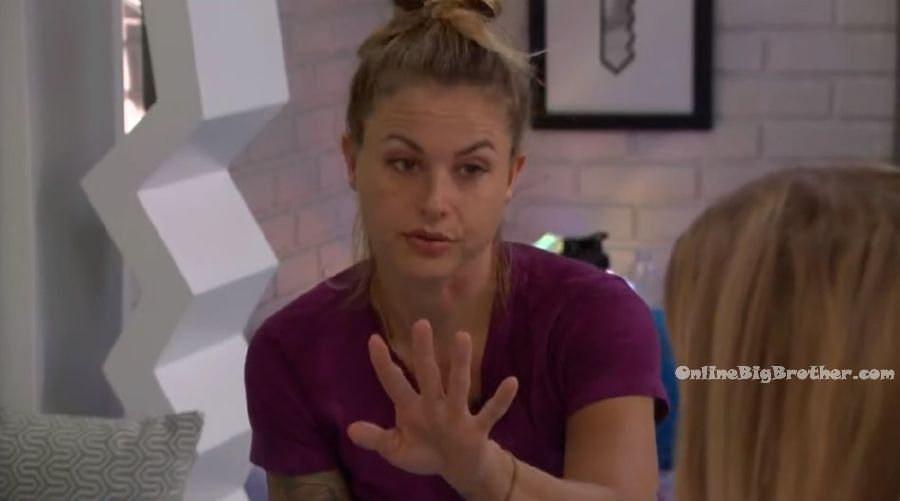 7:30pm Bedroom. Christmas, Dani and Nicole.
Dani – have you talked to them? (Bay and Day) Christmas – They won't even look at me. Like that is not my place to approach. They let me know what they want me to hear though. Like when they want me to hear something they start talking loud when they know I'm in the other room. Like I don't do well with that kind of passive aggressive and like yesterday was my fault for not removing myself before it exploded. I should have just don't that. I know better. I just haven't been to that point in so long and I didn't recognize that I was there and like the double whammy. Nicole – did they try to say stuff to you today? Christmas – no. I heard last night. And then like .. yeah today too. Did Day talk to you two about? Dani – the situation? Christmas – what we had talked about upstairs? Dani – about the girls thing (Alliance)? She was just upset about everything last night. She didn't bring that up to me. Nicole – I barely talk to her. Dani – she is just upset about the situation and how she was trying to stay calm. Christmas – I don't understand what is upsetting to her. Dani – just how it all played out. Christmas – I still don't get it because their thing with Tyler .. is not my responsibility. I never agreed to that (putting up Tyler) and I never told them that they were safe. They never asked me to be in an alliance or that she wanted to work with me. I felt like it was a little bit of a set up. They're upset but I didn't mislead them in any way. Three times this week, Bay said to me that she understands and its just game. Then as soon as I didn't use the veto .. suddenly its personal. I am not okay with that. Tyler was doing it .. I know he wanted to go home but he was also doing it to mend fences with Bay. Nicole – I think it was strategy. Dani – he has actually talked multiple times to leave leave though and they wouldn't let him. Big Brother blocks the feeds. Christmas – I am the new Tyler for Bayleigh and I also can't say that you are literally targeting my alliance because she was coming after you (Dani). She was going to put you up. Dani – yeah, 100%! Christmas – and Day would have done the same thing. Nicole – I feel bad that Tyler is so sad because I really like him. Like I hope he can get through it. Christmas – I say look, no offense but you signed up for this.. Big Brother switches the feeds. Christmas – And like I am three months away from my kid. I know he misses his girlfriend but she is going to be there when he gets out.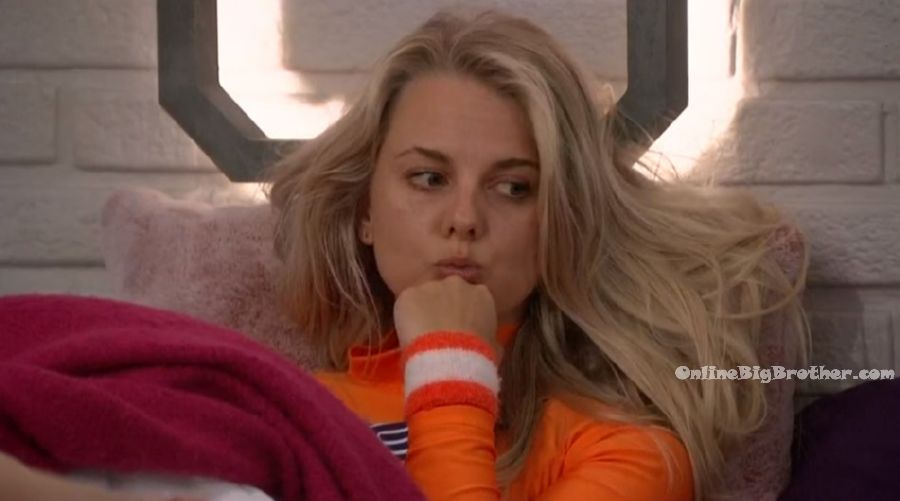 8:30pm Cody and Enzo.
Cody – Yo, last night you were talking in front of Kevin like you knew Day was staying already. I was about to be like SHUT THE F**K UP! Enzo – when? What did I say? Cody – you were like It would be amazing if Day would win the HOH next week and puts up Christmas. Enzo – I said that in front of Kevin? Cody – yeah. Enzo – I apologize for that. Dani joins them. Cody – I am going to put up Kevin and David and see where that goes. What are you going to do? Dani – honestly I don't know yet. Enso – who do you want out more? Cody – Kevin. Enzo – don't you think David is the better player. Cody – No I think Kevin has a power. Cody – what are you going to do? Enzo – go after the other side of the. Dani -who is your end goal? Enzo – what do you mean? Dani – who do you want to go out next. Enzo – Everybody. I feel like we're all in good spots. Cody – lets all throw it and see what happen.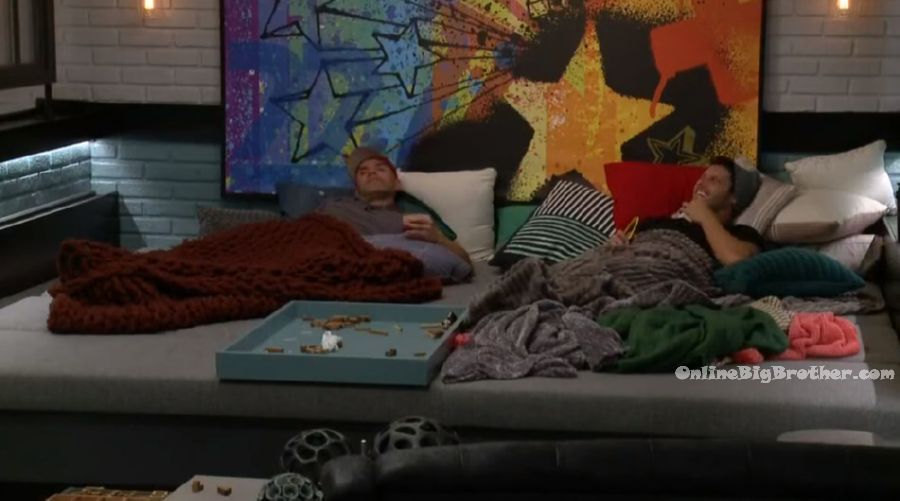 9:30pm – 9:45pm After coming out of the diary room Cody looks like he's about to cry .. Tyler asks Cody what is wrong. Cody – my grandfather passed away. I don't want to make it a big deal. Tyler – I am sorry. Love you. Cody – love you too. Thanks bro! Tyler – do you want to talk about it? Cody – no, not really right now. I appreciate it. Don't worry about it.. I would rather just be in here. Tyler asks if he wants him to tell the others. Cody says yes. Tyler tells the other house guests and they each come by his bed to say they're sorry.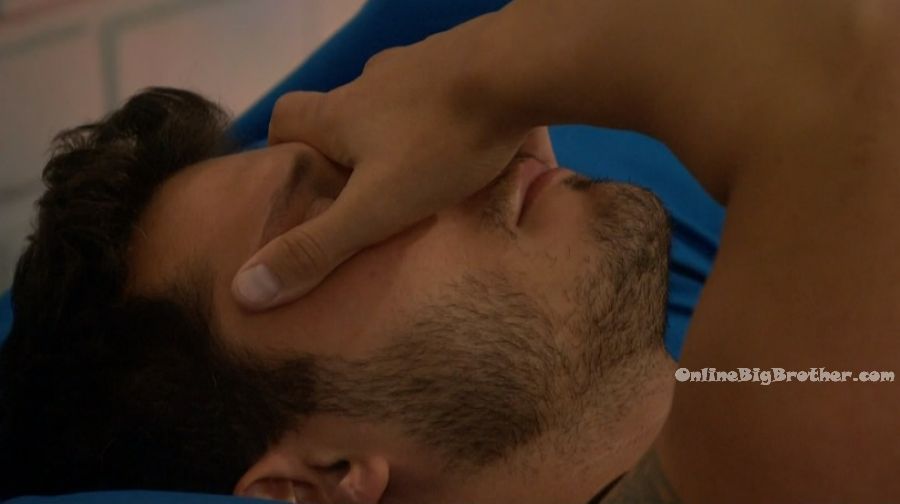 10:30pm Its a quiet evening in the house tonight..
10:40pm – 10:50pm
Kitchen. Dani and Tyler tell Cody they're making froot loop art for him.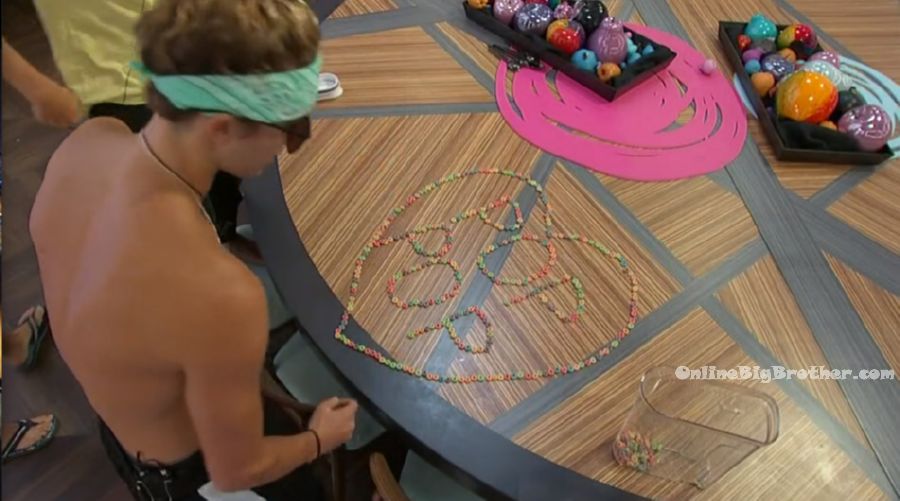 10:53pm Bathroom. Ian and Day
Ian – I'm 65% on keeping you. Day – I dropped a point, what happened? Yesterday you said 66%. Ian – well the compaigning has been good. Day – well I pull you tomorrow but not after tonight. Ian – kind of puts the kibosh on it for awhile.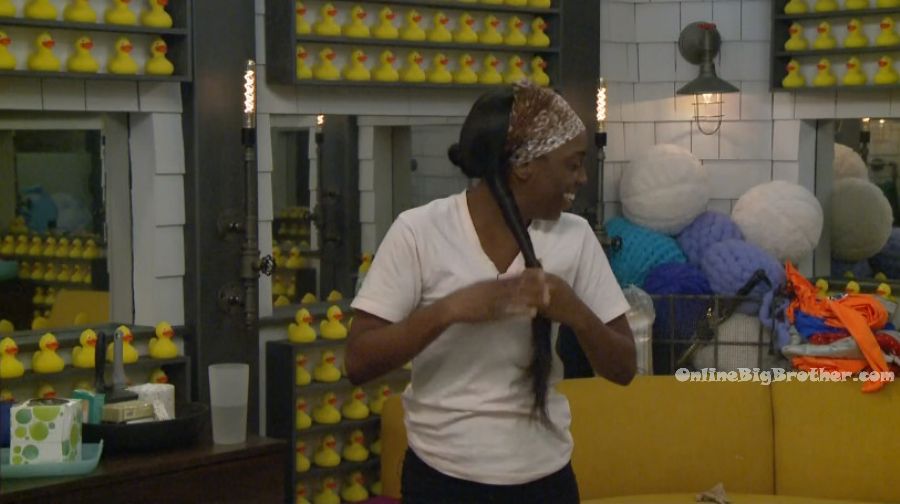 8:30 am Houseguests are waking up..
Show your support by making a donation.
If you're enjoying our live feed updates this season, please consider donating.
Any amount is greatly appreciated! Your donations go directly to paying the fees required to run this site.