POV Holder:
?
POV Competition
Aug 15th
POV Used
?
POV Ceremony
Aug 10th
HOH
Liz
Next HOH
Aug 17th
Original Nominations:
Johnny Mac and Becky
After POV Nominations:
? and ?
Have Nots
Vanessa, Johnny Mac, Steve
4:39pm HOH Vanessa, Austin and Steve
Talking about Jmac transforming into a 'Death Metal guy" (This seems to be Vanessa's new angle)
They are talking about keeping Jmac this week and get rid of Becky. Vanessa and Steve are really supporting this lien of thinking.
4:44pm bathroom Austin and power house Meg
Meg says that Jmac caught Vanessa in a big lie.
Meg – He's worried that you are very connected to her (Vanessa)
Austin says Jmac should pick james to play POV
Austin – Steve won't use it (POV).. He's got too much blood on his hands
4:51pm HOH Austin and Liz
Austin – Did Meg talk to you
Liz – ya
Austin – that's good that's really good
liz – I like her
Austin – it's beautiful what's happening, you looked so pretty during the speech today
Liz complains that her speech sucked
Austin – that's all that matters you looked pretty
Julia joins them warns them that Steve and Jamc are playing chess
Austin tells them that Steve and Vanessa are trying to smooth things over with Johnnyamc
Liz – No
Austin – we need to talk to Steve and tell him about what Vanessa is doing
Austin – we need to talk to steve about what we found out about Vanessa
Austin says there is a risk with Steve he can't tell if he's closer to Vanessa or them
The twins think Steve is closer to them
Austin – if we told Steve our worries about Vanessa will he tell Vanessa
The twins "hmm" and "ummm" they say they don't know
Austin warns them they have to watch out about their Vanessa suspicions because if they tell enough people it will get out and if Vanessa wins HOH they'll be targets.
Austin – you guys want to keep Johnnymac really
Austin – If I was HOH i would consider backdooring Vanessa this week I am so pissed at her
the twins tell her theres too many people in the house to get rid of Vanessa right now
Julia says she would prefer Becky out this week
Austin – how did you switch, We all said we wanted Johnny Mac out
Julia says they should wait until after the POV to decide what to do
Austin instructs them to keep "secure" with both Becky and Jmac until after the POV.
Austin says there is some twist with Johnnymac because he's called into the Diary room so much.
The twins don't want to get Vanessa out next week. Austin now agreeing they talk about getting rid of Becky or Johnnymac whoever is left.
Austin says Vanessa has no social game she just really good at manipulating people. He adds throughout the week Vanessa is going to get more sketched out because they are hanging out with the goblins.
Julia leaves Austin and liz start to snuggle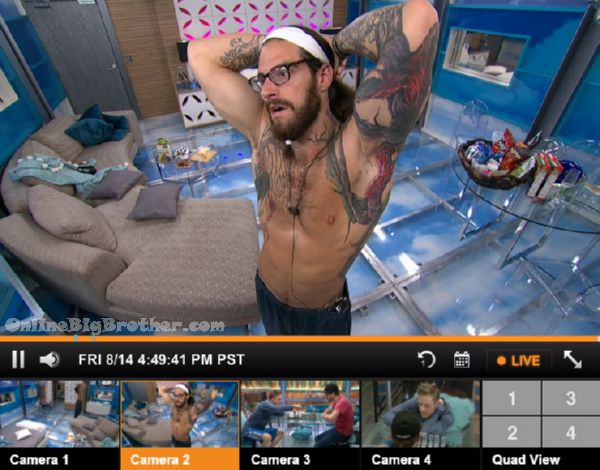 5:15pm HOH Liz and Austin
Liz – between you and me I'm done with Vanessa
Liz brings up how Shocked julia is that Vanessa has been lying to her so much
Austin – Becky was right about her last week.. she had the whole layout..
Austin and Liz are both very sketched out by Vanessa.
They start talking about Vanessa's game and how she has nobody in the house she can really trust. Liz thinks this is her own doing. explains Vanessa could have easily teamed up with Becky but instead she teamed up with Shelli who was always with Clay.
[envira-gallery id="128398″]
5:26pm Jmac joins them says Steve beat him
Austin – he's very sneaky
Liz – down to the brass tacks.. I hope you are not mad at me for the have nots obviously i'm not puttin guys my sister.. we're working through the rotating
Austin – Meg and James already did it and Becky can't do it./
Austin – there's been a lot of weird sh1t with Vanessa .. I know a lot people think we're close but we're not
Austin – We've been in too deep for too long and we don't know how to get out of it
Austin – Dude I trust you
Jmac – Vanessa has been sinking a lot of ships
Jmac talks about Vanessa being the one that outed the 8 person alliance. He goes on to explain the fight with Clay two week ago. It all started after he told Clay about not trusting Vanessa and Shelli.
Jmac – everyone loves Vanessa
Austin – no they don't
Liz – they don't
Austin – we're learning a lot about Vanessa
Jmac- she keeps coming to me about a deal
Jmac brings up Vanessa swearing on her mother on things she lied about.
Austin – We don't want you to go home
Jmac- I've been after Vanessa for awhile
Jmac says if he had won the HOH during double eviction he would have taken Vanessa out "I would have had to put up one from each side"
Austin – To target her now it will be really hard for us
Austin – I've wanted to work with you since you, me and Jace did the guitar solos
Austin says Jmac has been really down all week
Jmac – Clay is gone, Shelli is gone.
Adds that the week were hard because the house flipped 1/2 way through.
Jmac says he's willing to make a deal if he wins HOH next week he'll nominate goblins as pawns and Backdoor vanessa.
Austin and Liz tell him they are not willing to take out Vanessa but they think next week it might be a house plan.
Jmac about Vanessa – Whoever gets her eviction is a god
Jmac about Vanessa in the house – it's a cleaner version of Audrey
Liz – Audrey two point O
Jmac – if I get houseguests choice tomorrow should I pick Steve
Austin ya maybe
Steve he's nervous
Austin – he might throw it
Liz – who should I pick
Austin – Choose me..
He tells Jmac she shouldn't choose him as it will look sketchy for Becky.
Austin says Leaving Vanessa in the house for next week is best for them.
They talk about the house imploded if Vanessa is nominated this week. Jokes about all the bibles vanessa would read.
Jmac asks if Audrey even read a bible
Audrey doesn't read bibles Audrey is into other types of magic.. which i'm OK with
[envira-gallery id="128403″]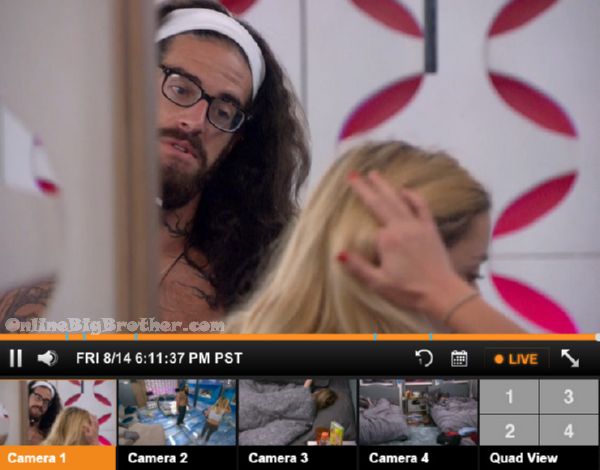 6:09pm HOH Austin and Liz
Austin tells her there's a lot of new information about Vanessa he needs to process it all. He knows it's not a good idea to take Vanessa out this week because next week the whole other side of the house will be targeting her and not them.
Liz- I don't know why I like him so much but I doooooooooooooooooooooooooooooooooooooooooooooooooooooooooo.(Jmac)
Austin tells her if Vanessa stays she's not going after them she's going after the other side. "Becky has got to bite the dust"
Liz – Austin who the f*** do I put up (If POV is used)
Liz – I'm so scared
Austin – I don't want to put up Meg or James
Austin – We can't put up Vanessa
6:15pm Jmac saying he ate a cookie
Jmac – I forgot.. This could not get any worst
Austin and Liz come in
Jmac – I ate a cookie, I'm in trouble
Austin – you forget
Jmac – ya
Austin – what's going to happen
Jmac – I don't know
Feeds cut
Steve says in the past people have been given penalty votes when they did it on purpose
Austin doesn't think that's fair it was a mistake
Jmac – I asked if I could throw it up
Austin – damn
Feeds cut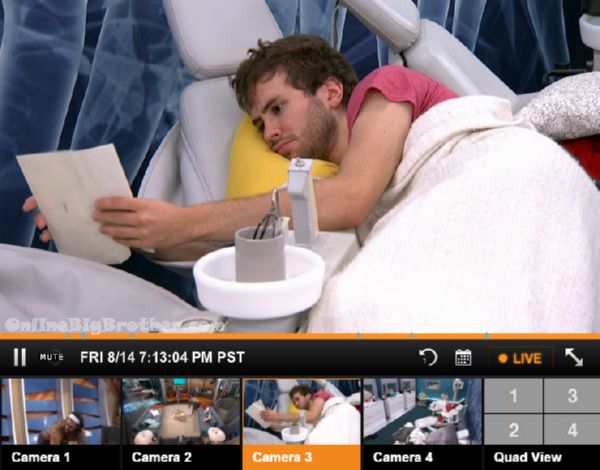 7:13pm steve reads his HOH letter before taking a nap
7:30pm Vanessa, Jmac and Austin have been working out. everyone else off feeds or sleeping
[envira-gallery id="128421″]
ALLIANCES:
Goblins/Gremlins = Jackie, James and Meg
Generals = anyone allied with Becky
SOS = Steve and Vaenssa
Rockstars = Steve and Jmac
? = Becky, Shelli, Jmac, Steve
Freaks n Geeks = Austin, Twins, Steve, Vanessa
AUS-Twins = Austin, Julia and Liz
"Brass Tacks"  Gobins and Austwins
The new "Brass Tacks" = Aus-Twins, Meg, James + Vanessa
"The Scamper Squad" – Aus-Twins, Vanessa, Steve
[polldaddy poll=9025485]