POV Holder:
?
POV Competition
Aug 15th
POV Used
?
POV Ceremony
Aug 10th
HOH
Liz
Next HOH
Aug 17th
Original Nominations:
Johnny Mac and Becky
After POV Nominations:
? and ?
Have Nots
Vanessa, Johnny Mac, Steve
Austin is happy he got a workout
liz complains she so full
Austin says he thought it was the midday chardonnay
Liz – it was your massive omelette
Austin – I had to make it massive for you
Vanessa joins them while Austin is in the shower. Vanessa is wearing some kind of face mask.
Austin comes out tells Vanessa to make a "mean Pork chop"
Vanessa – do you guys trust Steve and Johnnymac more or Meg and James more
Austin – that's a tough one
vanessa – I've been pondering that
Vanessa adds they have a much better chance of beating the goblins in competitions than Becky/Johnymac
Austin was hoping they can just let it go and have it decide itself
Vanessa- does meg and James have anything against me
Austin – no, everyone's good with us now
Austin leaves
Vanessa starts working liz to get Becky out
Vanessa says if she gets houseguest choice she should pick Austin
Vanessa adds they need to talk to steve to make sure he knows they want noms to stay the same
Liz says James will keep the noms the same
They wonder who Becky will pick
Vanessa – Meg maybe thinking Meg won't win she can beat meg
Liz – Oh ya
7:54pm Becky and Jmac
Jmac we got Austin, Julia and steve we just got to get one of us off ..
Becky says losing JAckie shocked her. She doesn;t have anyone for houseguests choice
Becky – I stopped caring at this point
jmac – If I vetoed Jackie Steve might put you up
Becky – I know I know I know .. Steve taking out Jackie and me when Austin and the twins continue to bully him
if it endurance coming back we look pretty good
Becky – I know but Shelly.. I can't do mental comps to save my life
Jmac giggles "no you cant"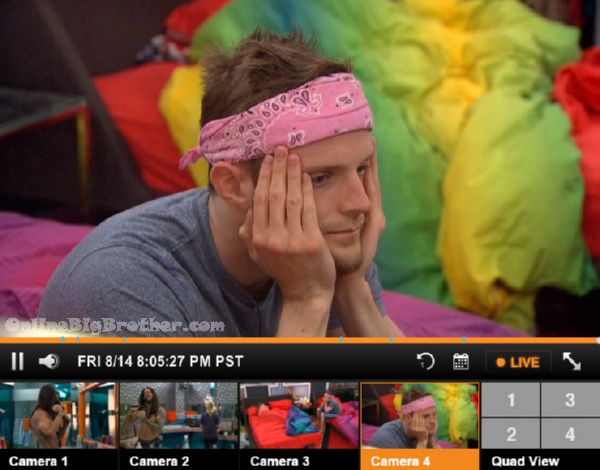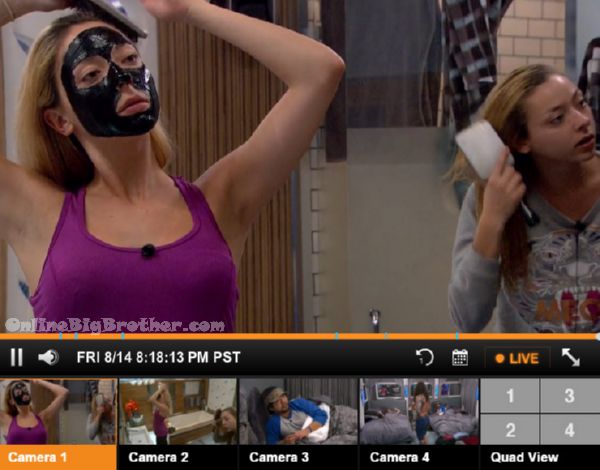 8:13 HOH The twins
Liz saying she doesn't trust Vanessa and doesn't like her
Liz – I believe Johnnymac
liz is worried that Becky will be coming after them with a vengeance
Julia – so now you're saying you want to send Becky out
Liz says they will have to wait until tomorrow.
Liz – she always talks about how she hates liars, she's lying to our face
Julia gets called out for not wearing a microphone
Liz – I'm backdooring you
Julia – Stop it
Julia – Vanessa being here, everyone is targeting her except for Steve.. If Johnny Mac wins she's going up they're for sure
Julia complains that Austin's Hair has polluted the sink
Liz calls Austin her b1tch he's making her dinner right now
They mention how their memories are so bad they don't remember the conversation they were in. Comparing themselves to Vanessa who they say remembers all the conversation verbatim
LIz – Austin is so funny he's so over her too he's like she's such a joke
Liz says they cannot get caught stretching themselves too thin that's what Vanessa is doing.
Liz says it will be insane if they make it to final 2 together it's not goign to happen. Julia says it will.
Julia asks what her and Austin were talking about.
Liz- we both want to keep Johnnymac and get rid of Becky
Liz- Johnny mac will not come after me and you unfortunately he's goign after Austin and I'm OK with that
Liz- Oh my god Austin is so cute..
Julia- he's the one that needs to eat all the time
8:12pm Austin and the goblins
Meg Talking about Vanessa being on the block then later the same night had control over Steve's HOH.
Austin says Vanessa is manipulating everyone
They Agree to make Vanessa feel safe so she doesn't win the next HOH.
8:47pm The goblins shit chatting about Meg's types of guys Austin making dinner, Liz prancing around in her mask. everyone else off feeds I assume they are sleeping.
James asks her if she likes Bad boys to good boys or in the middle
Meg says She leans toward bad middle
James – Yes like me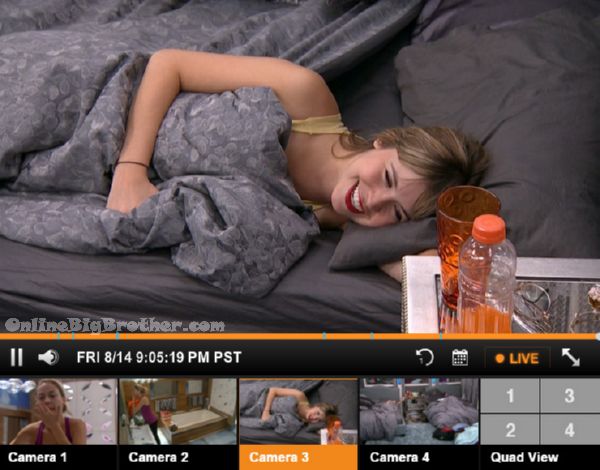 9:05pm Meg tells JAmes her friends that was on survivor twice is from the country he would love her
(Meg's friend is Andrea Boehlke)
Meg – She likes pretty boys.. she's like Clay
James – I'll have to find out where Clay is from and flatten his tires.
They laugh
Meg says Clay is the kinda guy that likes to party, "He plays it off that he doesn't"
Meg says Clay would bring up all those bar fight stories
James – The bar fights I get into charges are pressed but we drop them the next morning
James says in the old days his friends would be like 'Who's containing James tonight"
James's- I've calmed down a lot now I have a little girl I can't be like that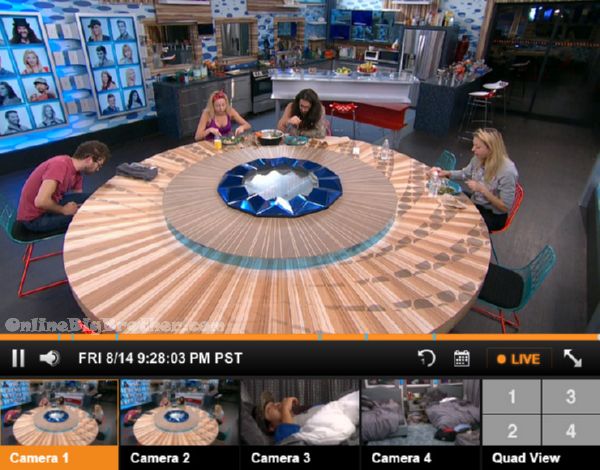 9:30 Austin and the twins having a dinner talking to Steve about
On the other camera James is asking Becky and Meg what their favorite line is on the fast and the furious movies.
They don't know. James goes on to describe an entire scene from the movie.
Meg – Oh my god you are goign to tell us the entire move..
James keeps going.
ALLIANCES:
Goblins/Gremlins = James and Meg
Generals = anyone allied with Becky
SOS = Steve and Vanessa
Rockstars = Steve and Jmac
AUS-Twins = Austin, Julia and Liz
"Brass Tacks"  Gobins and Austwins
The new "Brass Tacks" = Aus-Twins, Meg, James + Vanessa
"The Scamper Squad" – Aus-Twins, Vanessa, Steve
[polldaddy poll=9025485]