Big Brother Spoilers
Jack wins the Head of Household. Nominated Jessica and Kemi.
Power of Veto Players: Jessica, Jack, Kemi, Jackson, Sam, Bella.
Power of Veto Winner: Sam and wins Fiji trip.
Jack won the whacktivity power can opt for a POV player redraw.
Jessica is the pawn and Kemi is the target.
Power of Veto Ceremony results = Sam did not use the Veto nominations stay the same.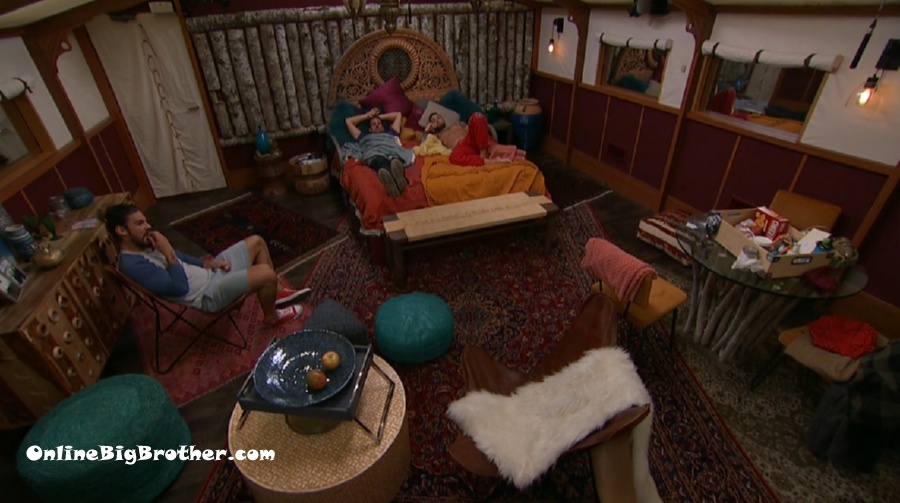 2:13 pm David and Sam
Sam – I almost got worried after you and I talked. I was thinking about it I really hope you don't think I'm going around doing this (trying to flip the house)
Jack – no, not at all
Sam – I wanted to run it by you just to see what you would think. I just thought about it.. it was just a thought.
Jack – power moves can come.. whatever is best for our nine (you mean 8 lol)
Jack says Kemi has a better chance to win the HOH, " the sh1t she just does is toxic. At least Jess is outward about it.. Like Jess isn't slick enough to make a backdoor statement about something talking sh1t. Kemi would have a conversation with Jackson and twist it"
Jack says if you are alone in a room with Kemi she will completely spin it around
Sam – have you noticed the games getting fun now
Sam – does Michie trust me? will he come after me?
Jack – no
Sam wonders if it's the two of them at the end in the HOH he can throw it to Michie and be good
Jack goes on about Michie not targeting Sam at all add that Michie won't want to win it because of Camp COmeback it puts too much blood on his hands
Nick comes out of the bathroom.
Jack – Michie's got his eyes on Cliff at this point. Cliff and uhhh umm Jess..
Nick -0 that's who I would put up
Sam – that's who I'll put up too
Nick – it would have been Kat and Jess but since Cliff ran his mouth
Sam – if one goes the other one goes
Jack – I wouldn't mind Kat winning HOH
Sam – she would keep Jess
Jack – I don't think she will, She will play whatever we tell her to play
Nick dude she's so manipulatable
Jack – well you strong arm her and be like so you're not going to be HOH next week.. you know what I'm saying what decision are you going to make there chief
Jack – she'll get paranoid and freak out be like who do you want me to put up then
2:24 pmKat, Holly and Jessica the caking on of makeup continues…
Jessica asks them if they know of anybody she should talk to about Votes.
Holly – is there anybody you feel like you don't trust
Jess – yeah .. like yeah
Kat – is it me
Jess – yeah for sure
Holly – I have a slight hesitation about a couple of people trying to last-minute flip the vote but I don't think… I think we did a pretty good job of shooting it down
Holly says Sam, Nick, Bella "approached Jack and Jack shut it down"
Jessica – really
kat leaves.. Jess and Holly complain about Bella. Holly says things like Bella only cares about getting screen time she doesn't even watch the show she was recruited at a party.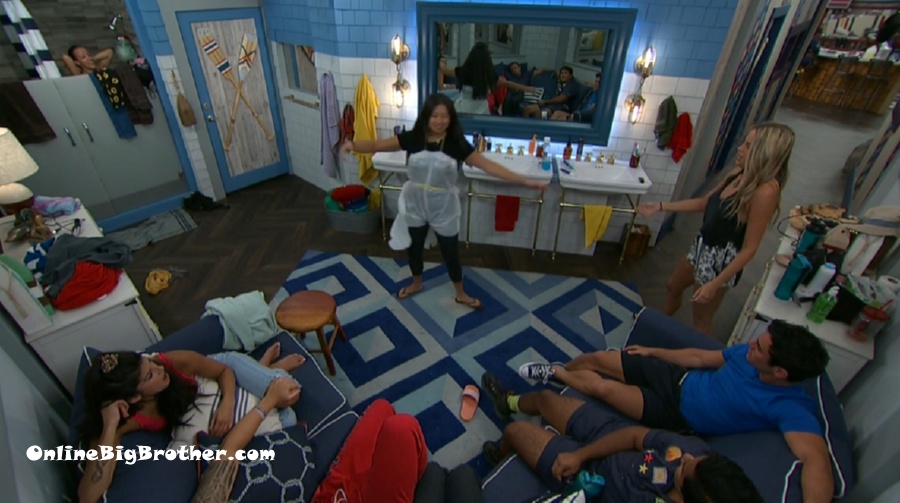 2:36 pm Bella's wedding dress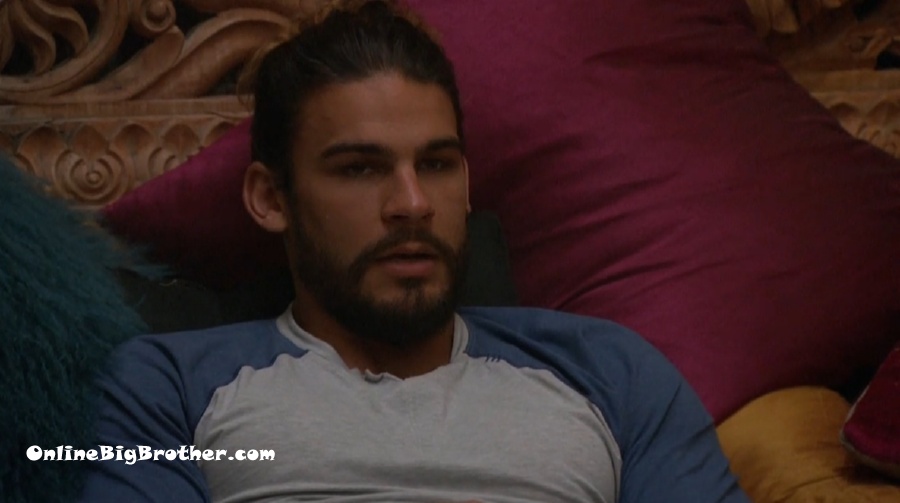 3:08 pm Jack, Kemi, and Tommy
Tommy is just in the back listening he not part of the conversation.
Jack – you're both my targets
Kemi says she's not putting Jack up.
Jack – Jess is a large threat. I think there's something leaning in your direction going into this vote I don't know how it's going to end though.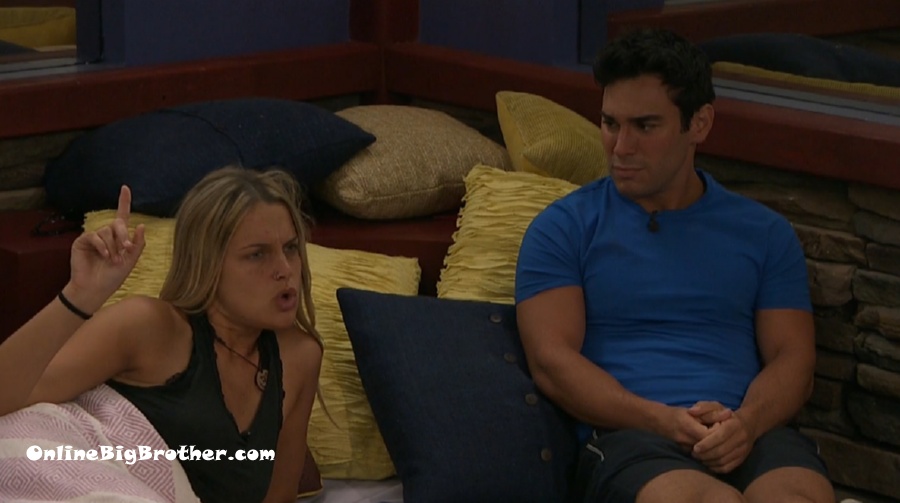 3:15 pm Sis, Holly, Christie
Sis is in a tizzy about Nick and Bella.
Sis says the only couples that would be f*ed if they get split up are Nick and Bella. If Jackson, Jack or Tommy left they would all be fine because they have each other.
Christie says something about Nick and Bella dating after the show.
Christie – Nick would do better than her because he has Sam
They bring up Sam and Bella being super close.
Holly – it's weird to me that Sam is so close to her
Christie – right now it's about strength it's about focus, we have to win the HOH
Christie – what's pissing me off you're trying to flip the votes.. the audacity the audacity you think we're all stupid (barf)
Tommy joins them
Christie says Sam pitched to Jack wanting to flip the votes
Sis – it' helps their game
Christie – jess is a bigger threat because she only cares about the girls. it's a really stupid argument
Holly – Jess will only target the men
Holly – I've been seeing them talk to Kemi a lot
Jack and Jackson join them.
Christie goes on retelling everything with Sam etc..
Christie mentions Sam wanted to keep Kemi because she could be used to take out a big threat. "If we all as a group decide to flip I'm good"
The 6shooters decide to have not more shady one on ones always bring another person in.
Christie says she tricked Sam into telling her that Cliff and Kemi are close. Cliff is the person she wants out next week why would she want to keep a person that's close to them, 'Are you dumb"
6shooters lock in to all vote out Kemi.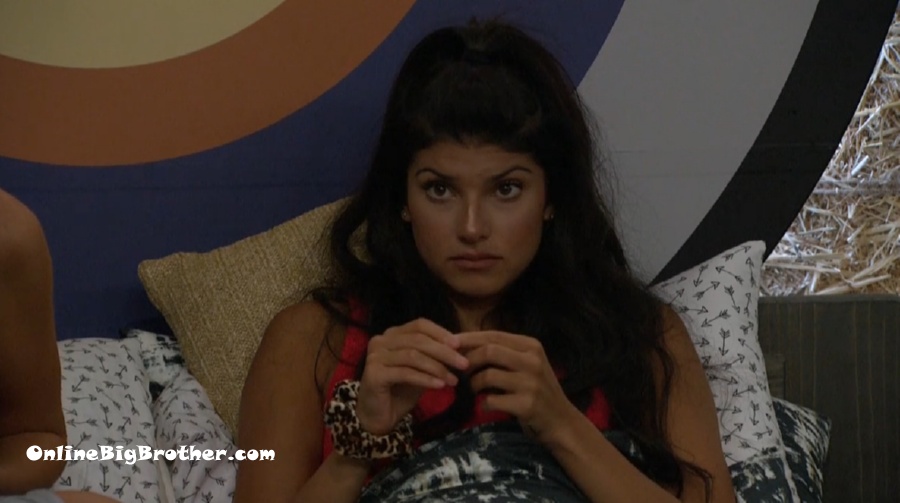 3:28 pm Holly, Jackson, Christie, Tommy and Sis
Talking about Nick's game and being "on to him"
Christie about Nick – mouth breaths.. breaths heavy
Sis – he's such a p*$$*.. he wants to go after jack but he's such a P*$$* to do it that he's trying to go for one of us
Holly – it's a weak little b1tch move whatever he's a pu$$y
Sis about Nick – He can s*** my f**** d****
Christine – I know what a man in love looks like and it's that
Jackson – and he's said he got stuck with Isabella
Sis – grab him by the balls twist it a little bit
Christie asks him if he brought clothes with him because he wears the same pants "I don't think he has clothes"
Holly mention show Nick said "money is not an option"
Sis – we all know what the f* he does
Jackson – can we just pause for a second and give ourselves a pat on the back for our acting skill. When people come in the room when we are looking at Nick we do a pretty good f*ing job keeping our faces straight.
Tommy- and with the Owl
Jackson – The OWL. We are like, give us a grammy .. (wait isn't a Grammy for music?)

3:53 pm
Holly and Kat
Holly going on that Nick is such a chicken sh1t to target Jack and Jackson directly so he's targeting Holly and Sis, "he thinks you're stupid enough to fall for it"
Holly – he thinks he can manipulate the girls in this house and that is hilarious
Kat – I have a plan too but I'll tell you later
Kat leaves. Sis comes in
holly – he's a f*ing idiot
Holly – he thinks he can manipulate the girls in this house..
Sis – Jack and Christie think they are running sh1t again
Holly – do not interrupt your enemies when they are making mistakes. her cockiness, Jacks cockiness might catch up with them and we don't want o get ourselves caught up
Holly – it makes me furious we have t bite our tongues silence in this game is the key to success.
Holl y0- take knowledge act like a sponge and sit on it
Sis at cliffs bed "F* you, Cliff, you f*ing follow us everywhere"
Sis – I want to win HOH I want to be on top calling the shot. (you mean what Christie and Jack tell you)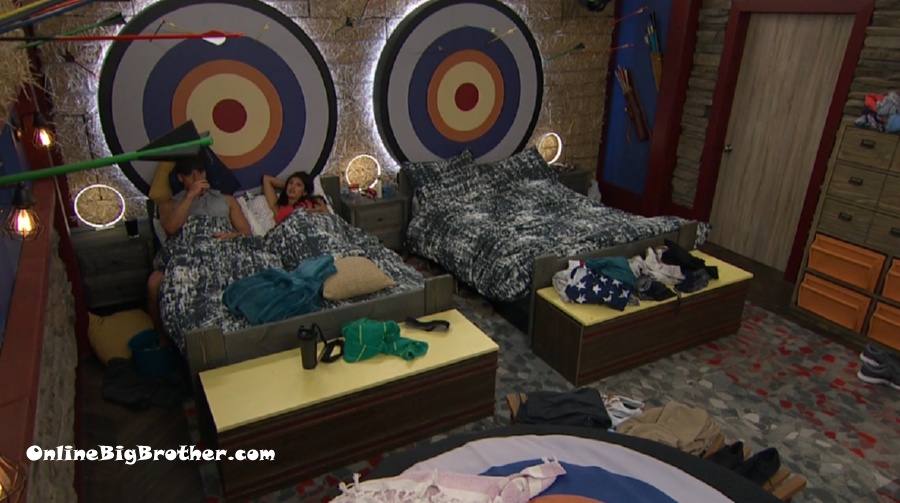 4:10 pm Sis and Jackon
Jackson – you ever have those moments, Why did I have sex with that person
Sis – YES
Jackson – every f*ing day
Sis laughs "it's ok it's in the past"
Sis says one of Kat's ways to get air time is to go into every room and just clean
Jackson – I'm so mad at myself for doing that. It's the first time I've ever had sex with someone without ever kissing.
Sis – really
Jackson – yeah twice
Sis – Jesus.. it happened at least before the live feeds came on
Jackson – how many people in this life can tell you they've done it in the big brother house (it's known to be very dirty)
Sis – they wouldn't air me.. no right?
Jackson – have you all kissed on camera
Sis says she's kissed Jack, "I don't care about the kiss, People already asked me about it. You know what I mean"
Jackson says Holly wanted to tell him a secret last night and she pulled the covers over them.
Jackson – I was like that's going to be aired and nothing is happening
Sis – but it will I can feel it
Jackson – I don't know though I don't know if she…
Sis – I know, I know things you don't know
Jackson – fill me in just between us
Sis – no it's a secret
Jackson – showers are nice and two towels good to go
Sis – interesting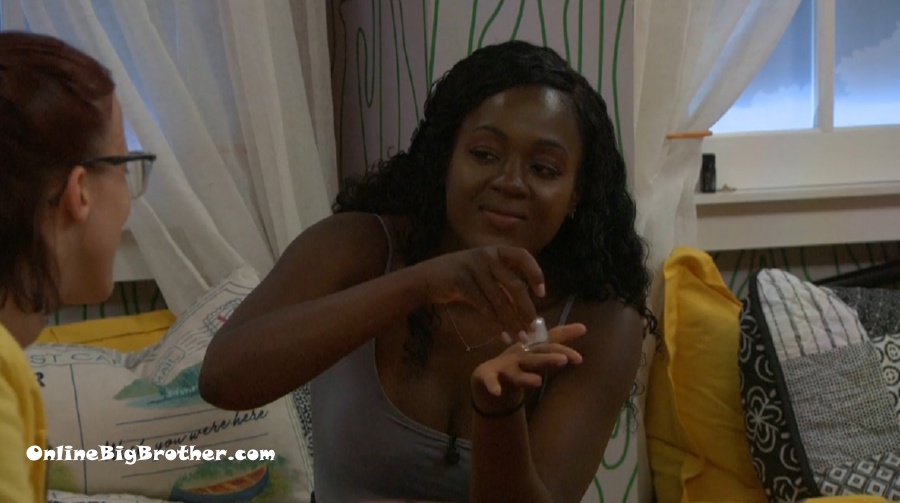 4:36 pm Nicole and Kemi
Nicole retells earlier conversations with Nick, Bella, and Sam where Sam was rallying them to keep Kemi.
Kemi – I need to know because I need to know to give a savage speech or not.
Nicole – tells her not to it might be close she might have to get those last votes.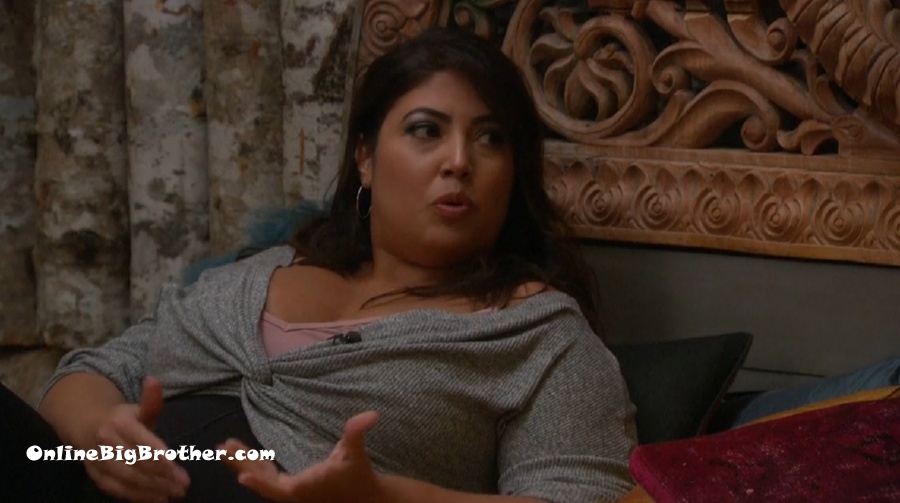 5:23 pm Jessica, Nicole and Jack
Jessica is making sure she's good for tomorrow.
Jessica has a chat with Jack #BB21 pic.twitter.com/7vAMqtxwST

— OnlineBigBrother.com (@bigbspoilers) July 11, 2019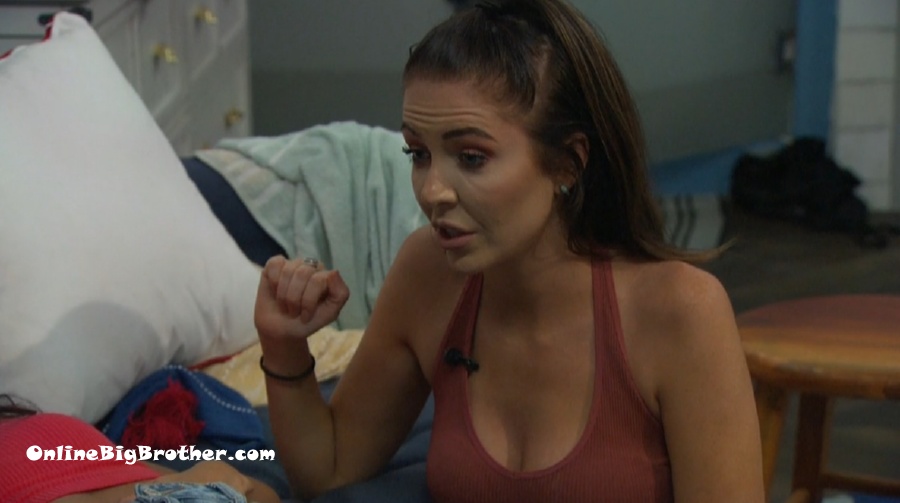 5:55 pm Holly, Sis, and Jack
Holly says Kat wants to win the HOH and put Nick and Bella up. She goes on about Nick trying to build an army against them
Holly says she's really worried of Nick or Sam win HOH they'll take one of them out. Sis says that will be really stupid because if they go out they'll go to camp come back and they'll just come back in.
Holly goes on about being close to Kat and Jess those are two people they can pull in.
6:15 pm Nick and Nicole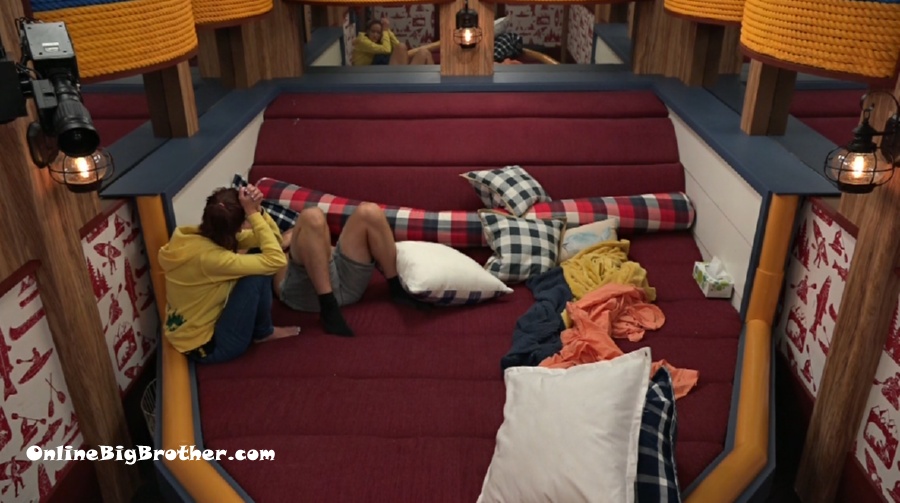 6:08 pm Nicole and Nick
Nick – we couldn't flip we couldn't do it
Nicole – what's the issue
Nick – couldn't get enough people above us 5 then it would be a blindside for some people. we're scared
Nicole – why scared
Nick – I think people want to play more conservative.. it'll make too many waves right now
Nick – I get it I guess.. I don't know. I feel like if I did that Jack would be coming after me and that's the last person I want not liking me
Nick – we had five because Christie was onboard, Tommy is not. Cliff would have been six but that's pushing it. Would have been good because nobody knows what the 6 were.
They mention Jessica would put Nick and Bella up. Nicole says she'll try to sway Jessica.
Nicole – Kemi will not put any of us four up and she'll listen to what we have to say but Jess… She talks to jack a lot she talks to Michie a lot
Nick – what they talk about upstairs
Nicole – just giving her his pitch
Nick – if we make this move than we have Jack, Holly, Michie, and Sis after us but right now they have never said our name.
Nick – right now no one has said our name
Nicole – that's four people though
Nick – they put two of us up one of us is going home. I don't want Jack coming after me
Nick – listen I am on your side.
Nicole – how do you know they're not saying our names
Nick – cause I know
Nicole – how do you know
Nick – I just do (you know sh1t )
Nick – I do well enough socially. you'll have to trust me. I talk to everyone I know a lot
Nick says after the camp comeback they attack.
Nicole – what if Jessica wins HOH
Nick – you convince her to not put me/Bella or me/sam
Nick – Kemi is way better for my game.. I would rather there be 1 person against me than 5.
Nick – this is a long game.
Nick says Michi, jack, sis, and holly are very close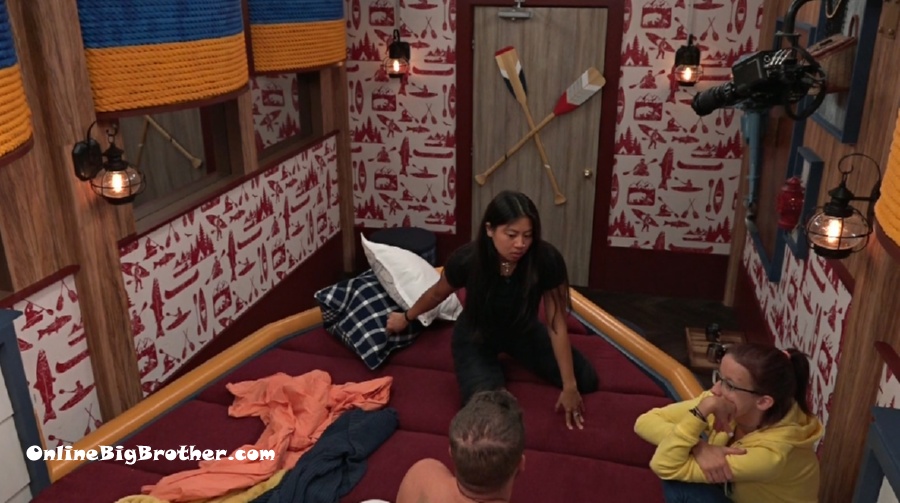 Bella joins them..
Nick says Tommy isn't on board they can't flip because Jack will be able to figure out who it was, "Michie, Holly, Sis, Kat are all going to vote Kemi out"
Nicole says Cliff is waiting to see where the majority of votes are.
Bella – we just need to convince Cliff, We convince cliff we'll get Tommy..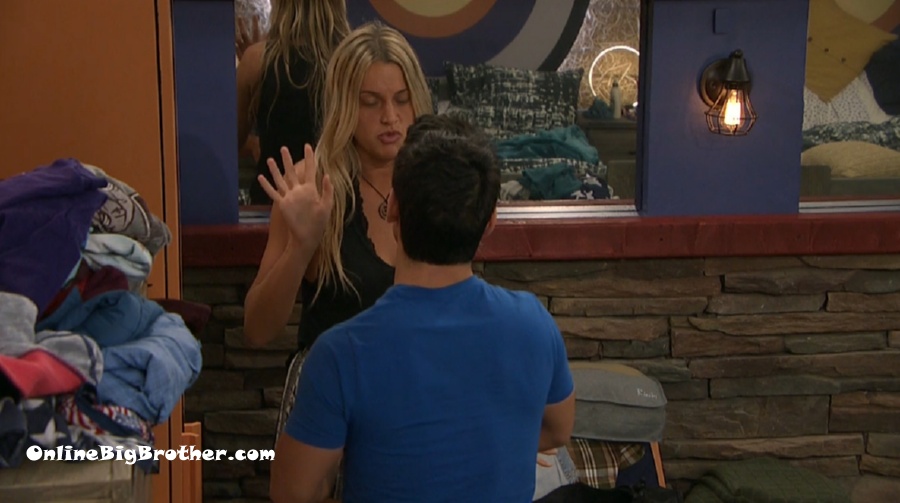 6:42 pm Christie and Tommy
Christie says Jackson and Holly know they were talking about them last night in bed
Tommy – I had a great talk with Holly today
they agree Nick is "so stupid" he's the "worst game player"
Tommy- I don't want to be associated with him
Christie – I want to be associated with Sam but not Nick, Once nick's gone I want to side work with SAm
7:06 pm Sis and Nicole
Nicole telling Sis she never said she would put Holly/Sis up people are putting words in her mouth. Sis understands she knows people have been doing that.
7:10 pm Christie warning Sam that people are pissed at Nick he's making himself a target
Christie – he needs to stop throwing people he's working with names around.
Christie – I do fear Nick and Bella may be reckless.
Adds that she hasn't heard Sam's name.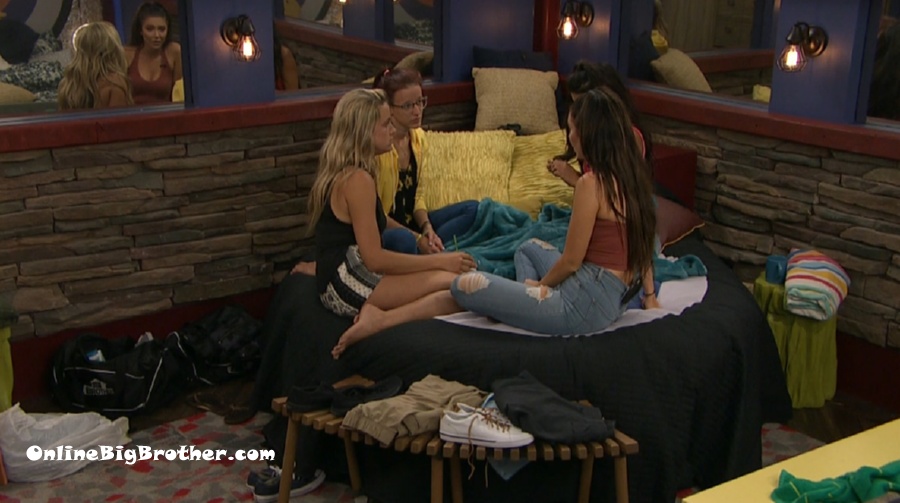 7:38 pm Sis, Christie, Nicole, Holly
They've been having a bash Nick and Bella fest for a while leading up to this part of the conv.
Nicole – I don't know what's going on tomorrow heading into eviction. There's a lot
Sis asks if Nick and Bella trying to get the house to flip to save Kemi
Nicole – I don't think it's as much to save Kemi it's just to do the opposite
Sis – they're are trying to say they are voting Jess to go
Christie – they don't have numbers they're not gonna
Holly – who do they say is voting
Nicole – Becuase Jack wants Kemi out they want the opposite
Christie – that was obvious today
Nicole – here's my thing and I know you're going to be full of sh1t and I'm not full of sh1t I promise. Kemi does not want Jack out Kemi wants two very specific people out which I think is what we are all thinking
Holly wonders about that thinks Kemi is still working with them.
Nicole – I'm telling you Kemi is a woman of her word and there was a whole thing between her and Jack I know BUT she has told me she has told Jack she will not put him up next week.
Sis – what scares me is my name came out of her mouth it scares me if she won't take a shot at them (Jack/Jackson) they'll take a shot at me
Holly – she did say if she can't get jack or Jackson she would target us
Nicole – if you guys save her I really think she would take that into consideration for at least a week or two
Sis – it's very risky
Nicole – she is so pissed off that everything spiraled that it did
Nicole makes the analogy about all the pieces being set on the chess table and someone "Bella" flicking them all off
Nicole says Bella was the one that started it "Kemi wasn't in the room"
Nicole explains how Bella started the alliance and Kemi wasn't in the room. It wasn't Jess it was Bella.
Chrsitie about bella – She's so maniuplative
Nicole – she said I blew up the alliance.. I did it to save me and you (OMG wild card) That doesn't make any sense
Christie asks why are they trying to flip it. nick and Bella.
Nicole – they want it to be a clusterf****, like nobody knows what is happening
Christie says out of all the showmances those are the 2 she thinks will make it out of the house are the most indestructible and the most dangerous.