Quick Big Brother Spoilers
Head of Household:  Michael
Nominees: Terrance, Monte & Joseph
POV Players: Terrance, Monte, Joe, Brittany, Michael Jasmine and Turner; (Taylor is hosting)
POV Winner: Michael & Brittany
Veto Ceremony:
Havenots:  None so far
Lock your ranks in before midnight
Festie Besties:
Turner & Jasmine
Joe & Monte & Terrance
Daniel & Kyle
Brittany & Michael
Alyssa & Indy & Taylor
The Situation
Michael will be using the veto to nominate Kyle and Daniel. Daniel is the target. The leftovers appear to be solid once again. I wouldn't say Daniel being evicted is set in stone there is always a chance Kyle will spiral out and get himself evicted.
5:58pm HOH room – Brittany and Michael.
Michael – I was in the storage room and I was like I'm not sure, I'm deciding but I've talked to people and it sounds like people might be on board. Brittany – yeah she (Jasmine) cornered me out in the backyard too. How mad do you think everyone is going to be with you / us if we don't? Michael – I don't think they will be mad because they all told me Daniel on Friday.. Every single one of them said to put Daniel up. Brittany – that's why it is so hard to crack that side because they literally sway with the wind. Michael – and if they really want Monte, then hopefully they will go for Monte. Because if we take Monte out for them… Brittany – yeah that is not going to do anything. It was interesting talking to Jasmine there because she was like at a certain point when the whole house wants something its not the HOH, its the House's HOH. And you wouldn't want someone to be mad if you went against the entire house. LIKE threatening! Michael – oh my gosh!! Brittany – I mean sh*t, it feels like a lose, lose. Either do their dirty work for them.. Michael – What would you rather Jasmine, would you rather I put you up this week?! Brittany – seriously!! Michael – you can go up and you can go home and spend your birthday with your husband. Brittany – right!? Seriously! We could immediately make that happen.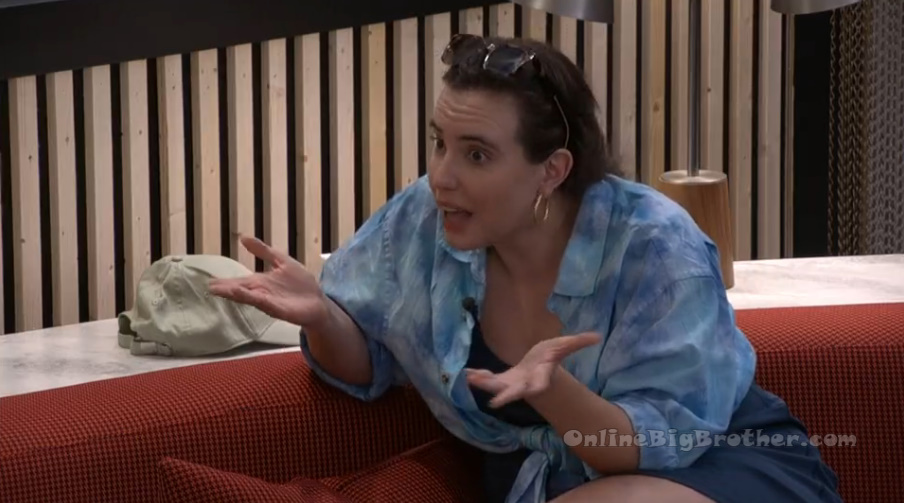 Michael – then we just stick to we promised Monte if he kept us safe, we would keep him safe. We're still on board to make it happen. Brittany – I reiterated what you said. And they were like yeah but this is Big Brother and that must mean.. and I was like yeah but we have to think about next week and who do we trust more .. like they all agreed Monte and Daniel next week. Michael – then why don't we get Monte out next week?? Brittany – YEAH! Michael can't play next week and I have a busted knee.. who do we trust more? And Daniel is actively throwing your name around and Monte is not throwing your name around. We really need Monte to realize they're not on his side. The vibe I'm getting is that they would not take that shot at him (Monte), they're using you to do it. So who are they taking shots at if they win then?! Michael – if they're not going to take a shot at Monte, then it doesn't benefit me to take him out. Brittany – no, and we have more trust with Monte than we have with Daniel. Michael – and Monte is not unbeatable. Brittany – I don't think this is the scenario but what if we left it the same and we as leftovers take Terrance out instead? So at the other side.. we did what you wanted but it didn't happen. I mean that feels like a waste and it still leaves Daniel in. Michael – and they're going to know they're the four votes. They're not stupid. They're not that stupid.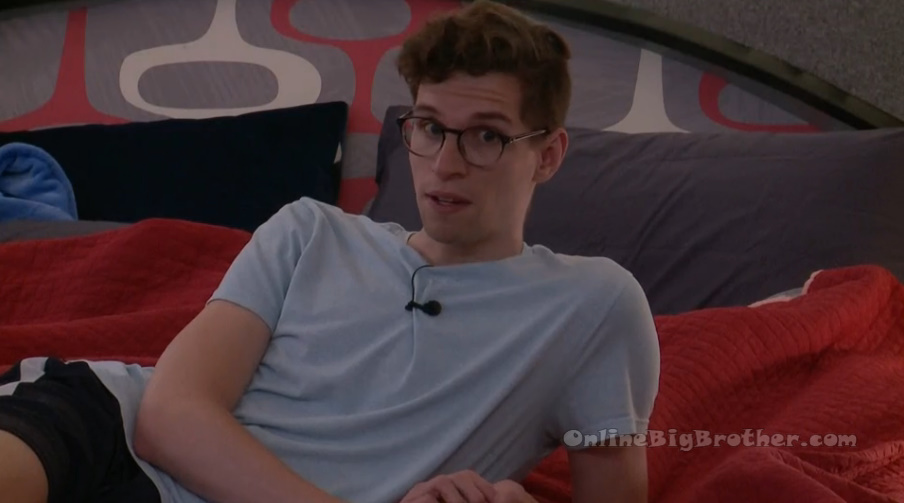 5:58pm Bedroom – Flirtmances showmancing..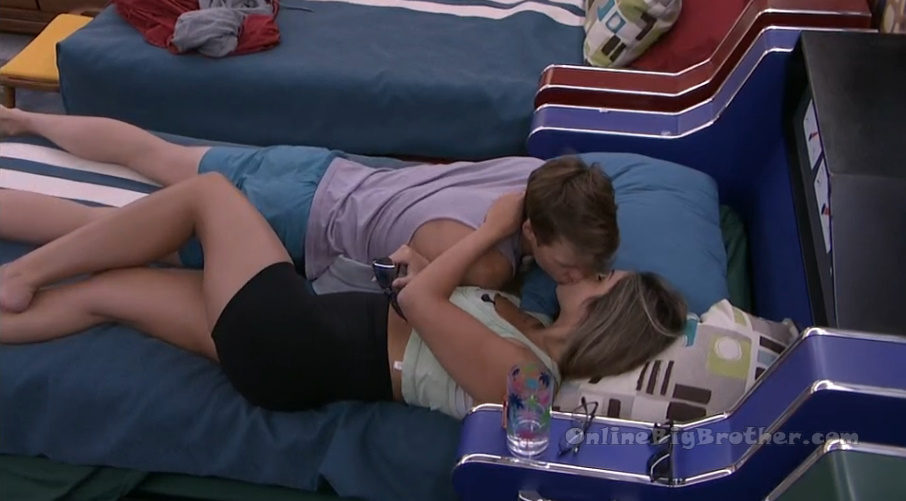 6:40pm HOH room. Joseph joins Brittany and Michael.
Joe – I'm not interrupting am I? Michael – No we're just talking .. Jasmine kind of cornered Brittany. Brittany – Joseph, I just hope you guys understand the conversations that Terrance, Jasmine, Alyssa and Indy are having. Joe – oh yeah they're sparking a whole fire of lies and stuff. They like using Brittany for some reason. Brittany – it just pains me how much they've flipped on you and Monte. Its just scary! Joe – that is literally why when they tried sending … Like I would never work with them. Like one thing I hope you guys know I am a loyal person but two… I would have to be an idiot to drop other loyal people for .. yeah! Brittany – that is ultimately why when they left the room Michael and I jumped up saying we knew it. They came in throwing you and Monte under the bus. Joe – its Monte they want specifically? Brittany – yeah its Monte they want specifically… but then you're alone and they're able to get you. I just want you guys to understand the severity of what they're saying. Joe – there is literally no loyalty in that alliance at all. Joe leaves. Brittany – we know at some point they're going to be gunning for us anyways .. there is nothing we can do about it. Michael – it doesn't matter if we do this for them or not, they're still going to come after us. Brittany – so don't do their dirty work. Michael – I would rather take away one of their numbers. Brittany – we know they're not loyal and they're weaker.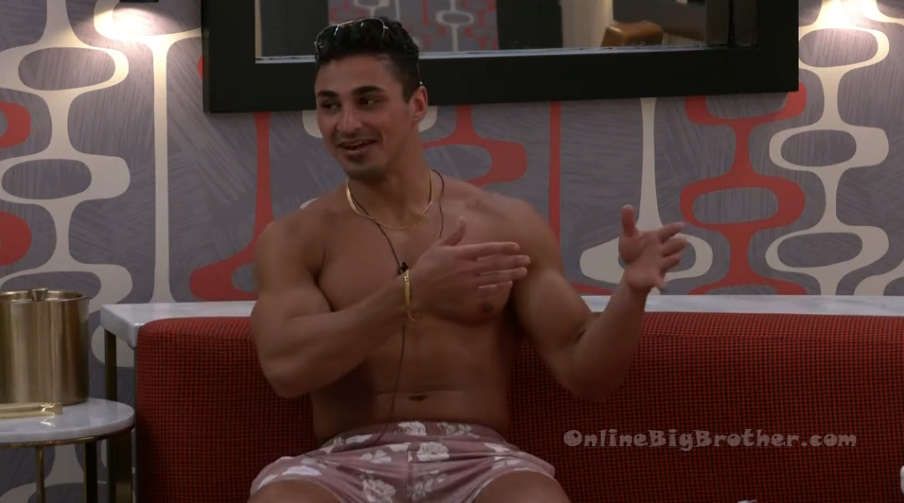 6:50pm HOH room – Kyle joins Brittany and Michael.
Kyle – what are you guys doing? Michael – talking about the veto ceremony tomorrow. I don't know what to say for a speech. Kyle – say Kyle, you've been my target since day one. Brittany – don't give him any ideas Kyle. Michael – I would love to drop Old School somewhere in there but I shouldn't do that. Big Brother switches the feeds.
7:25pm
Backyard Joseph & Monte bootcamp workout begins..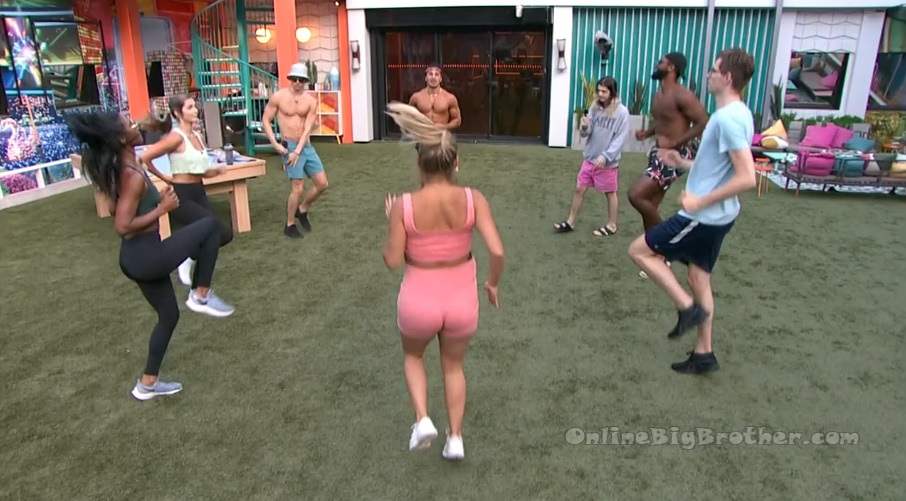 8pm The workout crew are on the upper level in the backyard saying what they're grateful for.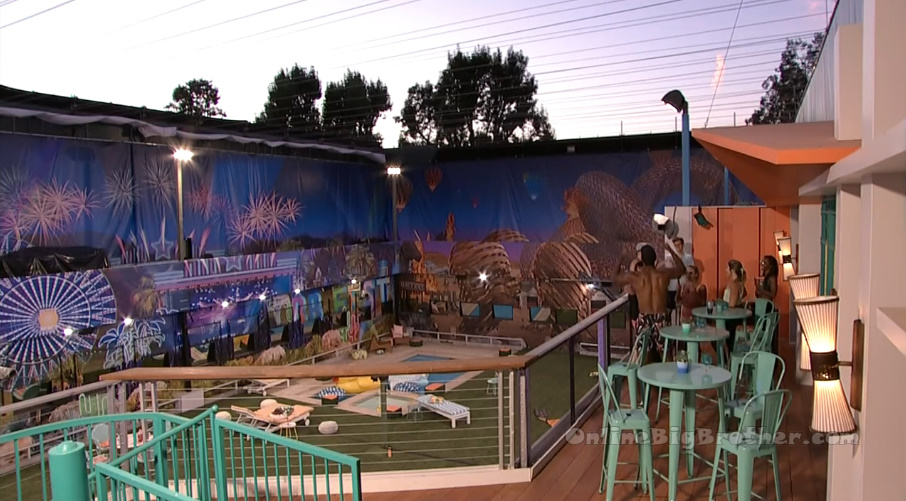 8:18pm – 8:25pm Bedroom – Terrance and Daniel.
Daniel – as besties she said we're going to come up and talk to you bestie to bestie. So I am going to let her in on the deal. I am sure Michael has mentioned it. Just so that she feels included and we're being open and everyone is aware of what is happening. Terrance – I talked right in front of her yesterday. Daniel – dope, yeah! And all she said was we don't talk as much game as we should.. and she was saying from her perspective so that made me feel good. Probably because she is not in power so she feel like lets keep it going. But in my head I am like you've lied so much. Like she has talked so much sh*t on me trying to get me out. So I will remember that.. but for now .. absolutely. Keep an open conversation. I am being honest I am not going to put them up.. its probably only a couple more weeks and if that saves my a$$ this week, I am down! Terrance – I would definitely go up there with Kyle. Daniel – I've heard so many people say they want Monte out. Terrance – yeah.. even Joseph. Daniel – and because there are three of you on the block .. we only need 4 votes.. and I think we already have 6. And apparently Tuner is on board. I think Kyle said Turner was down. And Indy is down. Indy is on board! Alyssa told me. Terrance – I can't wait till tomorrow morning. Daniel – I just need to know. Terrance – then we can breathe.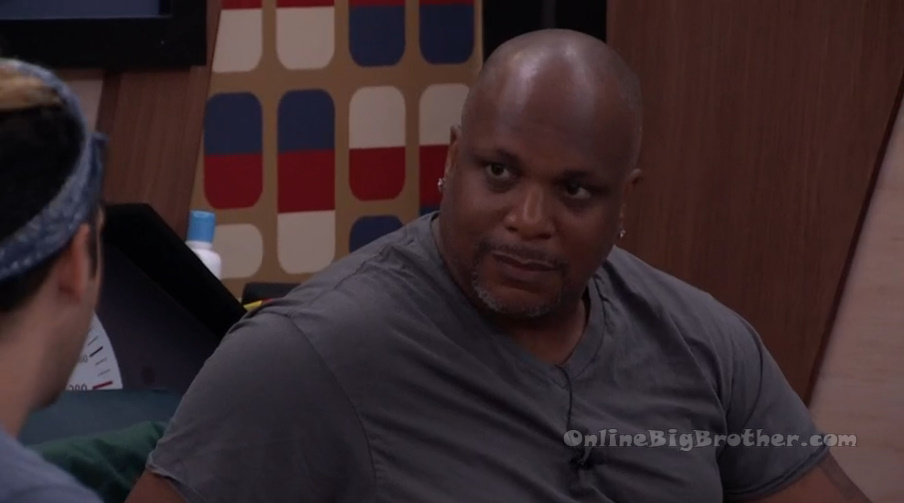 8:37pm Storage room – Turner, Joseph and Kyle find alcohol from Big Brother. Joseph comments on how they should hide it from the other house guests and drink it. Kyle – Indy hid granola bars from everyone .. we can hide this! Monte joins them and they decide not to hide them.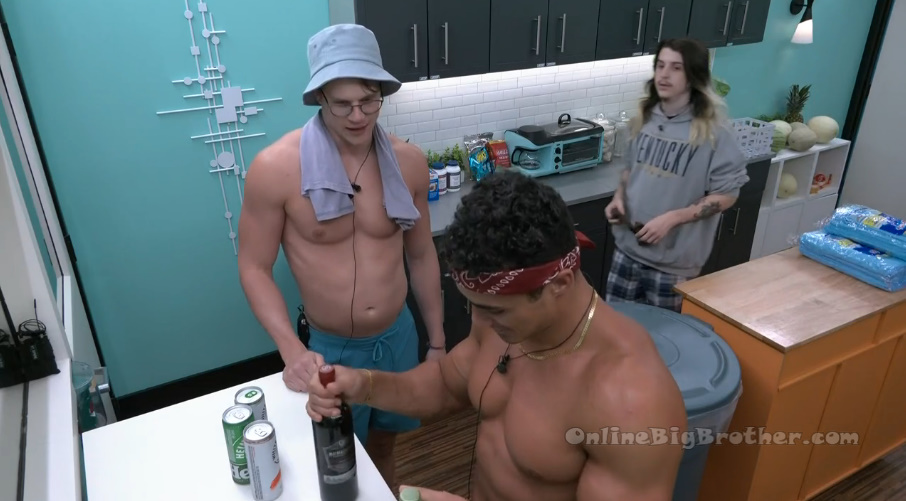 8:54pm HOH room – Turner and Michael.
Turner – they don't think I am close to Monte obviously.. I was where Terrance is.. he was like I know you don't have anyone that you're aligned with. And I am like F**King dope because clearly they haven't put that together. He said everyone is pretty scared of you but I want to let you in on a plan. And I was like oh okay facts! He was like what do you think of the nominations this week? I was like hey I don't know if someone is going to get backdoored. I don't know what the plan is. I don't know if they're going to stay the same. And he was like what would you do if I told you I'm pretty sure they're going to stay the same. I was like dude, I wouldn't vote you out. And he was like that is exactly what I want to hear. He was like do you know who we're thinking of putting up? I was like tell me? I was sitting on Monte's bed and he goes that guy. And I was like eh yo you think so! He was like I am pretty sure Monte stays up on the block and he goes home on Thursday. He was like so you're with it? And I was like sounds like an awesome game move. Go up there and tell him you're in and I'm sure its going to be unanimous vote for Monte to leave. This is me reporting to you what he wanted me to tell you. Michael – I have not said to a single one of them that yes I am doing this. I said yeah it would be a big move but that I needed to talk to everyone and I told them how I made a deal with Monte that I wouldn't come after him. Obviously that was not a conversation that was actually had. Michael talks about what he wants to do for the veto ceremony speech. I want to use Daniel's speech for what he said for Taylor. "What's good for the house, is good for me". Turner – that would be funny but I'm not sure many would remember.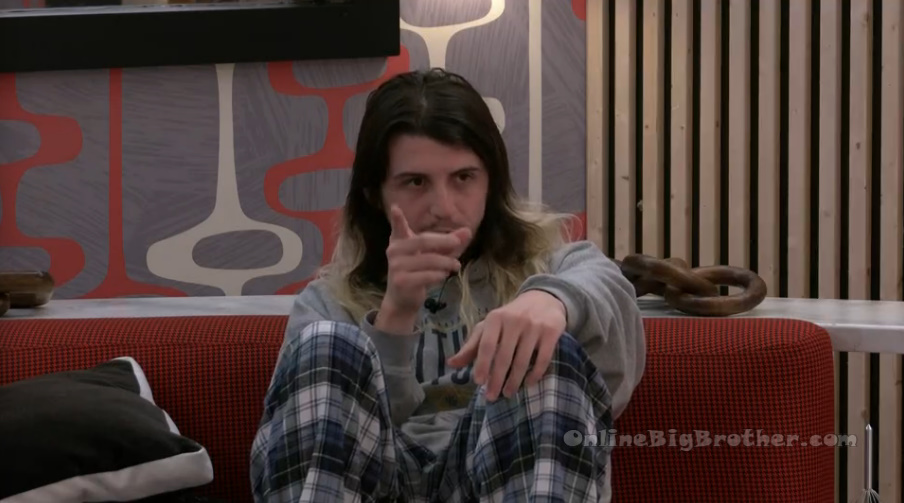 9:32pm HOH room – Michael and Monte.
Michael – I guess they told Turner that everyone is on board (to get out Monte). Like even Joseph wants to do it. Monte – okay?! I thought that after a 24 hour period they would be scrambling about but I guess they figured they did everything last night. Michael – I think they think its going through. I have not told a single person I'm doing it. Kind of what I was thinking was if their logic is that everyone in the house wants you out, everyone in the house wants Daniel out next… and their argument is that Daniel is a lone wolf .. and if everyone wants you out you're in that same position. And Daniel has thrown my name around and painted a target on me and put me on the block. I have more reason to go for Daniel. Monte – right right.. that's logic right there. Michael – its funny that I have not given them any confirmation but they're going to everyone saying its happening, its happening.. And I'm like you need me to do it.
10:07pm Bedroom – Jasmine and Terrance.
Jasmine – I am like sh*t is he (Michael) going to make the move (leave noms the same to get Monte out) or not? I don't know. I am nervous because I don't know if he is going to make the move or not. Terrance – Yeah I don't know either. I am just afraid that he don't have the guts to do it. Jasmine – that's what I am scared of. And I think he wants Daniel out because Daniel verbally said Monte and Michael. Terrance – its stupid. Jasmine – I mean it would be good for you because then you would come off. Terrance – yeah but then if the plan gets discovered I am public enemy number one. Jasmine – do you want the noms to stay the same? Terrance – f**k yeah! I just want everyone to do what they said they were going to do. If he doesn't then everything I did was in vain.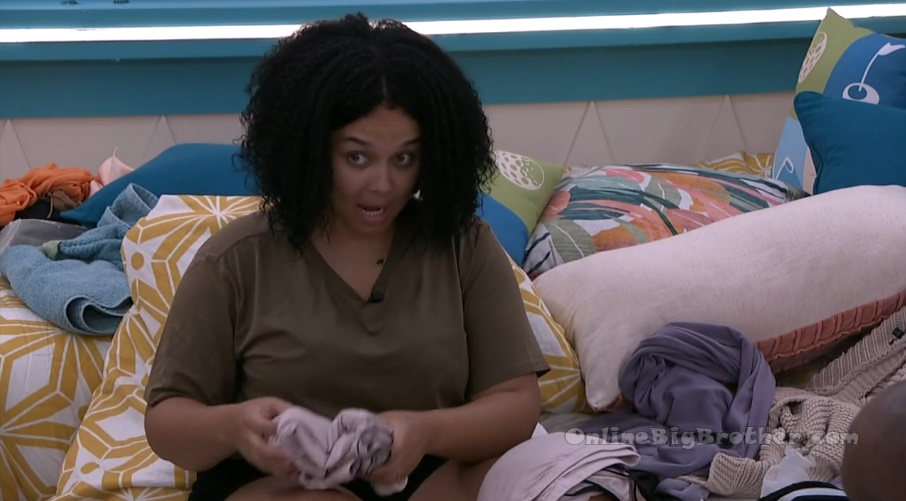 10:17pm – 10:35pm HOH room – Michael, Daniel, Kyle and Brittany.
Daniel – what we can offer is safety for as long as Besties is around. I don't want you guys to worry. And we feel very good about that. And you (Kyle) really want to win (HOH). Kyle – yeah I am going all out. I think a lot of people are on board with the noms staying the same. I think you wouldn't get too much blood on your hands if you just kept it the same. I do feel close to you guys. I know we don't talk a lot of game but I do want to work with you guys moving forward. I think Daniel feels the same way. Daniel – yup. Brittany – can I ask this.. what if Julie comes on the screen and says congrats you guys are all in jury, Besties is done. That would be the hesitation of mine .. like you said as long as Besties are done and they're done. Daniel – that would be terrible. I mean I would be down to do one week for sure .. I wouldn't mind two weeks definite. To make sure you have two full weeks. And again, I am not after you guys.. I have no reason. Just so you guys feel secure I am fine with that. I have no desire to go after you guys. I just want to be here as long as I can. Michael – if noms stayed the same what would you envision happening. Daniel – if noms stayed the same we would do whatever you wanted. People are supportive of Monte going home. But of course if you wanted to switch it I would do it .. I would ride with you because you're saving me. Michael – Full transparency on hesitation I have about sending Monte home this week.. one when he was HOH he could have put us up or backdoored us… and he didn't. We had conversations with him about how if he kept us safe we would reciprocate it. I do have a hard time with that. I do understand that is what everyone wants I would take that into consideration. But if everyone wants Monte out.. then who is next? Daniel – I will ride with what you want if I don't see the block. Whatever it is, I am just down. Michael – and I don't have my mind made up. I just want to see where everyone's mind is at. THey hug and Daniel / Kyle leave. Brittany shakes her head. Michael – Indy, Alyssa, Jasmine have told you that they would vote that way.. MMMmmmm MMMmmm. If he's pieced it together he knows he can't put Indy/Alyssa up, he can't put Jasmine up … and that leaves us.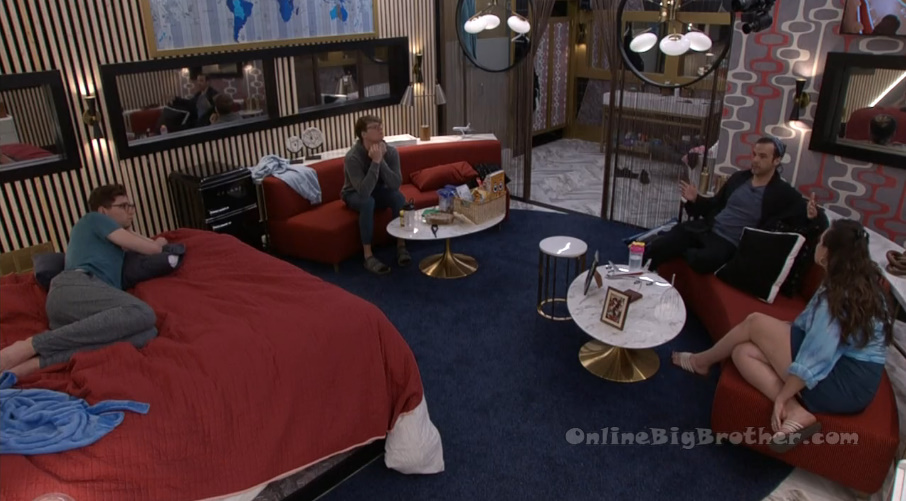 10:40pm Storage room – Brittany and Daniel.
Brittany – I would much rather come to you and say here is why I made the decision I made. And here is why. Daniel – I respect that. I have no reason to go after you. I will not stray from this.. there are other people that are threats. Brittany – I just want you to know I am fully on board for a clean slate.
10:50pm Snack time..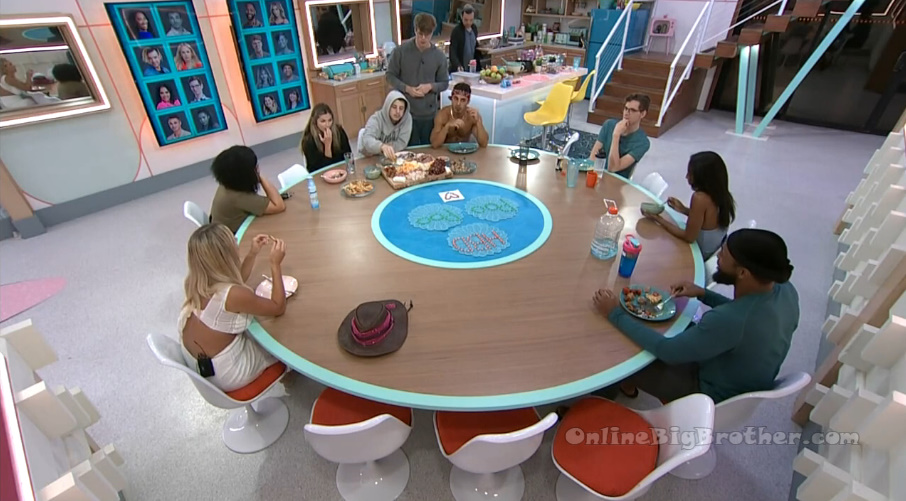 12:30am – 1am The house guests are enjoying the wine and beer chatting and hanging out. Alyssa and Brittany talk. Alyssa tells her that she's watched every season and classifies herself as a superfan. Alyssa – I would love to see two girls in final 2. That has literally never happened ever. Brittany – me too! Alyssa – you and I are emotional people but we are not emotional players. Brittany – that's what I told Ameerah in my goodbye message to her. That's why I needed her out. Alyssa – that's why I want Monte out. I want a final four with you, Michael, me and Kyle. And then when we get there we duke it out.