Quick Big Brother Spoilers
Head of Household:  Michael
Nominees: Terrance, Monte & Joseph
POV Players: Terrance, Monte, Joe, Brittany, Michael Jasmine and Turner; (Taylor is hosting)
POV Winner: Michael & Brittany
Veto Ceremony:
Havenots:  None so far
Lock your ranks in before midnight
Festie Besties:
Turner & Jasmine
Joe & Monte & Terrance
Daniel & Kyle
Brittany & Michael
Alyssa & Indy & Taylor
The Situation
Michael will be using the veto to nominate Kyle and Daniel. Daniel is the target. The leftovers appear to be solid once again. I wouldn't say Daniel being evicted is set in stone there is always a chance Kyle will spiral out and get himself evicted.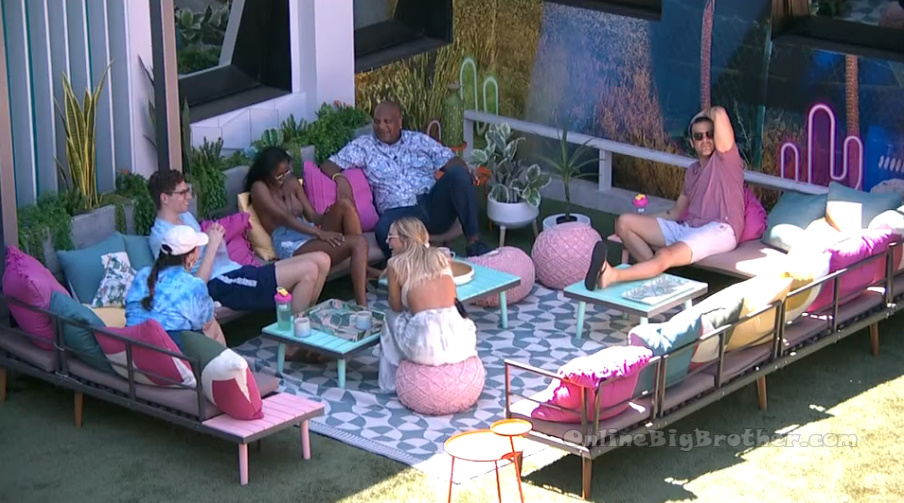 12:20pm Backyard couches – Brittany, Michael, Taylor, Terrance, Indy and Michael are chatting.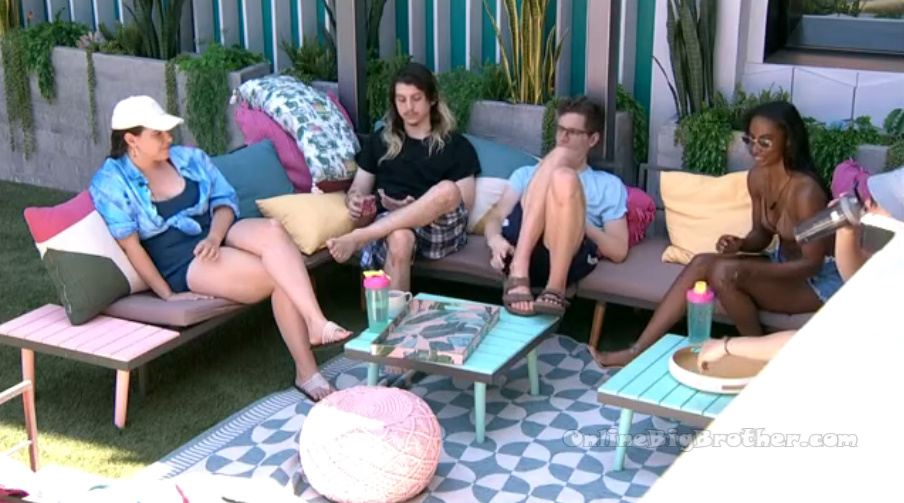 1pm Bedroom – Terrance and Joseph.
Terrance – I am trying in my mind to think about best case scenario and worst case scenario. Joe – you have to. You can never get too comfortable. Terrance – and in the worst.. Joe – we all got to talk then in the worst. There is no guarantee we come down. Terrance – if its worst case scenario we've got to lock game bro. Joe – yeah you don't need to be scared .. I love both of y'all but the game is the game. That's a tough one but it wouldn't be the first tough decision this house has had to make. If we come down then it will be Daniel… and I don't want to see that either. I feel like he might keep us up. Terrance – I think that it might be. Joe – it would make sense, I mean you've got three decent people on the block. Its best if all three of us stay but if not it should be him (Monte). Terrance – self preservation. You know what I'm saying. You have me, I've got you. Joe – yeah I know. You ain't got to tell me that. Terrance – we're on no ones radar. This week is critical to go further past jury. Joe – Monte stays the longest in vetos and he has an HOH where as you and me are on the same level. No HOH's and no Vetos. Terrance – and I told Michael, think about it… what happens to you next week if he is here… and we're all here. Joe – yeah yeah.. he got one free pass… but at the end of the day its Michaels decision if he wants to get out Monte. No one likes touching the block. Period! I already spoke with Michael and if he wants to leave us.. I don't think its the end for me and you but if he takes us down too that's fine. I don't want to see the block the night before jury. You never know people in the last minute could go Monte, Terrance or Joseph. I hope it doesn't come to this but that's what we signed up for. Terrance – Yeah, I want to make it to jury. We're locked in. They fist bump and leave the room.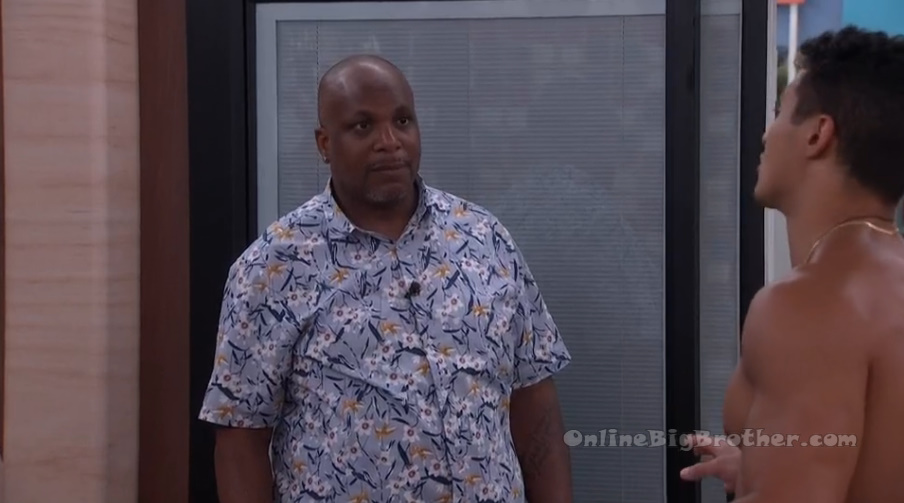 2:37pm Bathroom – Joseph and Taylor
Joe – I was like have you talked to Daniel and he was like yeah, the whole house wants Daniel. I was like I f**k with Daniel. I rock with Daniel but if the whole house wants him… I told Michael to do whatever is best for his game. If he leaves us up .. that happens. Terrance jumped at that. Taylor – of course he did. Joe – he was trying to make it like we're like this.. like we're tight. Even though I thought he was tighter with Monte.. but.. Taylor – well the way he's thrown him under the bus. Joe – I was like you and me are like this and if we stay up it would be Monte that goes. I said I would hate to see that. I would rather not but if it happens.. this is what we signed up for. I just wanted that verbal confirmation so I can go back to Michael and be like green light. Which will strengthen their alliance and the other reason why I did it was to break me and Monte further from each other.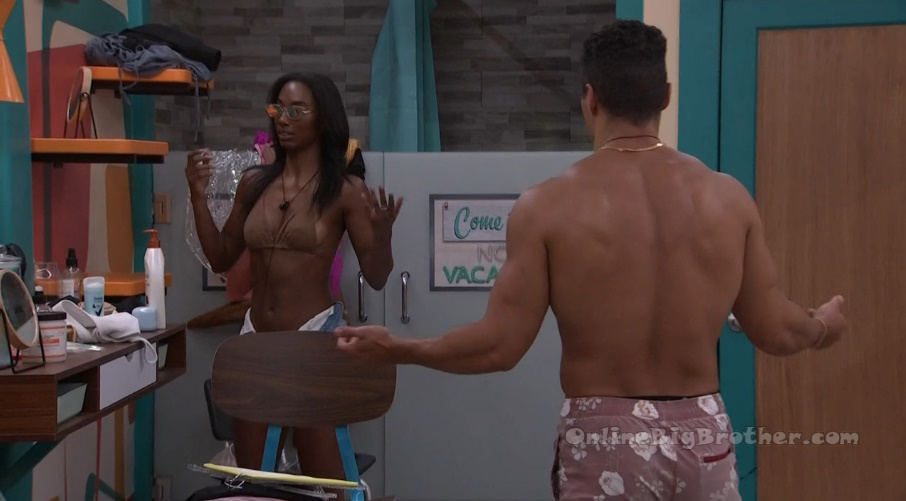 3:15pm – 3:50pm The house guests are chatting and hanging out in the backyard. Alyssa talks about her ex-boyfriend that was controlling, manipulating and how he diminished her self worth.
4:25pm HOH camera time..

5:09pm Backyard couches – Brittany, Indy and Jasmine.
Jasmine – so how are you feeling? Brittany – I need to talk to Michael. Jasmine – I just want him to know that we have his back. You know what I mean? Brittany – yeah. Jasmine – And not only me… her (Indy), Alyssa. Indy – for me he is always part of our team. He was never separate. Brittany – I talked to him a little bit and of course we're completely on board but I know he (Michael) is wrestling around with .. like he very much told him (Monte) that he would be safe this week.. like last week. And I know that's a big thing for Michael (Keeping his word). Like that is what he told me that its a big thing. Jasmine – I don't know man.. I just want him to be safe. Like that time is going to come and they're not going to think about the same thing. Alyssa joins them. Jasmine – it has nothing to do with you .. because he doesn't vote.. so its not him that's upholding his part. And if you dig deeper into that he said he would keep him safe but he is still on the block. I know he (Michael) is such a great guy.. I get it. Brittany – I think its tough Daniel has been actively telling him that he (Michael) is his target. So that does leave him (Michael) particularly vulnerable. I just need to reconnect with Michael to see where his head is at. He is definitely thinking through both options.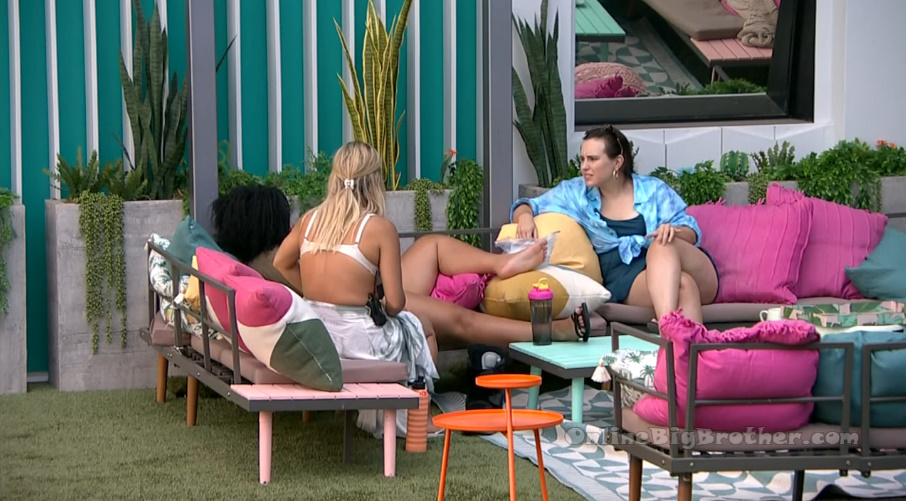 5:15pm Bedroom – Daniel and Alyssa.
Alyssa – He (Michael) knows that you wouldn't come for him? Daniel – he knows, I told him yesterday. Why did he say something? Alyssa – I am just making sure because I really want him to keep it the same. Like really, really badly. Daniel – I think he was on board but that was last night ..and I've been hearing from other people that as long as I have the numbers to get out.. He just wants to make sure that he is secured in it. I am going to double down today with me and Kyle going up there. Me, you, Kyle, Jasmine, Indy and Brittany. Alyssa – you just have to make sure you tell him that you will not come for him. Michael told him (Monte) last week I got you bro .. so he just wants to make sure he's secure.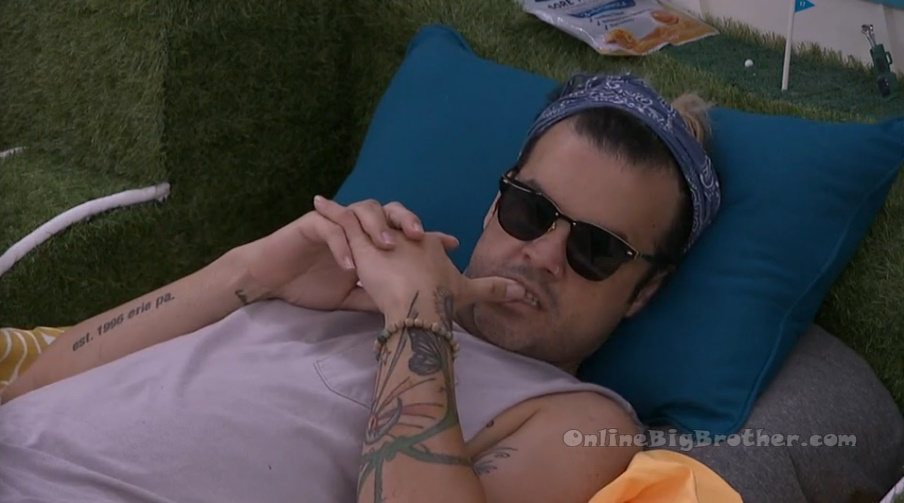 5:32pm More backyard photos..