POV Holder:
Next POV
Aug 24th
POV Used
POV Ceremony
Aug 26th
HOH Winner:
Elissa
Next HOH:
Aug 29th
Original Nominations:
Current Nominations:
Last Evicted Houseguest
David, Nick, Jeremy, Kaitlin, Howard, Candice, Jessie. Helen
Have Nots
12:35pm Ginamarie finds beer in the storage room. There are only 4 beer. Aaryn has one, Judd has one, McCrae and Amanda have one each. Spencer didn't want any and neither did Andy. They wonder why Big Brother didn't give them at least one each. They wonder if one of them took some and hid some. Andy and Spencer both say they didn't hid any. Who would do that?! Aaryn tells them to go ask for more. Spencer says I hate it when you are too drunk to f**k. Andy says that happened to me once it sucks. Aaryn tells Judd how he missed McCrae and Amanda's wedding where Andy read the most inappropriate passages from the bible. One about the woman serving the man and the other about incest. Andy says we haven't been stereotypical – Aaryn got out the last minority. Gina says no I did. Andy says well Aaryn got out Helen. Gina says oh because she is Chinese or Korean. Andy says well I guess you and Aaryn tag teamed her out. They talk about how Elissa will get a power this week. Amanda says Elissa is great TV. Andy says the last few weeks Aaryn and I have thought we would get Pandora's Box. Spencer says it doesn't always mean it's a power, it could be money. Andy says yeah like she needs more money.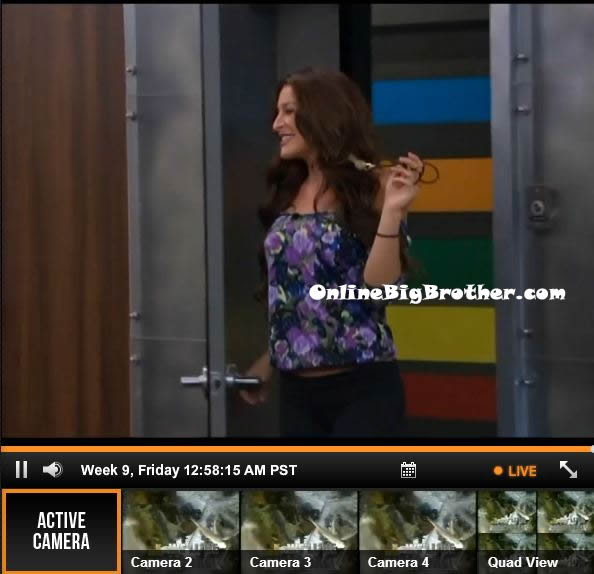 12:50am – 1:30am Elissa comes out of the diary room and walks over to her dresser drawers.
Spencer asks didn't you get your HOH room.
Elissa says no, I am not HOH. She says they said Judd gets it because he came back.
Judd says that he can't wait to see her photos.
Elissa then goes back to the dairy room and comes back out and says "Who wants to see my HOH room?!"
She says I don't even know what I am going to do when I see photos of my family!
They all pile in and look at her photos.
Aaryn says your son is precious. They all compliment her on how cute her son is. The CD she got was Taylor Swift. Elissa then reads her letter from Rachel Reilly. Elissa reads her letter aloud. They all tell Elissa it was a great letter. Aaryn tells Elissa that her wedding dress looks amazing. Elissa says that wasn't even my real wedding dress that was just the one I had for one of the receptions in Canada. Spencer comments that her husband looks European. Amanda goes digging in Elissa's HOH basket. She says its tequila. It's a Skinny Girl margarita mix drink. McCrae goes downstairs to grab glasses. Elissa keeps says awe, my little angels! Awe I love my mom, she sent me a necklace. I literally talk to my mom every day. Elissa says I want you to all have fun during my HOH and come up here whenever you want. Elissa then pours out the margarita mix. Gina and Spencer have water. Elissa gives a toast. Amanda talks about how surprising it was that Jessie said F**K you Amanda. Elissa starts screaming about being so excited about getting her letter from her sister. Aaryn says congrats Elissa and leaves the HOH room. Elissa says I love the fact that I am here I am obsessed with big brother and so happy I got HOH!
Big Brother 15 Live Feeds FREE 2 Day TRIAL:
FLASHBACK FEATURE
1:45am Elissa holds the photo of Brendon, Rachel, Her, and her husband and says my brother inlaw Brendon is the hottest big brother player in the history of big brother.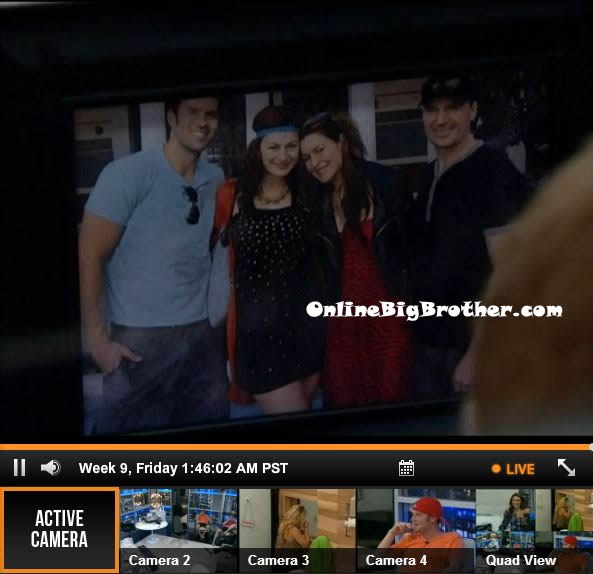 1:53am – 2am Amanda already trying to be besties with Elissa. Elissa talk about her and her husband believe in making their kids work for their money. She says the 15 year old has his own business buying and selling computers and other things online. She talks about her husbands Manufacturing company and how he is a self made man.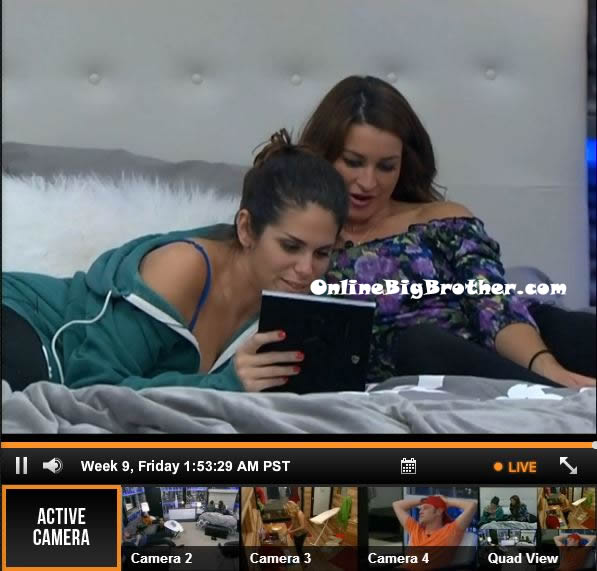 2:20am – 2:25am Elissa starts doing yoga moves on her new yoga mat. Then Judd tries it and jokingly says I bet you can't do this. Elissa says yeah I can't do that. Ginamarie comments that the mascot that ran around during the competition was hot. They laugh at how he said Spencer invited him. Gina says Candice is a new woman. Andy tells Gina I can't believe you hugged Candice. Gina says yeah she said sorry and we hugged. We're good. Gina says Candice wished me a happy birthday. Andy asks if Ginamarie whispered I'm going to kill you in Candice's ear. Ginamarie says no, if you say sorry, I say sorry. The conversation turns to talking about and telling Judd about the OTEV competition.
2:35am – 2:45am In the rainbow room – Andy tells Judd a lot of people trust me and if you stick with me I can keep the target off of you. Judd says yeah I got your back. Andy says that Elissa wants to break up Ginamarie/Aaryn or Amanda/McCrae. Andy says what we have going for each other is that people like us and trust us. Judd asks do you think Amanda was mad that I said my biggest mistake was saying loyal. Andy says I don't know. Andy says I made a two week deal with Elissa so as long as she can keep me safe I can try and keep you safe too. Spencer joins them for a minute and leaves. Andy tells Judd that Ginamarie likes you. Judd asks where does Aaryn stand? Andy says she and I are good. Judd asks so are you still with McCrae and Amanda. Andy says yeah but I am getting nervous. Andy says don't tell them that though. Judd says I won't I don't really trust them. Andy then leaves and talks to Elissa in the havenot room. Andy tells her that Judd is good and wants to work with us. Andy confirms with Elissa that he will not go up and not go up as a replacement. Elissa says yeah. They shake hands and leave the havenot room.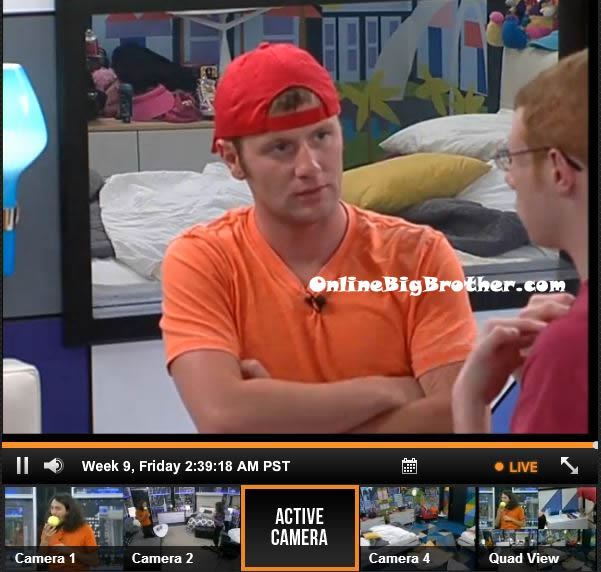 2:50am – 3am Up in the HOH room – McCrae compliments Elissa on how she kicked so much a$$. He talks about how she almost fell off and got back up and earned it. McCrae says I don't know what you are thinking. Elissa says you know what my goal is and as long as that happens I am open to suggestions. McCrae says if you have Aaryn and Ginamarie on the block then mathematically … Elissa says I am going to brush my teeth. Amanda joins them. Amanda jumps in the shower naked and asks Elissa to look at her boob. She says is bruised from the balls. Elissa says I have never seen boobs bigger than my sisters but yours are. Elissa says my boobs are small and perky. Elissa tells McCrae Brendon is hot, my husband is hot in a different kind of way. He has a great personality and I think he is hot. McCrae says I think he is hot, I would try and date him. He is rugged in a rough Canadian way. Meanwhile in the rainbow room – Judd asks Gina for her expertise. He asks her what's on the sheets? Gina looks and says yeah that's period blood leakage. It happens. Gina show him what makeup on the sheets looks like. She then starts to show him period blood and he says that's all right I don't need to see.
3am Judd joins Amanda, McCrae and Elissa in the HOH room. McCrae says I think you want her (Aaryn) to go. And if Ginamarie is not on the block then there is a one in six chance that one of them could win the veto and they would be both safe. Elissa says well I want everyone to know that everyone has an equal chance of going up on the block. Amanda says I thought you were going to put up Gina? Elissa says no I am not putting her up I didn't say that. McCrae says if I would put up Gina and Spencer and back door Aaryn. Amanda says if you put up me or McCrae there would be a lot greater chance that one of us would go home over Aaryn. Elissa says you guys would put me up in a heartbeat, Aaryn told me that you would! Amanda says I never said that I would do that. Amanda asks why do you have to put up McCrae and risk us going home. Elissa says because McCrae is the best competitor and I can't risk Aaryn not going home. McCrae says so if I win the veto I am not supposed to use the veto? Elissa says no you can use it and I will put up Ginamarie. McCrae says you should put up Aaryn and Gina and if one of them win it I will volunteer as the replacement. Elissa says no, I want her to go home and its better odds this way. I don't want you guys to be mad at me. McCrae explains that if Gina and Aaryn aren't up there together then they can save each other and neither of them go. Elissa says I just don't see how it is any different than you being up there. Elissa asks Judd what he thinks? Judd says I don't know I am still getting caught up. I know people would probably want me up because I got a second chance. McCrae tells him he has nothing to worry about this week. Amanda joins them again. Amanda and McCrae argue with Elissa about how there is a good chance in one of them going home if we are on the block. Amanda says we need to keep the numbers on our side for next week when you can't play HOH. Amanda says I know you want Aaryn to go home, first lessen her odds of staying, and have a plan b. Elissa says I don't think you fight as hard if you aren't on the block. Elissa says McCrae is the only one I trust will fight to win it. McCrae says you need to know I will fight every time regardless of being on the block. Elissa says you might now get drawn. McCrae says you can trust that both Gina and Aaryn would fight their a$$es off to not go home. Amanda says so why would you risk one of us going home when we have been protecting you? We have been protecting you since week one. Elissa says I don't even care about that stuff I just want Aaryn to go home. Amanda says you need to work the odds in your favour and not risk the people that have been helping you since the beginning. She just took out your best friend and now its time for you to take out her (Aaryn) or her best friend (Gina). Elissa says my best option is McCrae. Amanda says you don't know what the veto will be, he fell of second tonight. Elissa says let me just think about it, its 3am, you know you are not my target. Amanda says starts crying and says its heartbreaking that you would put up him (McCrae). Elissa says I am not wasting my HOH and not sending her home. They agree to talk about it tomorrow. Elissa says I have a head ache.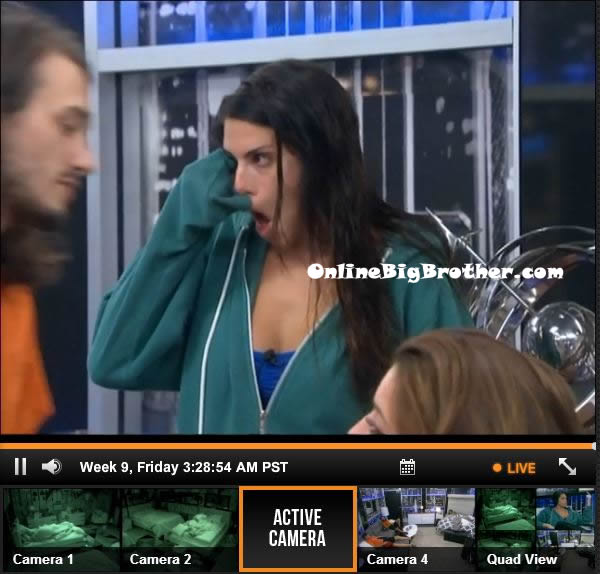 Big Brother 15 Live Feeds: FREE 2 DAY TRIAL
3:35am – 3:50am In the lounge room – Amanda says this is 100% Helen. She told her to not let me win the game. McCrae says well why would she put me up? Amanda says because she is lying, her second target isn't Gina its you or me. Amanda says if Aaryn comes off the block then.. McCrae says we are f**ked. Andy says it is like talking to a wall, nothing gets through. You just have to prove her right and win it. McCrae says I don't get it?! Amanda says she wants Aaryn gone or me or you! Amanda says whatever we can't argue with her. All this does is make her a hot target for the entire house. She is going against both sides of the house. Amanda tells Judd he is being very quiet. Judd says I'm just in a daze, I've had 3 hours sleep and I'm still trying to get caught up. Amanda says Andy you have no counterpart so it makes no sense to not put you up instead of us, that is why she is lying and wants one of us to go home. McCrae says it's so stupid because next week everyone is just going to cannibalize her. Amanda says Elissa doesn't even care she just wants one big move and then to get out of here. Amanda explains to Judd why she thought he was MVP. McCrae says you (Amanda) need to be up there and drill it into her until nominations. Amanda says she won't listen, you know what she is like. Spencer joins them and Judd goes to bed. Spencer says just be thankful that she isn't putting you up together. McCrae says but I haven't won anything since week one. Spencer says it doesn't mean you can't win something now. Amanda says if I go out because of Elissa, I am going to f**king lose it! McCrae says me too.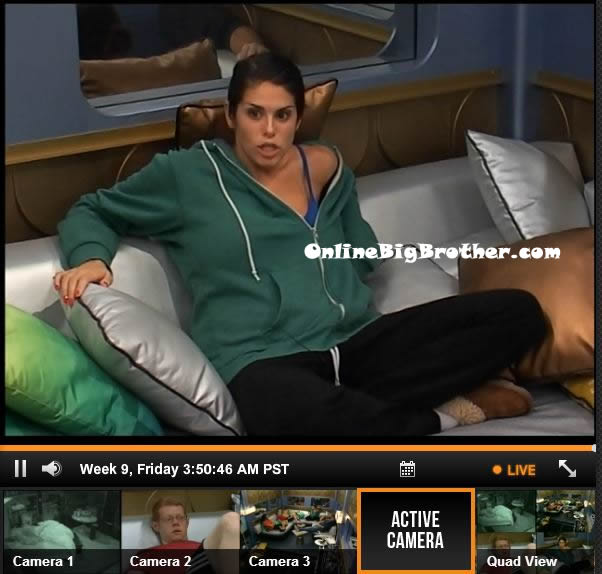 4:05am Amanda starts crying in the bathroom. She grabs onto McCrae and hugs him. Amanda asks why am I so hated in here?!! McCrae says I don't know. Amanda asks why would she put you up, that makes me so mad! Amanda says I hate her. McCrae says I know. McCrae says there is nothing we could do Elissa is a robot that was programmed to catch balls. They head to bed holding hands. They both say I love you.
4am – 4:15am
Spencer says you all know if I get picked to play I will bust my butt. McCrae says but Aaryn is the comp master. They talk about the veto competition possibly being the what would you do for the veto comp. Spencer says you would have to shave your head. McCrae says yeah. Amanda says thank god we got Helen out so we can blame everything on her. Spencer is worried about Judd taking his place. Amanda says f**k that! Amanda says I hate that sh*t you get evicted and come back 2 weeks later. They head out and start getting ready for bed. Andy and Spencer head into the lounge to talk. Andy says I want to trust them (Amanda/McCrae) but I feel like if Elissa wanted to put up me they would be like yeah!! Andy and Spencer say they are both good and have each others backs. Spencer says Elissa's plan is stupid I think she is trying to backdoor Amanda. Andy agrees. Elissa wouldn't tell you who the second person was? Spencer says it wasn't you and it wasn't me. You know she doesn't like Amanda. If Aaryn wins veto, she comes off and Amanda goes up and goes home. If it makes you feel any better McCrae is getting worried about his game with Amanda he is worried about his perception of being viewed as following Amanda around like a puppy dog. If it came down to it who would you rather keep? McCrae? Andy says yeah. Spencer says he will build trust with Judd. He thinks Judd would put up Amanda if he won HOH. Andy talks about how worried he is about looking at Elissa wrong and she could put him up. Spencer and Andy head to bed.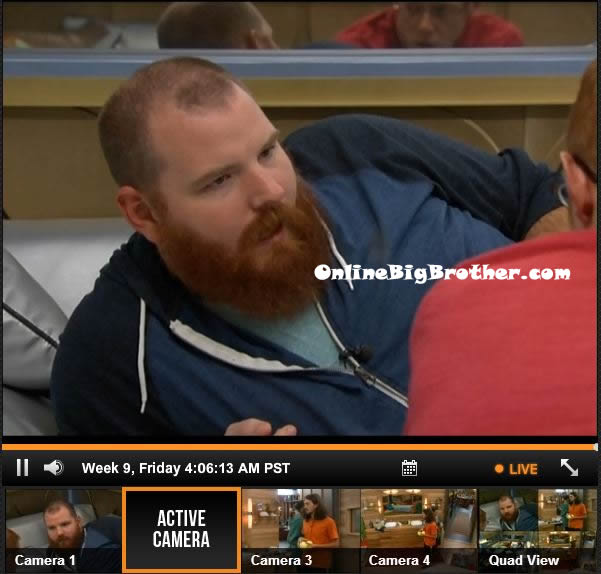 4:20am All the house guests are now in bed going to sleep..
5:38am Amanda is crying in the nomination chair.. Spencer comes out and talks to her to console her.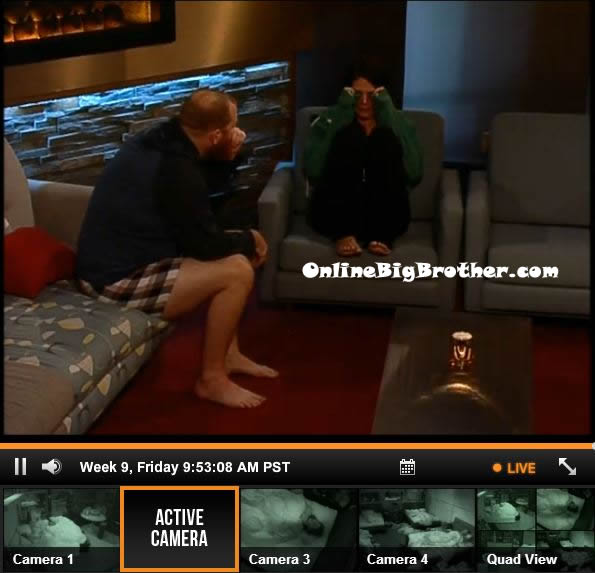 9:35am – 10am Big Brother wakes up the house guests..
Use the Big Brother Live Feeds to FLASHBACK to SEE what they can't show you on TV:
Share it YO!!
Tweet