POV Holder:
Next POV
Aug 24th
POV Used
POV Ceremony
Aug 26th
HOH Winner:
Elissa
Next HOH:
Aug 29th
Original Nominations:
Current Nominations:
Last Evicted Houseguest
David, Nick, Jeremy, Kaitlin, Howard, Candice, Jessie. Helen
Have Nots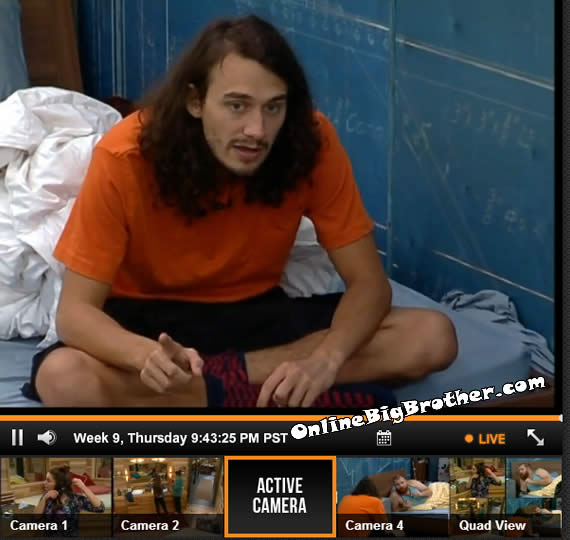 9:43pm Spencer and McCrae
MC is worried JUDD is going to get between him and Spencer. Spencer tells him not to worry he's going to be nice to JUDD but JUDD is going to be on the outside
MC says he feels that him and Amanda are targets. They both have no idea what Elissa is going to do. THey agree that JUDD being back in the game doesn't change their Andy/Spencer/McCrae pact.
You can re-watch ever second on the feeds using the flashback feature.. It's just like a DVR and is super easy to use. click this link for a Free Trial —> Subscribe to the Big Brother Live Feeds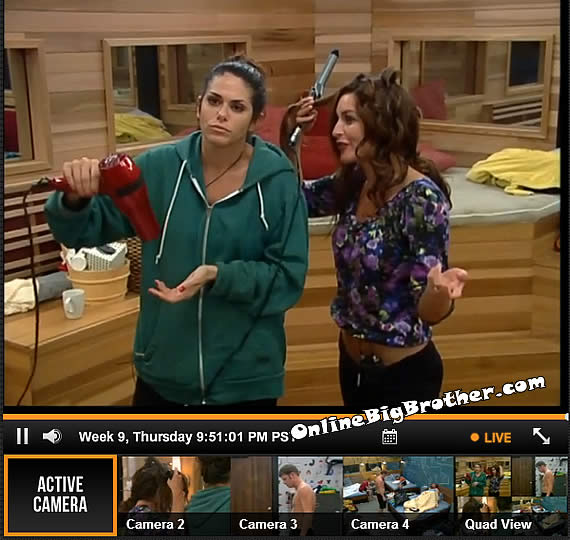 9:45pm Elissa and Amanda
Elissa says she wants to get Aaryn out it shouldn't be a surprise to anyone so whoever she puts up as a pawn doesn't matter. Amanda is telling her to put up GM and Aaryn. Elissa doesn't want to because she feels that GM will do what she says.
Amanda warns her if she doesn't put up GM and GM wins veto she will use it to save Aaryn.
Elissa:" I'll tell her to throw veto"
(hard to hear this conversation because of the blow dryer adn the feeds cutting in and out. . )
Elissa tells her she won't put up JUDD she thinks if she puts up McCrae he'll win the veto. She thinks McCrae will guarantees Aaryn goes home.
Amanda fighting to Get GM put up. Amanda explains if the only person that will use the veto to save Aaryn is on the block they will use the veto to save themselves and Elissa can put up whoever she wants. They can all vote out Aaryn. Amanda reminds Elissa that they are in an alliance together. She points out that the house wants to split her and McCrae up so if she puts them up they will go home.
(Elissa doesn't want to put up JUDD, GM or Spencer she's wanting McCrae and Aaryn up with Aaryn being the target. )
9:56pm Cockpit Amanda and McCrae
Amanda tells MC about her conversation She's not sure what Elissa will do.
McCrae: "you have to be on top of her"
Amanda agrees says she doesn't want to push her too much right now. Reminds MC that him and Andy need to work Elissa hard as well.
They agree to keep pushing to JUDD that getting him out was all Helen's idea.
Andy joins them.. Amanda relays the conversation she had with Elissa.
Andy: 'I wish we can get Elissa to put JUDD up"
Amanda: "She'll never do that"
MC: "She knows we'll get rid of JUDD"
They agree Elissa winning HOH and JUDD coming back throws a big wrench into their game.
MC: "We're f** if any of us go up.. the house will turn on us"
MC says it doesn't make sense the house go after her if she takes one of them out.
MC says they can count on Spencer's vote so even if one of them go up they should still be good. Amanda points out if GM saves Aaryn then two of them could go up.
Andy:' Oh my god.. it's going to be so hard to get JUDD out"
MC:" The best thing is to wait for a double eviction.. Spencer doesn't want to keep him.. what does poopy say"
They are worried that Poopy and JUDD will compare notes and find out that Amanda,
Amanda: "He's been trying to get me out of the house for weeks.. he's going to get ELissa to get me out.. this is the worst case scenario.. "
Andy: 'I know.. Why don't we tell JUDD everything about Aaryn"
They agree poopy will tell everything if she thinks she's going home..
Amanda:" We have to make sure she pouts up GM"
Andy: "This is the worst"
Andy leaves
Amanda starts to whimper says if she goes to Jury it's going to be a nightmare because the girls in there are so nasty.
MC: "Don't worry"
Amanda: 'She's not thinking straight" (Elissa)
MC says Elissa was cheating for the first bit.. adds that so was Amanda. He thinks it would have been better if they both had been disqualified then GM would have won.
10:27pm MC and Amanda
Amanda cannot understand why Elissa isn't putting up Spencer or GM.
MC:'She was lying to us"
Amanda:" I was like her best friends"
MC: "Everyone is going to be up her a$$"
Amanda: "I was up her a$$ this entire game"
Amanda:" She doesn't want to put up GM, Spencer of JUDD.. that leave just us and Andy"
MC:" That doesn't make sense"
A: "JUDD will never trust us again after voting him out"
MC: "He says he's coming in with a clean slate.. I don't know if that scares me or if it's good"
A:' We just have to make sure.. we don't end up on the block together"
Amanda keeps repeating the same thing.. GM can't go up they cannot go up together..
MC seems very worried that Aaryn will spill the beans about their alliances. Amanda says they will just call Aaryn a liar.
JUDD comes in.. "What's wrong Amanda"
A:" My f**** T!tT hurts.. i'm just worried.. not about you "
Andy joins them.
They tell JUDD they are glad he came back they didn't want Helen or Jessie.
JUDD leaves and Spencer rolls in. He tells them he heard her say she wanted Aaryn gone.
Amanda says if she put them up against Aaryn she would feel fine if nominations stay the same but she doesn't think they would.

Big Brother 15 N*de flashback times here
11:00pm Kitchen Elissa, GM and Aaryn They are talking about Pandora's box. they think Elissa will get it and it will involve Rachel. Elissa says her HOH letter will be from Rachel.
JUDD joins them. THey keep asking him about the jury house. JUDD says they really couldn't talk game with each other and if they got caught they were threatened with being sent to a hotel.
11:04pm Shower JUDD and Andy
JUDD: "Jessie's been pissed.. I doubt she'll make it the whole way"
JUDD: "I swear to god on my life I was never MVP.. unless I blacked out.. "
Andy:' I believe you.. I honestly think America was"
Andy says GM told him that JUDD was telling her to put him up as a replacement nominee a couple weeks ago. JUDD says he never said that.
11:06pm BAck to the kitchen
They are talking about Elissa getting in trouble for holding something in the competition. Andy:" Keith Yelled at you" (Keith is the person who runs the competition tells them when they are breaking the rules etc etc)
11:17pm Cockpit Andy and Elissa
Elissa says her target is Aaryn but she's thinking about putting up McCrae. Andy asks her what would she do if GM won the veto and took down Aaryn. Elissa doesn't know says she wants Amanda and McCrae to fight for the veto as hard as they can and if can't then threaten the person that has the veto to not save Aaryn.
Andy: "I support you in whatever you want to do but it scares me if GM wins veto and takes her off"
Elissa says she wants them to fight for the veto tells him he wouldn't go up.
Andy: "I'll fight for it 100%.. i'll fight my a$$ off"
Elissa: "If I see someone not fight for it I'm putting them up.. and If McCrae doesn't i'm putting Amanda up with him"
Andy: "Thats a f**** big move… if thats what you want to do… and I think that's something that Helen would respect."
Elissa: "Keep that between me and you"
Andy says he wouldn't tell anybody.
Elissa: "you tell Amanda and McCrae everything"
Andy: "I won't tell them anything.. Believe me I'm not a idiot I know . .I trust them but I know I am expendable..like you know.. my lips are sealed"
Elissa:" Can we make a two week deal"
Andy: 'Done"
11:19pm Elissa and McCrae Cockpit
Elissa tells him he is going to go up against Aaryn she wants him to win the veto. She wants the entire house to fight for the veto so Aaryn doesn't win it.
MC says it doesn't make sense if he doesn't win the veto he's going home the house will vote him out over Aaryn. McCrae points out that GM will use the veto to save Aaryn. There's a good chance she'll play.
Elissa: "You are the only one I trust will win the veto"
MC:" I will put all my cigarettes and my life.. if you leave us three votes I guarantee she's going home" MC pleads for her not to put him up swears he'll fight for the veto as hard as he can.
MC: "I want to get Aaryn out.. she's is such a good competitor"
Elissa:" You don't understand how determine I am to get her out.. I don't care who I piss off"
MC:' You'll shoot yourself in the foot"
Elissa: "I don't care I want her out"
MC:" The only way to ensure she goes is to put her up against GM"
MC reminds her they are all working together and Aaryn is the biggest threat to them. He's fired up to win the veto.
Elissa: "I will shave my head to win the veto.. I want her gone bad"
MC: "I'll shave me head.. She will win this game if she doesn't go home this week. .. "
Elissa: "I feel that you have enough drive to win the veto if you are on the block"
11:34pm Amanda joins them. They explain to Elissa that GM going up is the best play to get Aaryn out.
Elissa wants to make sure Aayrn goes home and wants a guarantee from them that they will fight for the veto and vote out Aayrn. MC reminds her that she has 3 votes locked, Andy, Amanda, McCrae that's enough to vote our Aaryn if they stay off the block.
Amanda: 'We all will fight.. I swear on my life.. "
MC:' We want to work with you not against you.. if you put them up together we'll get her out"
AManda: "We have to keep our numbers for next week"
Elissa is worried that they won't do whatever it takes to win the veto if one of them is not on the block.
Elissa:" You have to fight to the death.. Amanda"
Amanda:' I plan to"
Elissa: " What if she wins veto and comes after me"
MC:' We're protecting you.. we can keep this three strong" McCrae says if the can get Andy and that would make four going into next week. Elissa replies that she's not interested in next week. (Basically she knows it's BS) Amanda suggest that JUDD goes up
Elissa:" I'm not putting JUDD up no way.. "
Elissa:' I just want her gone"
Amanda: "I know the only way to get her out guaranteed if to put her up Against GM"
Elissa: "She's so confident she's working with you"
MC: "What did Andy day.. same thing"
Elissa: 'Ya"
They leave
Amanda:" I will not use the veto if she is on the block.. I swear to god I swear on my life"
You can re-watch ever second on the feeds using the flashback feature.. It's just like a DVR and is super easy to use. click this link for a Free Trial —> Subscribe to the Big Brother Live Feeds
11:28pm Bedroom Amanda and Aaryn
Amanda says that Elissa wants Aaryn to be evicted and they are trying to talk her into putting GM up. Amanda says Elissa does not want to put up Spencer. Aaryn thinks if GM comes down Elissa will put up Andy/McCrae or Amanda. Amdan doesn't think so. Amanda is going to try and talk to elissa and tell her Andy/McCrae and her they will vote Aaryn out if they stay off the block. Elissa cannot trust Spencers vote and she knows GM would never vote out Aaryn.
Amanda tells her they are not going to vote Aaryn out.
11:49 Cockpit Andy and Aaryn
Andy: 'I'm working on it.. I don't want you or GM to go.. "
Aaryn: "What she say"
Andy: "It's hard to get through to her"
Aaryn: "She wants me to go home this week"
Andy: "Ya.. but you have allies in this house she doesn't know about"
He tells her she's his top priority he doesn't want her leaving. "Trust me"
12:06am Storage room Spencer and McCrae
Spencer goes over his conversation with Elissa. She told him if he didn't fight hard for Veto he's going up as a replacement nomination.
McCrae: "So what she is doing is going around threatening everyone"
Spencer brings up how he asked Elissa what she would do If GM wins the POV and takes Aaryn off, 'She said I'm going to threaten her everyone will be after her if she uses it"
S: "I think she's going to say you are the target so GM feel safe"
S: "Dude i'm telling you if I win the veto and you are up there anyone that goes up against you is an ally I don't think I'll use it" (Spencer made a deal with Elissa )
MC: "I don't expect you to use it. "
Spencer: "What would happen if she puts up Amanda"
Spencer says mentions how Elissa is going to tell the entire house if they get houseguest choice to not pick Spencer and if they do they're a target. Spencer adds that she thinks besides Amanda anyone can beat me in a competition.
S: "She wants Aaryn out"
Spencer is worried that McCrae and JUDD are going to form an alliance because they were tight.
MC says he's loyal to Spencer.
Andy joins them. Spencer gives him a run down of his conversation with Elissa.
Andy:" THere's no way GM will not use it"
Spencer explains that Elissa is putting one from each of the couples up and is going to let the house pick.
McCrae leaves
Spencer: "Between you and me.. I think she's very interested in back dooring Amanda did you get that feeling"
Andy: "YA"..
Spencer:' She said I was a waste of a HOH"
Andy: "Because you are such trash"
Andy: "If Amanda goes we still have McCrae and we still have his trust"
Spencer:" I'm more loyal to you than Amanda.. us three.. is what I'm loyal to"
Spencer is worried that JUDD will come between them. Andy reassure him JUDD won't. Andy recommends he goes talk to JUDD.
Andy: He's dangerous.. super dangerous"
Spencer brings up Helen talking to JUDD on the wall saying that GM was trying to save her this morning. Andy was with GM when it happened it wasn't going anywhere. Spencer: 'I thought I could have some trust in GM .. but I can't.. she's more dangerous to me that Aaryn"
Andy says Elissa is a robot programmed to stick to her guns this week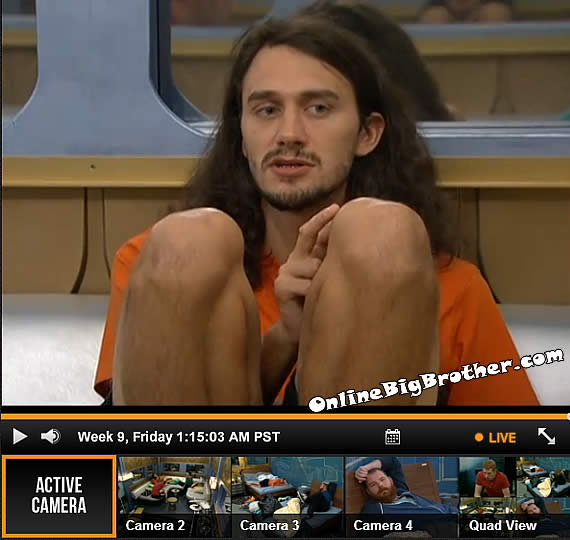 12:20AM COckpit Amand and McCrae
Amanda: "If it was me and you I would go home.. She is so f*** stupid"
McCrae suggests that maybe he should tell Elissa if she puts him up he's coming after her.
McCrae: "If one of us win the Veto you are going up"
A:" Did she say that"
MC:" No that is what she is going to do.. there's no logic.. her logic is I'll play hard for the veto if I go up"
MC: "I'm going to play hard in the veto no matter what she just told me I was going be a nomination or a replacement nominee"
MC:" Somehow Aaryn will win veto and we are f**"
Amanda:" you actually think she will put up Me instead of Spencer"
MC: "YA"
Andy rolls in "She told me no way in hell she would put up Spencer"
Andy: "she feels like i'm close to you guys so she wasn't telling me very much information. she told me it's not me and didn't give me any names.. "
Andy adds that Elissa told him she isn't putting up him, JUDD, Spencer or GM.
Amanda:" If Gm or Aaryn win Veto I'm going up and i'm going home"
Andy: I'm going to kill her"
MC:" why doesn't she think we wouldn't go guns blazing after her.. she has a chance not to piss every single person in the house. "
Amanda:' We protected her"
Andy:' She told me let the best competitor win"
MC says that Elissa pretty much said if she wins the veto she will take down Aaryn and put up Amanda.
Amanda:" SHE SAID THAT"
MC:" Prety much"
Andy:' She wants Aaryn to go home"
Amanda: "I'm going to be her best friend this week to make sure I'm not the replacement nominee"
Amanda:" Elissa wants me or you gone this week"
MC:' Pretty much.. oh my god please give me the Pandora's box"
Andy: "Oh my god how did this happen.. I think Helen got into her head.. Helen told me she didn't want Amanda to win the game"
McCrae leaves.
1:10AM Elissa gets her HOH room