POV Holder:
Next POV
Aug 24th
POV Used
POV Ceremony
Aug 26th
HOH Winner:
Elissa
Next HOH:
Aug 29th
Original Nominations:
Current Nominations:
Last Evicted Houseguest
David, Nick, Jeremy, Kaitlin, Howard, Candice, Jessie. Helen
Have Nots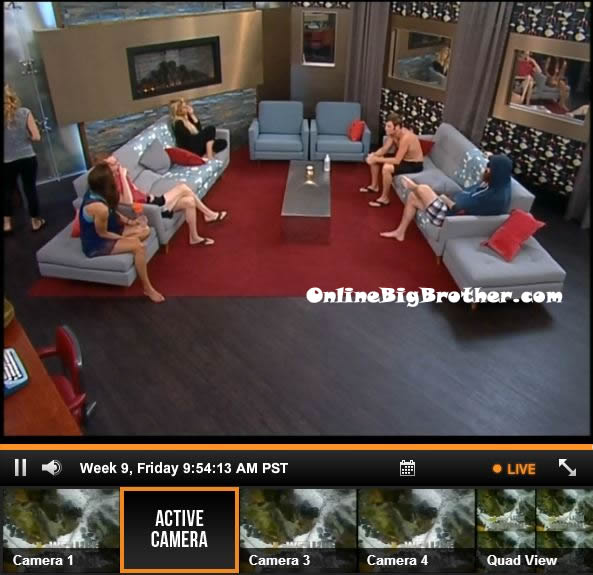 9:55am – 10am When the live feeds come back from waking up the house guests – Judd, Gina, Spencer, Elissa are all sitting in the living room. Spencer says I am going to go lay down since it (Have / Havenot Competition) won't be for an hour.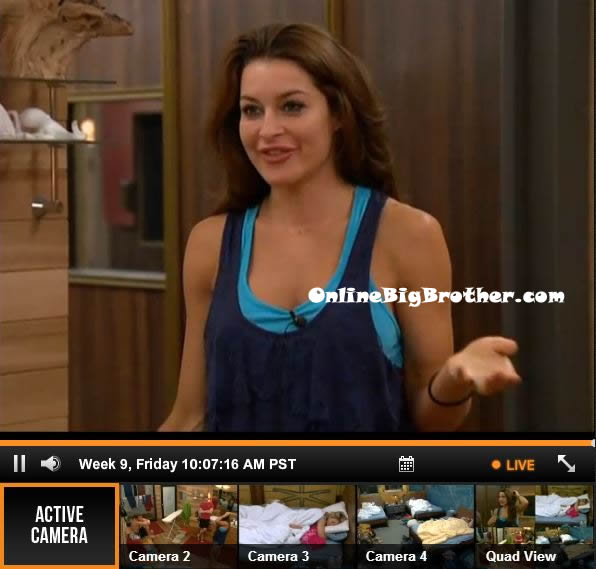 10am – 10:25am In the bathroom – Judd asks Elissa if he is okay? Elissa says yes you are good. I have always had your back. Andy joins them and they joke about being tempted with $5 gift cards. Judd tells Elissa I think everything you said last night made perfect sense, like perfect sense. Elissa asks it's not like I have HOHitis is it? Judd says no! There aren't that many people left if you know what I mean. I just want everyone to play in the veto to fight for it. Like if you have to shave your head, do it! Judd says yeah I'll do it. Elissa says that she would do it! Every week she just puts me up and I am just tired of it. She doesn't listen either, she keeps throwing your (Andy) name out. Elissa says I just want McCrae to fight for it and if he comes down I will put up Amanda. Andy asks what if Aaryn comes down, who will you put up? Elissa says I don't know, probably the person that fights the least hardest in the veto. Andy says I don't get why they are putting us on an HOH lock down at 11am. Elissa says I don't know maybe Zingbot is coming. Andy says no but he normally comes with the veto. They agree. Elissa says she thinks it's the have/havenot because they told us to make sure to eat. Andy leaves and Elissa tells Judd I really think that we should work together, can we work together? Judd says yeah I want to. Elissa says you can't trust Amanda and McCrae, she is crazy. Judd agrees and says she was crying and acting crazy after she left the HOH last night. Judd, Andy and Elissa laugh and joke about what they think Jessie did after she left the HOH competition. She kicked someone. She made out with someone. She tried to start a showmance with someone. Andy laughs that Jessie screamed f**k, Sh*t and left and Helen was so happy when she fell off saying by everybody! They laugh and joke about the competition last night. Judd says he was scared coming back in here. Aayrn joins them.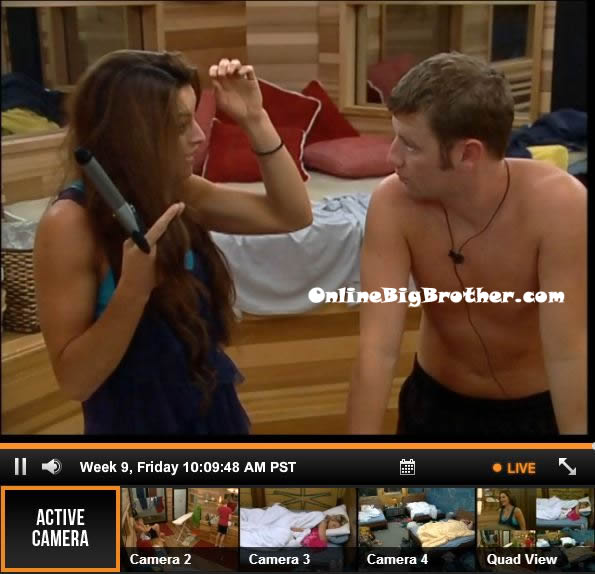 10:30am – 10:50am In the HOH room – Elissa says whenever you are ready to come up there and talk to me we should talk. Judd says yeah, yeah. Judd heads upstairs and Elissa follows soon after. Elissa says she has to go but I wanted to work with Aaryn. I just don't agree with they way she talks and what she says about Candice. I tried to work with her and was going to put that aside but I just can't Judd says the one person I do not want to work with is Amanda. Elissa says Aaryn does whatever Amanda wants and that's why she has to go because otherwise she is just going to keep winning HOH and pick everyone off. Big Brother cuts the feeds. Elissa says you never got mad at me, did you ever think that I was against you? Big Brother cuts the feeds. Elissa says that Aaryn is brainwashed by Amanda, she is just her puppet. Judd says that before he left he tried to work with Spencer because he was all alone. Elissa says if you, me and Spencer could work together to get Aaryn out at least for this week. She is just impossible to work with. Elissa says please just have my back because no one does. If you, me, Spencer and Ginamarie work together we could get her out. Judd says yeah. Andy joins them and Elissa says we were just talking about Jessie. The conversation turns to talking about Jessie. Judd says that Jessie still thinks she can use Helen as a business contact. Elissa says Jessie's proudest moment was calling me Rachel's shadow. Andy comments that Ginamarie's hatred for Candice just grew after Candice left. Elissa says yeah and she would talk about it to me who I was her best friend. Judd tells them about how Candice told him a story about being jumped where she was attacked in a bathroom by one girl and then 4 of Candice's friends came in and beat up the girl. Judd laugh and says Okay that's not you getting jumped, that's you jumping someone else.. Andy laughs and says that's what all her stories are like.
10:55am Ginamarie and Aaryn talk about the possibility of Aaryn going up and going home this week. Aaryn says I will be going up with Amanda or McCrae. Aaryn says if you get picked for veto you have to play hard for it. If they tell you they have the votes to keep me you can't believe them. Gina says I am due to win a veto soon. Ginamarie apologizes for not winning the HOH yesterday. Aayrn says never apologize for anything. If I go this week then I go..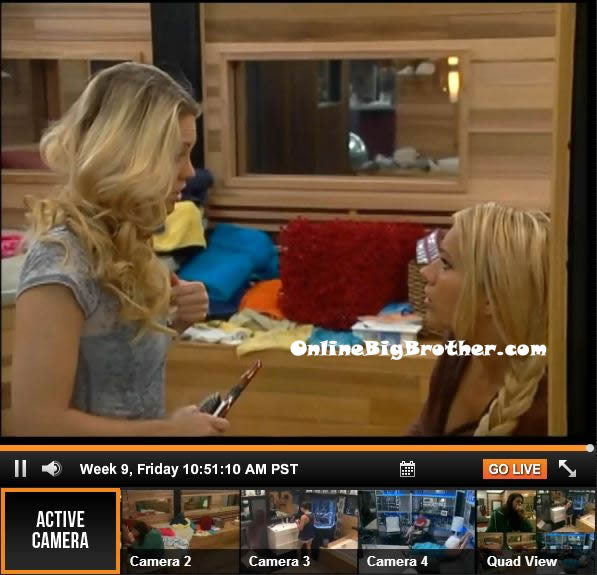 11:03am Big Brother tells them they are on an outdoor lock down please go outside and close the slidding glass door. All the house guests make their way outside. They speculate on what the lock down could be for. Production putting Judd's key back? Zingbot? Fixing something?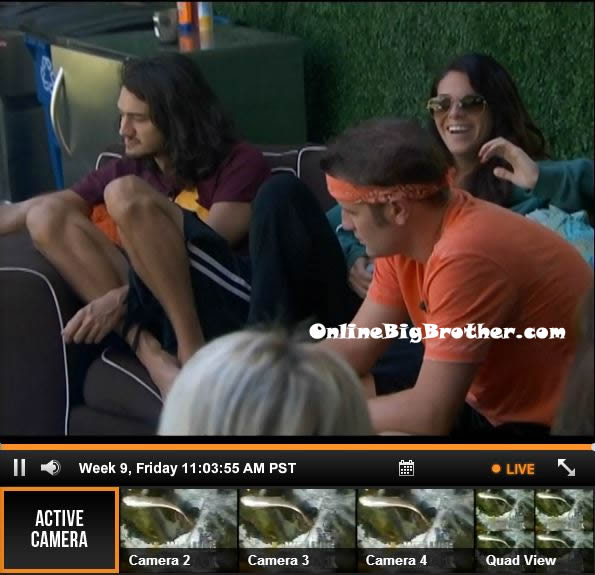 Use the Big Brother Live Feeds to FLASHBACK to SEE what they can't show you on TV:
Share it YO!!
Tweet