POV Holder:
Amanda
Next POV
Aug 24th
POV Used
POV Ceremony
Aug 26th
HOH Winner:
Elissa
Next HOH:
Aug 29th
Original Nominations:
Aaryn and McCrae
Current Nominations:
Last Evicted Houseguest
David, Nick, Jeremy, Kaitlin, Howard, Candice, Jessie. Helen
Have Nots
***** PLEASE READ *****
This is how it's always been with Big Brother. If Amanda uses the veto on McCrae both her and McCrae are safe. Amanda cannot be nominated.
6:05pm Aaryn and GM have nots
Aaryn says there is no way GM is going on the block.. Aaryn says they have to make sure people don't think GM is a flip flopper. They need to go back to being normal.
Aaryn says Amanda, McCrae, Spencer And Andy are all working together.
GM:" Who is she putting up"
Aaryn: "Andy"
GM: I heard the same thing.. he's going crazy"
Aaryn: "no matter who goes up I have the votes to stay unless i'm up with you if i'm up with you I don't have the votes"
Aaryn: "I don't want people to stay you are just like Jessie flip flopping.. I want us to be neutral"
Aaryn: "People are going to start trying to get you to turn on me.. if that happen just come to me.. I guarantee lies are going to start flying"
Big Brother 15 N*de flashback times here
6:47pm Hot Tub Andy and Aaryn
Aaryn telling him about Elissa's deal last night when she wanted to keep Aaryn safe and take out Amanda. Aaryn says she agreed to everything Elissa was saying because Elissa told her she would use the veto on her.
Andy asks who is going up. Aaryn doesn't know hopes it's going to be GM but even if it's Andy she's sure he has the votes to stay.
Andy: "I will fight to the death for you not to go home"
They agree both of them going up is the worst case scenario. Andy says if they can get Elissa to think Andy is what the house is going to vote out maybe she would put up GM.
Andy: "you should push for her to put me up
Aaryn – Amanda told Elissa that I'm working with MCrae and Amanda .
Aaryn – GM will tell her whatever she can to keep her off the block.. GM has to go up.
Aaryn thinks Judd and Spencer need to go next after Elissa
Andy – same
Andy thinks that getting JUDD out the first time was the biggest move they made this entire game and now it was for nothing.
Aaryn – I know that at some point Amanda and McCrae has to go but we still all need to work together to the 4
Aaryn – I feel bad because I had to lie a lot and I don't like that.
Aaryn – she doesn't trust you Andy because of Helen and Spencer/Judd have offered her loyalty to stay off the block .she thinks she has numbers but next week she'll have no one
Aaryn says spencer offered her a deal last night and today when she asked him if she had his vote he said we'll see.. "how are you supposed to trust that "

7:01pm bathroom JUDD and Elissa
Elissa: "It makes me so mad Aaryn is so happy now"
JUDD says he is going to tell them he's voting out Andy then switch it up to freak them out.
Elissa – We have to win the HOH and get one of them out or they win.. Aaryn has to go because she will do whatever they say
Elissa suggests that whoever wins the HOH has to put both of them up so they can guarantee the couple is split up.
JUDD – I want AManda gone before McCrae.. but if she wins veto then he has to go.
Elissa – sucks so bad because for the past 2 weeks i've been trying to work with Aaryn but she is so brainwashed.. She has to go she is bad for my game and she is a liar.
JUDD says she has to go and putting Andy up against her is the best bet.
Elissa – "for sure.. it's good for my game for you to be in good terms with them"
JUDD says he really dislikes McCrae and Amanda he doesn't like spending time with them.
Elissa wants them all to say they threw the POV competition so that Amanda would win it. Elissa wants them all to be happy around Amanda and McCrae and say how great of a week it is.
You can re-watch ever second on the feeds using the flashback feature.. It's just like a DVR and is super easy to use. click this link for a Free Trial —> Subscribe to the Big Brother Live Feeds
7:12pm Cockpit GM and Elissa
Elissa and GM are going to say they threw the competition that is why Amanda won it.
7:17pm kitchen JUDD and MC
JUDD is saying he threw the competition he wanted Amanda to win because that way she wouldn't go on the block and McCrae would be safe. He knew he had to make it look convincing because Elissa told him if he did throw the comp he would go up.
7:29pm bedroom McCrae and Amanda
MC says he heard Elissa talking in the back yard saying how great of a day it was they saw Zingbot and they gave Amanda the veto.
Amanda:" JUDD needed a f*** respirator for that veto.. thats hilarious"
7:35pm bedroom Amanda, MC and Elissa
E – I thought that JUDD told you.. we were all trying to help you
A – F*** Off ELissa give me a break you guys were sweating and hyperventilating.. You looked about ready to cry when I won it.
A – if you say you threw that to me that is hilarious
E – I never said I threw it
A- JUDD was on a respirator and GM was 8 behind me so ya you threw it.. give me a break
A – don't be a sore loser just lose it and take it.
E – I know I lost
A – if you sit there and say you threw it.. .
E – I'm glad.. today is the best day ever
A – good because your nominations are all screwed up.. don't be a sore loser Elissa.. just go away.. you lose with grace
E – I know I did.. I hit the target like 10 times..
7:39pm Amanda, Aaryn and McCrae
Amanda saying that GM was 8 behind her, Elissa was crying and JUDD was on a respirator they can't say they threw that POV.
ELissa yells from the kitchen "Amanda I never cried"
Amanda:" You cried like a little b!tch and I cannot wait for next week.. I hope you throw it to me again.. oh wait you won't be playing "
Elissa says something back can't hear
Amanda: "F*** off ELissa.. no one gives a f** what you saw OK"
Amanda goes into the kitchen to confront Elissa "OK so you have GM this week and next week when you can't play little b!tchy Elissa you don't have Helen you don't have anybody anymore so keep your F*** grimace smile"
Amanda: "you f** wasted your HOH.. how does it feel.. Rachel is going to feel so proud of you.. you and Brenchel army"
Amanda:" Guess what … f** off you are going down and McCrae and I are here next week"
Amanda: 'HEY GUESS WHAT .. what does ZIngbot and Elissa both have in common they are both made of Plastic… ZING.. .. that is why you don't look like any of your HOH pictures you and your 78 years old husband.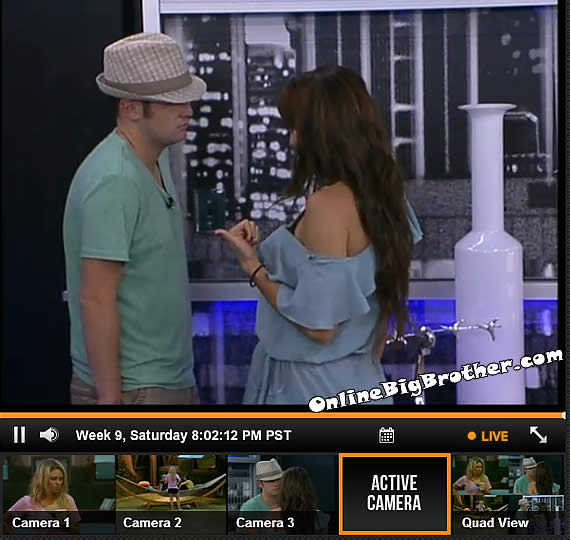 8:03pm HOH Elissa and JUDD Elissa says Andy is going up 100% but she just told him that he is not going up.
She has JUDD's, GM and Spencer's Vote.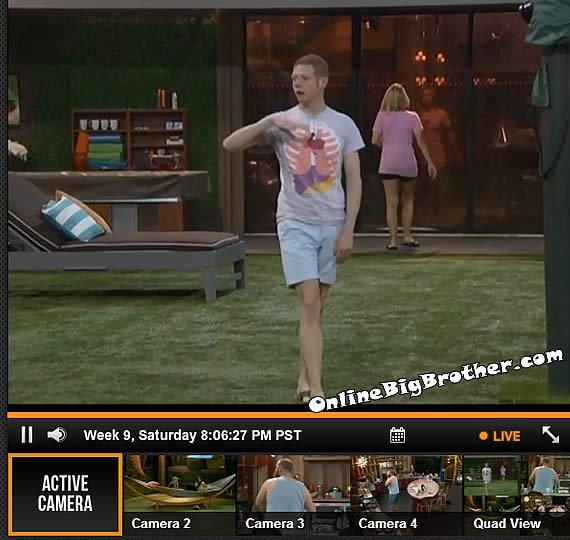 8:05pm Andy tells Amanda, Gm and Aaryn that he is probably going up as the replacement nominations.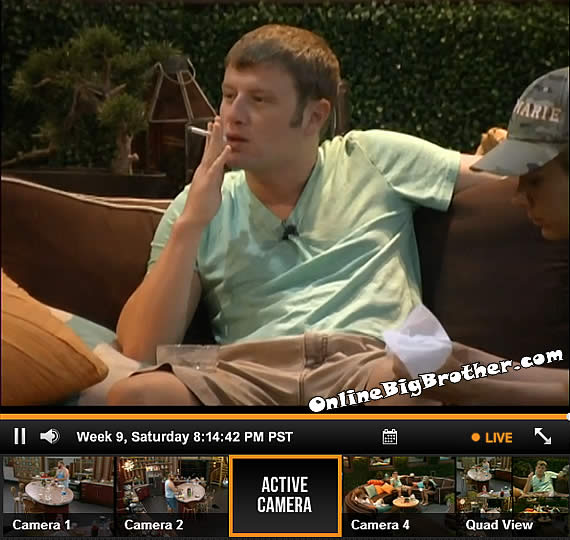 8:13pm Backyard Andy, GM and JUDD
GM: "I think Aaryn is more with Amanda and McCrae than she is with me" Feeds cut..
GM says people have been coming to her saying things. JUDD says Aaryn was with them when she was HOH and put him up during double eviction. GM knows says Aaryn really didn't want to do that.
GM though Aaryn was supposed to be her friend. JUDD points out that Aaryn was supposed to be his friend to.
JUDD leaves.. Andy starts to cry.. "Oh god"
8:19pm Backyard Amanda, JUDD, MC and GM
Amanda says Andy is pissed off at him because she would rather keep Aaryn over him because Aaryn can win competitions.
Amanda mentions that Elissa is going around saying that everyone threw the POV.
GM:' You guys know I would never throw anything"