POV Holder:
Amanda
Next POV
Aug 31st
POV Used
POV Ceremony
Aug 26th
HOH Winner:
Elissa
Next HOH:
Aug 29th
Original Nominations:
Aaryn and McCrae
Current Nominations:
Last Evicted Houseguest
David, Nick, Jeremy, Kaitlin, Howard, Candice, Jessie. Helen
Have Nots
8:26pm Cockpit Spencer and Andy
Andy says he was in the HOH and Elissa/JUDD told him they wanted Aaryn to go and that they had GM 's and Spencer votes.
Spencer says andy is safe, Amanda and McCrae are not going to vote him out he;'s golden.
Andy wishes Amanda never started the lie that they would vote him out over Aaryn. He feels that he's in a weird place with people. Spencer Agrees says it's not good being in a house with so many lies around. Andy adds that Amanda never asked him ort consulted him about it she just did it and told him he had to act mad at her.
Andy say once he goes up Aaryn is going to spill everything to Elissa. Spencer recommends he just deny everything Aaryn says Elissa will believe him over Aaryn.
S – "they already have their minds twisted against Amanda so all you have to do is twist is some more"
S – Deny deny deny deny
S – Amanda wants GM up so she can keep aaryn
A- I don't want to keep Aaryn
S- I don't want to keep Aaryn
A – I would keep GM in a heartbeat over Aaryn
S – I don't trust of like GM but if you do thats good enough for me
A – GM is starting to get wary of Aaryn
S – I think they are trying to pull a moving company.. GM and Aaryn.. they are trying to get both sides against each other.
A – they need to be split up.. GM is moldable
S – get the strongest one out… dude as long you deny they will believe you
A – AMand and mccrea will back me up .. I'm getting tangled into the tangled web of sh!t
S – I have your back.. dude playing the game were all these lies are going on is the most nerve racking things of all
A – It's going to be Amanda/McCrae vs Elissa/JUDD with us in the middle
S – With GM
8:33pm bedroom Aaryn and Andy
Aaryn telling him that JUDD and SPencer told Elissa they will vote her way if they keep them off the block.
Andy: "can we make a pact whoever goes home on Thursday night makes the most scathing eviction speech about Elissa"
Andy – Oh my god how did this f**** happen
Aaryn – I'm not going to campaign I have nothing bad to say to you
Andy – same .. I hope something changes tomorrow
Aaryn – I really don't think… I dunno
Andy – She's the worlds most stupid robot and her sights are on me there's no changing it.. OHH i'm so frustrated.
Aaryn – we can't do anything about it
Andy – Tomorrow i'm going to lay in here all day.
8:42pm cam 3-4 amanda, Elissa and GM Hammock
Amanda brings up that Elissa is telling everyone she threw the POV to her she points out that it's obviously false.
Elissa – I'm saying I helped you win the veto
A – you are saying you threw it to me .. you didn't help me win you just couldn't help yourself win.
Elissa asks Amanda if her and GM can have some privacy
A – I feel like you were excluding me like it was high school
E – you exclude everyone Amanda.. you walk around here like you own the place.. . you were yelling at me
A – I felt that you were attacking me.. you were walking around with a satanic smile on it's very condescending.. I really appreciate you throwing the veto to me.. I needed it
E – I know you did
Amanda leaves.. GM leaves to use the bathroom
E – I'm not going to fight with her she's a waste of breath
8:53pm Storage room JUDD and GM
JUDD asks her where her vote is. GM doesn't even know who the replacement nominee is yet she'll tell him on MOnday after the POV Ceremony.
8:56pm cockpit Amanda and Spencer
Amanda tells him she is going to make GM her best friend over the next couple days. Amanda suggest Spencer go up to Elissa and tell her they have to get Amanda out of here she is working with McCrae, Gm and Aaryn .
Spencer – Is she thinking about putting me up
Amanda – I dunno … you just need to tell her that they have to get Amanda out.
A – Add that you are pretty sure GM is working with me.
Spencer – OK
8:57 storage room Amanda and MC
MC says that JUDD was in the storage room earlier with GM. Amanda says that is fine.
Amanda Explains that she talked to GM about what Elissa is doing. She is trying to make GM/JUDD think they are working with her because she has no one and cannot play for the HOH next week. Amanda pointed out to GM that she wants JUDD and GM to win the HOH and do her dirty work for her than when someone on the opposing side wins HOh they will put Judd and GM up and not Amanda. Amanda: "She did the same thing with Helen and helen went home"
Amanda fills him in on what she told Spencer to say to Elissa.
8:58 HOH Andy and Elissa
E – It's the freaking Amanda and McCrae show it's so annoying I am over it.. lets just give them the 500K.. why are we all here … they are disgusting.. she came on this show and told everyone she was pregnant.. Feeds cut (Apparently Amanda thought she was pregnant during the casting.)
Andy says he's not going to fight with Amanda but he's pissed off with her. Elissa says she doesn't care about who wins this game at this point she hopes Amanda does win it.
A – she won't it's 2 people against 6
A – are you going to put me up
E – I don't know what I am going to do
A – I am very scared if I go up I'm going home .. it doesn't feel good i'm being honest to you
E – it sucks for me to even me here I hope I go home next week.. it's embarrassed to be here with someone that yells at me on national TV.
Andy really wants to know who goes up he hates that Amanda is going around telling everyone he's going home
E- don't you think you should campaign against Aaryn.
A – well ya if I go up .. but not now. the one thing that Helen said before she left was she didn't want us to turn on each other.. if I go up and go home that is going to suck for us
E – who should I put up
A – I really don't know thay are all friends
E – so you won't campaign
A- If i'm up on the block ya.. but If I'm not on the block I will vote out Aaryn I promise you Andy say he's ready to strike against Amanda and McCrae he knows that every week they get stronger
E – where is spencer's head at
A- I don't know I think he would do what you want.
E – how about GM
A – I don't know GM is Aaryns friend but lately she's been close to you
A – I'm telling you I am going to vote Aaryn out. I'm not a idiot I know Aaryn has to go.. that is what I want to do.. the last thing I want to do is turn against you who i've been working with since the beginning..
A – keep napping I just wanted you to know I will vote out aaryn if you keep me off the block.
9:08pm Cockpit Spencer and Andy
Andy says he just talked to Elissa and she told him she doesn't know what she will do she could put up anyone, "I'm like ohh you are so annoying"
Spencer says Amanda needs to stop pushing for Aaryn to stay and GM going up. Spencer says he wants Aaryn gone this week.
S – I'm not scared of Elissa at all especially when she doesn't have the power
Spencer is going to go to McCrae and tell him Aaryn was working with Elissa to backdoor Amanda.
Spencer says JUDD is blood thirsty against Aaryn and Amanda.
Spencer:" Dude JUDD just told me that he wants you to stay.. I'm going to vote to keep you so is McCrae and Amanda is… she is just Bluffing"
Amanda joins them and says she's going to get super close to Gm and Aaryn. She wants Spencer to notice and go up to Elissa and tell her he thinks that Amanda, GM, McCrae and Aaryn are working together.
Andy says tomorrow he is not going to do any game talking. Amanda says if this works it's going to be amazing.
Amanda: 'I want to keep Aaryn here for one or two more weeks"
You can re-watch ever second on the feeds using the flashback feature.. It's just like a DVR and is super easy to use. click this link for a Free Trial —> Subscribe to the Big Brother Live Feeds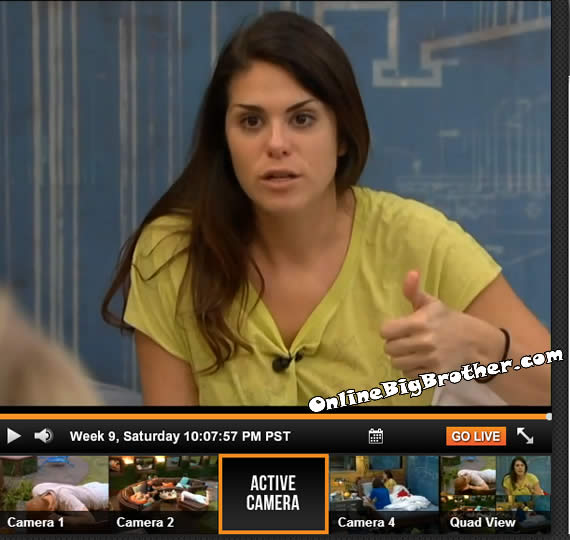 9:48pm Bedroom Amanda and MC
Amanda says that GM is starting to make fun of Elissa again. She told JUDD that and GM that she will not vote to keep Andy
A – the thing that worries me is spencer want Aaryn out
MC – ya
A – I want her here for another 2 weeks she will not put me and you up.
MC – two .. that's the thing Spencer is worried she will put him up next week
A – she won't
MC – I told him
A – the target is Elissa and JUDD
MC – Why don't we say one of us will go up if the POV is played
A – I don't want Spencer to go up on the block.. I want her to know that her HOH is a fail
MC – she'll be broken
They agree that what Andy is doing is working
A – THis can really work.. now she is hiding up in her room she's not prancing around like queen sheba.
Aaryn walk sin Amanda tells her it's working. Aaryn says Spencer is being mean to her.
Aaryn says Spencer is going to tell Elissa that GM, McCrae, Aaryn and Amanda are an alliance. They have to keep Specner safe next week because of it.
Aaryn – Elissa is working with JUDD.. it's confirmed.
MC leaves
Amanda says that JUDD is going to go to Elissa and tell her she doesn't have the numbers if Andy goes up.. She points out that Elissa is hiding in her room.
Aaryn – look confident and walk around like you are running this house.. you have the numbers.. this is going to work.
Aaryn – If this works you are going to win this game
Amanda – I know for a fact 100% if GM goes up she will go home but if Specner goes up I dunno..
10:06pm they get alcohol..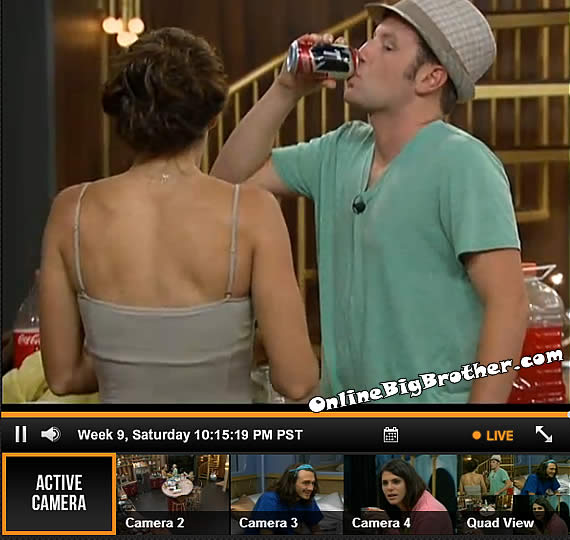 10:15pm Elissa and JUDD
JUDD – If Gm doesn't agree to vote out Aaryn then put her up
J – Me andy and Spencer will vote out Aaryn..
E – Will she vote out Aaryn
J – she said she won't vote out her bunny… might just say that because she doesn't trust me
JUDD says if they put up Andy they lose a vote against Aaryn. He thinks they should put up GM.
Andy joins them they asks him if he will vote out Aaryn.
Andy:" 100% percent I swear.. "