Quick Big Brother Spoilers
Brochella HOH (Inside the House):  Michael
TEAM Brochella:  Brittany, Jasmine, Monte and Taylor.
Dyre Fest HOH (Backyard):  Terrance
TEAM Dyre Fest: Alyssa, Joseph, Kyle and Turner
Nominees:
POV Players:
POV Winner:
Veto Ceremony:
Havenots: 
Lock your ranks in before midnight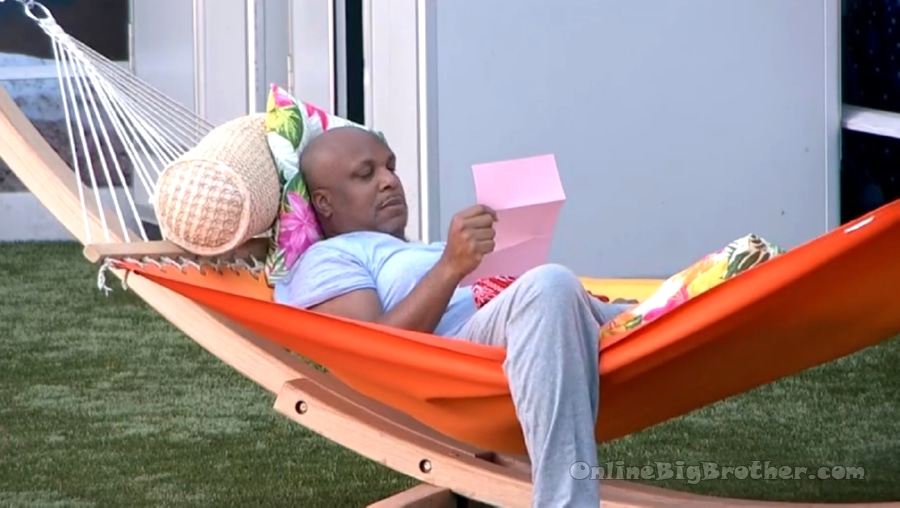 9:02 am Terrance reading his HOH letter. Everyone else is sleeping both inside and out.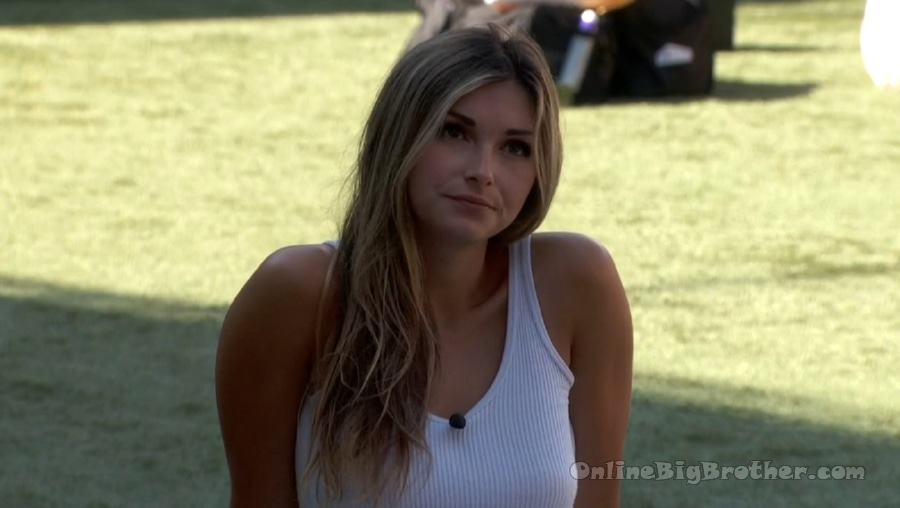 9:30 am Everyone but TUrner is up and about in the backyard.
9:56 am Terrance continues to remove his tattoos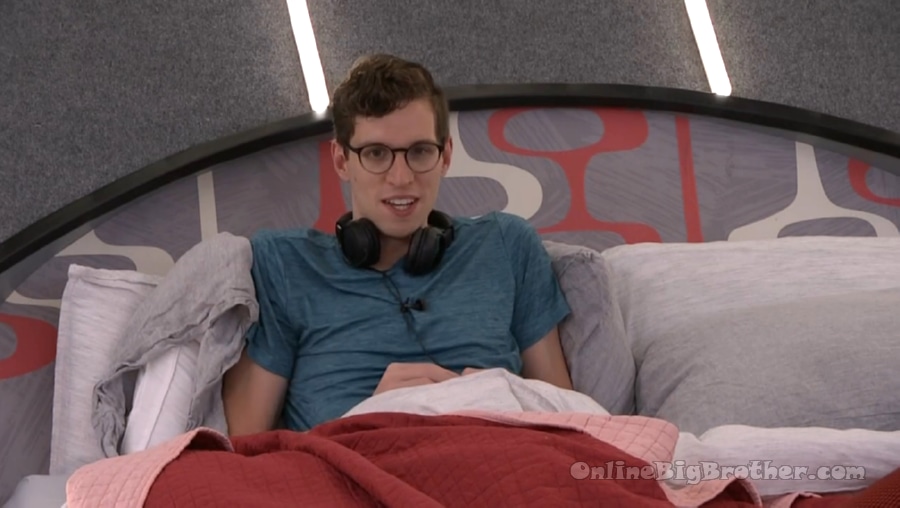 11:04 am Michael and Monte
Michael says he's talked to Jasmine and he made it clear she's going up.
Britt joins them.
Michael says that Jasmine thinks Monte is the target.
Taylor joins them. They continue to talk about Jasmine going up.
Michael says the HOH TV doesn't work. Feeds flip to Terrance removing tattoos.. When we're back.
Taylor says they'll hear Jasmine if she comes up.
They talk about how Alyssa and Jasmine turned on Indy.
Monte – it's how they work it's built upon trying to cover your tracks with lies.
Monte- they don't think we talk to each other. The people they are trying to manipulate and socially corner
Taylor – all they can do is surveil corner and manipulate.
Britt – they have to realize. Ameerah, Nicole, Daniel, INdy.. For a whole month and entire month, everybody they have been working with goes home at their own hands. They end up flipping to make that happen. They don't want to be on the wrong side of the house they are so focused on that. that they don't ever think..
Monte – we have been doing pretty well as an alliance we have to give ourselves a pat on the back.
They talk about how the other side thinks Joe is clueless. "it's ridiculous"
Britt says Alyssa has told her multiple times "How to I escape this she (jasmine) follows me in every room
Britt – I was like I don't know
Taylor – you are in too deep honey
Britt – she's very happy to be separated
Monte leaves..
Taylor – I swear I heard Taylor tell Terrance to pick Alyssa. Turner leaned over to Terrance.
Britt – I'm glad you picked Jasmine right off the bat.
Jasmine joins them.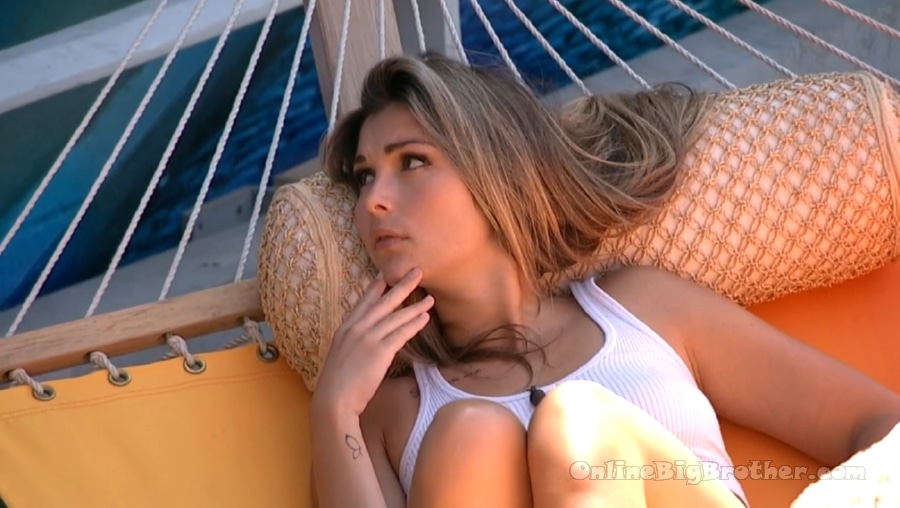 11:39 am Kyle and Alyssa (Hard to hear)
Kyle – what do you think happened with the Ameerah vote
Alyssa – what do you mean
Kyle – that's when it all started like.. Joe was sketched out by Ameerah. Me, Joe, Monte, and Turner were in the HOH room. Joe was going off about Ameerah She told him about Old Skool so he knew about that. He flipped it. He flipped everything. Monte and Joe, Turner went to Britt and from that moment on. Ameerah. Nicole, Daniel, SHould have been you but they got Indy. They are trying to get you, and Jasmine, inside. When Taylor won Veto is was supposed to be you no one used it last week. They wanted you.
Kyle – now I am on the outs. But if it's me, Joe on the block, and Turner wins he's taking Joe down and you are going up Vs me. That's why I'm like do I tell Terrance everything so he puts up Turner and Joe then it's me and you and if one of them wins veto they come down one of us goes up. If not me and you can vote the opposite way sending a tie to Terrance to decide Turner or Joe.
Kyle – Turner is in with them Monte and Joe like crazy.
Kyle – that would be 5 vs Monte, Taylor, and whichever one is left (Joe/Turner)
Kyle – we don't have a lot of options. What do you think?
Alyssa – Terance said there's no way Michael takes out Jasmien this week. He said that him and Michael agreed he would take out Joe and Michael would take out Monte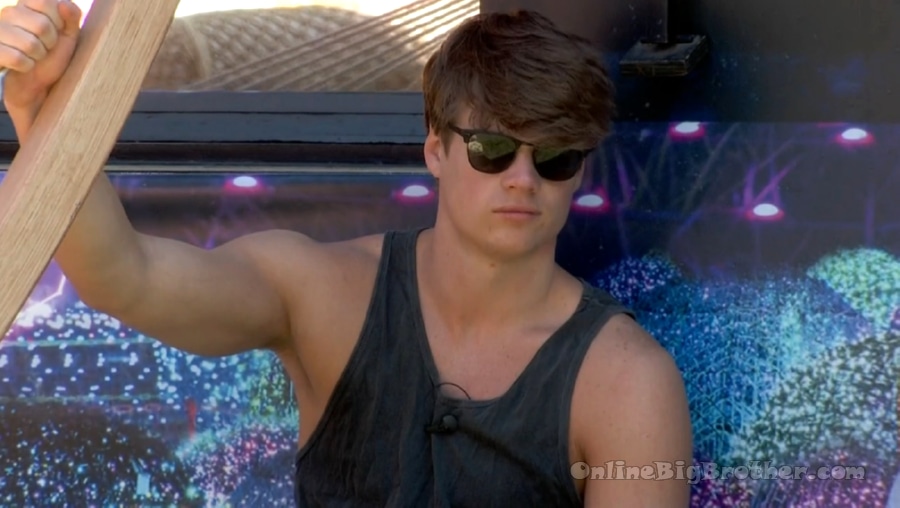 NOON Kyle and Terrance
Feeds have been down when back we're into this conversation about Michael and Terrance's HOH plans.
Terrance – I'm going to do what I'm supposed to do and I can just only hope that the same result happens on his end.
Kyle – walking away from this week that would be awesome if you and Michael were able to accomplish. That would be a crazy week if that went down.
Kyle – I was talking to Alyssa. We have your back. Michael and Britt have your back I think Turner had your back. I believe If I sit up against Monte I lose 100%.
Kyle – I talked to Alyssa and Shared some information with her that I want to share with you but I don't know if I can now with everyone awake.
Joe joins them.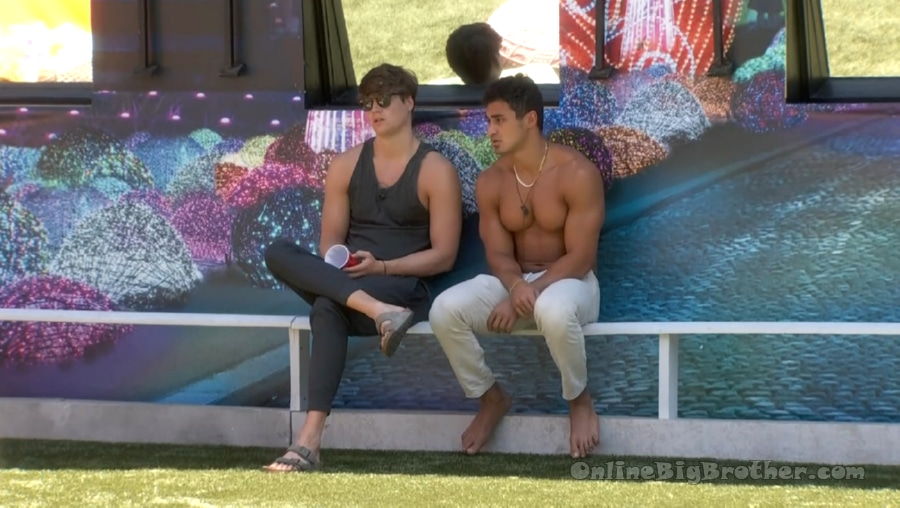 12:15 pm Joe and Kyle
Kyle – I think it's me and you.
Kyle – he said me and Alyssa?
Joe – maybe because of the showmance. I told him dude if I go up I'm going home.
JOe – me and you are his targets because he's pitching to me that you are his target.
Kyle – Who knows.
Joe – he wants to stop a showmance.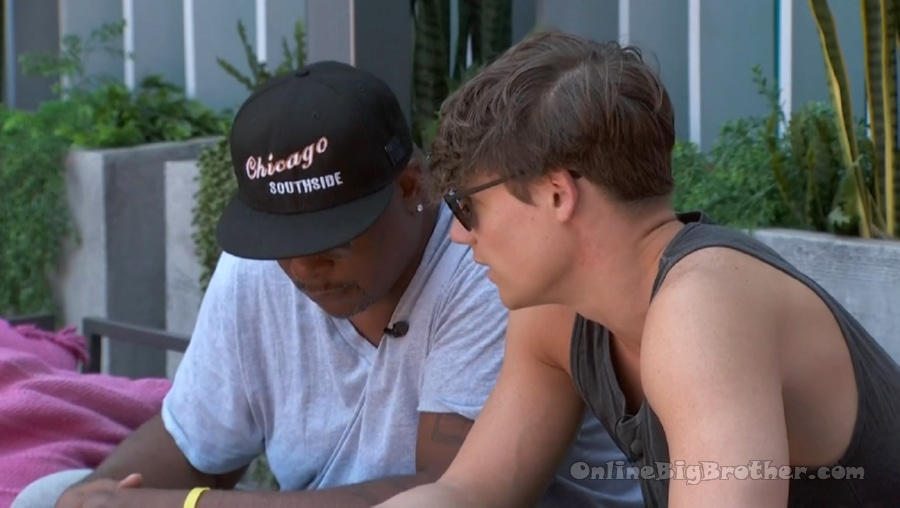 12:23 pm Kyle and Terrance one on one
Kyle – Joe had gotten close to Ameerah she told him about an alliance called Old Skool. that included, you, daniel and Nicole, Ameerah, Alyssa and jasmine with Indy as a number. He was freakign out about how big of a shark Ameerah was and how cutthroat she was. We came up with a plan with those four people. Me, joe, Monte, Turner to create another alliance bring in Michael and Brittany and then we needed one more number so we grabbed Taylor. That was the seven. That's what has been running the game. We've been taking out Old Skool the entire time. We took out Ameerah, Nicole, and Daniel, last week it was supposed to be Alyssa.
Terrance -hmmmmmm .. ohh shit..
Kyle – you see where I am at.. okay so there's you Indy, Alyssa and Jasmine left that are outside the alliance. Last week you were the target, then they switched to Indy and when I won the veto they switched to Alyssa. We have four options and I don't feel comfortable taking that shot. They pressured me so hard. We were up till 5am every night that whole group. I wasn't down for that. Monte was Never the target. Taylor came in and yelled at me and warned me beforehand.
Kyle – Monte has been running the show and joe has been his wingman. Turner has been involved as well he's getting closer with them. I didn't take that shot against Alyssa so now I'm on the outs. I stuck my neck out for her. Me and Michael, and Brittany are fed up with that because it's been the Monte and Joe show they are running the show.
Kyle – Michael told me before the HOH he was ready to take a big shot. he picked Monte over me I don't know if that will be his big target. I hope it is.
Terrence – it's supposed to be that's who he said to me.
Terrance says he was at the bottom of Old Skool
Kyle – that is what I'm feeling now. I was being told to use the veto and take out the person you are closest to in the house
Kyle – fuck that. I don't feel .. it's just.
Terrance – it threw me off to why you weren't using the veto
Kyle – I could be going home but I want you to be as equipped
Terrance – I appreciate you telling me that. I was wondering what the f** is happening.
Terrance – Joe always makes it out that he's out of the loop and he's not working with Monte.
Kyle – they've been together since day one they are running the show.
Kyle – if Turner wins the veto he'll take one of us down and force Alyssa up.
Kyle says he would want to form a group with Terrance, Alyssa, Michael, Brittany, and me. "that would be five coming out of this and we're final 8 that would give us a shot to get to the end"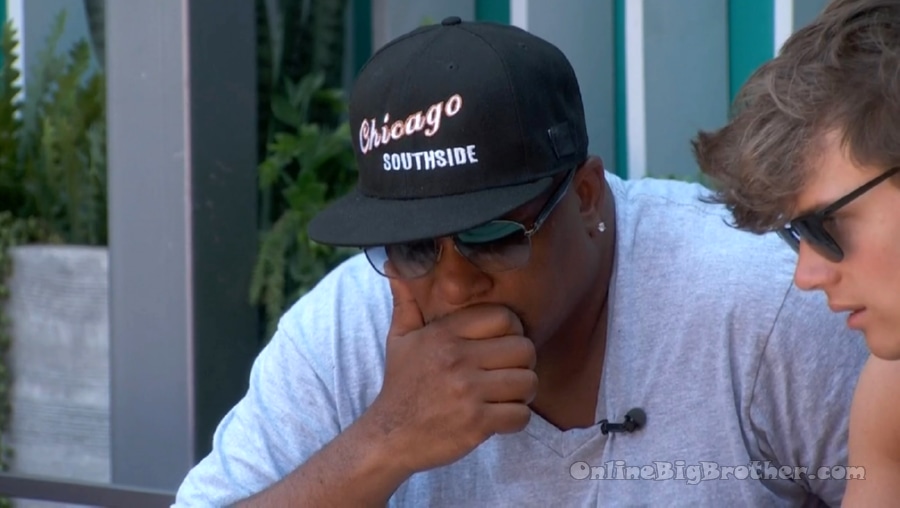 Kyle – why did you think Joe and Monte wanted you as a festie bestie? if they were up on the block that alliance could take you out
Terrance- that is why they asked me to join not to protect me.
Terrance – so she did put me up purposely ..
Kyle – you were the target first with indy then they switched it mid-week. The target was flipping than all of the sudden I win the veto and they are like OK you have to use it on Alyssa. I was like I don't feel comfortable backdooring
Kyle – I stuck my neck out with Alyssa and now I am at the bottom. You should have saw it at the pool table the night before the veto, Joe, Monte, and Taylor were all coming at me so hard about using the veto to backdoor Alyssa. I understand on a moral level to take out your best friend. Gamewise I am already at the bottom of this freaking alliance and you want me to take out a number outside of the alliance in case I want to move forward with other people. They knew if Alyssa won HOH she would put up Monte and joe and they were scared of that.
Kyle says Turner will try to take out Alyssa so the alliance can move forward. "That is why we don't talk much game because I can't straight up sit there and lie to you"
Terrance thanks him says "it never added up" to him.
Kyle says the only way to guarantee their safety is if Joe and Turner go on the block. If the veto is played they come down he goes up and Alyssa splits the vote nad he sends one of them home.
Kyle – If turner wins veto and takes Joe down Alyssa goes up and they will take me out. if Turner uses the veto on joe
Terrance- you think Turner would use the veto on Joe
Kyle – 100% I talked to Joe last night
Kyle – I trust Turner but he would pick Joe over Alyssa 100% of the time.
Terrance – so I totally f**ed myself last week when I played OTEV in full transparency.. did you know that? you knew what happened?
Kyle -yeah, you threw it so Michael would keep you on the block
Terrance – so Monte knew about that?
Kyle – Monte knew. Why do you think in his speech he said I want to win the veto so I can help out my boy Terrance that was a jab at yo dude. He knew the day before he s trying to get him out 100%
Terrance e- gotcha
Kyle – that was a jab at you he was saying F*** you in his speech
Terrance – we're going to move with that I'm going to put him and Turner up.
Kyle – unless Joe wins Veto that is the only way Jo goes home this week.
Terrance – what is worst-case scenario?
Kyle – he wins veto I go up it's me and Turner you make that call.
Terrance – if you guarantee me I'm safer with ou I'll keep you
Kyle – for sure
Terrance- I don't know how Turne is going to move.
Kyle – I trust Turner he's more loyal to the Alliance than you. it's not that he's untrustworthy..
Kyle – that's my game if you go back and tell these guys I'm done.. I'm done either way
Terrance – one thing about me once I give my word I never turn back
Kyle – I promise you these guys will all pitch to put Alyssa on the block
Terrance – okay buddy this is the second half and it's the second half of the game I want to be playing
Kyle – that's what I'm saying. at the end of the day I am at peace with what happens today if I go home I go home
Terrance – now that I know all of this it's time for me to get my f**ing game back.. let's go.. I got you bro..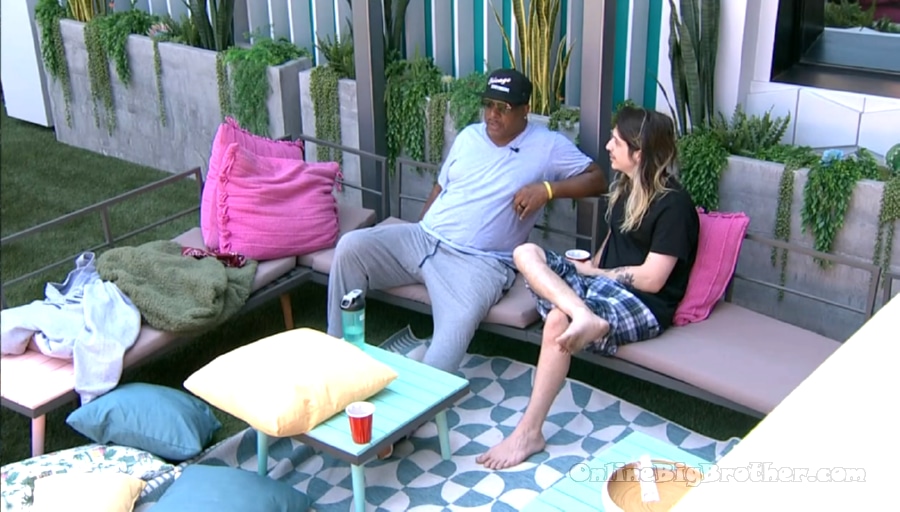 12:48 pm Turner and Terrance
Turner – have you figured out what you will say during the ceremony to Kyle and Joe. Are they still the plan to go up? What will you say?
Terrance says he's trying to figure it out.
They chit-chat about the experience of sleeping outside last night. For folks that stay up until 5am having the sun blast them at 6am is tough.
Terrance- I think I will put them two up that is my mindset right now.
Terrance – the veto changes everything ..
Turner – out of curiosity this is big brother when someone is in a compromised position they will say anything has anyone thrown my name out for no apparent reason?
Terrance – not that I've heard right now.. nobody said nothing about you just good things..
Turner – personal and game I love hanging out with you we have a good duo going on and a good trio with Alyssa.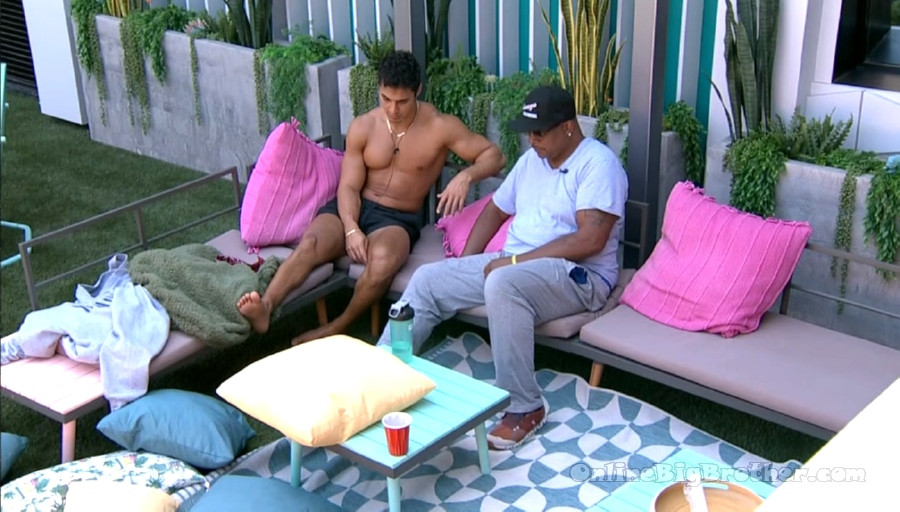 12:56 pm Joe and Terrance
Terrance – you know the move I'm trying to make.
Joe – you are trying to hit Kyle
Terrance – you're right
JOe says Taylor won't be pissed to see Kyle gone because he didn't use the veto last week.
Joe – if he's your shot he doesn't leave if he's next to me. He's closer to Turner. I just know for sure Turner won't send Alyssa home.
Terrance – Turners never f***ing touched the block
Joe – let me know how you want to move. I thin ki've shown you I pull through.
Joe – whoever you shoot at the house will see who Terrance sent home
Joe – I know Kyle not after using the veto their showmance raked up the house with me, Jasmine, Taylor umm.. I think Monte was pretty happy it wasn't used. He thought there was a shot he would go up there. Other than Monte. Michael and Kyle which are deadly trio. were the only once happy it wasn't used. MOnte, Michael and Kyle.
Terrance says he's got four people to pick from it will be a shit show.
1:06 am Feeds cut to pound kittens