Quick Big Brother Spoilers
Brochella HOH (Inside the House):  Michael
TEAM Brochella:  Brittany, Jasmine, Monte and Taylor.
Dyre Fest HOH (Backyard):  Terrance
TEAM Dyre Fest: Alyssa, Joseph, Kyle and Turner
Nominees:
POV Players:
POV Winner:
Veto Ceremony:
Havenots: 
Lock your ranks in before midnight
The twist
For the first time ever the game will completely change as the house splits into two groups. These two groups will have no interaction and in a Big Brother first, two completely separate games of Big Brother will play out simultaneously all week long all of it culminating with a double eviction like no other"
Dyre fest and Big BroChella picks
Michael picks Jasmine
Terrance picks Turner
Michael picks Brittany
Terrance picks Alyssa
Michael picks Taylor
Terrance picks Joe
Michael picks Monte
Terrance picks Kyle
The situation
Dyre fest nominations are going to be Joe and Kyle.
Big BroCHella nominations are going to be Monte and Jasmine.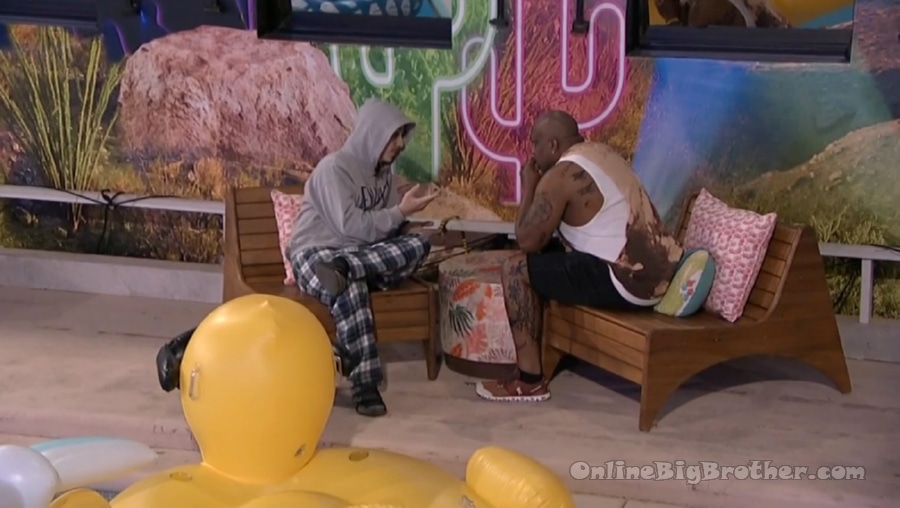 3:13 am Turner and Terrance
Terrance starts his one on ones "Let's go in the order we were picked" Tuner is first
Turner – the plan is still the same
Terrance – the plan is still the same we have to act like we're talking
Turner – I wonder what their pitches are going to be
Terrance – how do we guarantee? who do we put up
They are talking about a plan to "backdoor" Joe. (Everyone plays in veto)
Turner says the showmance "You can give a reason". He'll use that veto.
Terrance – if they are up they pull Kyle down
Feeds flip to the HOH where Monte and Michael are doing their one on ones. When we're back

Terrance – I have to seel that I'm getting rid of a showmance but it's just a sell. Nothing is happening to you or Kyle. We absolutely want Joe. I'm making that known.
Terrance will tell Alyssa that she can fact-check with Turner "I don't want you to think I'm up to any shady shit"
Turner – are you going to tell Kyle?
Terrance- I'll probably just tell Alyssa
Terrance – just you and Alyssa will know this plan. I'll keep it right there with us three. I know Kyle is cool but I have to make sure
Turner – for sure protecting yourself it the most important thing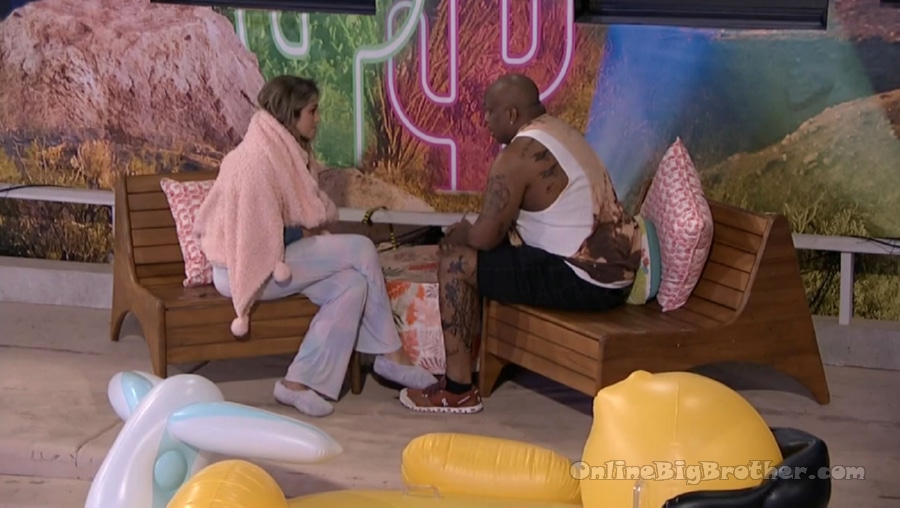 3:22 am Terrance and Alyssa
Terance tells her she knows Turner and Alyssa he trusts "That is why I picked you guys first"
Terrance – what I want to do when he comes to me 'hey I want to get rid of a showmance'
Terrance – I don't want him gunning for the veto
Alyssa – you're going to put me up
Terrance – how else can I pull this off? I won't let nothing happen to you. I've been up four times.
Alyssa doesn't want to go up and suggests putting Joe on the block straight up with only 4 people in the game everyone is going to try hard for the veto.
Terrance – what do you think is the best option.. You are a hard no Turner is a hard no so it would leave Kyle
Terrance doesn't want Kyle going up to burn a bridge between the two of them .
Alyssa – no that's the best option. Just between you and I that's the best move for my game
Terrance – the other move in the house was supposed to be for Monte. That is what we are supposed to be doing me and Michael. We are supposed to be taking out two targets right now. Overall for the house it will be a great move. he's bit wishy washy with me
Terrance – if I can't count on you bro I can't have you in this game. It's getting tighter and tighter.
Terrance – me you and Kyle if we lock in that will be a good game. I've always wanted to work with you. I want to LOCK in we need to make this f***ing move.
Terrance warns her of Jasmine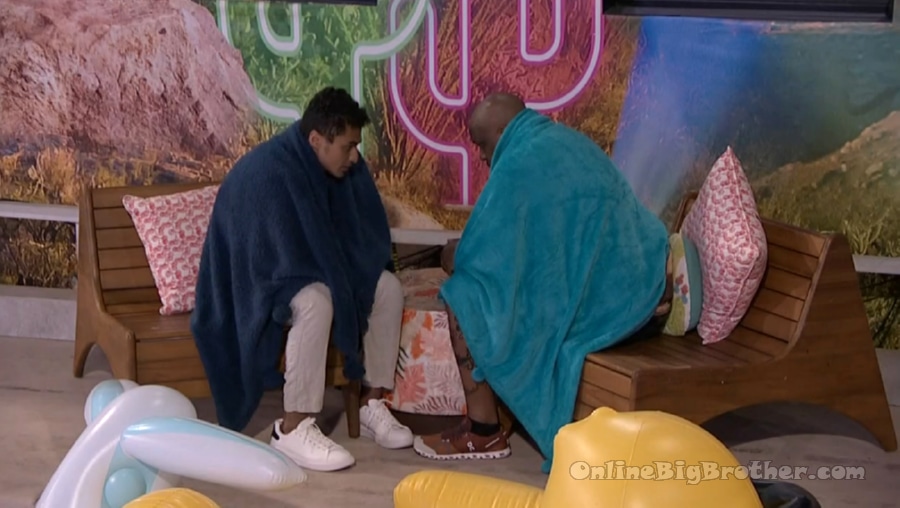 3:33 am Terrance and Joe
Terrance says he can't put Alyssa up he promised Alyssa he would never put her up before they got outside.
Terrance – I'm f**ed with that I can't put her up or I will be f**Ing up my word
Joe – she won't go up even as a pawn.
Terrance – I asked her to do it and she's not vibing I don't want to the smoke and I don't want it to carry back into the house
Joe – what are you thinking Bro. I got you
Terrance – I know Kyle has to go up and Turner has had me since day one I don't know what to do at this point.
Terrance – I wanted both of them up. I was going ot put up Kyle and Alyssa. It made sense to me.
Joe – If I go next to Kyle I won't go back.. Alyssa loves Kyle and TUrner is closer to Kyle
Joe – i'll keep it real with you I voted for you every time.
Joe – Kyle and Alyssa are a unit
Terrance – Kyle is who I really want out. I know he'll be a hard target. he's come in second in everything that happens and he's been winning. We would be crazy not to take taht shot.
Joe says he will vote Kyle out over Alyssa. "I can't send Alyssa home with Kyle up there"
Terrance – she's going to be pissed off.
Joe – Kyle is a stronger player than me he has a better social game he beats me 9 our of 10 times.
Terrance goes on about being worried about the showmance.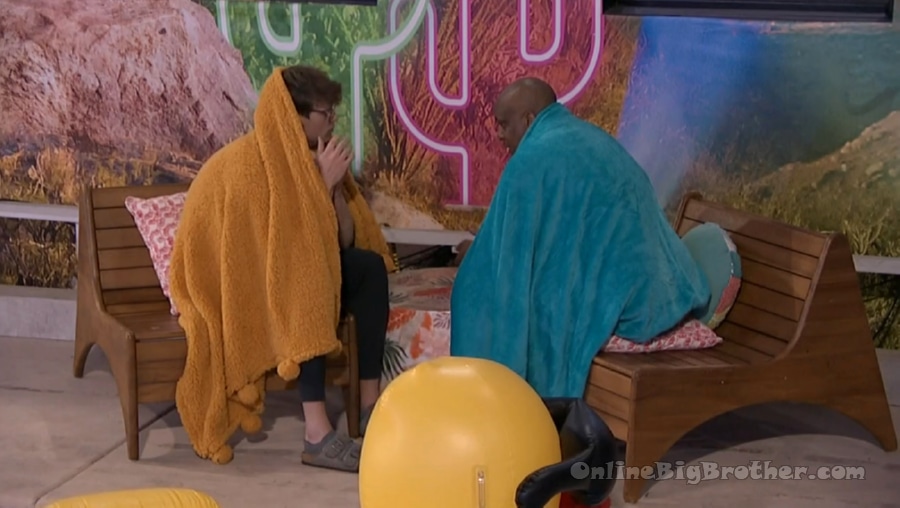 3:49 am Terrance and Kyle
Terrance – I want Joe at the end of the day. There are scenarios it's you and him because they don't want to touch the block.
Terrance – if you are safe then you are safe. What do you think is the best option?
Kyle – in my mind like we talked about with Michael.. you just need one person you feel 100% wants joe Gone. You keep them off the block. In my mind Joe broke all ties with Alyssa because they were in that Alliance together I was part of it the Five Swatters.
Kyle – He turned on Indy who was in that Alliance, Alyssa was in on that Alliance.
Kyle suggests Kyle and Joe on the block. If Kyle wins the veto then Turner is the replacement. If Turner wins veto and it's me and joe up he can use it but hopefully, he doesn't use it and keeps noms the same. I don't think Turner would use it on Joe
Terrance – hell no
Kyle – you have Alyssa as a solid vote against Joe. Alyssa wins veto she keeps them the same .. the only issue is if Joe wins veto he takes himself down and it's me and you'll have to decide if it's either Turner or ALyssa. It'll be a tough decision either way.
Kyle points out with Michael on the other side he knows he controls one of the 2 votes.
Kyle – I understand your position. Dude you can throw me up like I totally understand I don't know if it's worth even putting up Turner or Alyssa because you promised them both safety. I think walking out of this week you can say I kept my word to both the people I promised safety.
Terrance says he will fight hard to win the veto to keep nominations the same. "I hope you know that when you walk out of here and you walk back into the house you also feel I honestly got you and I want us three to go as far as we can together. I mean that wholeheartedly.. that's real talk
Kyle – Alyssa loves you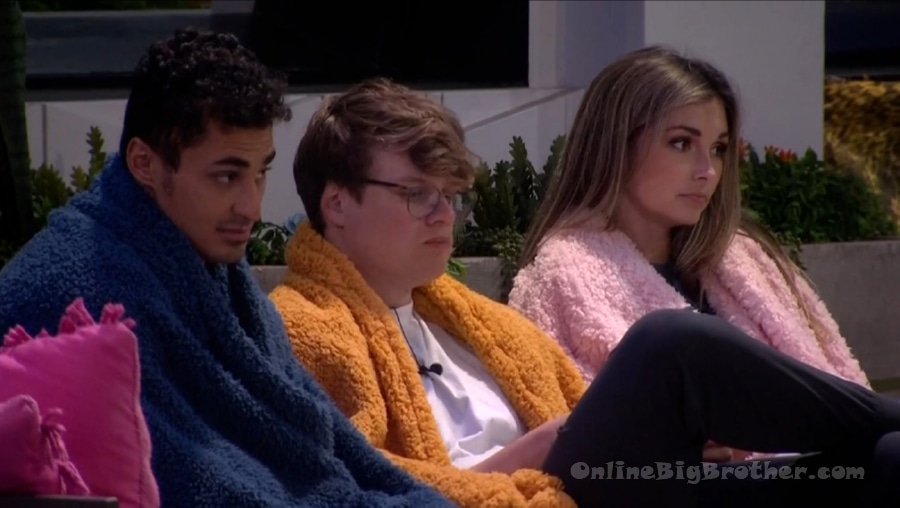 4:00 am hanging out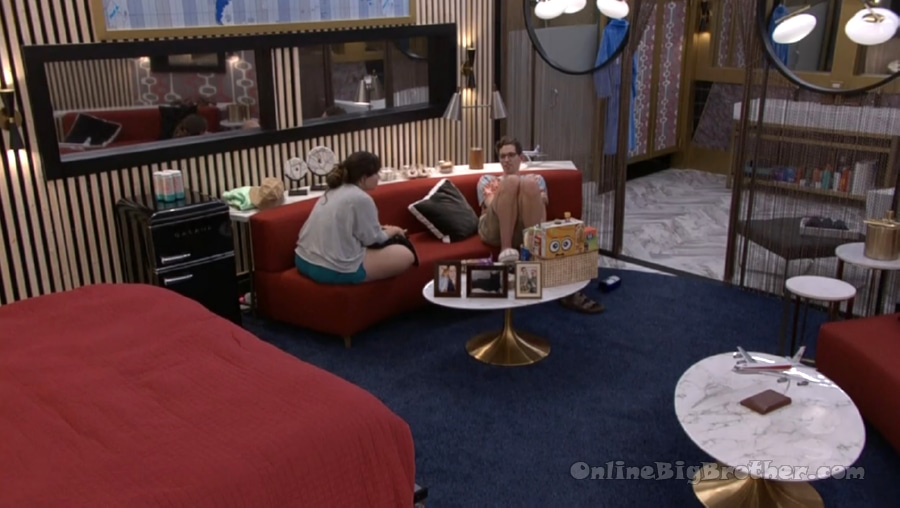 4:05 am Brittany and Michael
britt – whoever you want to go home this week I am fully onboard whether it's Monte or jasmine
Michael – we'll make that decision together
Michael says they move up to top 8 after this week and they will get no blood on their hands with the other side "That is going to be the messy side this week"
They compare themselves to Cliff and Nicole. Michael says the one mistake they made was to take the showmance to final 5.
Michael says their choices are to continue with tough competitors that they know and trust or weak competitors that have canabalized their own.
Britt – they didn't even seem upset that Indy left
Michael – they didn't even try to keep her
Britt says she's had made some really good inroads with Alyssa. "Joe can think what he wants but I do in my heart believe that she is realizing she is.. When Indy and jasmine are gone she has nothing"
Britt – There's a real possibility Kyle could go but if Kyle goes Alyssa needs us even more and maybe that makes sense to take a shot earlier than later
Michael – Kyle is definitely going on the block over there.. 100%
Britt – another thing to think whether or not we decide to take a shot at Monte earlier rather than later. I hate exploiting this but he has shown he is pretty loyal. I don't know would that blow our chances with him in Jury? I don't know. We need to think about how we utilize this week.
Michael – we'll see what kind of conversations we have with Monte and Taylor and you know talking about what happens when we get to seven. if he gives us the OHH we'll figure it out when we get there.. then we know he already has it figured out.
britt – he's already starting to have doubts about Kyle
Michael – rightfully so. Kyle was up here saying if it's a double put up Terrance and Jasmine and then possibly make a biog move. Kyle was saying it was Turner, Monte, Joe, and himself that were the core of the leftovers.
Michael – he said I feel like I've been replaced in that with Taylor
Britt – interesting. is that his way of saying Taylor, you and me were the first to leave?
Michael – yup
Britt – that's not smart for them..
Michael – no at all. I would love to get inside Turner's head. He has to realize he doesn't win if he sticks with them. Any of them win against Turner.
They talk about Turner liking the "A$$hole players" like Paul and Brett.
Brittnay had talked to Taylor about how she felt about voting Jasmine out. Taylor doesn't have a problem voting her out this week.
Brittnay – we put Jasmine Monte.. Jasmine wins veto.
Michael – I would put Taylor up
Britt – and Monte would go home..
Britt – if Monte wins Veto he takes himself down. Jasmine still up there.
Michael – Taylor would go up. I'm not going to risk putting you up. I don't know now I will risk telling that to Taylor.
britt – I appreciate that
Michael – there's no chance
Britt – oh my god Michael you pulled it off.
Britt says she doesn't like Kyle's divisions in the house but she likes Kyle and she knows they have his trust.
Britt doesn't see Alyssa getting evicted outside.
Britt says it sounds like Monte is done with Kyle and Turner.
Britt – I'm glad we are inside the house
They go on about how amazing their duo is in the game. Taylor joins them.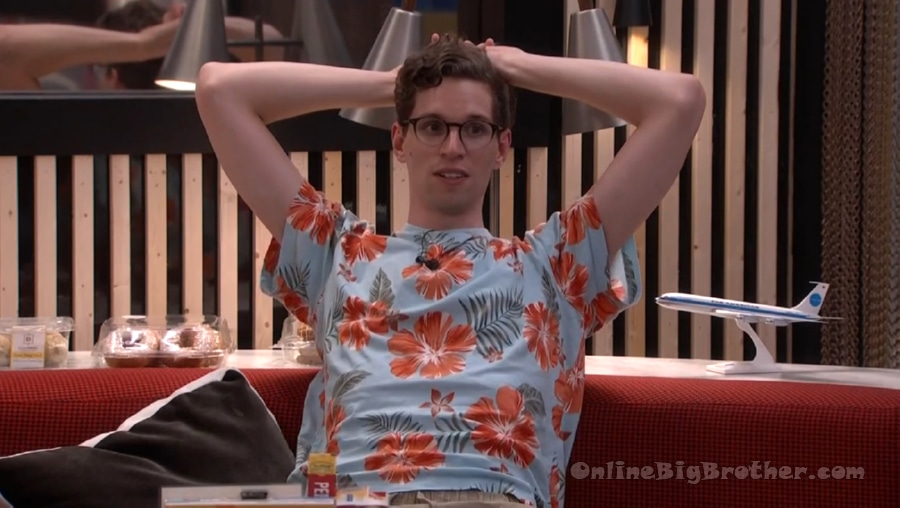 4:20 am Taylor, Britt and Michael
Michael say he hopes the logical thing happens they take Jasmine and Alyssa out this week
Michael – I'm nervous about a situation where Alyssa and Joe are up that and Turner and Kyle don't do the right thing or they split the vote and Terrance is the tie-breaker and Joe isn't here to tell us what happened.
Michael – If Terrance tells us who is voting we'll know what happens.
Britt leaves.
Taylor – so Monte and Jasmine
Michael nodes.. says Monte volunteered "this is a repeat of two weeks ago when Monte said I'll go up"
Michael says Jasmine thinks Monte is the target. "I'm going to tell her you are the only person here that hasn't been on the block yet"
Michael – she gave me a very compelling argument.. she doesn't want to go on the block on her Birthday week..
Taylor – STOP STOP You are joking
Michael – no, that wasn't the main point but that was a point she brought up.. she's trying for THRID week of safety because of her birthday. (TOO freaking funny)
Taylor – how did you not laugh to her face..
Michael – that's the worst reason.. to give her credit it's worked in her mind it's worked twice
Taylor talked to MOnte and the situation where Joe doesn't "walk back in the door"
Taylor – he feels very distant from Turner and Kyle like very very distant.
Michael – after last week we all have our concerns about Kyle
Taylor – STRONG concerns. he's more concerned with turner I am less concerned with Turner.
Michael – Turner is a weird one for me to read in this game. I feel like him and Kyle are close but I also know that turner and joe stay op to 6 every night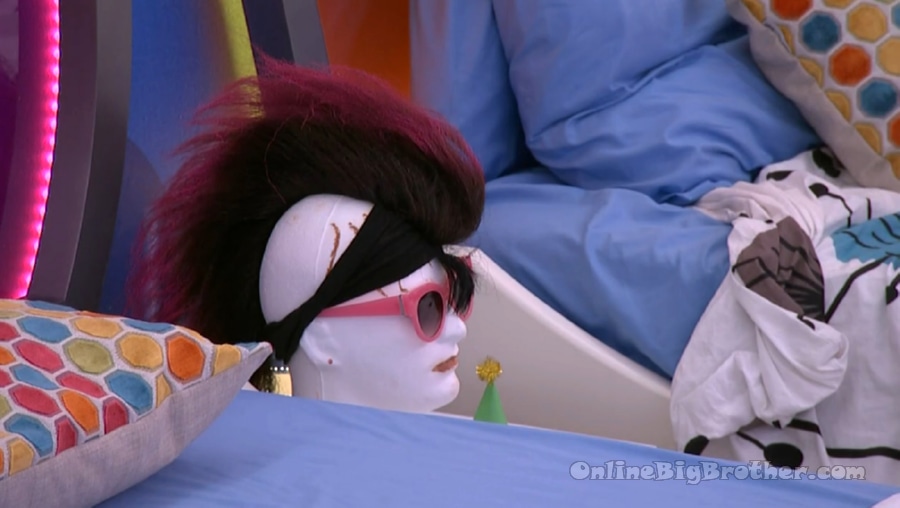 4:43 pm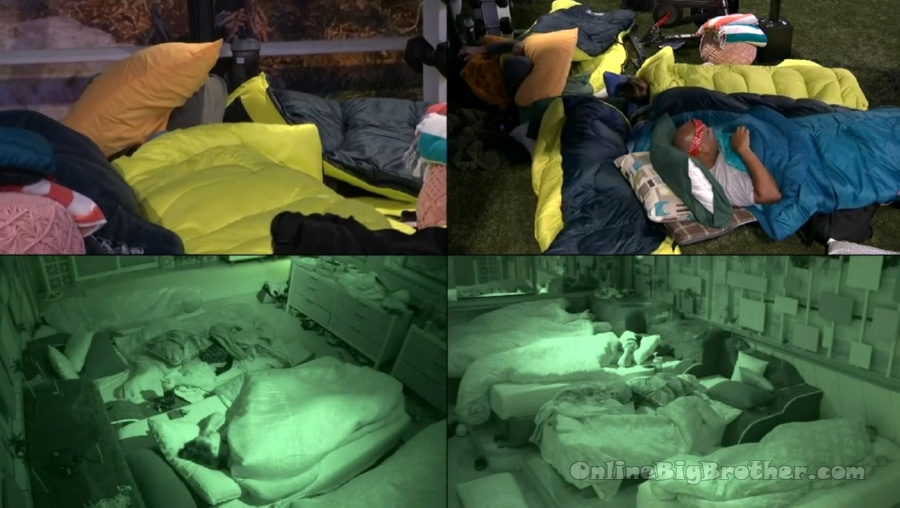 5:00 am zzz z
8:00 am
Zzzzzz
8:55 am waking up